Easy Boondocking Recipes: When You're Short On Water & Power
When you're camping off-the-grid, you don't have access to power, water or dump facilities so cooking yummy boondocking recipes can be a challenge. You want something that tastes great, has easy meal prep and minimal cleanup.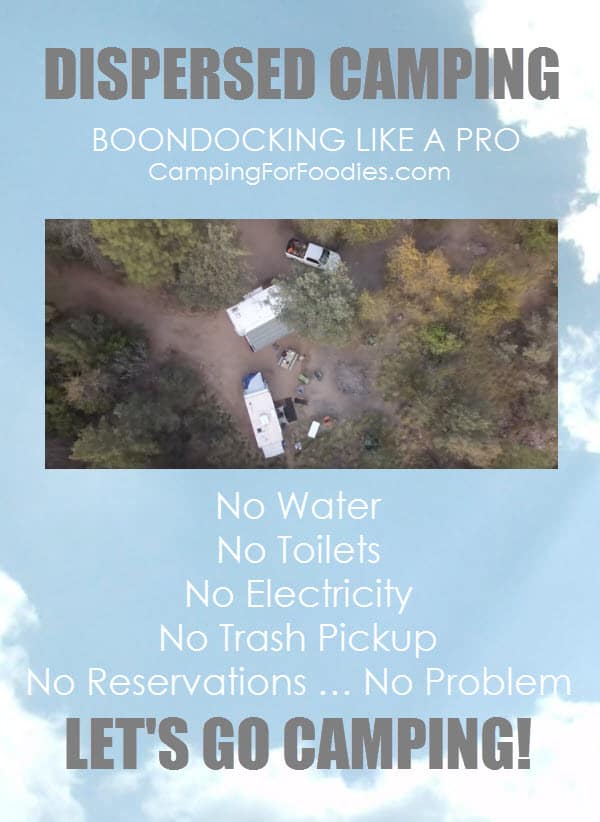 Psst we're compensated…see our disclosures.
Boondocking Cooking Challenges
The lack of fresh water, waste facilities and shore power all impact the camping food you can easily make in remote locations.
Water: It is the biggest issue for off-grid campers. There is only so much fresh water you can haul so you want to severely limit your use of water for cooking and cleaning.
Waste: RV holding tanks have a limited capacity so you want to produce as little waste water as possible.
Power: Without an electrical hookup, power sources are typically limited to cooking with campfires, charcoal briquettes or propane.
Unless you have a generator with fuel and are willing to run it, or, you have an awesome solar power setup with an inverter and are able to generate the power required to run electric cooking appliances, forget about using your pressure cooker.
Cold food storage space can also be a challenge in wild camping locations. Whether you're using coolers or an RV's refrigerator and freezer, your cold storage space can be a limiting factor depending on the length of your trip, the number of people in your group and how much perishable food you are using in your meals.
---
Characteristics Of Good Boondocking Meals
Easy recipes that are friendly to dry camping conditions may have some or all of these characteristics:
They require minimal dishes (because fresh water is precious and waste water tanks have limits).
They can be cooked and eaten from foil packs (packets used for cooking and eating are great for reducing water consumption for washing cooking and eating gear).
They can be easily eaten on paper plates (no dishwashing required).
The entire meal is made in one pan or skillet (one pot camping meals also reduce cleanup and water usage).
They don't use a lot of delicate veggies or perishable ingredients (when cold food storage space is scarce, it's nice to have lots of non refrigerated meals that use shelf-stable ingredients.
They can be prepped or entirely made in advance so you just "dump & cook" or "dump & reheat" at the campsite like my make ahead camping meals (pre-sliced meats and veggies are nice, especially when you're dealing with ingredients like raw chicken).
They can be prepared in a Dutch oven (using campfire coals or charcoal briquettes) or in an RV oven (using propane).
They can be prepared on a camp stove or RV stovetop (using propane)
Can be prepared on a charcoal or propane grill.
They are not cooked with electric kitchen appliances that require a lot of power.
---
Best Recipes For Boondocking
Chicken, spices, bell peppers and onions are combined and frozen flat in a 1 gallon freezer bag. Defrost, dump & cook at camp. Then serve on tortillas with your favorite toppings.
---
You'll combine pre-cooked chicken breasts with cheese tortellini, alfredo and pesto jarred sauces, cheeses and grape tomatoes then freeze flat in a 1 gallon freezer bag. Defrost, dump and give it a quick stir before you bake. This easy meal feeds 6 hungry people! I like serving a simple spinach or lettuce salad on the side. Get tips on keeping you camping veggies fresh and fabulous.
---
This no-mess, zero clean-up meal is fast, cheesy and delicious. Check out all of our easy camping meals, they won't disappoint you!
---
If you eat raw food, you don't have cooking utensils to wash! And, if you use just a few, high-quality ingredients, your no cook camping meals will be absolutely scrumptious.
---
This grilled steak takes 5 minutes to prep and 6 minutes to cook but the magic of turning a cheap cut of meat into a flavorful, tender meal is the 6 hours or marinating time.
Here are some of my favorite sides for this steak:
I like serving these Campfire Veggies on the side. You can use any hearty veggies, I like using broccoli, carrots, tomatoes, garlic, butter, salt and pepper.
For these Camp Potatoes, you'll pack potatoes, onion, garlic and bell pepper in foil to cook over a campfire or on a grill.
These Dutch Oven Baked Beans are almost an entire meal. In addition to 5 different types of canned beans, it also features bacon and ground beef!
---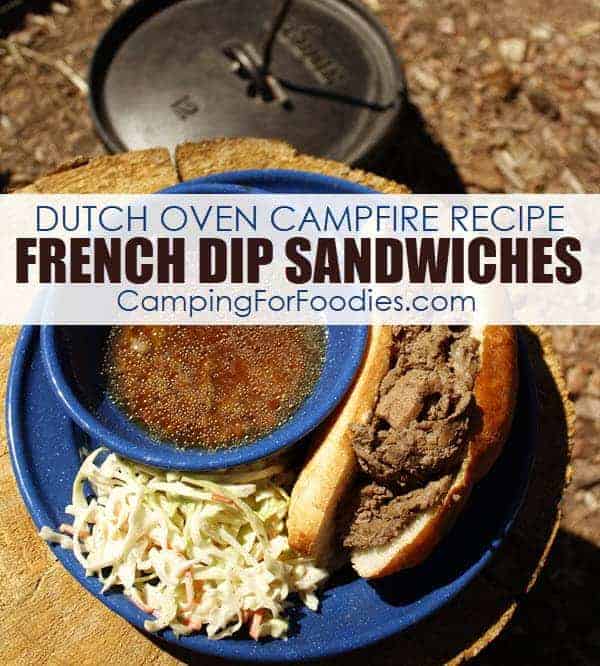 This is another one of my freezer meals that you prep at home and cook at camp. The onion powder, ground mustard, Worcestershire sauce, garlic and beef broth tenderize the flank steak and create a wonderful dipping juice for serving.
---
Why have a deli sandwich when you can make this ridiculously tasty and easy Chuckwagon Sandwich? The secret is using 3 meats, cotto salami, bologna and ham then layering on 2 types of cheese with a mayo/mustard combo then heating just a tad.
---
I could eat chili on every camp trip! This recipe has won awards, the secret is using the combination of ground beef and Italian pork sausage. Most of the other ingredients are canned or dried spices.
---
If you prefer to use only pantry ingredients, try this yummy chili recipe. If I have leftovers, I like to reheat them and wrap in a flour tortilla for an easy lunch.
---
This bean salad is another recipe that uses all non-refrigerated ingredients. It's a yummy and quick recipe that is filled with vitamins and fiber.
---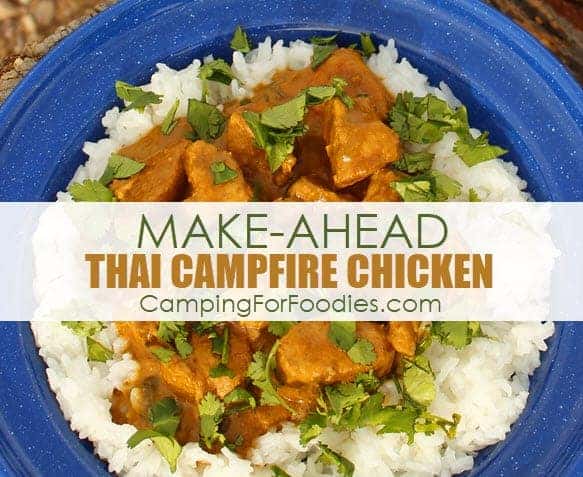 This is one of my absolute favorite make-ahead freezer meals. It's almost gourmet! Prep at home, then, defrost, dump & cook at camp. The amazing flavor comes from coconut milk, peanut butter, garlic and citrus. It's amazing what limes can do in a recipe, especially when you use the zest and juice from them. I like serving this meal over rice to catch all of the tasty sauce!
---
Boondocking Tips
For the most part, the biggest difference between camping with or without facilities (aka dispersed camping, remote camping, boondocking, dry camping, off grid camping … or whatever term you like to use) is the lack of water, power, bathroom facilities and waste removal services. All of that can be overcome with a little planning!
The differences between campground and dispersed camping
When you are RV boondocking, you want to make sure your battery system is working at peak performance.
When there is not a single shore power plug in site, you need to rely on your batteries, generator and solar-powered equipment to meet your electricity needs.
Make sure you check out our How To Choose, Use And Maintain The Best RV Battery post for helpful information.
How to get water when dispersed camping
I have to admit, lack of water facilities is one of my biggest challenges when we go dispersed camping.
I like to take a shower and wash my hair daily in addition to doing dishes from my almost-gourmet camp meals but I have learned how to take trickle showers and use minimal amounts of water for cleaning dishes.
When you have to carry your own water to dry camping locations, you learn quickly how to conserve it.
Whether we are wild camping in our tent or RV, we haul our water in containers that are manageable sizes and designed specifically for water. Learn how to refill fresh water tank during camping trips.
Also, if you're handy, check out our VIDEO and see how to make a portable DIY water tank for camping.
How to camp and cook when fires are not allowed
One of the other things associated with that is the lack of water for firefighters to put out fires. You may encounter some challenges if you are dispersed camping in super dry weather conditions.
If the officials activate fire restrictions, your camping routine will need to change a bit to comply with the additional regulations. Check out our post Camping Fire Restrictions for tips!
How to get electricity when dispersed camping
The lack of electrical outlets is really not a big deal to me. We use very minimal amounts of electricity even when we are RV camping in a location with full hookups.
For others, the feeling may not be mutual … so, here are options for powering your life when RV boondocking. Generators are an obvious source of power when you are dispersed camping off grid.
If your power demands are high enough to require a generator, you should check out our Best Quiet Generators For Camping post which includes information on how to calculate the size of the generator you need based on the demands you will be placing on it.
Alternatively, you can go solar and run off your batteries but you may also need an inverter. Here's information on portable solar panels for RV camping. That will only allow you to use 12-volt DC power (your wall plugs won't work with your normal household kitchen appliances.
My husband did a DIY project so we can use AC and DC power when we're camped off-the-grid. Here's his simple DIY method with a VIDEO on how to install a power inverter in a camper.
Keeping your phone charged without electricity
We have a totally awesome post with tips on How To Charge Your Phone Without Electricity While Camping! Some of these cool gadgets are gonna BLOW YOUR MIND!!! In a good way, of course LOL 😎
Where can I go dispersed camping and how much does it cost?
Dispersed camping in National Forests and on BLM Land – The Bureau of Land Management is usually free. But, there might be a nominal fee or some sort of permit required.
Where to find more information for dispersed camping in National Forests
Our preferred method of wild camping is going dispersed in National Forests. It took some research and we learned tips to make it easy and fun. We've got tons of information in our Camping In National Forests post.
Restrictions for dispersed camping in National Forests
Typically you must camp within 150 feet of a roadway
And more than 100 feet from a lake or stream
You need to bring your own firewood
You can usually cut "dead and down" if you have the right tools. Most rules let you use dead wood at your campsite but require a permit to take any home with you.
United States National Forest rules regulate dispersed camping and are enforced by field service offices
Every forest has its own rules, so check with the appropriate forest service office for details
---
FREE Printable RV Tool Kit Checklist
Boondockers know … you really need to be self-sufficient when you are wild camping off-the-grid.
You need to be prepared for mechanical problems with your equipment and your vehicles. You don't need to be a mobile hardware store … BUT … you do need to have some basic tools in your toolkit!
Get your FREE copy of our RV Tool Kit Checklist so you are not trying to get a signal on your cell phone to call AAA. 😉
---
FREE Printable Camping Checklist
In addition to being prepared with tools, you need to make sure you don't forget to pack any necessities when you are boondocking.
It can be a great distance to the nearest store to pick up a tube of toothpaste because you forgot to pack one!
Our checklist for camping, Ultimate RV And Tent Camping Checklist will keep you organized and staying put once you arrive at your dispersed campsite!
---
FREE Camping Trip Planner
Make your next trip stress-free with a little pre-planning. Get your copy of our FREE printable camping trip planner template!