Go Dispersed Camping For The Memorial Day Holiday Weekend
The Memorial Day holiday weekend is the kickoff of the camping season and it seems everybody is in the mood to go camping!
Don't let the "no vacancy" signs discourage you from enjoying the great outdoors!
Go boondocking! Our video has tips from pro boondockers on how to go dispersed camping in the wild for FREE and enjoy it!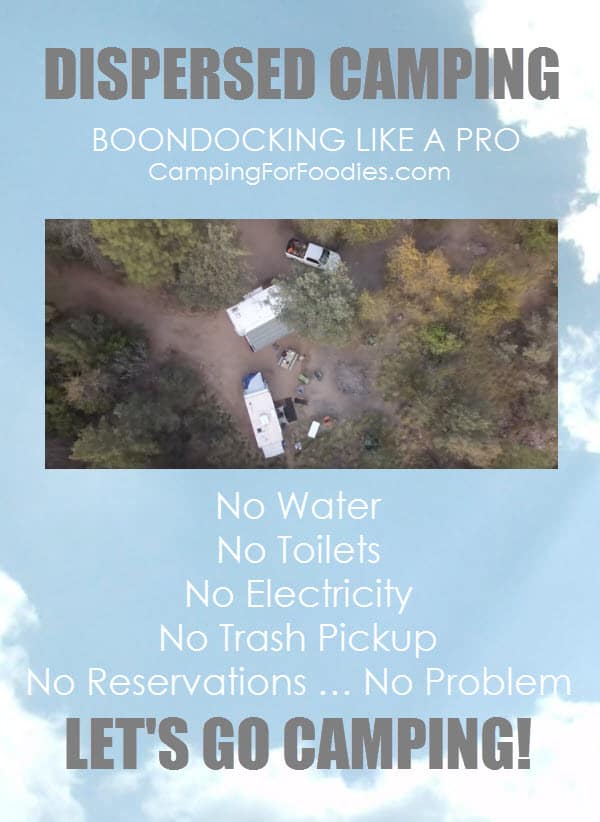 Psst we're compensated…see our disclosures.
Go Dispersed Camping
For the most part, the biggest difference between camping with or without facilities (aka dispersed camping, remote camping, boondocking, dry camping, off grid camping … or whatever term you like to use) is the lack of water, power, bathroom facilities and waste removal services. All of that can be overcome with a little planning!
---
The differences between campground and dispersed camping
When you are RV boondocking, you want to make sure your battery system is working at peak performance.
When there is not a single shore power plug in site, you need to rely on your batteries, generator and solar-powered equipment to meet your electricity needs.
Make sure you check out our How To Choose, Use And Maintain The Best RV Battery post for helpful information.
Otherwise, you may be walking around with tree branches that are lit by fire on one end (the boondockers version of a torch 😅 LOL) to light your path after the sun goes down!
---
How to get water when dispersed camping
I have to admit, lack of water facilities is one of my biggest challenges when we go dispersed camping.
I like to take a shower and wash my hair daily in addition to doing dishes from my almost-gourmet camp meals but I have learned how to take trickle showers and use minimal amounts of water for cleaning dishes.
When you have to carry your own water to dry camping locations, you learn quickly how to conserve it.
Whether we are wild camping in our tent or RV, we haul our water in containers that are manageable sizes and designed specifically for water.
---
Ahhhhhhhh, water and RV boondocking …the ultimate challenge! When you are wild camping off grid, one of the biggest things you should be prepared for is the lack of water.
One of the other things associated with that is the lack of water for firefighters to put out fires. You may encounter some challenges if you are dispersed camping in super dry weather conditions.
If the officials activate fire restrictions, your camping routine will need to change a bit to comply with the additional regulations. Check out our post Camping Fire Restrictions for tips!
---
If your dispersed camping location is near a natural water source, you can use a Personal Water Filter for drinking.
These things remove most waterborne bacteria and protozoan parasites without iodine, chlorine, or other chemicals.
When we go camping we escape city life for a long weekend here and there so we don't use these very much but I have friends who recently quit their jobs to travel the country in a tiny teardrop trailer and they carry very little water so they use their straws regularly and love them.
---
How to get electricity when dispersed camping
The lack of electrical outlets is really not a big deal to me. We use very minimal amounts of electricity even when we are RV camping in a location with full hookups.
For others, the feeling may not be mutual … so, here are options for powering your life when RV boondocking.
Generators are an obvious source of power when you are dispersed camping off grid.
If your power demands are high enough to require a generator, you should check out our Best Quiet Generators For Camping post which includes information on how to calculate the size of the generator you need based on the demands you will be placing on it.
---
One of the reasons I LOVE dispersed camping is because it tends to make everyone power down … literally.
I think a periodic digital detox is critical for healthy relationships and overall life.
That being said, I do use my phone for photos, GPS tracking and like to have it charged in case of emergencies.
Having a Portable Solar Charger/External Battery Pack is a great compact tool that serves multiple functions. It can charge tablets and smartphones and has an LED Flashlight/Emergency Light.
---
We have a totally awesome post with tips on How To Charge Your Phone Without Electricity While Camping!
Some of these cool gadgets are gonna BLOW YOUR MIND!!! In a good way, of course LOL 😎
---
Whether we are dispersed camping or at a campground with full hookups, we use battery powered lights after the sun goes down.
And, that's only if the moon, stars and our campfire are not already shining our paths.
We try to limit our devices to those that use LED lights, like these Multi Purpose Lights, which have clips making it easy to hang them inside a tent or from a tree branch.
The brightness and number of hours you get from devices with LEDs is crazy awesome compared to the rest!!!
---
If you prefer to go solar when it comes to your personal lighting needs while you are wild camping, this LED Solar USB Rechargeable Lantern can be set on a table, hang from an awning or tree branch.
If you don't go dispersed camping very much, you might not realize the need for a handy lantern.
They are really important on nights of low light from the moon and stars … especially when you need to use the "outhouse" after dark! 😳
---
Lights are not the only things you can power with the sun when boondocking!
Want more tips and information about using solar power while dispersed camping?
Check this post Solar Products For Camping to help you generate power that is free and readily available even if there is no electric utility line in sight!
---
If you talk to my husband, he would probably tell you the most important light at any dispersed camping site is the one that lights up the cooler of beer!
Well, really, our drink cooler also holds our juice, drinking water and sodas too.
This Cooler Light has an LED light which is designed to turn on when you open the cooler lid and off after the lid is closed for 20 seconds … automatically!
As a side note, they work if the cooler is filled with food too … LOL!
---
String lights are my personal favorite when it comes to dispersed camping lighting.
We hang these from our RV awning and when tent camping we hang them around the entrance to our tent as well as the portable outhouse.
They have the perfect glow to light areas without overpowering the darkness … I call them "landscape mood lighting" for the campsite!
We have two sets of these Coleman LED String Lights, each string has 10 tiny LED lanterns and they run on AA-cell batteries.
---
There are so many cool lights for boondocking. Lots of them do double duty!
See the latest Best Camping Lights For Lighting Your Campsite in our post and never be in the dark again … unless you want to, of course. 😉
---
If you are in an RV and will be dispersed camping for an extended period of time (or you are just high energy users), you will love this Foldable Solar Suitcase which produces more energy than similar sized units and it folds up for easy storage and transportation … hence the name "suitcase"!
---
Where can I go dispersed camping and how much does it cost?
Dispersed camping in National Forests and on BLM Land – The Bureau of Land Management is usually free. But, there might be a nominal fee or some sort of permit required.
---
One of my favorite resources for finding areas approved for dispersed camping is my Benchmark Road & Recreation Atlas. It contains maps of public lands including backcountry roads, trailheads, campgrounds, RV parks, golf, boating and points of interest.
I use my map so much that it is tattered to the point that I am embarrassed to show it to anyone.
But, I won't get rid of it because I write notes all over the thing!
If we are driving past a pretty area that we have never camped at before, I jot a note on the map to research further for our next adventure.
I recommend you get one of these for the states where you plan to travel.
Off grid camping becomes much less intimidating with one of these maps! 😎
---
Restrictions for dispersed camping in National Forests
Typically you must camp within 150 feet of a roadway
And more than 100 feet from a lake or stream
You need to bring your own firewood
You can usually cut "dead and down" if you have the right tools. Most rules let you use dead wood at your campsite but require a permit to take any home with you.
United States National Forest rules regulate dispersed camping and are enforced by field service offices
Every forest has its own rules, so check with the appropriate forest service office for details
Where to find more information for dispersed camping in National Forests
Our preferred method of wild camping is going dispersed in National Forests.
It took some research and we learned tips to make it easy and fun.
We've got tons of information in our Camping In National Forests post.
---
Boondockers know … you really need to be self-sufficient when you are wild camping off-the-grid.
You need to be prepared for mechanical problems with your equipment and your vehicles.
You don't need to be a mobile hardware store … BUT … you do need to have some basic tools in your toolkit!
Get your FREE copy of our RV Tool Kit Checklist so you are not trying to get a signal on your cell phone to call AAA. 😉
---
In addition to being prepared with tools, you need to make sure you don't forget to pack any necessities when you are boondocking.
It can be a great distance to the nearest store to pick up a tube of toothpaste because you forgot to pack one!
Our checklist for camping, Ultimate RV And Tent Camping Checklist will keep you organized and staying put once you arrive at your dispersed campsite!
---
Wild Camping In Tents
How to have shower and toilet facilities when dispersed camping
Just like the water situation, you need to bring your own bathroom facilities when you are boondocking!
Fortunately, if you are dispersed camping in an RV, you don't have to worry about the lack of campground toilet and shower facilities.
If you are tent wild camping, that is a different story! Here are a few solutions.
---
I like a long hot shower when I am at home so why would I change when I am dispersed camping? Here's why, hauling water!
So, I had to learn how to take trickle showers but that does not mean the water has to be cold! In fact, I was surprised at how well this Solar Shower works.
The first time I used it I actually almost scalded myself … these things get the water HOT even in overcast conditions.
So, my advice, be careful to test the water before taking your shower … then, enjoy the freshness that only a hot shower can provide!
---
If you'd rather use battery power when it comes to showering while dispersed camping, this Handheld Portable Shower allows you to use water from a bucket and turns it in to a steady gentle stream.
The cool thing about this device is that it defies gravity!
Water is heavy and to be able to leave the water source for your shower on the ground in a bucket … is awesome. It runs on a Built-In 2200mAh Rechargeable Battery.
---
If you want privacy when doing your personal business while boondocking, this Pop Up Tent provides shelter for showering, changing or using the toilet.
When we first started dispersed camping we would just hang tarps from trees and hope for the best.
That was ok, but when we graduated to the privacy shower I was much happier!
---
My first dispersed camping toilet experience was with one of these Portable Folding Toilet gadgets. It works … but just barely.
It's better than squatting over a hole in the ground but beyond that I can't say I am sad this is in my past.
If you use one of these on ground that is soft, be careful because the legs will tend to sink into the soil and at that point, well, what is the point?
You might as well just do the squatting thing. The good news is that these fold for easy transporting and they are cheap.
---
If you want a more stable based toilet but not as compact for traveling, this Emergency Toilet Bucket Kit is a good option for dispersed camping.
It contains wet wipes, toilet paper, nitrile gloves, bio hazard bags and blue toilet chemicals so you have the bare bones basics for doing your business while boondocking.
---
Now we're talking premium toilets! This Camco Portable Toilet is awesome for dispersed camping. It has a seat and a lid!
I feel right at home when I have to ask my husband why he left the seat up!!!
It has a bellow-type flush and a holding tank which is detachable for cleaning. It almost feels like you are sitting on a regular toilet in your home.
I never thought I could get this excited about a toilet but I am! This thing is SWEET!
---
For more great information, check out Kick off the camping season with a stress-free Memorial Day trip in 10 easy steps and 50+ Memorial Day Camping Recipes for Your Holiday Menu (they work in the backyard too!)
We hope you enjoy your Memorial Day holiday! Please remember to celebrate and pay tribute to those who have paid the ultimate price serving our country.
If you're looking for awesome ideas for yummy camping food, you're in the right place!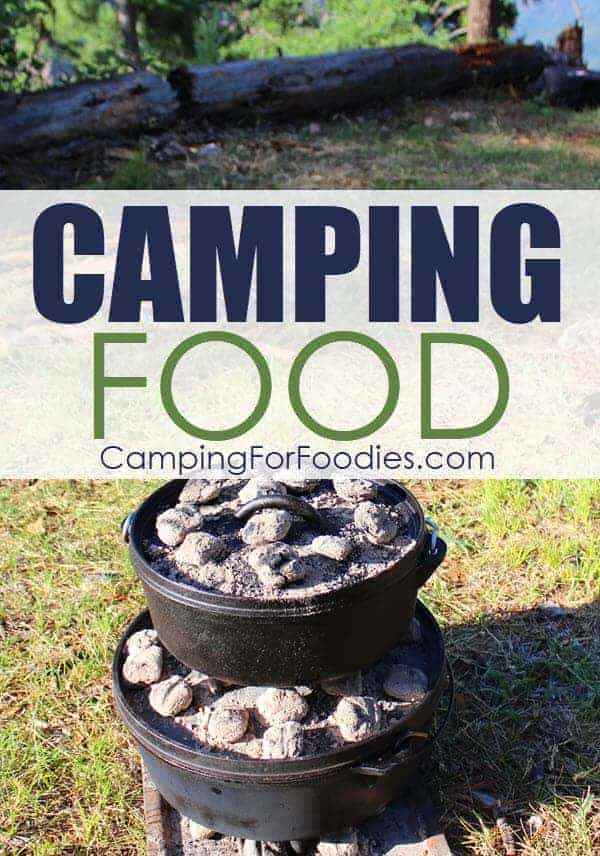 Here's our entire camping recipes list.
Get FREE camping tips and recipes emailed to you!
Our Camping Products Make Great Gifts!
Flexible Cutting Mat
Cutting Mat Set
Stainless Steel Cocktail Shaker Set
---