4 Ingredient Banana Pancakes: Simple, Fast, Vegan & Healthy
Can 4 Ingredient Banana Pancakes be delicious, easy and healthy? Yes! This is one of my favorite camping breakfast ideas because it's quick to prepare and sweet without using refined sugar.
Psst we're compensated…see our disclosures.
Recipe Prep
From-scratch recipes that require dry ingredients are easy to make at camp if you measure and mix at home. These hot cakes use flour and baking powder for the dry mixture you can combine in advance.
---
Cooking Methods & Equipment
If you are making this as one of our easy campfire recipes, start your fire first so you can build up a nice bed of coals for cooking. I like using a cast iron griddle for this.
This is such a fast recipe, you may want to prepare as one of our camp stove recipes, then, you can enjoy your breakfast and quickly move on to the other activities you have planned for the day. You can use a cast iron skillet or non-stick skillet here.
---
Recipe Steps
Step 1. Prepare your ingredients, heat source and equipment as directed.
Step 2. Mash bananas. Peel the bananas, place them in a bowl and mash them with a fork.
Step 3. Add remaining ingredients. Add the flour, baking powder and almond milk to the mashed bananas. Mix them until they are just combined, you don't want to overmix here.
Step 4. Heat pan. Over medium heat from campfire coals, a camp stove or RV stovetop, preheat your skillet or griddle.
Step 5. Cook pancakes. Use cooking spray to prepare the pan, then, pour batter making the size of pancakes you desire. The batter may be thick so just use a fork to spread it out a bit.
Camp Cooking Tip: Depending on the size of your pan or griddle, you may need to cook the cakes in several batches.
Step 6. Flip and serve. Cook the first side, then, flip and cook the second side to a golden-brown color. Serve hot with your favorite toppings.
---
Substitutions
Many people use all purpose flour to make 4 ingredient pancakes but if you want gluten-free and grain-free flour alternatives, coconut or almond flour are popular choices. See all of our ideas for making gluten free camping food.
To make your own oat flour, just pour oats in a blender or food processor, then, blend until the mixture resembles the texture of a fine flour.
We're using a plant-based milk (almond milk) to make these vegan-friendly and dairy-free. If you use yogurt, you'll need to use one that avoids animal milk and uses a soy or nut-based alternative if you want to keep them dairy-free. Get all of our vegetarian camping recipes.
---
What To Serve With This Recipe
If you want to go through a little more effort, top these 4-ingredient banana pancakes with a yummy Strawberry Banana Compote. The classic combination of strawberries and bananas is delicious and a great way to add extra vitamins and nutrition from fruit.
When I'm making easy camping meals, I like to keep the sides simple too. A quick brown & serve sausage is a nice savory addition to balance the sweetness of the pancakes. Use a plant-based breakfast patty to keep the meal vegan-friendly.
Get your FREE printable camping trip & menu planner before you create your next meal plan!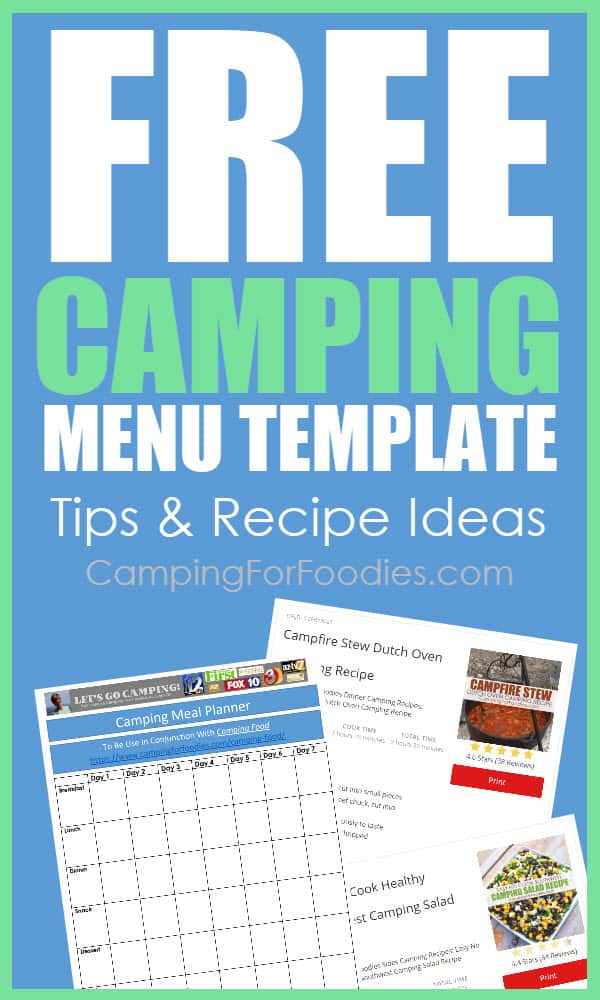 ---
Leftovers
This recipe serves four but I also make it when I need camping meals for two because you can just store leftover cooked pancakes in a fridge or cooler. They can be reheated in foil over a campfire or in a microwave or toaster if you have access to one.
Kids love these four ingredient pancakes when served as an ice cream sandwich for dessert. Make the treat by sandwiching a scoop of ice cream or frozen yogurt between two pancakes, place in freezer or cooler with dry ice until ready to enjoy. Let defrost slightly before serving.
---
Print This Recipe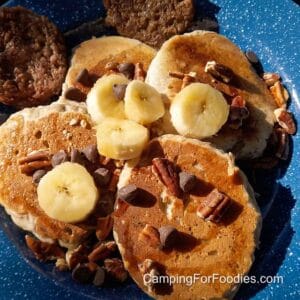 4 Ingredient Banana Pancakes
Camping For Foodies Breakfast Camping Recipes: These 4 Ingredient Banana Pancakes are quick, healthy and vegan-friendly.
Ingredients
1

cup

flour*

(all purpose, oat flour, almond flour or rolled oats are all fine, make sure they are gluten free, if necessary)

2

teaspoons

baking powder*

3

ripe bananas

1/2

cup

almond milk

(or yogurt)

Cooking spray or coconut oil

(if needed for pan)
Topping suggestions
Additional banana slices

Peanut butter and chocolate chips

Nut butter and cinnamon

Maple syrup

Fresh fruit and nuts
Instructions
Ingredients marked with * can be measured and mixed at home.

Remove the skins then use a fork to mash the bananas in a medium sized bowl.

Stir in the flour, baking powder and almond milk. Blend all ingredients well but don't overmix them, you are looking for a thick but pourable consistency.

Preheat skillet or cast iron griddle on medium heat.

Spray pan with cooking spray

Scoop or pour batter onto pan to make the size of pancakes you desire. Use a fork to spread the batter, if needed. (Depending on the size of your pan or griddle, you may need to cook the cakes in several batches.)

Cook until bubbles form and then begin to pop, then, flip to cook the second side. It will be about 5-10 minutes total to get a nice golden brown color, depending on how hot your griddle is and how large you like your hotcakes.

Serve hot with topped with your favorite toppings.
Nutrition Information
Serving:
1
g
Calories:
265
kcal
Carbohydrates:
50
g
Protein:
6
g
Fat:
5
g
Saturated Fat:
2
g
Polyunsaturated Fat:
2
g
Monounsaturated Fat:
1
g
Sodium:
689
mg
Potassium:
391
mg
Fiber:
4
g
Sugar:
13
g
Vitamin A:
57
IU
Vitamin C:
8
mg
Calcium:
246
mg
Iron:
3
mg
---
Similar Recipes
This is one of my favorite pancake recipes because it starts with a just-add-water pancake mix that is topped with a fantastic sauce that incorporates peanut butter and chocolate chips.
This recipe makes fluffy hot cakes that are better than the ones you get in a restaurant.
Just add water to a mix, cook till golden then top with macerated strawberries for a simple breakfast.
Canned peaches make the topping for this meal that is one of our easy camping food recipes no refrigeration required. It uses only pantry ingredients which is great when cold food storage space is limited.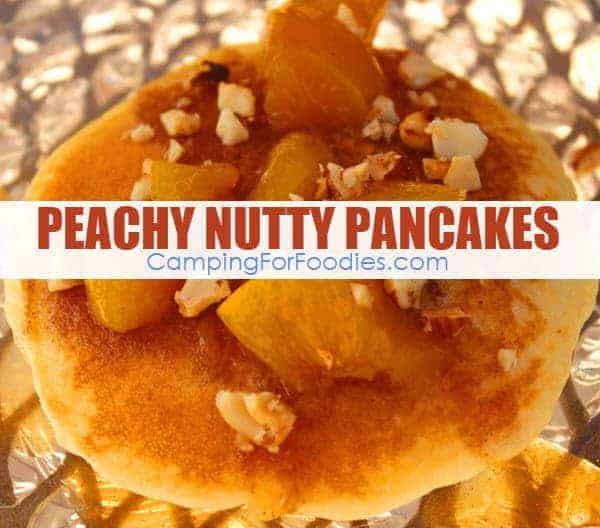 ---
If you haven't tried one of these, you should! It's a custardy type of pancake that's sort of like a combination of a popover and a crepe that is baked in your camp Dutch oven. Yummy!
---
More Yummy Meal Ideas
Every meal on your trips can be delicious and easy. Try something new soon!