Peanut Butter Chocolate Chip Camp Stove Pancakes
Peanut Butter Chocolate Chip Camp Stove Pancakes
Who doesn't like peanut butter and chocolate??? But, for breakfast??? I knew kids would love these Peanut Butter Chocolate Chip Camp Stove Pancakes but I had a backup plan for the adults. To my amazement, I didn't have to use it because the adults loved these too! Psst we're compensated…see our disclosures.
Nesting Kitchen Gear Set
Camco Nesting Cookware Set
GSI Outdoors Frypan
&
Set up your cooking environment. I typically cook pancakes over a morning campfire but occasionally we have to use propane because of fire restrictions; this recipe is easy to make in either case. Set up a propane camp stove (don't forget to refill your propane cans) or if you are cooking with a campfire, get your fire going … try fire sticks to get your campfire started then set up your grill grate. By the way, I have tips on How To Camp When Camping Fire Restrictions Are Activated too!
Prepare the batter. In a bowl, combine ingredients for pancake batter.
Pancake mix prepared according to package directions
Camp Cooking Tip: I use 'just add water' pancake mix for this recipe because the star of the show is the peanut butter sauce and chocolate chips. Keeping the batter easy makes this recipe fun and simple for camp cooking!
Make the syrup. In a saucepan, cook the following over medium heat, stirring to combine.
¼ cup milk
¼ cup powdered sugar
Pinch of salt
2 tablespoons creamy peanut butter
¼ teaspoon vanilla extract
Cook the pancakes. Pour pancake batter on prepared surface of a large skillet or pancake griddle.
Non-stick cooking spray to cover cooking surface
Prepared batter
Semi-sweet chocolate chips (you'll need approximately half of an 11 oz bag, dot batter with lots of chips if you want your pancakes really chocolatey (reserve a few for serving too).
Camp Cooking Tip: Flip when edges start to firm and DON'T let the chocolate chips burn.
Serve them. Drizzle with syrup and place a few more chocolate chips over the top for serving.
No time to look for recipes, create a menu and write a grocery list? No Problem! Get our 3-Day Dutch Oven Camp Menu Plan here!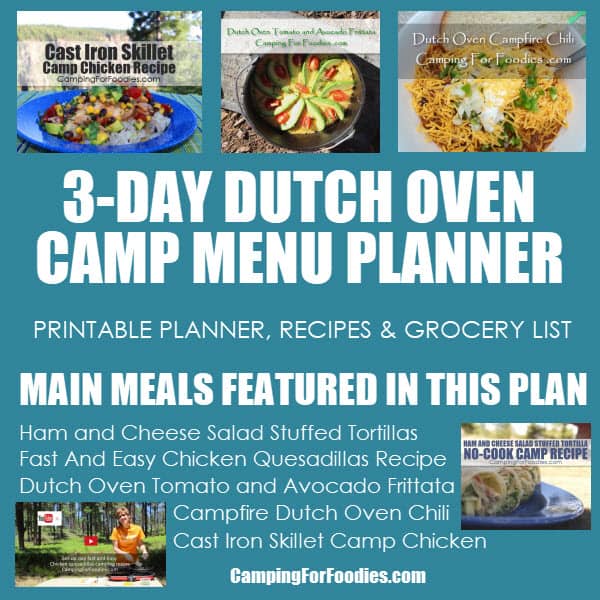 ---
Peanut Butter Chocolate Chip Camp Stove Pancakes Recipe Cooking Tips
I like mixing my batter in camp-friendly cooking utensils. This Compact Nesting 9-Piece Set saves valuable storage space because everything "nests" into an organized little group. It contains the following: 10.5 inch mixing bowl, 9 inch colander, 7.5 inch sieve, 6 inch bowl with measurements and spout, 1/4, 1/3, 1/2, and 1 cup measuring cups and measuring spoons!
&
Camco Stainless 7-Piece Nesting Cookware Set
Having pots and pans that "nest" are great space-savers in your camp kitchen box or RV! This Camco Stainless 7-Piece Nesting Cookware Set is induction cooking compatible and oven safe! The set includes: dome lid, stepped lid, 2 quart saucepan, 3 quart saute pan, 5 quart stock pot, handle and storage strap.
&
This GSI Outdoors Bugaboo Frypan comes in 8, 10, 12 and 14 inch sizes. It is made from lightweight aluminum and has two layers of nonstick material to resist scratches. Plus, it has a removable handle to minimize storage space requirements!
&
Lodge Cast Iron Reversible Grill/Griddle
I love cooking with my Lodge Cast Iron Reversible Grill/Griddle because I can use it directly over a campfire or with a camp stove. It is heavy so it maintains even heat for longer periods of time which is great if you are cooking for large crowds … you don't have to give it time to heat back up to temperature between batches!
&
Coleman Eventemp 3-Burner Propane Stove
I have several types of camp stoves and love them all for different reasons. The Coleman Eventemp 3-Burner Propane Stove is the camp stove I used when cooking these Peanut Butter Chocolate Chip Camp Stove Pancakes for this blog post. Because it has THREE BURNERS (yes, I know I'm yelling but I get really excited about this stove) you can fit two 12-inch pans, 3 smaller pans or a pancake griddle on this stove. It uses 1-pound propane bottles for fuel.
&
Disposable Propane Bottle Refill Adapter
When it comes to cooking with 1-pound propane bottles, I love the convenience of them but I always hated throwing away the empty bottles … it is such a waste and environmentally unfriendly! So, I was totally happy when I realized you can REFILL the bottles! This Disposable Propane Bottle Refill Adapter allows you to transfer propane from a larger can to your camp stove 1-pound bottle and it is super easy to do!
&
Texsport Heavy Duty Over Fire Camp Grill
Some of our camp trips take us to campgrounds with full hookups but most of our camping is off-the-grid boondocking in National Forests where we have primitive camping spots and need to bring our own campfire grill grate. This Texsport Heavy Duty Over Fire Camp Grill is made of heavy-duty welded steel and specifically designed for cooking over an open fire. The legs fold up for easy storage and it comes in several sizes. By the way, if you want tips on boondocking off-the-grid, check out our Go Dispersed Camping post!
&
Get More Camp Menu Ideas From Our Camping Recipes List!
 Funny Apron
 Cutting Mat
 Mat Set
 Shaker Set
 Fun Hammock
&
If you need camping recipes and menu ideas, you can find them here at the Camping For Foodies Camping Recipes list.
Don't miss a thing…sign up for Camping For Foodies email updates!
Your purchase of our products will help support World Vision ® Building a better world for children.