Strawberry Banana Compote: Easy sauce recipe for breakfast & dessert food
This easy recipe for Strawberry Banana Compote will take your breakfast and dessert foods to the next level with very little effort. Why use maple syrup when you can use one of the best camping breakfast ideas that was ever invented!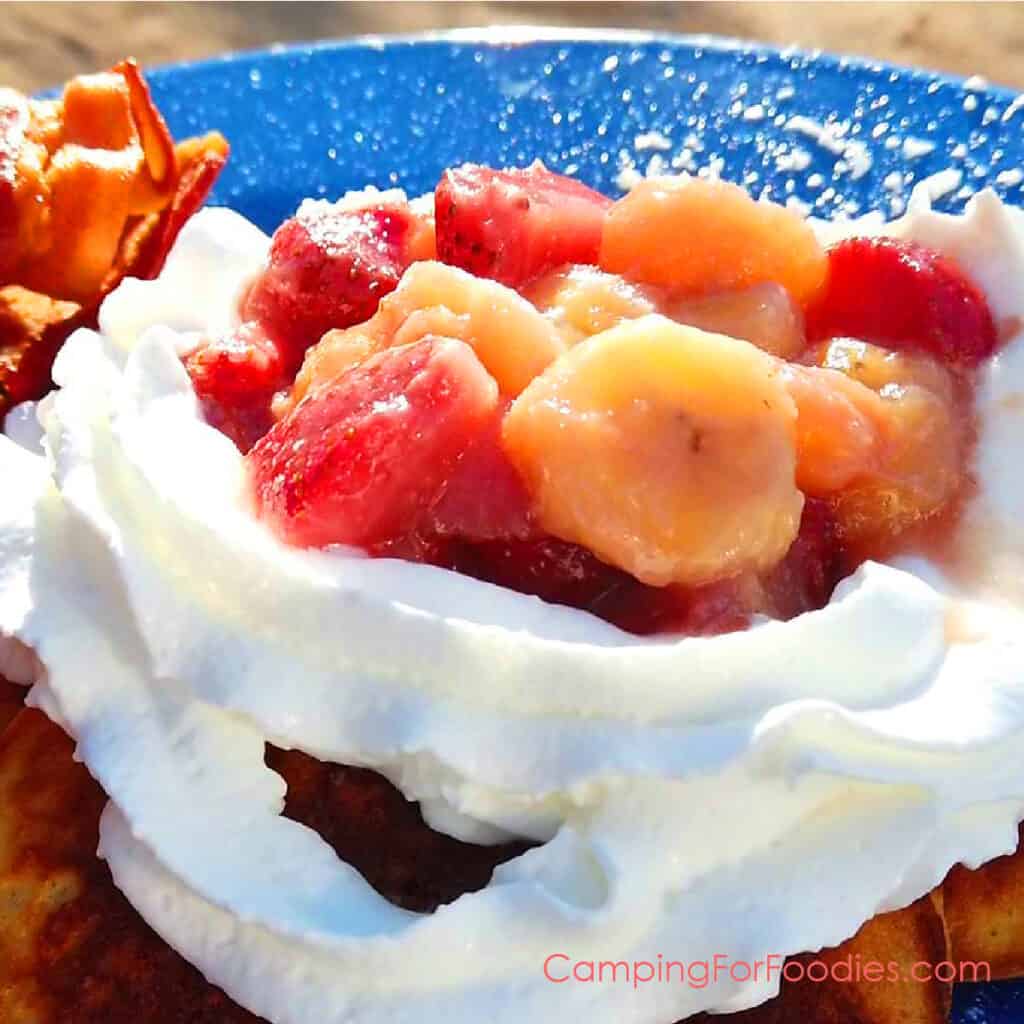 Psst we're compensated…see our disclosures.
What Are Compotes Used For?
A fresh fruit compote is a fruit sauce usually made by cooking fresh berries with a few tablespoons of sugar and something acidic, like lemon juice. The fruit breaks down and forms a nice syrupy, chunky, sweet sauce that is the perfect topping because it can be used so many different ways.
Some compotes are seasoned with spices. Others even use a little bit of liquor to add flavor, but, the alcohol is cooked off. Thinking of Bananas Foster makes my mouth water!
Great Recipes For Breakfast: Compote is a great substitute for maple syrup and whipped cream on breakfast items. Try it on top of pancakes, French toast, waffles and oatmeal.
Great Dessert Ideas: Quick blueberry and simple strawberry compotes are popular toppings for pound cake and angel food cake as well as ice cream and thick Greek yogurt which are great gluten free camping food options for dessert.
---
Pairings & Similar Recipes
Vegetarian camping recipes are enhanced with compotes. Our banana and strawberry sauce is the perfect topping for these fluffy homemade Sweet Cream Pancakes.
When you need easy camping meals to start your day, try these wonderful Just Add Water Camping Pancakes. We serve them with macerated strawberries but we also use other toppings like fresh fruit compotes.
This Campfire French Toast is made with thick slices of Texas toast and can handle any topping you crown it with.
Pie Iron French Toast is made over hot coals with campfire cooking irons.
These savory Dutch Oven Biscuits make a sweet treat when topped with jam or compote.
This Lemon Blueberry Topped Dutch Oven Dutch Baby is delicious and simple. You can swap out the blueberry topping with any type of compote you desire.
One of my favorite camping desserts uses a store-bought pound cake that is grilled then topped with berries or compote. Try this Grilled Pound Cake With Berries on your next trip.
Banana toppings go great with these 4 Ingredient Banana Pancakes that are healthy, vegan and made with non-refrigerated ingredients!
---
Recipe Prep
You'll need about a cup of chopped strawberries and two sliced bananas for this recipe so the prep is really easy to do right at the campsite.
---
Cooking Methods & Equipment
The cooking is so fast, I usually just make this compote as one of our camp stove recipes and use a regular sauce pan. An RV stove or conventional stove are fine too.
I wouldn't start a fire just to make this fast recipe, but if you already have a campfire going or will be making other things over it, use a cast iron skillet or other heavy duty cookware to make this as one of our easy campfire recipes.
---
Recipe Steps
Step 1. Prepare your ingredients, heat source and equipment as directed.
Step 2. Melt butter. Place a medium saucepan or skillet over medium heat, then, add the butter and let it melt.
Step 3. Add remaining ingredients & bring to boil. Once the butter is melted, add the sugar, salt, strawberries, bananas and orange juice and let the mixture come up to a boil.
Step 4. Reduce heat & simmer. After the compote begins to boil, turn down the heat to a low temperature and let the fruit simmer. It will break down and start forming a syrup, about 15 minutes.
Step 5. Cool slightly & serve. Remove the pot from the heat and let it cool a bit before serving it as a topping. If you have any leftovers, store them refrigerated in an airtight container for later use.
---
Print This Recipe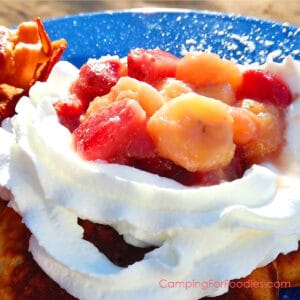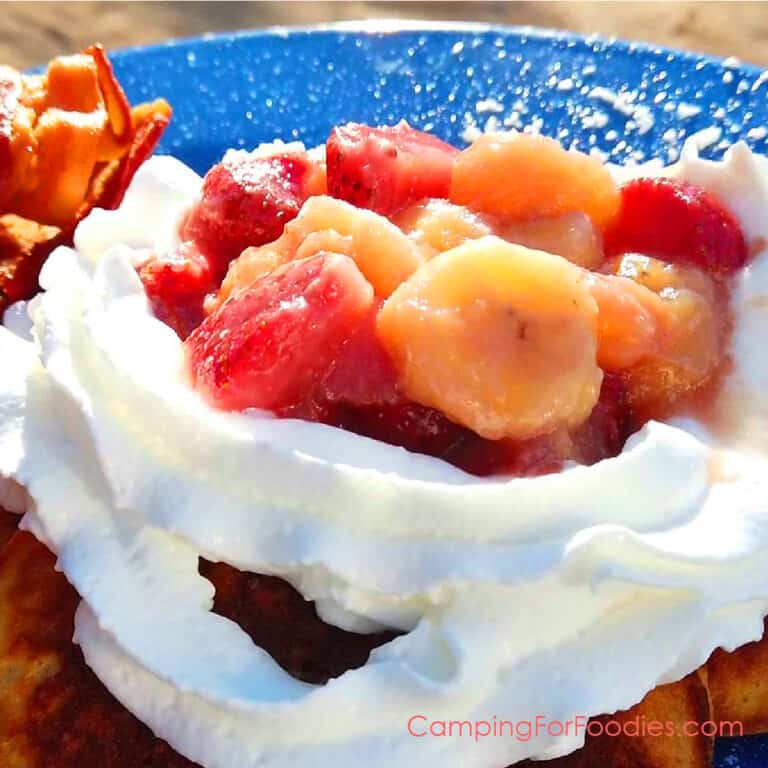 Strawberry Banana Compote
Camping For Foodies Sauces Spices And More Camping Recipes: This easy Strawberry Banana Compote recipe makes a sweet topping for breakfast and dessert.
Ingredients
2

tablespoons

unsalted butter

1

tablespoon

brown sugar

1

pinch

of salt

1

cup

fresh strawberries

cleaned, hulled and roughly chopped (if using frozen strawberries, let them fully defrost, then give them a rough chop)

2

bananas

sliced into coins

1/2

cup

fresh orange juice

or good quality like Simply Orange Juice (if using frozen strawberries, reduce orange juice to 1/4 cup)
Instructions
Prepare ingredients as directed.

Heat a medium saucepan over medium heat, add the butter and let it melt.

Add sugar, salt, strawberries, bananas and orange juice and bring to boil, then reduce to low heat to simmer until the fruit begins to break down, about 15 minutes

Remove from heat, let cool slightly and serve warm as a topping over your favorite breakfast or dessert foods.

Refrigerate leftovers in an airtight container.
Nutrition Information
Serving:
1
g
Calories:
140
kcal
Carbohydrates:
22
g
Protein:
1
g
Fat:
6
g
Saturated Fat:
4
g
Polyunsaturated Fat:
1
g
Monounsaturated Fat:
2
g
Trans Fat:
1
g
Cholesterol:
15
mg
Sodium:
3
mg
Potassium:
334
mg
Fiber:
2
g
Sugar:
14
g
Vitamin A:
279
IU
Vitamin C:
42
mg
Calcium:
16
mg
Iron:
1
mg
---
More Yummy Meal Ideas
Every camp meal can be delicious and simple … try a few new ideas.