Easy Dutch Oven American Chinese Chop Suey
It is fun to make your favorite takeout meals as Dutch oven camping recipes! This American Chinese Chop Suey is made from readily available, simple ingredients that are packed with flavor. You're gonna love this easy recipe filled with your favorite vegetables, chicken and sauce served over rice.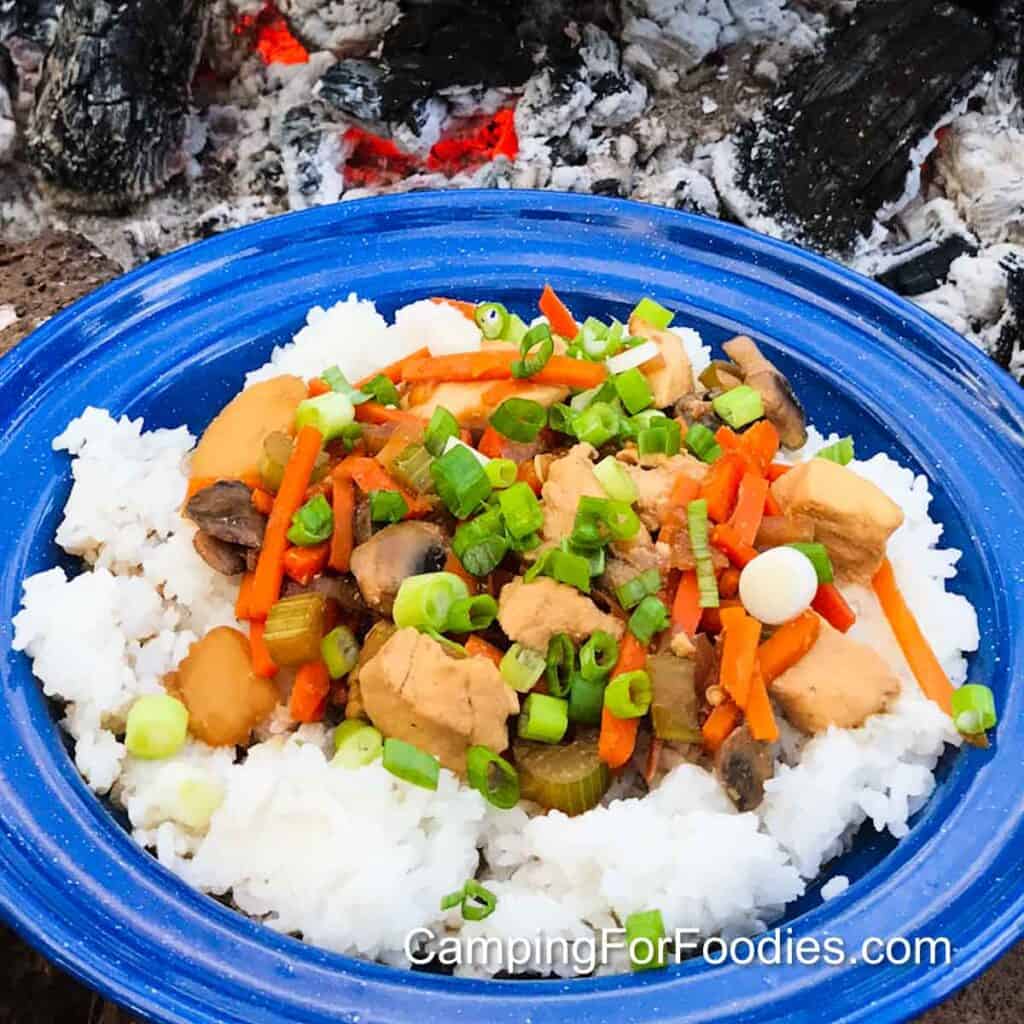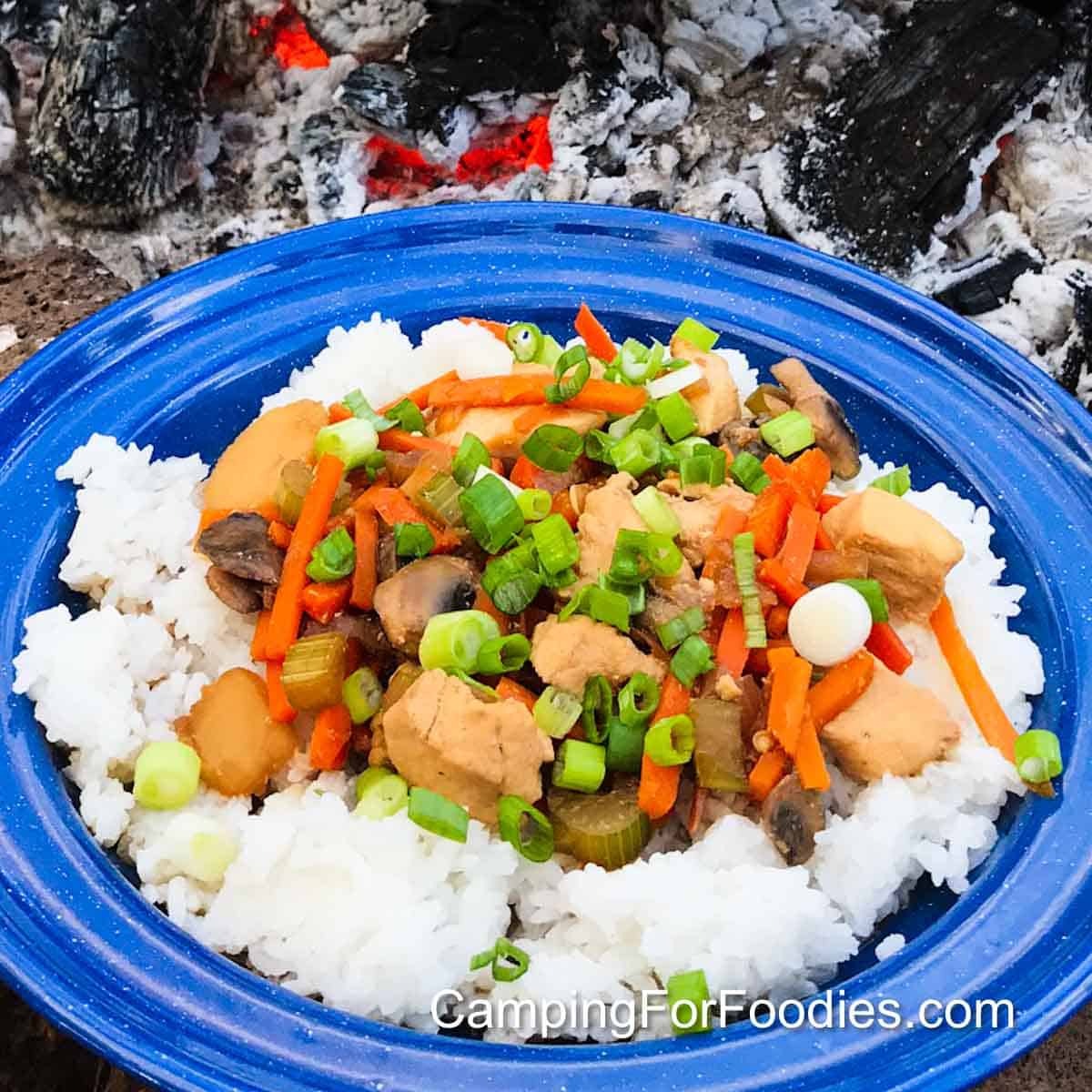 Psst we're compensated…see our disclosures.
Chop Suey vs Chow Mein
One big difference between chow mein and chop suey has to do with noodles.
When you are making chow mein you typically add cooked noodles in the dish.
With chop suey, you usually serve the recipe over rice or noodles.
So, you can think of old fashioned chop suey recipes kind of like a no noodle chow mein.
If you skip the rice and noodles altogether, this recipe becomes a low-carb, keto-friendly meal.
---
American vs Chinese Chopsuey
Don't confuse my American Chinese dish with an American chopsuey recipe. Those typically contain macaroni pasta with ground beef in a tomato sauce, some people call them goulash. I have a fantastic Dutch Oven Campfire Goulash that is made in one pot and boiling water is not required!
---
Prep To Make This Chicken Chop Suey Recipe
As with all veggie-heavy camping dinner recipes, you'll want to prep all your vegetables before you do anything else.
You can even chop everything at home so you just dump and cook at the campsite.
For this recipe you'll need to chop some carrots, onion, mushrooms, garlic, celery and green onions.
To make this job a bit easier, you can buy carrots and mushrooms already sliced.
Oh, if you are cooking GF, this is just one of our recipes to make gluten free camping food.
---
Methods Of Cooking Chop Suey At The Campsite
If you are making this as one of our campfire recipes, you'll need to get your fire going in order to cook over coals (not flames) but you can also use charcoal briquettes as a heat source.
Alternatively, this American chop suey recipe can be made as one of our camp stove recipes so get your stove ready for cooking on a level surface.
---
Steps To Make Camp Oven Chicken Chop Suey
Step 1. Prepare your ingredients as directed.
Step 2. Prepare your heat source to begin cooking over a medium-high heat and pre-heat the Dutch oven.
Step 3. Start cooking the veggies. Add oil to the pot and let it heat up, then add the carrots, onion, mushrooms, garlic and celery. You are cooking them until they soften a bit before adding the next ingredients.
Step 4. Brown the chicken. Now it is time to add the chicken to the pot. You are looking for the pieces to get lightly browned on all sides.
Step 5. Stir in the spices. You'll sprinkle the ginger and red pepper flakes over the mixture while stirring to combine the spices throughout the dish.
Step 6. Add the liquids. This flavorful chop suey sauce is made from the chicken broth and soy sauce you are going to add to the pot now along with the water chestnuts.
Step 7. Cook through and thicken. You will cook the pot with the cover on until the chicken is thoroughly cooked and then you will remove the cover and continue cooking until the sauce is as thick as you like it.
Step 8. Garnish and serve. Just before serving, you'll top the chop suey with green onions and serve it hot over rice. If you want to go low-carb, you can eliminate the rice.
---
Substitutions
To make this a veg American chopsuey, replace the chicken with firm tofu and proceed with the recipe directions.
The really nice thing about Chinese cuisine is the ability to change out different vegetables. Some popular options include adding cabbage, bean sprouts, green beans and snap peas.
Add fried noodles for extra crispness to finish the dish.
I like serving my Asian camp recipes over rice because it is readily available in grocery stores across America. But, if you want to use more traditional ingredients, try serving over hakka noodles. You boil these Indian-Chinese style noodles to an al dente consistency then stir fried in a hot pan with oil and veggies.
Is chicken chop suey keto friendly? It is if you don't serve it over a high carb bed of noodles or rice. Use cauliflower rice as a base for your meal to keep the carbs low.
---
Leftovers
Chopsuey recipes can be made in big batches to serve a lot of people. If you have leftovers they are wonderful reheated and topped with a fried egg for breakfast. For a handheld breakfast, add a little chilli sauce and wrap in a corn flour tortilla for an interesting twist.
---
Similar Meals To This Chinese Chop Suey Recipe
We love cooking Asian-flavored easy camping meals. Try these other recipes too! This Beef, Broccoli & Carrot Camping Stir Fry can be prepped at home for a quick "dump and cook" dinner at camp.
The secret to make this Camp Oven Chicken Curry a flavor-packed meal without a lot of effort is using red curry paste and curry powder … both ingredients are widely available in most grocery stores.
The next three recipes are a couple of our Asian-inspired make ahead camping meals that you prepare at home then just dump and cook at the campsite!
This Beef And Broccoli Freezer Meal uses simple ingredients to create a delicious dinner that cooks in just 10 minutes!
I love this Dutch Oven Thai Campfire Chicken recipe because of the unique flavor combination created by coconut milk and peanut butter. It is so easy and so yummy!
Ginger, garlic and soy sauce are the base of the flavorful sauce created with this Asian Beef And Broccoli meal. The flat iron steak is made tender by slicing it into small strips.
We don't cook with shrimp often but when we do, this Campfire Dutch Oven Thai Basil Shrimp is on the top of our list. It is made with a simple sauce that features the bright taste of fresh basil.
Get your FREE printable camping trip & menu planner before you create your next meal plan!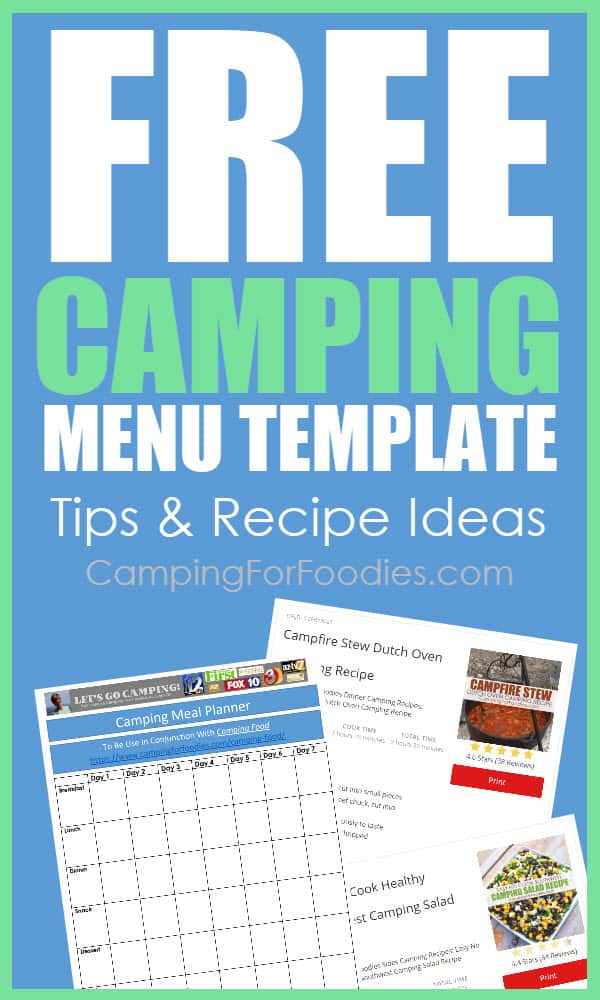 ---
Print This Recipe
Chinese Chop Suey Dutch Oven Recipe
Camping For Foodies Dinner Camping Recipes: This American Chinese Chop Suey is made with readily available ingredients and cooked in your camp Dutch oven.
Ingredients
1

tablespoon

olive oil

4

carrots

peeled and cut matchstick size

1

small onion

diced

1

(8 oz)

package sliced fresh mushrooms

2

cloves

garlic

minced

3

stalks celery

chopped

1

pound

boneless skinless chicken breasts

cubed in 1 inch pieces

1

(14 oz)

can chicken broth

1/2

cup

soy sauce

1/2

teaspoon

red pepper flakes

1/2

teaspoon

ground ginger

1

(8 oz)

can water chestnuts

4

green onions

sliced

4

servings prepared rice
Instructions
Pre-heat 12 inch Dutch oven for cooking over medium high heat.

Heat oil in the Dutch oven.

Add the carrots, onion, mushrooms, garlic and celery to the hot oil. Cook covered, stirring occasionally until the veggies begin to soften, about 15 minutes.

Add the chicken and continue cooking uncovered and stirring until the chicken is lightly golden brown on all sides, about 10 minutes.

Add the ground ginger and red pepper flakes, stirring to incorporate with the other ingredients.

Then, add the chicken broth, soy sauce and water chestnuts, stirring to incorporate everything in the pot.

Cover and cook over medium-high heat until the chicken is cooked through, about 10 minutes.

Uncover and continue cooking until the sauce reaches your desired thickness.

Serve over prepared rice and top with green onions.
Nutrition Information
Serving:
1
g
Calories:
344
kcal
Carbohydrates:
41
g
Protein:
30
g
Fat:
6
g
Saturated Fat:
1
g
Polyunsaturated Fat:
4
g
Cholesterol:
66
mg
Sodium:
1545
mg
Fiber:
4
g
Sugar:
4
g
---
More Yummy Camping Meal Ideas
Have fun with your next camp meal plan!