Camp Oven Chicken Curry: Easy Gourmet Dinner At The Campsite
This is one of our Dutch oven camping recipes that tastes gourmet but is super simple to make at the campsite! The combination of curry and coconut milk make this Camp Oven Chicken Curry taste amazing without requiring a lot of work!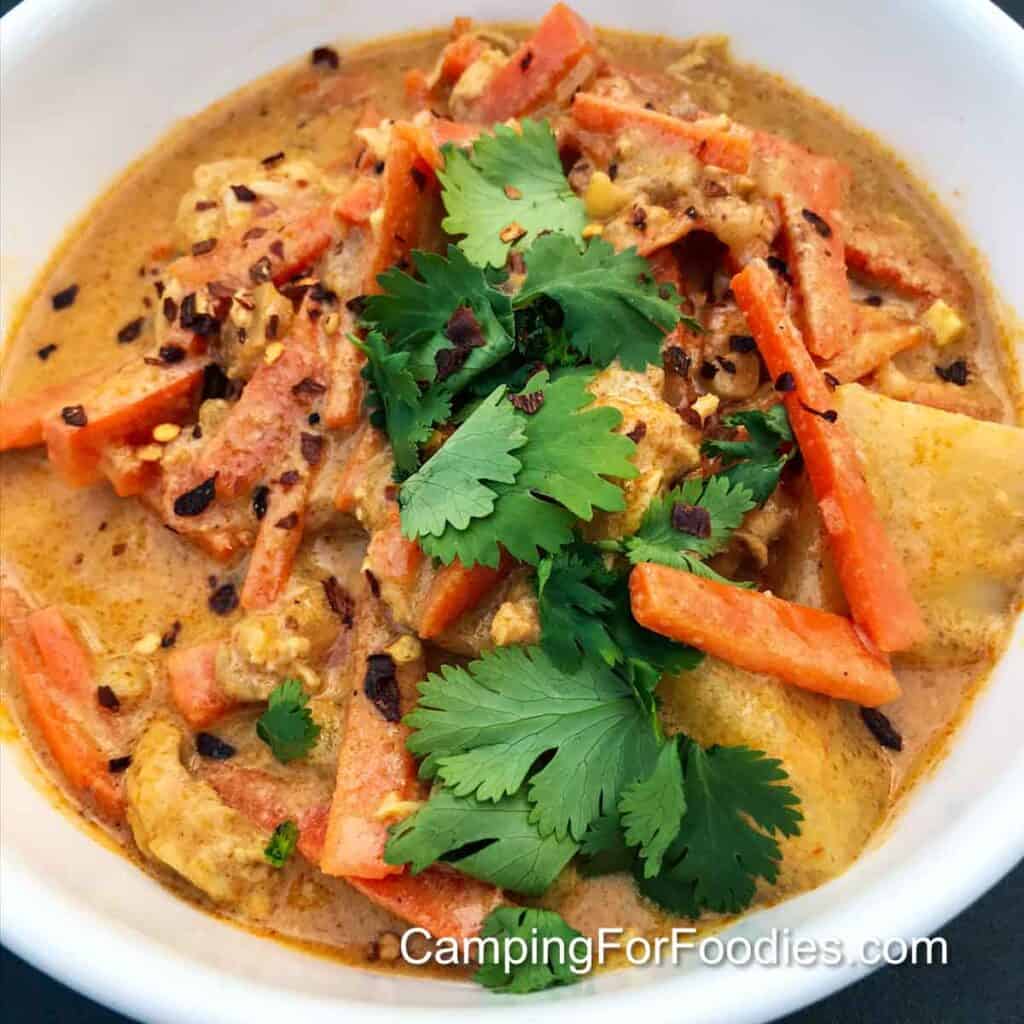 Psst we're compensated…see our disclosures.
How To Make This Camping Chicken Curry Recipe
When you are planning to make this campfire curry meal, you'll want to have EVERYTHING prepped before you start cooking because the beginning steps of this recipe happen quickly and you don't want to "stop the cooking" because you don't have your ingredients chopped and organized.
Step 1. Prepare your ingredients. You'll need to peel and cut the potatoes and carrots, chop the onion, mince the garlic and slice the chicken first.
Step 2. Set up your cooking equipment.
If you are making this as one of our campfire recipes, you'll need to get your fire going in order to cook over coals (not flames) … you can also use charcoal briquettes.
If you want to use charcoal briquettes, get them started … you are just frying and simmering this camping curry recipe so you don't need an exact number of briquettes.
If you are making this as one of our camp stove recipes get your stove ready for cooking on a level surface.
Step 3. Pre-heat the Dutch oven.
As with most of our camping dinner recipes, you'll be using a 12 inch Dutch oven to cook this meal.
You'll start with high heat and eventually bring it down to a medium heat.
Step 4. Heat the oil and stir fry.
As soon as the Dutch oven is hot you are going to add the oil to it.
Let the oil heat up a bit then add the curry paste and curry powder.
You'll need to stir those ingredients as they stir fry over high heat for about 1 minute.
Step 5. Add the chicken and veggies.
Now it is time to add the onion, chicken, potatoes, carrots, and garlic.
Keep stirring the mixture until the chicken is slightly browned … this will take about 15 minutes.
Step 6. Add the coconut milk.
Once the chicken is slightly browned, you are going to pour the coconut milk into the pot.
You'll leave the heat on high so you can bring the mixture to a boil.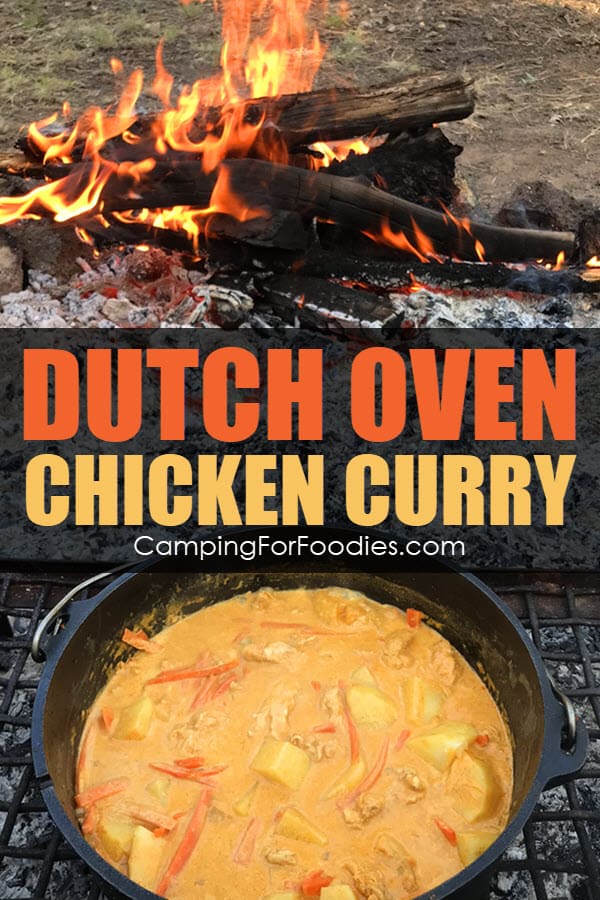 Step 7. Reduce the heat and cook. Now it is time to let this yummy campfire chicken curry simmer over a medium heat until the chicken is done and the potatoes are tender … about 30 – 40 minutes.
Camp Cooking Tip: If you are cooking over a campfire or with charcoal briquettes, to reduce the heat just remove some of the coals away from the Dutch oven. If the pot is still boiling, remove the Dutch oven from the heat source entirely until the cooking slows … then … add it back to the coals to continue cooking at a simmer.
Step 8. Prepare for serving. While the pot is simmering, you can cook (or reheat it if you cooked it ahead of time) the rice and prepare the optional toppings.
NOTE: This is one of my awesome one pot camping meals that can be easily served without rice because there are already carrots and potatoes in the pot with the chicken. If you don't want to cook rice, leave it out entirely or serve a nice crusty bread on the side for dipping in the flavorful sauce.
Step 9. Top and serve. For people who like their Thai food with a little extra heat, add red pepper flakes. Fresh cilantro is a great topping too!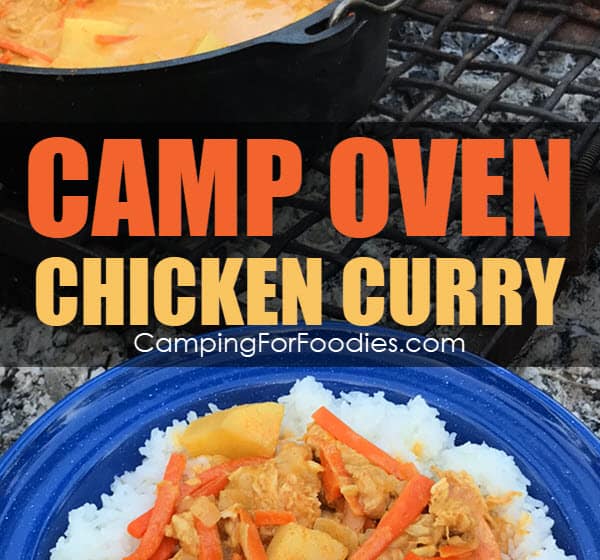 ---
Make It Vegetarian
If you have vegetarians in your group, just substitute about 2 pounds of cooked chickpeas for the chicken.
---
Pairings
This one-pot meal is all you need for a hearty dinner but it's really nice to serve naan bread on the side for dipping into the extra sauce. The flavor and texture are perfect when warmed up and toasted a bit. Place the bread in a frying pan over the burner of a camp stove or on a grill grate over hot campfire coals or charcoal briquettes.
---
You May Also Like
If you like this meal, you'll also want to try our yummy Dutch Oven Thai Campfire Chicken Recipe that uses peanut butter as its secret ingredient!
This chicken curry is a great gluten free camping food option. You may want to try others like our Dutch Oven Latin Campfire Chicken too!
In the mood for chicken and potatoes with an American twist? Try this one pot Dutch Oven Chicken And Potatoes dinner that adds carrots and a little bit of bacon to the dish for extra flavor.
You won't miss your favorite Chinese take-out restaurant if you make this Easy Dutch Oven American Chinese Chop Suey in the wilderness! You use your camp Dutch oven like a wok to stir fry this yummy meal. And, it is one of our make ahead camping meals that you just "dump and cook" when you get to the campsite!
Prefer beef? Try this Beef, Broccoli & Carrot Camping Stir Fry.
Both of these make awesome winter camping recipes that will keep you warm when you are camping in the cold!
Get your FREE printable camping trip & menu planner before you create your next meal plan!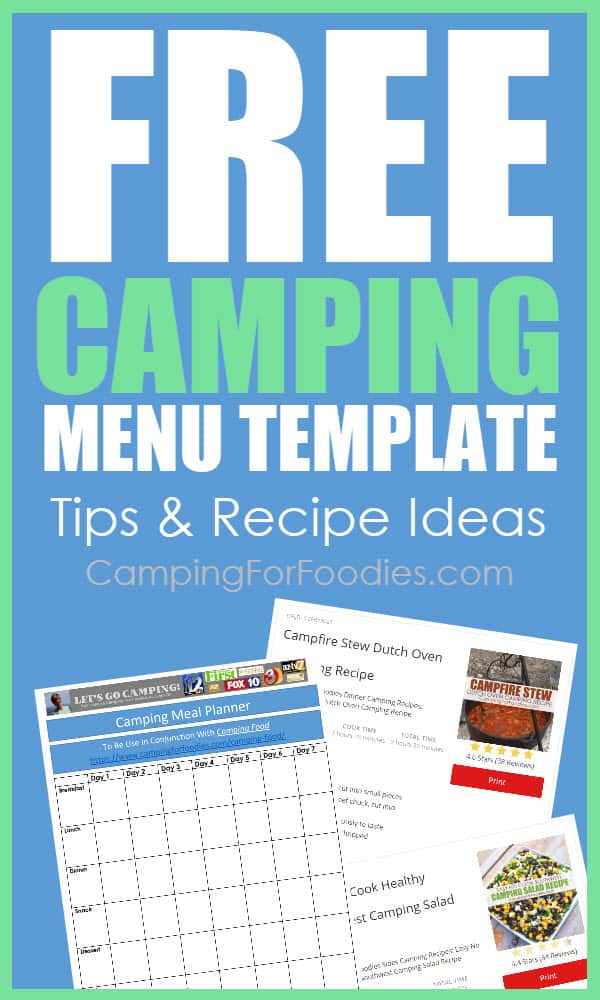 ---
Print This Recipe
Camp Oven Chicken Curry Camping Recipe
Camping For Foodies Dinner Camping Recipes: Camp Oven Chicken Curry Camping Recipe
Ingredients
1/4

cup

olive oil

1

(4 oz)

jar red curry paste

2

teaspoons

curry powder

1.5

– 2 pounds boneless

skinless chicken breasts, sliced

2

potatoes

peeled and cut into 1 – 2 inch cubes

2

carrots

peeled and cut into matchstick size pieces

1

small onion

chopped

2

cloves

garlic

minced

2

(14 oz)

cans coconut milk

Salt and pepper

to taste

Fresh cilantro

to taste (optional)

Red pepper flakes

to taste (optional)

Squeeze of lime

to taste (optional)

6

servings of cooked rice
Instructions
Pre-heat 12-inch Dutch oven for cooking over high heat. You can cook this recipe using heat from a campfire, charcoal briquettes or a camp stove.

Heat the oil in the pre-heated pot.

Add the curry paste and curry powder, stir fry over high heat for about 1 minute.

Add the onions, chicken, potatoes, carrots, and garlic, stirring between each addition. Cook until the chicken is slightly browned which will take about 15 minutes.

Add the coconut milk stirring and bringing the mixture to a boil.

Reduce the heat to medium and simmer, cook covered until the potatoes are done which will take about 30-40 minutes. (see * Note)

Serve over cooked rice and garnish with fresh cilantro, red pepper flakes and lime, if desired.
Nutrition
Serving:
1
g
Calories:
884
kcal
Carbohydrates:
68
g
Protein:
56
g
Fat:
43
g
Saturated Fat:
28
g
Polyunsaturated Fat:
13
g
Cholesterol:
129
mg
Sodium:
613
mg
Fiber:
4
g
Sugar:
2
g
---
More Yummy Meal Ideas
If you want to try more easy and delicious camp recipes, we've got tons of options!
If you're looking for awesome ideas for yummy camping food, you're in the right place!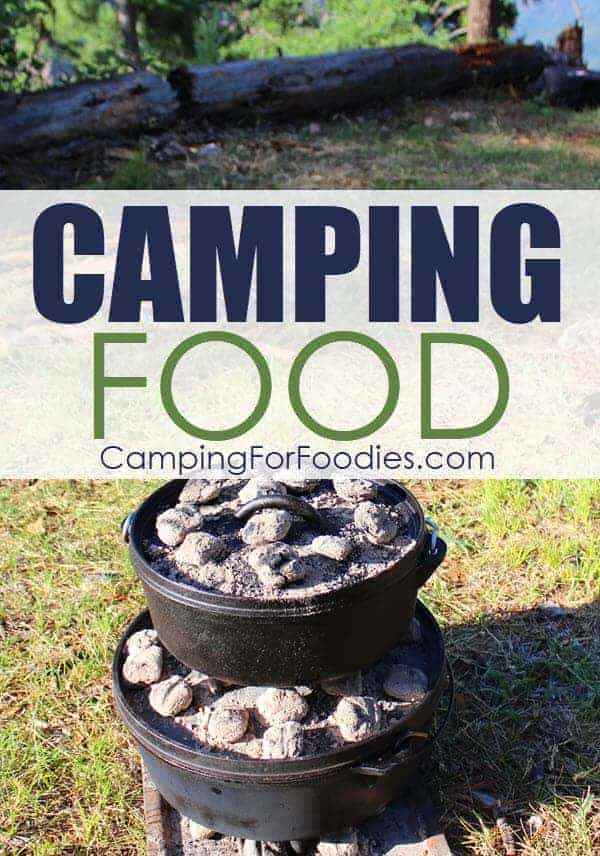 Here's our entire camping recipes list.
Get FREE camping tips and recipes emailed to you!
Our Camping Products Make Great Gifts!
Flexible Cutting Mat
Cutting Mat Set
Stainless Steel Cocktail Shaker Set