Camp Cast Iron Skillet Breakfast Nachos Recipe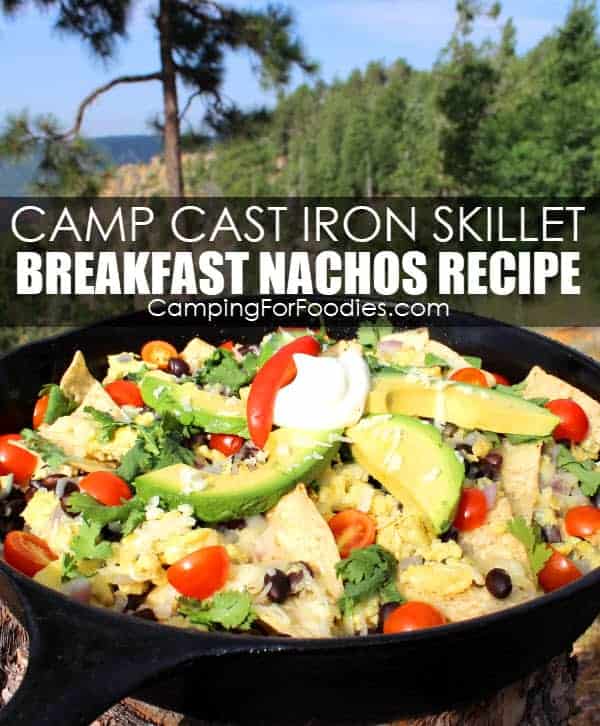 Camp Cast Iron Skillet Breakfast Nachos Recipe
Get the camp torch, we're making breakfast! This Camp Cast Iron Skillet Breakfast Nachos Recipe is fun to make and scrumptious to eat! We have to flip a coin to avoid arguing about who gets to melt the cheese with the camping torch. In the end, we all eat happily ever after … crunching our way through this fun camping breakfast! Psst we're compensated…see our disclosures.
Use Camping Torch To Melt The Cheese
Mag-Torch MT 450 Garden Torch, Silver
Camp Cooking Tip: If you have a recipe that requires using an oven broiler to melt cheese or toast a breadcrumb topping, just use a camping torch when you are out in the wild. It's a fast and fun method for your camp cooking. We also use ours to start our campfires quickly. This torch uses a typical screw-on portable camping stove propane cylinder and has a self-lighting igniter. You will love it!
&
Camp Cast Iron Skillet Breakfast Nachos Recipe
Melt Butter 
In medium sized skillet over medium heat
1 Tablespoon butter, melt in medium sized pan
Add Veggies 
Add the veggies and cook till softened
1 small onion, chopped
1 clove garlic, minced
Now Add The Eggs
In separate bowl, scramble eggs then add to skillet with veggies. Gently stir to cook eggs.
6 eggs, scrambled
Salt and pepper, to taste
Fold In Beans
When eggs are almost cooked through, add beans by folding into eggs and continue cooking until eggs are fully cooked.
15 oz. can black beans, drained and rinsed
In Separate Cast Iron Skillet
In large cast iron skillet, layer half of the tortilla chips, egg mixture and cheese, then melt cheese with camping torch.
Now layer the remaining half of the same ingredients and melt the cheese again. You end up with two layers of chips, eggs and melted cheese.
10 oz. bag corn tortilla chips
1 cup shredded Monterey Jack cheese
Cooked egg/bean mixture
Top And Serve
12 cherry tomatoes, sliced
1/2 bunch fresh cilantro, chopped
1 avocado, sliced
1/4 cup sour cream
Enjoy!
No time to look for recipes, create a menu and write a grocery list? No Problem! Get our 3-Day Dutch Oven Camp Menu Plan here!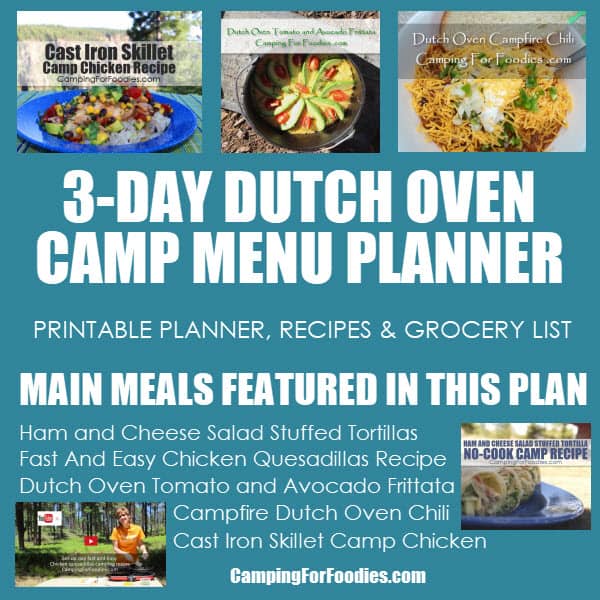 Camp Cast Iron Skillet Breakfast Nachos Recipe Cooking Tips
Onlyfire Universal Propane Tank Refill Adapter- 100% Solid Brass Regulator Valve Accessory for all 1 LB Tank Small Cylinders
One drawback with equipment that uses fuel from small propane cylinders as a fuel source is the potential to run out of fuel before your camping trip is over. That problem is eliminated by using a propane tank refill adapter which easily transfers propane from your large RV propane tank to your small propane cylinders used with your camping stove and torch. We also love the eco-friendliness of reusing and refilling the small cylinder rather than disposing of empty cylinders after a single use. Never done it before? Check out our blog post on How To Refill 1 lb Propane Cylinders, Tanks And "Disposable" Small Camping Propane Bottles.
&
Cast iron camp cooking equipment can be a bit of an investment but if you treat it well, it will be passed on through the generations! This Cast Iron Oil & Conditioner is made from refined coconut oil … it won't go rancid and does not need to be refrigerated.
&
Check out these tips for Cleaning And Seasoning Cast Iron Dutch Oven Cookware!
Get More Camp Menu Ideas From Our Camping Recipes List!
Don't miss a thing…sign up for Camping For Foodies email updates!
Your purchase of our products will help support World Vision ® Building a better world for children.