A camping route planner is a great tool to help you with the logistics of the traveling portion of your trip.
The camping tips we are talking about today have to do with getting you to your campsite. Planning a long camping road trip can quickly become overwhelming but it does not have to be!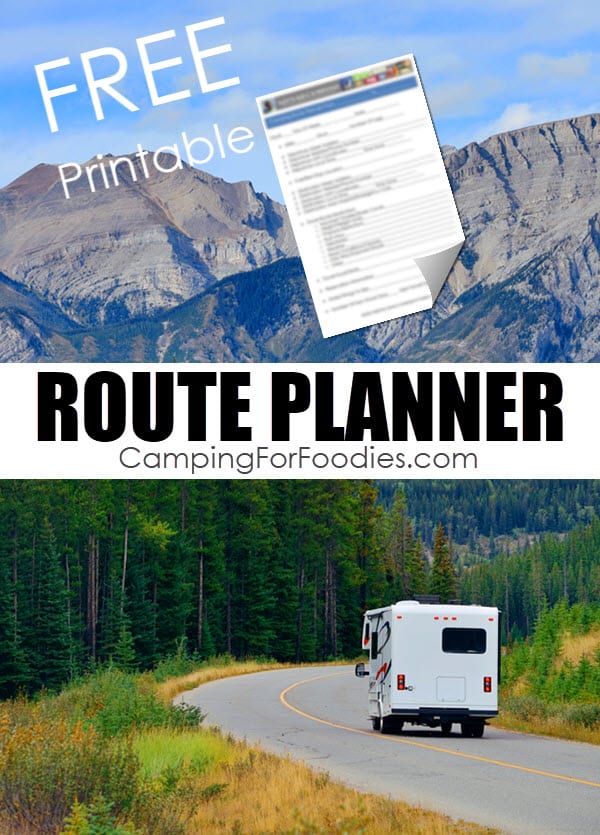 Psst we're compensated…see our disclosures.
How To Plan A Camping Road Trip Travel Route
The further you travel on your camping road trip, the more factors you need to consider regarding the path of your journey.
Using a camping road trip planner for the entire trip is great, especially if it includes organization and planning for the driving portion of your trip.
---
Camping Travel Route Logistics
Distance
How far are you traveling?
Will you need to stop to rest?
How many legs will be included in your travel day?

I like using a paper road atlas that features the places we frequent on camping trips, like National Parks.
Rand McNally 2023 Road Atlas & National Park Guide
---
Timing
How fast are you driving?
How long will you need to drive to get to your destination?
Will you be traveling to a location with a time zone change?
Do you have check-out and check-in times that need to be met?
---
Fuel
Will you need to refuel?
Is there a stretch of road where fuel is unavailable?
How much fuel reserve do you require before re-fueling is necessary?
Do you require a particular fuel grade or additives?
Is fuel price important to you?
---
Emergencies
Are you prepared for roadside emergencies?
Do you have spare tires and parts?
Do you have roadside assistance insurance?
Are you prepared for health emergencies?
Do you know where the nearest hospital or emergency care facilities are along your route and at your destinations?
---
Travel Route
Are you aware of travel restrictions along your route?
Do steep mountain grades or sharp curves exist along your route?
Does your route include travel along roads with bridges, underpasses or tunnels that have height or weight limits?
Are there propane prohibitions or restrictions along your travel route?
Do you anticipate being in a metropolitan area during rush hour?
Do tolls or ferries exist along your route and what type of payment do they require?
What type of weather is forecast along your route and will it impact your travel time?
What are the road conditions along your route and are there any closures due to construction, weather, accidents or other issues?
Will you be traveling on any one-way roads?
Are there any unpaved roads along your route and will they impact your travel time?
Any other considerations related to the travel route?
---
Food And Rest
Will you be packing food and drinks for your journey or will you be stopping to eat at restaurants?
How often and where do you plan to stop to rest and take bathroom breaks?
Do you have pets, kids or people with special needs that require particular equipment or plans?
Is there anything you want to stop and see along your route and will that require a detour from your main travel route?
How many days of travel are required for each leg of your trip?
How many non-travel days will you be at a location?
When is your next travel date?
---
Get A FREE Printable Camping Route Planner
Don't get exhausted before you go on your trip!
Use this simple camping route planner to help you make the planning process easy … and … it is FREE!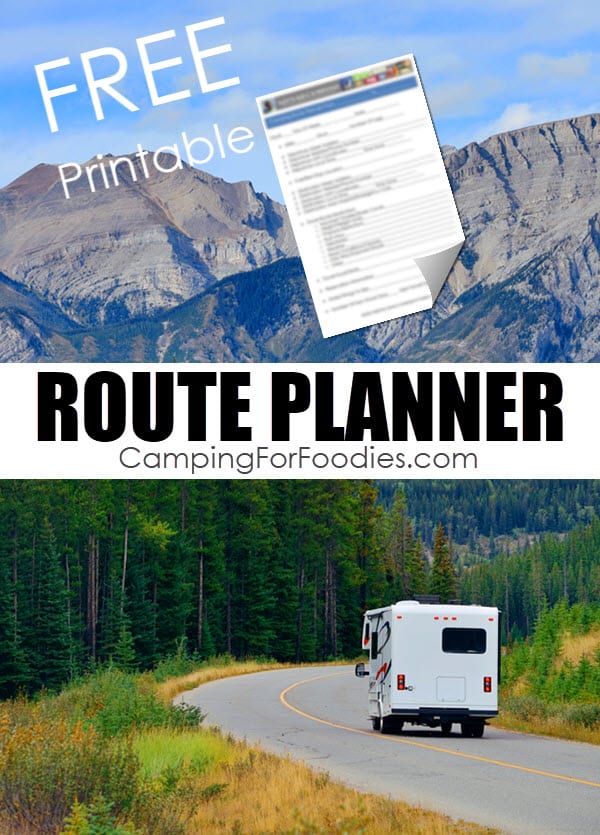 ---
More Camping Road Trip Planning Help
The travel portion is only one aspect of your trip. Check out these other FREE resources to help you plan your entire tour.
---
RV Travel Tips To Find RV Safe Routes
If you have a high-profile RV, you need to find RV safe routes for traveling.
You may want to avoid steep mountain grades, low-clearance bridges and overpasses, propane-restricted streets and tunnels etc.
Use these RV travel tips to find RV safe routes as you plan your entire travel route.
---
FREE Printable Camping Trip Planner Template
There are waaaaay too many logistical details for you to remember everything about your camping road trip.
This FREE printable camping trip planner template is designed so you can have all of the information you need about your entire camping road trip in one place.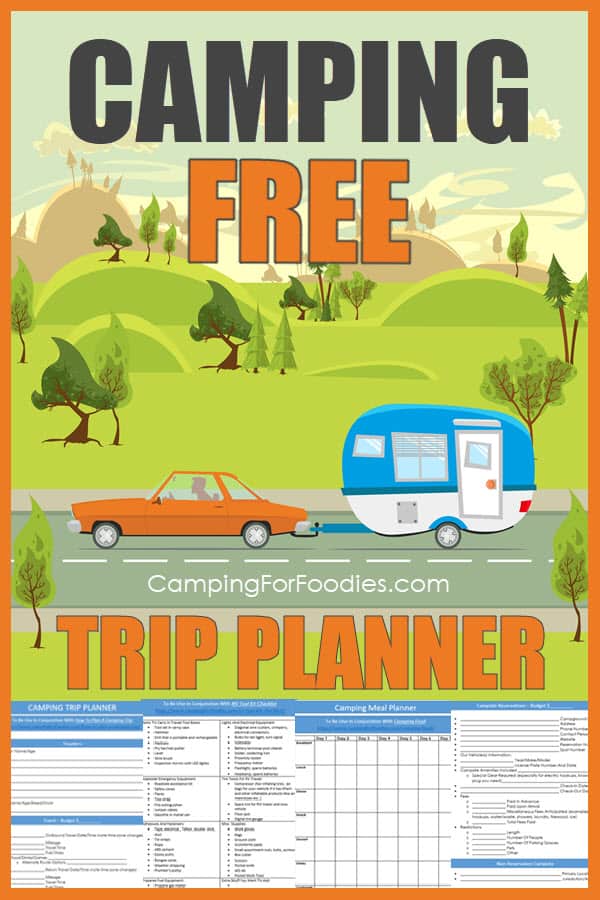 ---
Best Camping Apps
I especially like these FREE apps for planning our camping road trips … Google Maps, GasBuddy, iExit Interstate Exit Guide, Campendium and MyRadar Weather Radar … and there are tons more of the best camping apps you have to check out!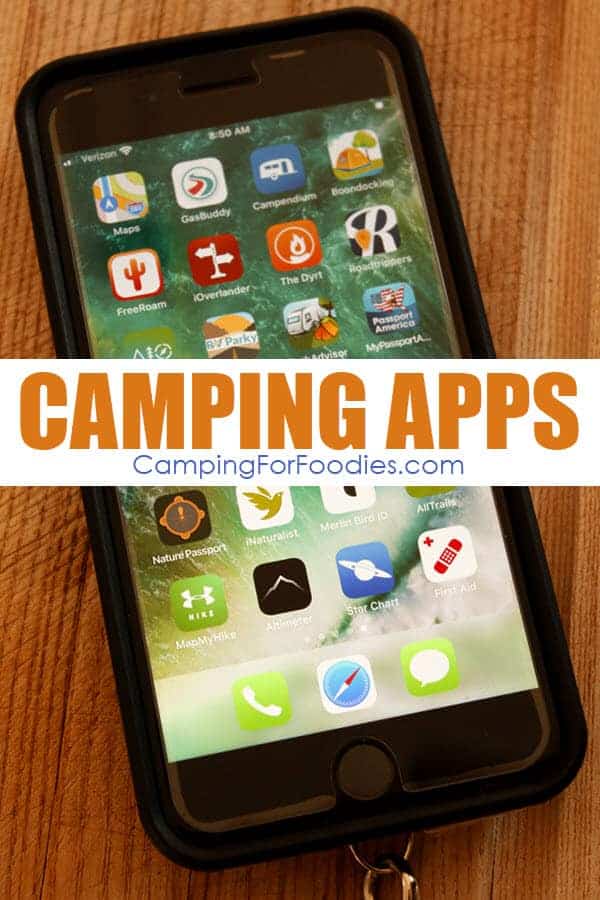 ---
How To Plan A Camping Trip
When you start planning your camping road trip, there are many factors you need to take into consideration before you hit the highway … and those you need to plan at your destination.
You'll love these tips on how to plan a camping trip no matter where your journey ends!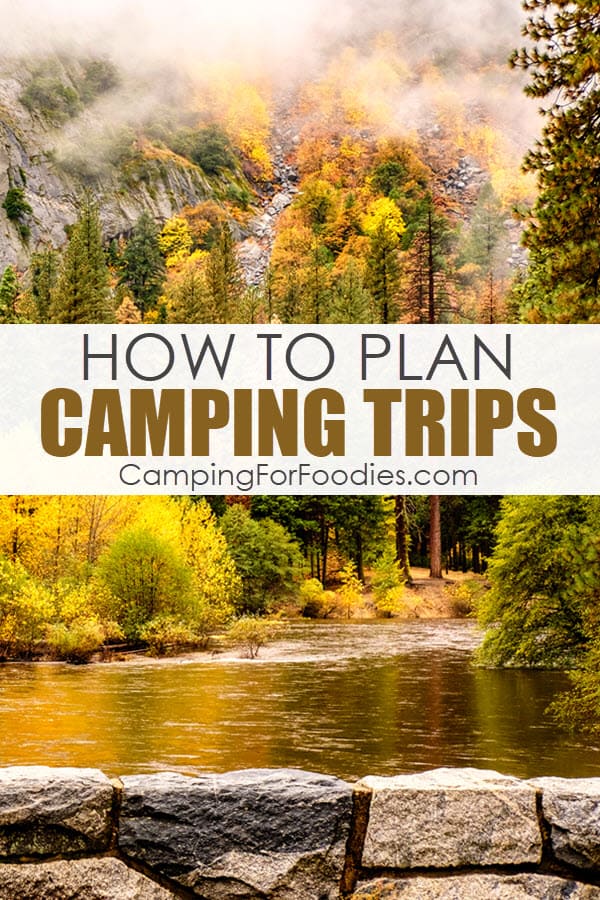 ---
Seasonal Camping Checklists
Each season has its own benefits and challenges … these seasonal camping checklists will ensure you are prepared no matter what month of the year you are road-tripping.
---
FREE Printable RV Tool Kit Checklist
This FREE printable RV tool kit checklist is for the various tools you need for RV trips … whether they are local or long-distance travel routes.
---
Camping Checklist
This camping checklist is for normal RV and tent camping trips so you don't forget to pack your regular gear no matter how long of a road trip you are designing.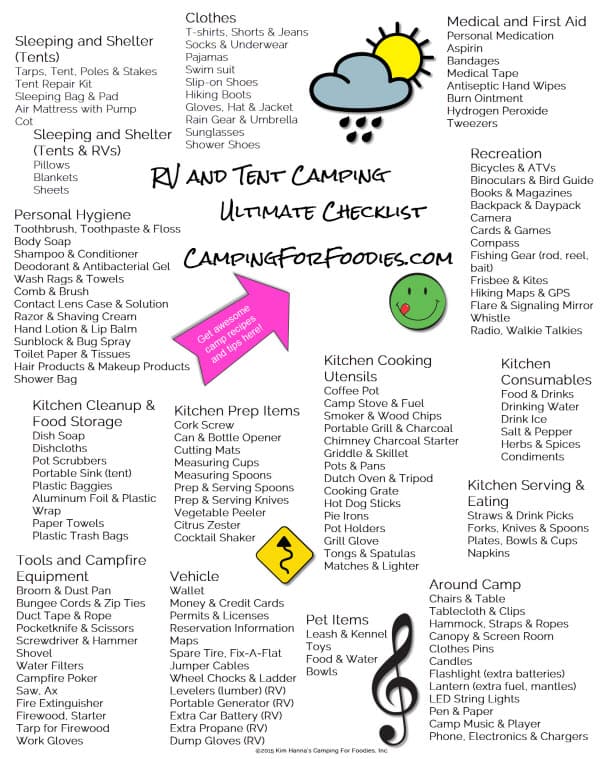 ---
Camping Tips
Get more camping tips that will make camping easier and more fun!
---
Need Menu Ideas For Your Trip?
Try some new meals on your next adventure!