How To Plan A Camping Trip (that is all fun, and no stress!)
The best camping tips are the ones that make camping simple and fun! When you know how to plan a camping trip, you spend a little time doing some pre-planning so you can totally relax and camp comfortably on your adventure!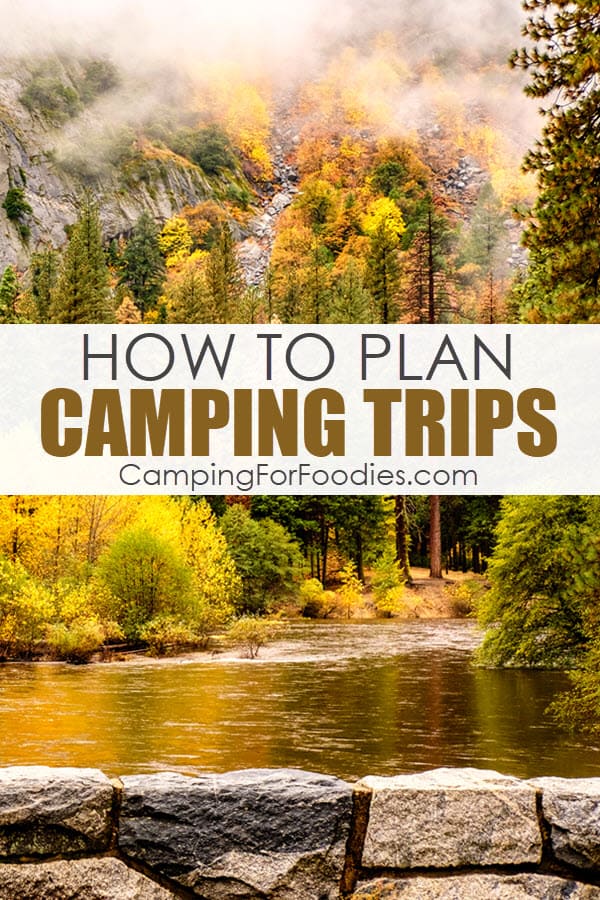 Psst we're compensated…see our disclosures.
Simple And Organized Camping Trip Planning
Answering a few questions will help you use our FREE printable camping trip planner template to design your perfect trip so you can have the best possible camping experience.
---
Who Will Be On The Trip?
Are you doing a couple camping trip, family trip with kids, group camping trip with adults, guys trip with the buddies, girls glamping adventure or just going solo?
Will you be camping with any animals?
Who and how many people you are camping with impacts many of the decisions you need to make in the planning process.
Hey ladies, if you need help with a camping glamping plan, we have DIY glamping ideas that are cute, simple and fast!
---
What Will You Camp In?
Determine the types of camping you'll be experiencing.
Will you be car camping or backpacking in a tent? RV camping in your own rig or a rental? Staying in a cabin at a developed campground?
Are there restrictions or limitations based on your choice?

For example, many National Parks and state parks have length limitations on camping sites for RVs.

Some campsites and cabins have a maximum number of guests and parking spaces for vehicles.
Pets are not always welcome so check for restrictions during your planning phase if you want to bring your furry family members.
If you are camping in a camper, make sure you get your FREE copy of our RV tool kit checklist too.
---
When Are You Going?
What is the timing for your trip?
When do you want to go?
How long will you stay?
How much time will you devote to traveling?
How far in advance are reservations required?

It can be a daunting task to find the ideal campsite in the summer months in the United States and across North America. The summer school break is the time of the year many families take their annual vacations. Camping is becoming more popular as a budget-friendly way for families with young children and older children to travel for a little rest and relaxation. Remember, popular public and private campground destinations are booked months in advance so start planning as early as possible so you are not disappointed.

I created a long-term advanced RV trip planner the year we took our summer camping vacation in Yosemite National Park.
How To Plan Early For Busy Season
Research your destination … you'll need to plan further in advance during the busy season. If you want to camp in a National Park, you can find lots of information provided in the Park Reports which is part of the National Park Service Visitor Use Statistics.
For example, you'd need to book really early if you want to visit the Grand Canyon National Park in August but you'll almost have the place to yourself in January and February.
---
Where Are You Going?
Where do you want to go?
When you decide if your excursion will be a short weekend camping trip or a long camping road trip, you can begin to consider your destination.
Think about the distance the campground is from your home and the travel time required to get there and back.
Your logistics planning should also include your travel days.
We have a personal rule … 1 for 1.
That means for every hour of travel, we need to stay one night.
For example, if we drive 4 hours to get somewhere, we plan a family camping trip that will be at least 5 days/4 nights.
We have a FREE printable camping route planner to help you organize the travel portion of your trip.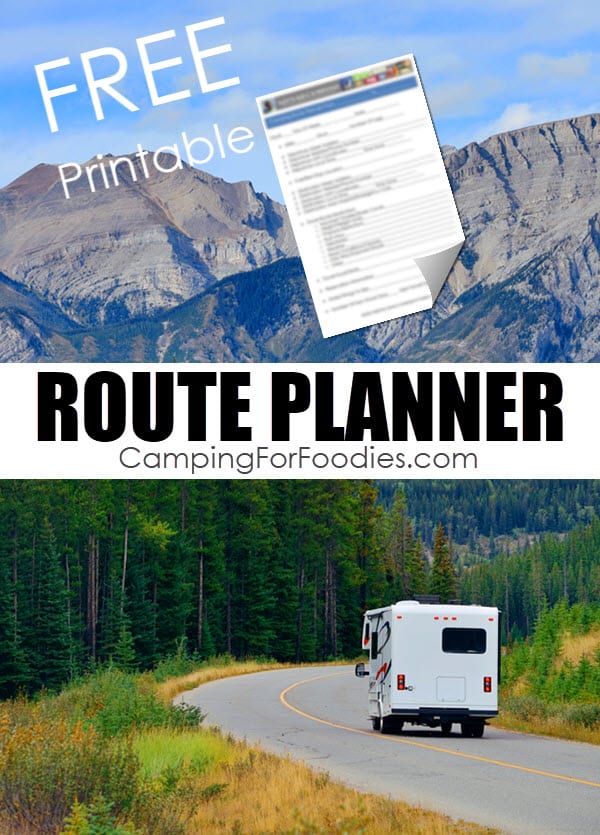 The longer the drive, the more you will need road trip food ideas and travel snacks as well as games to play on a road trip for the journey.
Also think about the travel route you intend to take.
Is there an alternate route in case of road closures, emergencies etc.? Google maps are great but it is good to have a paper map too in case you are out of cell coverage range in remote areas.
Are there restrictions regarding height, weight, propane along your route?
Make sure you check out our RV travel tips for RV safe routes during the planning process for your trip.
---
Why Are You Going?
Why are you going on this trip?
Do you want to experience outdoor activities, wildlife viewing and magnificent hiking trails?
Do you want to participate in water activities like boating, fishing and swimming?
Do you just want to relax in the great outdoors and pitch a tent with your sleeping bags?
Are you thinking you want some RV road trip ideas for sightseeing, local experiences, unusual attractions, restaurants and special events?
---
How Will You Pack?
Will you use collapsible individual duffel bags or hard-sided waterproof bins?
What will you need for your meals, gear and clothing?
It is a good idea to carry all your normal camping gear like a camping stove, camping propane, cooking and eating utensils as well as a fully-stocked first aid kit.
Common items that are overlooked when packing is rushed…
Food & Cooking Essentials For Your Camp Kitchen:
Cooler with enough ice to keep your meat and vegetables at safe temperatures throughout your entire trip

You may be limited on cold food storage space. If so, you may want to plan meals using camp food and recipes that use shelf-stable ingredients to make non-perishable food. We have tons of ideas for No Refrigeration Camping Meals & Recipes.
Don't forget to consider any allergies and dietary restrictions your fellow campmates may have before you plan your camping menu. For example, breakfast sandwiches are a common item at many morning picnic tables, but what if a fellow camper has gluten intolerance? You may need to make eggs with vegetables, like scrambles and omelets instead of sandwiches and wraps.

Here is a good place to start:

Paper towels
Pots, pans, bowls, dishes and camp kitchen utensils for meal prep, cooking and eating
Grill with fuel including charcoal, propane, matches, lighters
Trash bags
Personal Grooming & Protection Items:
Bathroom essentials
Medications
Soap
Toothbrushes
Hand sanitizer
Sunscreen
Bug spray and insect repellent
Waterproof boots and comfortable shoes
Sleeping:
Shelter and bedding for tent camping including
Pillow
Air mattresses
Sleeping pad
Extra blankets
Use our FREE printable camping checklist to help you remember everything you need to check off from your packing list.
---
Cost & Budget
Determine your budget for the entire trip and stick with it.
There is nothing worse than paying on a credit card for a trip long after the fun is over because you didn't budget properly!
The expenses you should plan for include…
Fuel
Make sure you budget for the fuel you will be using for the travel portion of your journey but also for the fuel you need to purchase to get around once you've arrived at your camping destination.
Lodging
Calculate your anticipated campsite fees including extra charges for hookups, water/waste, showers, laundry, firewood etc.
Rentals
If you are renting vehicles or gear, include a budget line item for those.
For example, you might be renting an RV … be sure you know how the charges are calculated … especially mileage as well as refundable and non-refundable fees for things like cleaning.
If you are renting camping equipment like tents, kitchen sets, linens … understand the terms of the contract and how fees are calculated.
Be aware of rental return date and time requirements so you are not charged overages.
Entrance Fees
This is especially important if you are staying in National Parks or National Recreation Areas.
The entrance gate fee is usually charged separately from the campsite/lodging costs.
It may be cost effective to get an annual pass if you will be staying long enough and will be entering/exiting the gate multiple times during your trip.
Activities, Mementos And Gifts
Excursions can be the highlight of a trip … but … they can bust a budget if they are unplanned.
Many popular tours must be reserved and fully paid for well in advance of your trip.
But, be prepared for last minute options with a little extra cash for interesting day trips, fee-assessed projects and fun souvenirs.
Finally, don't forget about the gift you will be getting for your house-sitter and pet-sitter back home.
Food & Drinks
Your camp meals budget line item should include the camping meal plan items you will be preparing yourself … as well as snacks and meals you will be eating out at local establishments.
Those $5 ice cream cones add up fast if you are not paying attention to your cash!
Need new ideas for fun, easy and delicious camping food, we got them for breakfast, lunch, dinner and dessert!
Miscellaneous Expenses
You never know what unexpected costs you might incur.
It is a good idea to have "emergency money" that is there if you need it but not used if you don't.
---
FREE Printable Camping Trip Planner
Now that you have considered all of the aspects of your trip, you can use our FREE printable camping trip planner template to formalize your itinerary.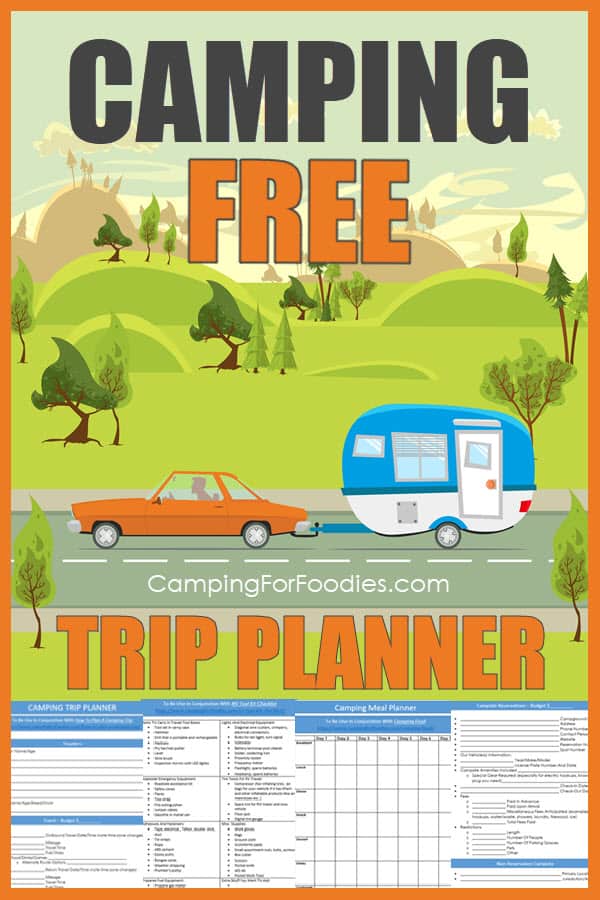 ---
Planning A Camping Trip Checklist For A Particular Season
All camping trips require certain gear and planning but each season of the year has particular essentials.
Use our seasonal camping checklists for specifics on camping during the winter, spring, summer and fall seasons as well as individual holidays.
---
Apps For Planning Camping Trips
We do like digitally unplugging on our camping trips but we use our devices for camping-specific stuff like traveling, finding camping destinations, activities, hiking trails, fishing, bird watching, health and safety etc.
Here are the best camping apps for planning every aspect of your trips.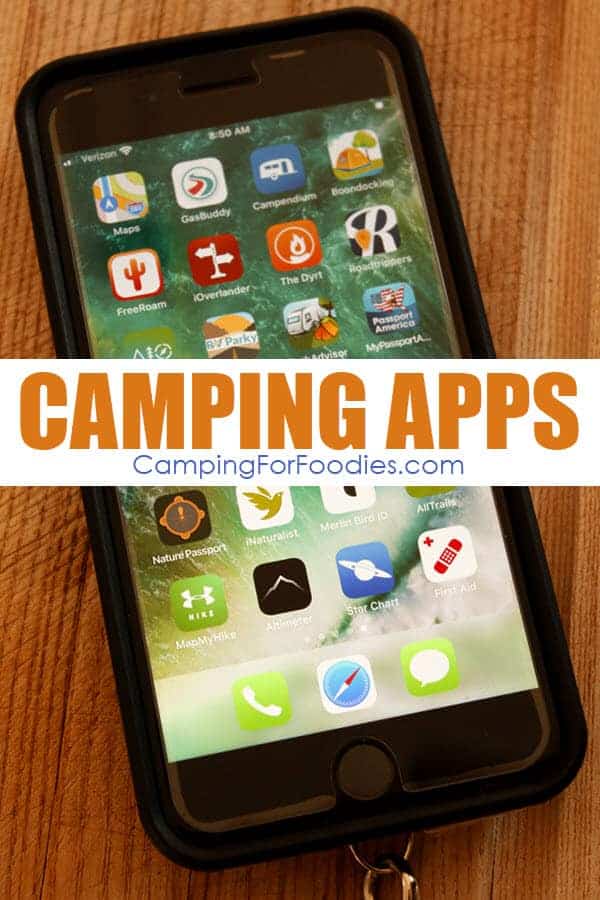 ---
Unplanned Camping Trips
If advanced planning is out of the question for some reason, we have tips on how to go last minute camping and make it a wonderful experience!
---
More Planning Tips For New RVers
In addition to trip planning tips, newbies need a few extra RV camping tips for beginners who are heading out on their first journey.
---
Food Planning Ideas
Make every meal of your trip a great one!