Easy Grilled Mahi Mahi With Mango Salsa
One of the fastest camping grill recipes is fish with a quick homemade salsa. This easy Grilled Mahi Mahi With Mango Salsa uses a simple marinade to flavor the fish and the sweet heat of the fresh mango salsa will make you think you are camped out in the Caribbean!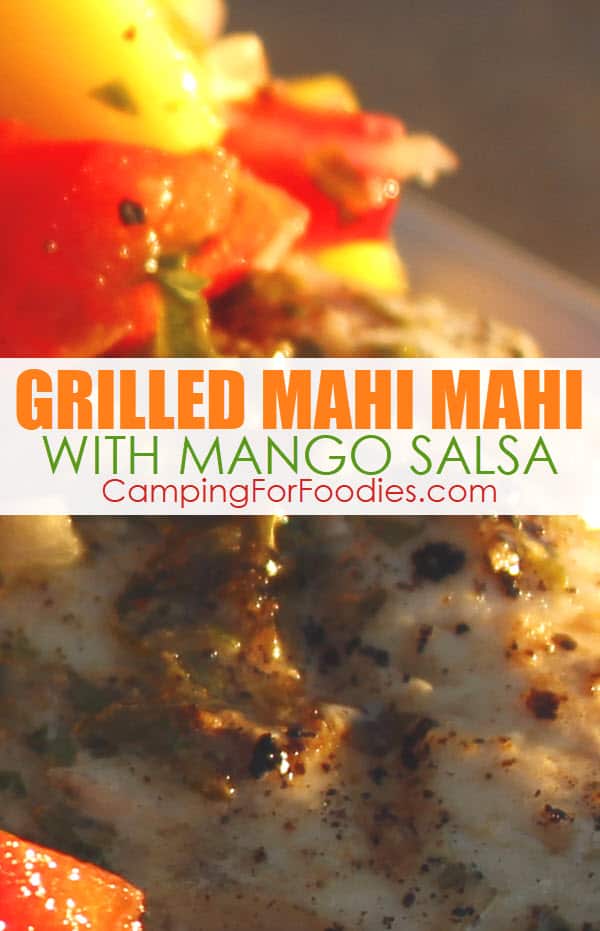 Psst we're compensated…see our disclosures.
What Is Mahi Mahi?
The ocean-going fish called Mahi Mahi is also known as "dolphin fish" because you can often find it swimming next to boats … just like the dolphins do.
Hawaii is celebrated for having the best quality Mahi Mahi and is usually the most expensive, but, it can also be found in the Caribbean and South Atlantic.
---
What Does Mahi Mahi Taste Like?
This popular fish has a mild and sweet essence with a firm texture. The firmness makes it nice for grilling because it does not have a tendency to fall apart.
Caribbean and Pacific Rim spices are common flavor profiles uses when cooking Mahi.
---
Buying Mahi Mahi On The Mainland
I can't say I have camped in Hawaii but I have been there a couple of times.
Any tropical location has the luxury of super-fresh fish … it was in Maui that I first had the simple yet multifaceted Mahi and mango combo.
It was so refreshing, light and satisfying … I had to bring it back with me to the campsite in the mountains on the mainland.
But, where can I find Mahi thousands of miles away from the ocean?
---
How Can You Tell If Mahi Mahi Is Fresh?
You can find Mahi sold at seafood counters as fillets or steaks.
Just like any fresh fish, it should never smell fishy.
The skin should look moist and shiny.
The meat should have a pinkish-beige color and have a firm texture.
If you can't find fresh, get good quality frozen Mahi Mahi fillets instead. This is actually my preference when I am cooking Mahi for my camping dinner recipes.
---
Substitutes For Mahi
Fish that is similar to Mahi Mahi in taste and texture include swordfish, tuna and striped bass.
---
Methods Of Grilling Mahi Mahi
This is one of our easy camping meals that cooks in about 10 minutes over medium-high heat so you have several options for cooking it.
For camp grills, you can use a propane powered model or one that uses charcoal briquettes.
If you are making this as one of our campfire recipes, you'll need to get your fire going using a nicely flavored hardwood like mesquite or oak. You'll want to cook over coals rather than flames.
Another option is making this as one of our camp stove recipes by using a cast iron grill pan. Just make sure your stove is placed on a level surface for best results.
Lodge Pre-Seasoned Cast Iron Reversible Grill-Griddle
---
Prep To Make Mango Salsa With Grilled Mahi
When you are making a fresh salsa to serve with marinated Mahi Mahi, you have plenty of time to prepare the salsa while the fish is marinating for about an hour.
Camp Cooking Tip: If you are making a recipe with marinated meats or veggies, check the marinating time so you can plan for that during your day. Don't over-marinate fish because the acid in the marinade will actually begin cooking your fish.
---
Steps For Making Mango Salsa And Grilling Mahi Mahi
Step 1. Marinate the Mahi Mahi. Prepare your ingredients for the marinade as directed. You'll need to chop a bit of parsley and garlic for this. Then, you'll whisk everything together, put the marinade in a plastic food bag, drop in the fish and place the sealed bag in your refrigerator or cooler for one hour.
Step 2. Make the salsa. As the Mahi marinates, you'll prepare the salsa by chopping a mango and a bit of red bell pepper, red onion, fresh cilantro and jalapeno. Combine all of that with a bit of lime juice, lemon juice, salt and pepper then refrigerate until ready to serve.
Step 3. Grill the fish. Preheat your grill, campfire or cast iron grill pan for cooking over medium-high heat, lightly oil the grate with cooking spray or vegetable oil, shake excess marinade off the fish and grill the fillets for about 3 or 4 minutes per side. You want the fish to be opaque and flake easily with a fork. Dispose any remaining marinade.
Step 4. Serve with salsa. Remove the fish from the grill, top with mango salsa and serve immediately. This recipe serves 4 but is easily scaled back if you are making camping meals for two.
---
Pairings For Mango Salsa And Grilled Mahi
White, brown, jasmine and wild rice all pair well with this recipe and keep it GF. If you want more ideas to make yummy gluten free camping food, we've got them!
If you want to add a yummy veggie on the side, try this Campfire Glazed Grilled Carrots Camping Recipe.
Get more ideas for tasty camping side dishes for all your camp meals.
---
More Seafood Camping Recipes
Because seafood is such a quick and easy dinner, we tend to make a lot of it when we are camping.
This Grilled Halibut Fillet Camping Recipe is basted with a quick soy and garlic sauce. Dinner will be on your table in 20 minutes!
Foil packet cooking is fun, easy and makes clean-up simple. Try these Campfire Grilled Fish In Foil Packets With White Wine And Garlic Sauce on your next trip.
Get out your camp oven to make this Asian Inspired Cast Iron Dutch Oven Campfire Shrimp that combines soy, garlic and basil to make an amazingly flavorful dinner.
If you are lucky enough to catch some fresh trout on your trip (or at your grocer's seafood counter), you've gotta try this Blackened Trout With Cajun Cream Sauce.
In the mood for a garlicky dinner? Try this Pasta With Shrimp In Garlic Butter Wine Sauce!
---
Print This Recipe
Grilled Mahi Mahi Recipe With Mango Salsa
Camping For Foodies Dinner Camping Recipes: Grilled Mahi Mahi Recipe With Mango Salsa
Ingredients
Marinade For Mahi Mahi
2/3

cup

olive oil

2

tablespoons

lemon juice

2

tablespoons

fresh parsley

minced

2

cloves

garlic

minced

2

teaspoons

dried basil

2

teaspoons

ground black pepper

1

teaspoon

salt

4

Mahi Mahi fillets

about 6 oz each
Mango Salsa
1

large ripe mango

peeled, pitted and diced

1/2

red bell pepper

diced

2

tablespoons

red onion

minced

1

tablespoon

chopped fresh cilantro

1

jalapeno pepper

seeded and minced

2

tablespoons

lime juice

1

tablespoon

lemon juice

Salt and pepper

to taste
Grill Preparation
Cooking spray or vegetable oil to prepare the cooking grate for grilling the fish
Instructions
Whisk together the marinade ingredients and pour into a plastic sealable bag, add the mahi fillets, squeeze out any excess air, seal the bag and toss to coat. Marinate in the refrigerator for 1 hour.

Mix the mango salsa ingredients, toss to combine and refrigerate until you are ready to serve.

Preheat your grill or campfire for cooking over medium-high heat, and lightly oil the grate.

Remove the mahi from the marinade … shaking off any excess. Throw out any remaining marinade. Grill the fillets until the fish is no longer translucent in the center and flakes easily with a fork, about 3 to 4 minutes per side, depending on the thickness of the fillets.

Top with mango salsa for serving.

Nutrition Information
Serving:
1
g
Calories:
648
kcal
Carbohydrates:
17
g
Protein:
50
g
Fat:
43
g
Saturated Fat:
6
g
Polyunsaturated Fat:
35
g
Cholesterol:
174
mg
Sodium:
813
mg
Fiber:
2
g
Sugar:
13
g
---
More Yummy Camping Meal Ideas
Grilled mahi with mango salsa is just the beginning … get more delicious recipes.