Chocolate Lava Dutch Oven Cakes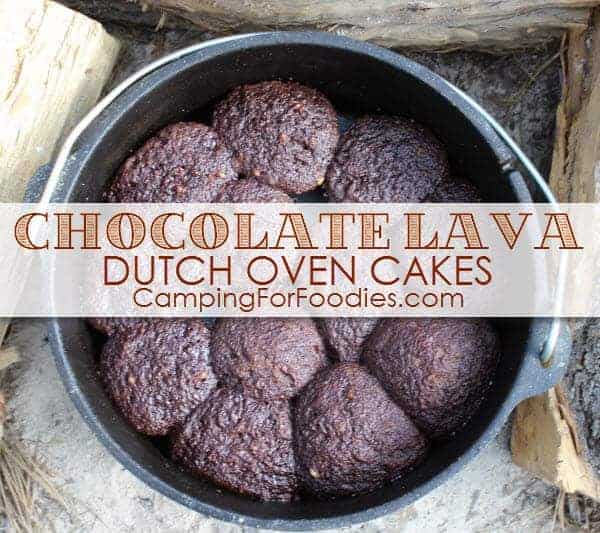 Chocolate Lava Dutch Oven Cakes
You don't have to be eating at a fancy restaurant to enjoy chocolate lava cakes for dessert! Pour this batter into cupcake wrappers in your camp Dutch oven and in 10 minutes you'll be finishing off a great meal with these scrumptious individual Chocolate Lava Dutch Oven Cakes fit for a 5-star feast! Psst we're compensated…see our disclosures.
Lodge Camp Dutch Oven Lid Lifter
Camp Chef Heat Resistant Gloves
Lodge Camp Dutch Oven Lid Stand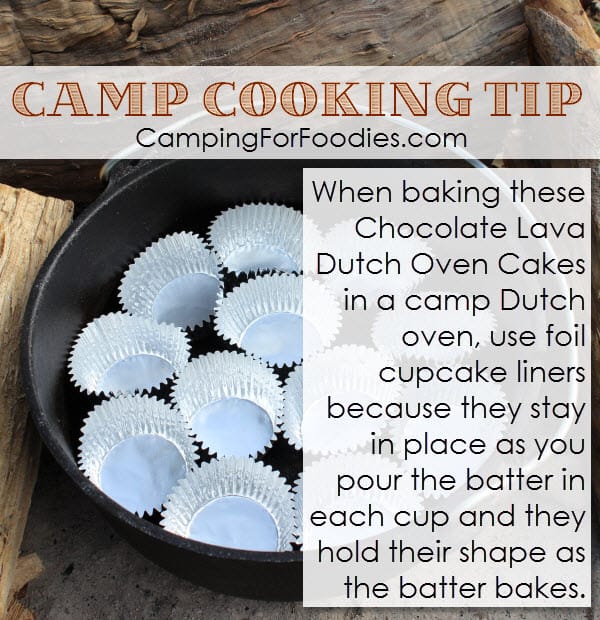 Camp Cooking Tip: One of the secrets to easily making these Chocolate Lava Dutch Oven Cakes in a camp Dutch oven is to use Foil Cupcake Liners because they stay in place as you pour the batter in each cup and they hold their shape as the batter bakes. Just place the liners in the bottom of the oven and pour an even amount of batter in each cup.
You can prepare this batter and refrigerate it up to 24 hours before you bake these Chocolate Lava Dutch Oven Cakes. I like to make the batter before I prepare dinner so it is ready as soon as we finish eating our main course.
Beat By Hand
In bowl, combine the following ingredients and beat by hand till sugar is dissolved:
5 large eggs
½ cup sugar
Pinch of salt
1 tablespoon flour
Heat Over Medium
In a medium saucepan over medium heat, melt the following:
1 cup unsalted butter
1 cup semisweet chocolate chips
Remove From Heat And Add Hand-Beaten Mixture
Remove saucepan from heat and stir in the egg/sugar mixture until smooth.
Lodge Durable Pan Scrapers
Disposable Dutch Oven Liners
Lodge Camp Dutch Oven Tote Bag
&
Pre-Heat The Oven, Add Batter And Bake
Pre-heat 12-inch Dutch oven to 450°F. See my Dutch Oven Temperature Chart post for number of charcoal briquettes to use and other cooking tips.
Add foil cupcake liners to fit bottom of the oven (will make about 12 cakes)
Pour equal amounts of batter in each liner
Bake approximately 8-10 minutes, you want the batter to puff up BUT not enough to set the center (this is where the lava comes from…yum!)
Stainless Steel Cast Iron Cleaner
Cast Iron Oil
Rapidfire Chimney Starter
Cool, Sugar And Serve
Let these little Chocolate Lava Dutch Oven Cakes cool slightly in the bottom of the oven by removing the lid and setting the oven away from the coals. They will fall as they cool. I like serving them when they are slightly warm and gooey so I don't let them cool too much. Just before serving, I sprinkle them with a little bit of powered sugar. Be careful when removing the cakes from the Dutch oven because the oven will retain heat for a period of time.
1 tablespoon powdered sugar
If you have any leftovers just place them in your RV refrigerator or camp cooler … once chilled they are sort of like a cross between a chocolate cupcake and a delectable chocolate fudge!
Coghlans Vinyl Tablecloth
Coleman Tablecloth Clamps
Camping Tableware Set
&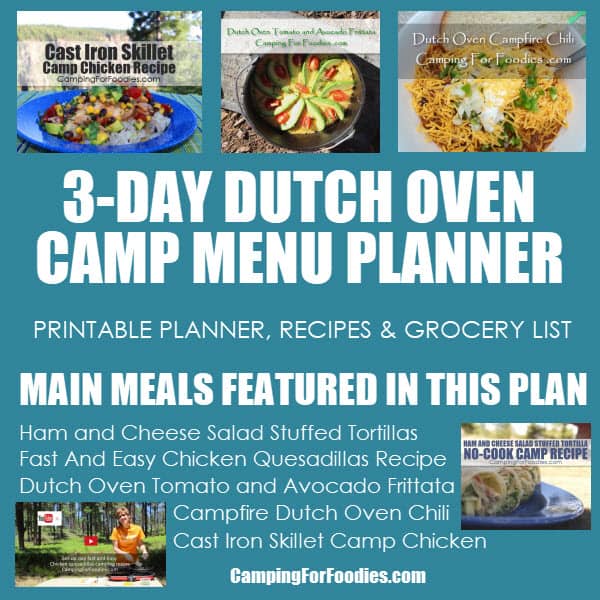 No time to look for recipes, create a menu and write a grocery list? No Problem! Get our 3-Day Dutch Oven Camp Menu Plan here!
We've got great camp cooking tips in these other posts:
 Funny Apron
 Cutting Mat
 Mat Set
 Shaker Set
 Fun Hammock
&
If you need camping recipes and menu ideas, you can find them here at the Camping For Foodies Camping Recipes list.
Don't miss a thing…sign up for Camping For Foodies email updates!
Your purchase of our products will help support World Vision ® Building a better world for children.