Dutch Oven Carrot Cake Made Easy For Camping
When you want a totally indulgent sweet treat for dessert, this is one of our best Dutch oven camping recipes to satisfy your cravings! This homemade, from-scratch Dutch Oven Carrot Cake is made simple for outdoor cast iron camp cooking without the need for electric appliances.
Psst we're compensated…see our disclosures.
How To Make Dutch Oven Cast Iron Carrot Cake
When you are making fresh cakes from scratch at the campsite, it is easiest to measure and mix your dry ingredients at home so you only have to carry the amounts you need to camp.
For this carrot cake recipe you can measure and mix the flour, cinnamon, baking soda and salt at home and carry them in one container marked with a label like "dry carrot cake ingredients" so you know everything is in that package.
You can also get pre-shredded carrots if you want to make this recipe really easy once you get to camp.
---
Baking Carrot Cake In Your Cast Iron Camp Oven
Whenever you are making Dutch oven baked goods, you should use a standard depth Dutch oven (rather than a deep one) so the top of your cakes are golden brown at the same time that the bottom is finished baking.
If you use a deep Dutch oven for baking, the bottom will burn before the center is cooked and the top is browned.
If you are making this carrot cake as one of our campfire recipes, you'll need to get your hardwood fire going in order to bake using coals from your campfire … you can also use charcoal briquettes.
If you want to make a stove top carrot cake you'll need a Dutch oven dome and heat diffuser plate to make this as one of our camp stove recipes … so get your stove ready for cooking on a level surface.
---
Line Dutch Ovens For Baking Cakes
Instead of baking this carrot cake directly in your Dutch oven, you'll want to line it with a parchment paper liner so you can lift it out of the oven for cooling.
If you don't know how to use Dutch oven liners, we've got tips for you … these parchment liners eliminate the problem of cakes sticking to the pan and the need for clean-up too.
---
The Process To Make Camp Oven Carrot Cake
Step 1. You'll preheat a 12-inch standard depth cast iron camp Dutch oven to 350 degrees (25 total coals = 17 top/8 bottom).
If you are using a different diameter oven, check out our Dutch oven temperature chart to see how many coals you need to maintain a 350 degree baking temperature.
Step 2. Prepare your ingredients as directed.
Camp Cooking Tip: It is easiest to purchase pre-shredded carrots but it is easy enough to shred carrots manually using a box grater at the campsite.
Box Grater, Removable Zester And Measuring Container Catcher
Step 3. Now you'll mix the wet ingredients and the dry ingredients … then combine all of them to make the batter.
Step 4. Place the parchment paper liner inside your Dutch oven being careful not to burn yourself.
Step 5. Then, you'll pour the batter on the parchment paper sitting inside the pre-heated Dutch oven.
Step 6. Bake the cake approximately 40-45 minutes … baking time may vary so you are looking for a toothpick inserted into the center to come out clean.
Camp Cooking Tip: As the carrot cake bakes, turn the oven and lid in opposite directions 1/4 turn every 10-15 minutes throughout the baking time for a nice, evenly baked and browned cake.
Step 7. Cool the cake. You'll want to make sure the cake is totally cooled before you frost it.
Camp Cooking Tip: After cakes are done baking you can use the exposed parchment paper liner as "handles" to lift the cake out of the oven.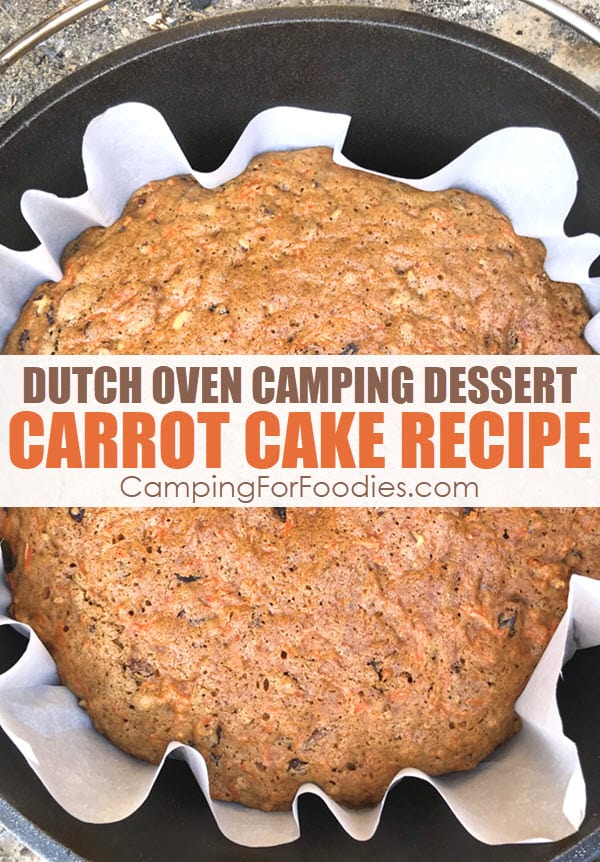 Step 8. As the cake is cooling, you can prepare the cream cheese frosting.
Normally you use an electric mixer but you'll just use a fork to "smash" the ingredients together at the campsite or a dough cutter, if you prefer … no need for electricity or special appliances for this camp-friendly version.
Step 9. You can use a knife and apply several thin layers of this thick frosting to the top and sides of the cake. An easier method of applying this dense frosting is to pipe it out of a plastic food bag.
Here is a quick video to show you how to do that …
Slice and serve this yummy sweet treat. If you have any leftovers, it is best to keep them refrigerated.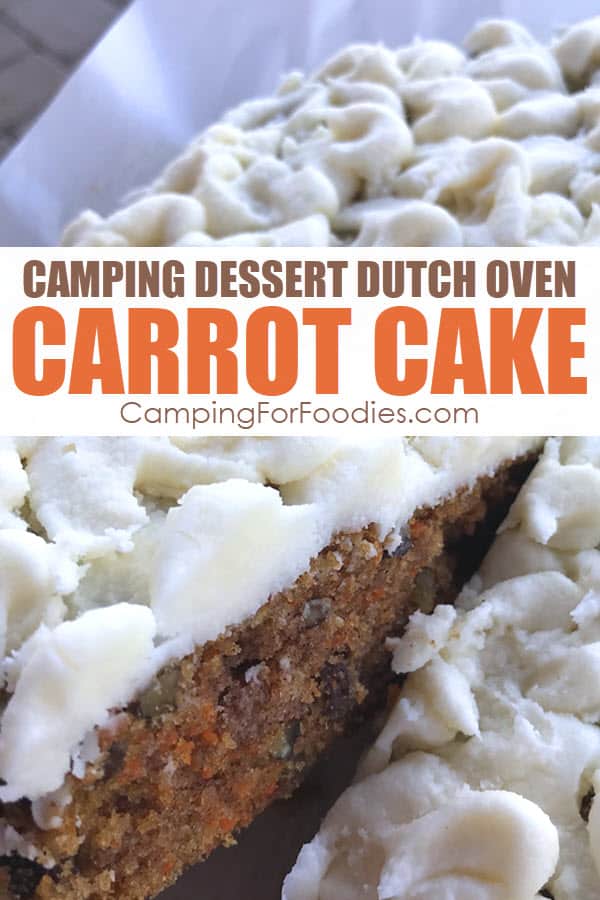 ---
Try This Carrot Cake Oatmeal Breakfast Recipe Too
This carrot cake is definitely one of our favorite camping dessert recipes, but you don't have to stop there.
If you like this, you'll love this carrot cake camping oatmeal recipe for breakfast.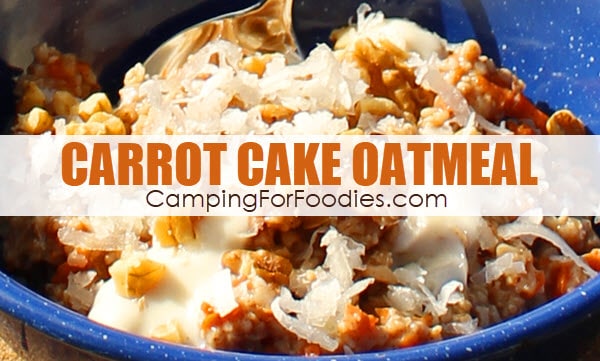 ---
Similar Dutch Oven Cakes
If you enjoy Dutch oven cooking as much as I do, you may want to try these other tasty sweets.
You don't always prepare cake mixes according to the package directions. For this Dutch Oven Apple Dump Cake you sprinkle the dry cake mix over canned pie filling, top with butter and bake. The consistency of this dump cake is more like an upside down apple pie or Dutch oven apple cobbler so it's great when served with a scoop of vanilla ice cream!
This Dutch Oven Pineapple Upside Down Cake starts with melted butter and brown sugar then adds pineapple rings and maraschino cherries that get topped with yellow cake mix that's combined with canned pineapple juice, pecans and shredded coconut to make a simple cake.
Rather than making one big chocolate cake, I love making these individual serving Dutch Oven Chocolate Lava Cakes. These super-moist mini cakes are made with a homemade batter that gets its cocoa flavor by using 1 cup chocolate chips.
We make two different styles of Dutch oven brownies. These simple Campfire Brownies use a boxed brownie mix and get jazzed up with fun size Snicker candy bars.
The mini marshmallows puff up and get golden brown on top of these ooey, gooey Smores Dutch Oven Brownies.
I make this super-cute Camper Cake at home for special occasion trips!
Get your FREE printable camping trip & menu planner before you create your next meal plan!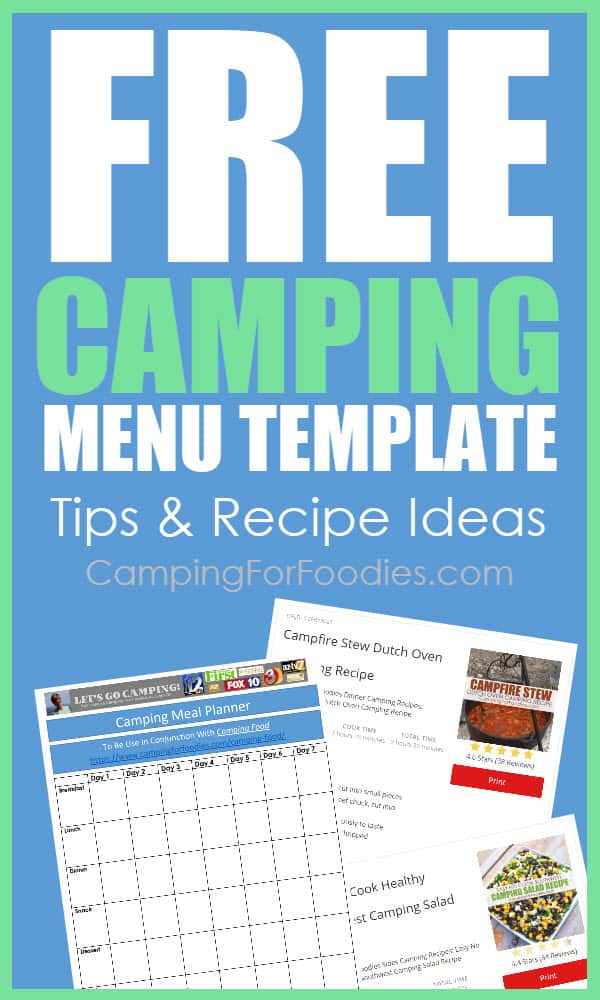 ---
Print This Recipe
Camping Dutch Oven Carrot Cake Recipe
Camping For Foodies Dessert Camping Recipes: Camping Dutch Oven Carrot Cake Recipe
Ingredients
Carrot Cake Ingredients
1 1/2

cups

granulated sugar

1

cup

vegetable oil

3

eggs

beaten

1

teaspoon

vanilla extract

2

cups

all-purpose flour*

2

teaspoons

ground cinnamon*

1

teaspoon

baking soda*

1/2

teaspoon

salt*

3

cups

shredded carrots

approximately 5 medium carrots

1

cup

raisins

1

cup

coarsely chopped pecans
Cream Cheese Frosting Ingredients
1

(8 oz)

cream cheese

softened

1

teaspoon

vanilla extract

4

cups

powdered sugar
Instructions
Make the cake
Preheat a 12-inch standard depth cast iron camp Dutch oven to 350 degrees F. (25 total coals = use tongs to place 17 on top of the lid and 8 below the bottom of the oven. Times vary so you may need extra coals during the baking process. Using a charcoal chimney starter is a quick efficient method of lighting briquets if you need a second batch).

In a large bowl, hand mix sugar, oil, eggs and vanilla until all the ingredients are blended.

In a medium bowl combine flour, cinnamon, baking soda and salt until well blended.

In small amounts, begin to pour flour mixture into the wet oil mixture ingredients stirring to incorporate until all of the dry ingredients are mixed into the cake batter.

Now add the carrots, nuts and raisins, stir gently until all of the ingredients are combined. (see * Note)

Line the cast iron Dutch oven with a parchment paper liner and pour the batter into the paper in the bottom of the oven (do not oil paper), smoothing it a bit until the batter is evenly distributed in the bottom of the oven. (see ** Note)

Cover with the oven's snug lid and place 17 coals on top of the oven and 8 below it to bake at 350 degrees F. Bake cake until a toothpick or skewer inserted into the center comes out clean. Baking time may vary but it should take approximately 40-45 minutes. (see *** Note)

Using a lifter under the lid's center handle, lift lid off from the oven. Set lid aside and use the "handles" of the parchment paper liner to lift the cake out from the oven. Set it aside to cool completely before frosting and serving.
Make the frosting while the cake is cooling
Prepare the cream cheese frosting by adding the cream cheese and vanilla to the bottom of a large bowl. Use a fork to "smash" the vanilla into the cream cheese (this is the easy way to make frosting without using an electric mixer).

Now, add the powdered sugar, a little at a time, and mix into the cream cheese mixture by "smashing" and mixing with a fork. Alternatively, you can use a dough cutter to combine these ingredients.
Frost the cake
The frosting will be thick so you can use a knife and apply several thin layers of the frosting to the top and sides of the cake. An easier method of applying this dense frosting is to pipe it out of a plastic food bag.

Slice into wedges and serve. If you have any leftovers, it is best to keep them refrigerated.
Nutrition Information
Serving:
1
g
Calories:
1013
kcal
Carbohydrates:
140
g
Protein:
10
g
Fat:
49
g
Saturated Fat:
9
g
Polyunsaturated Fat:
37
g
Trans Fat:
1
g
Cholesterol:
98
mg
Sodium:
438
mg
Fiber:
4
g
Sugar:
107
g
---
More Awesome Camping Food Recipes
Every meal of your trip doesn't have to be complicated, but, it should be delicious!