Dutch Oven Spaghetti And Meatballs: Campfire Recipe With Homemade Drunken Meatballs
Some homemade Dutch oven camping recipes require a little extra work but are totally worth it, this is one of them! Can you guess what happens after a day of touring wineries and bringing a few of our favorite bottles back to the campsite?
Well of course, we want to put it IN everything … including dinner! That's how drunken Dutch Oven Spaghetti And Meatballs came to be.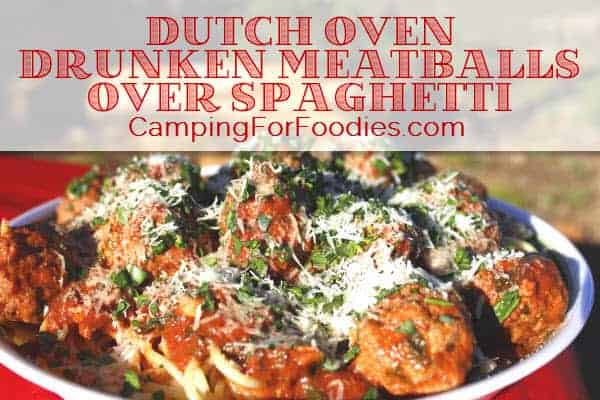 Psst we're compensated…see our disclosures.
What Are Drunken Meatballs?
Everyone wants a glass of vino to go alongside the meal but extending the grape goodness to your food makes the winery-day experience even better.
A little splash here … a little splash there and the meatballs and sauce have a richness and depth of flavor only achievable through tipping your hat to the mighty crushed grape.
So, you may wonder if YOU can get drunk by eating drunken meatballs … the answer is probably not because some of the alcohol burns off during the cooking process. This recipe only calls for 1/2 cup of red wine and serves 4 people so the amount of alcohol is very small to begin with … and because the sauce simmers for about an hour, each person's intake is minimal.
If you're interested in more information, Idaho State University published an article on whether or not alcohol really does burn off during cooking.
---
Prep To Make This Almost-Gourmet Camping Recipe
Making homemade meatballs sounds like a bit of work but the prep is simple … you'll only be chopping a bit of onion, garlic and fresh basil.
---
Methods Of Cooking Camping Spaghetti And Meatballs
If you are making this as one of our campfire recipes, you'll need to get your fire going in order to cook over coals … alternatively, you can use charcoal briquettes.
If you'd rather cook with propane, you can also make this as one of our camp stove recipes so get your stove ready for cooking on a level surface.
---
Steps To Make This Recipe
Step 1. Prepare your ingredients as directed.
Step 2. Prepare your heat source and cooking equipment.
Step 3. Make the meatballs. You're going to combine breadcrumbs, parsley, parmesan cheese, garlic powder, onion powder, red pepper flakes, fennel seeds, egg, salt and pepper as the binder for the meatballs. Then you'll mix in the meat to combine everything. Avoid over-mixing because the meatballs will get tough. You'll form 12 meatballs from the mixture.
Camp Cooking Tip: These camping meatballs can be made in advance and frozen until you are ready to cook. I like making big batches of these at home, then on camp trips I just defrost them, brown them and build the sauce. This works perfectly! Make sure you store them in a single layer inside freezer bags; then you can easily take out as many meatballs as you need for the size of the camping crowd you are feeding.
Step 4. Brown the meatballs. It is time to heat your Dutch oven and the oil so you can brown the meatballs. In order to brown all sides without breaking the balls, you'll need to gently turn the meatballs so they have contact with the hot pan and oil.
Camp Cooking Tip: You are not cooking the meatballs now, you are just browning them. They will actually cook in the sauce so don't over-cook them at this stage.
Step 5. Build the sauce. You'll leave the browned meatballs in the cast iron pot and add the onion, crushed tomatoes, fresh garlic, salt, sugar, tomato paste, black pepper, red wine and fresh basil leaves to make the sauce. Be careful as you stir the meatballs in the sauce so you don't break apart the meatballs.
Camp Cooking Tip: Using a Wine Aerator Pourer is great because in addition to aerating the wine it also keeps things clean with a tapered rubber stopper designed to prevent leakage. I serve the same wine with this camping dinner as I put in the meatball sauce itself. It creates harmony with the flavors which is a very good thing!
Step 6. Cover and cook. Now it's time to let the sauce simmer to develop flavors and cook the meatballs. You'll be covering the Dutch oven with the lid and simmering the entire pot for about an hour. Toward the end of the meatball cooking time, you'll cook the spaghetti according to the package directions. You don't want to start it too early because if you cook it too long the pasta will get mushy.
Camp Cooking Tip: Cooking with wine usually means the cooks and guests are also drinking a little wine during the meal prep activities. I love these little Wine Watchers Cocktail and Wine Glass Charms because they are so colorful and fun. They make it easy to identify which glass belongs to which person! They are made from silicone and fit most wine glass stems.
Joie Wine Watch Wine Glass Charms
Step 7. Serve hot. Once the cooking time is up, check the consistency of the sauce. If it is too thin, remove the cover and continue simmering until it thickens up a bit. It the sauce is too thick, add a bit more liquid … wine, water or beef broth are all fine.
Camp Cooking Tip: Serve this family-style meal by layering the pasta, then meatballs and sauce on a large platter. Top with fresh parmesan, basil and parsley for a nice finishing touch. Super-fast and easy flavor comes when you use fresh cheese and herbs to finish off these Dutch oven meatballs. There is NO comparison between "canned parmesan cheese" aka "cardboard cheese" and the real thing. It is so easy to use a grater and top your camp meal off like a pro!
---
What To Serve On The Side
When I make camping dinner recipes that are a little more complex than the average camp meal, I try to keep the sides really simple. A basic side salad and loaf of crusty bread is all you really need to round out this supper.
---
Similar Camping Pasta Recipes
Some of my favorite winter camping recipes are big and hearty Italian dinners. Here are a few more yummy options if you want to add some camping pasta recipes to your menu.
When you are in the mood for pasta served in a velvety cream sauce, try this One Pot Creamy Cajun Chicken Camping Pasta. It only takes 5 minutes to prep this quick dinner that will be on your table in 30 minutes thanks to using pre-cooked chicken and cooking the farfalle right in the sauce!
You'll think you are eating at a fancy Italian restaurant when you make this Dutch Oven Pasta Stuffed Manicotti on your camping trips. It is a slightly complicated meal to prepare but made easier by using oven-ready noodles.
This One Pot Camping Spaghetti has a flavor profile that is similar to this Dutch oven spaghetti and meatballs but it doesn't use wine. It is quicker too because the pasta cooks right in the sauce that starts with a prepared jarred-sauce.
Onion, garlic, fresh mushrooms, sun dried tomatoes and heavy cream make this almost-gourmet Pasta In Cream Sauce meal. It is one you'll want to make again and again!
---
Print This Recipe
Drunken Spaghetti And Campfire Meatballs Dutch Oven Camping Recipe
Camping For Foodies Dinner Camping Recipes: Drunken Spaghetti And Campfire Meatballs Dutch Oven Camping Recipe
Ingredients
Meatball Ingredients
1

cup

breadcrumbs

1

tablespoon

dried parsley

1/4

cup

grated parmesan cheese

1/2

teaspoon

garlic powder

1/2

teaspoon

onion powder

1/2

teaspoon

crushed red pepper flakes

1/4

teaspoon

fennel seeds

crushed

1

egg

beaten

1/2

teaspoon

salt

1/4

teaspoon

ground black pepper

1/2

pound

ground beef

1/2

pound

bulk hot Italian sausage

you know my family likes a little extra kick but if your family doesn't, just use sweet sausage instead of hot

Approximately 3 tablespoons olive oil
Sauce Ingredients
1

medium onion

chopped

1

(28 oz)

can crushed tomatoes

6

cloves

fresh garlic

minced

2

teaspoons

salt

1

teaspoon

sugar

1

(6 oz)

can tomato paste

1/2

teaspoon

ground black pepper

1/2

cup

red wine

we like to use a Cabernet, but use your favorite

1

cup

tightly packed fresh basil leaves

roughly chopped
Remaining Ingredients
1

(12 oz)

package spaghetti, cooked according to package directions

Freshly grated parmesan cheese

optional topping

Fresh torn basil

optional topping

Fresh chopped parsley

optional topping
Instructions
In a large bowl, mix the breadcrumbs, parsley, parmesan cheese, garlic powder, onion powder, red pepper flakes, fennel seeds, egg, salt and pepper.

Add the meat to the bowl and mix all the ingredients until they are combined. You don't want to over-mix the meatballs because they will get tough.

Form the meat mixture into 12 evenly sized meatballs.

Heat a large pot over medium heat. I like using our 12-inch cast iron Dutch oven over the campfire on a grate or a tripod but you can also use a propane camp stove.

You are adding just enough olive oil to coat the bottom of your pan. Once the oil is heated, add the meatballs.

Gently turn the meatballs to brown all sides. The actual cooking of the meatballs happens when they simmer in the sauce.

Now you'll add the onion, crushed tomatoes, fresh garlic, salt, sugar, tomato paste, black pepper, red wine and fresh basil leaves to the pot with the browned meatballs. Gently stir the ingredients together.

Add the Dutch oven lid and simmer covered for about 1 hour.

If the sauce is too thin, uncover and continue to simmer until desired thickness. If it is too thick, add more wine.

While the meatballs are cooking in the sauce, you'll cook the pasta according to the directions on the package.

Serve family-style by placing the spaghetti on a serving platter and top with meatballs, sauce, parmesan cheese, fresh basil and parsley.



Nutrition Information
Serving:
1
g
Calories:
717
kcal
Carbohydrates:
44
g
Protein:
37
g
Fat:
41
g
Saturated Fat:
13
g
Polyunsaturated Fat:
27
g
Trans Fat:
1
g
Cholesterol:
136
mg
Sodium:
2220
mg
Fiber:
4
g
Sugar:
7
g
---
More Yummy Camping Meal Ideas
Looking for more almost-gourmet camping recipes or super-simple camp food ideas? We've got options for every meal of your trip!