Dutch Oven Drunken Meatballs Over Spaghetti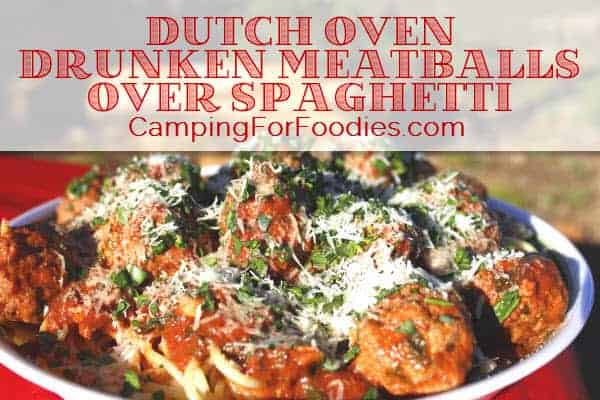 Can you guess what happens after a day of touring wineries and bringing a few of our favorite bottles back to the campsite?  Well of course, we want to put it IN everything…including dinner!  That's how Drunken Meatballs came to be. Psst we're compensated…see our disclosures.
---
Stainless Steel Cast Iron Cleaner
Camp Chef Heat Resistant Gloves
Lodge Camp Dutch Oven Tote Bag
&
Everyone wants a glass of vino to go alongside the meal but extending the grape goodness to your food makes the wine-day experience even better.  A little splash here—a little splash there and the meatballs and sauce have a richness and depth of flavor only achievable through tipping your hat to the mighty crushed grape.
---
Drunken Meatballs Over Spaghetti
Make The Meatballs
Mix this:
1 c breadcrumbs
1 T dried parsley
¼ c grated parmesan cheese
½ t garlic powder
½ t onion powder
½ t crushed red pepper flakes
¼ t fennel seeds-crushed
1 egg-beaten
½ t salt
¼ t ground black pepper
Then add the meat:
½ lb. ground beef
½ lb. bulk hot Italian sausage (you know my family likes a little extra kick but if your family doesn't, just use sweet sausage instead of the hot)
Mix these ingredients until combined (don't over mix or the meatballs will be tough).  Form into 12 evenly sized meatballs.
Heat a large pan (we like using our Dutch oven over the campfire on a grate or a tripod).
Add Olive Oil
Just enough olive oil to coat the bottom of your pan.  Let that heat up and then add the meatballs.  Gently turn the meatballs to brown all sides (the actual cooking of the meatballs happens when they simmer in the sauce).
Build The Sauce
Build the sauce over the browned meatballs by adding:
1 medium onion-chopped
1 28oz. can crushed tomatoes
6 cloves fresh garlic-minced
2 t salt
1 t sugar
1 6oz. can tomato paste
½ t ground black pepper
½ c red wine (we like to use a Cabernet, but use your favorite)
1 c tightly packed fresh basil leaves-roughly chopped
Stir together and simmer covered about 1 hour.  If sauce is too thin, uncover and continue to simmer until desired thickness.  If it is too thick, add more wine. Handle the hot lid using a Camp Dutch Oven Lid Lifter to avoid getting burned.
Cook The Spaghetti
12 oz. package spaghetti-cooked according to package directions.
Serve
Top with a little
---
No time to look for recipes, create a menu and write a grocery list? No Problem! Get our 3-Day Dutch Oven Camp Menu Plan here!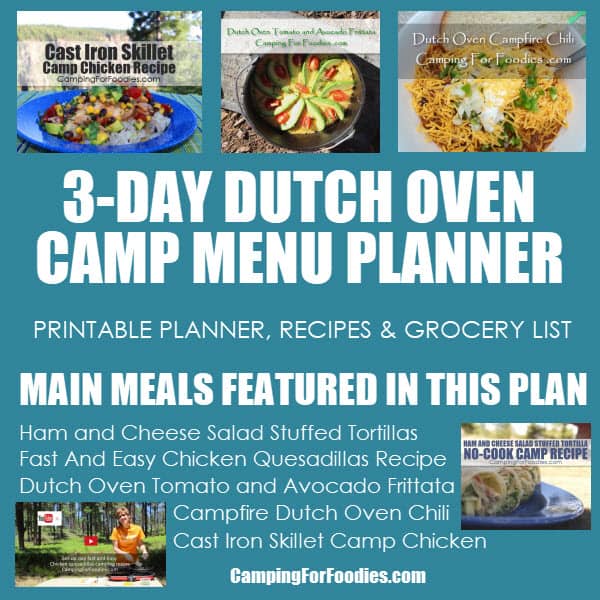 ---
Drunken Meatballs Over Spaghetti Camp Cooking Tips
---
Lodge L12DCO3 Deep Camp Dutch Oven, 8-Quart
When cooking for a large crowd, I love using recipes that I can "scale" based on how many hungry campers are eating. This Drunken Meatballs Over Spaghetti is great because you can make a huge batch and if you have leftovers, it freezes well. Just make sure you have the right sized Dutch oven to fit the job. We have Dutch Oven Camp Cooking Tips with oven sizes and a Dutch Oven Charcoal Temperature Chart here.
&
&
---
Super fast and easy flavor comes when you use fresh cheese and herbs to finish off these Drunken Meatballs! There is NO comparison between "canned parmesan cheese" aka "cardboard cheese" and the real thing. It is so easy to use a grater and top your meal off like a pro!
&
&
---
Ziploc Double Zipper Freezer Gallon Bags, Total: 152 Bags (4 X 38 Count)
Camp Cooking Tip: These Drunken Meatballs can be made in advance and frozen until ready to cook. I like making big batches of these at home, then on camp trips I just defrost them, brown them and build the sauce.  This works perfectly! Make sure you store them in a single layer inside Freezer Bags; then you can easily take out as many meatballs as you need for the size of the camping crowd you are feeding.
&
&
---
Baen Sendi Wine Aerator Pourer – Aerating Wine Pourer – Premium Wine Decanter
Using a Wine Aerator Pourer is great because in addition to  aerating the wine it also keeps things clean with a tapered rubber stopper designed to prevent leakage. I serve the same wine with this camping dinner as I put in the Drunken Meatballs Sauce. It creates harmony with the flavors which is a very good thing!
&
&
---
Joie Wine Watchers Cocktail and Wine Glass Charms, Set of 6, Assorted Colors
Cooking with wine usually means the cooks are also drinking a little wine during the meal prep activities. I love these little Wine Watchers Cocktail and Wine Glass Charms because they are so colorful and fun and make it easy to identify which glass belongs to which person! They are made from silicone and fit most wine glass stems and add a little humor to this Drunken Meatballs Over Spaghetti camp dinner.
&
&
---
Get Dutch Oven Camp Cooking Tips here!
Get More Dutch Oven Recipes For Camping!
 Grocery Tote
 Funny Apron
 Cutting Mat
 Mat Set
 Shaker Set
&
---
What do you think? Leave me a comment…I'd love to hear from you!
I love sharing my recipes and tips for enjoying the great outdoors while camping, RV adventuring and relaxing in your own backyard. I'd love to hear what you think and if you'd like to share some of your secrets, I'd love to hear them too! Please leave a comment below and let's chat.
If you need camping recipes and menu ideas, you can find them here at the Camping For Foodies Camping Recipes list.
Don't miss a thing…sign up for Camping For Foodies email updates!
Your purchase of our products will help support World Vision ® Building a better world for children.
---