You won't miss your favorite bakery when you put these Dutch oven camping recipes on your menu! Feeling for a sweet muffin or a savory slice of bread? These Dutch oven baked goods are wonderful treats for campsite breakfasts, snacks and desserts!
Psst we're compensated…see our disclosures.
Yummy Camp Dutch Oven Baked Goods
Breads, cakes and pies … oh my!
---
Rolls & Muffins
Starting with dinner roll frozen dough balls makes these Dutch Oven Cinnamon Rolls easy for campsite baking. Add some cream cheese frosting and you'll enjoy them for breakfast or dessert!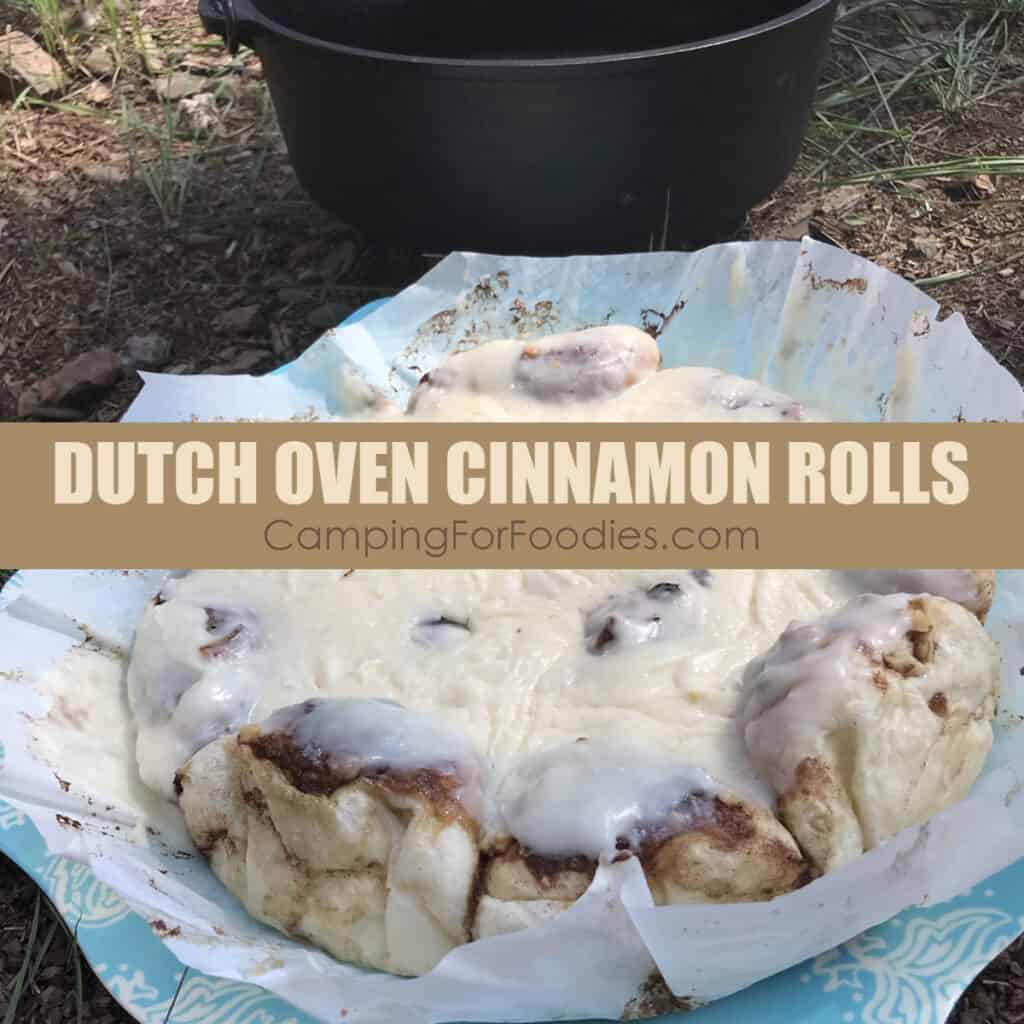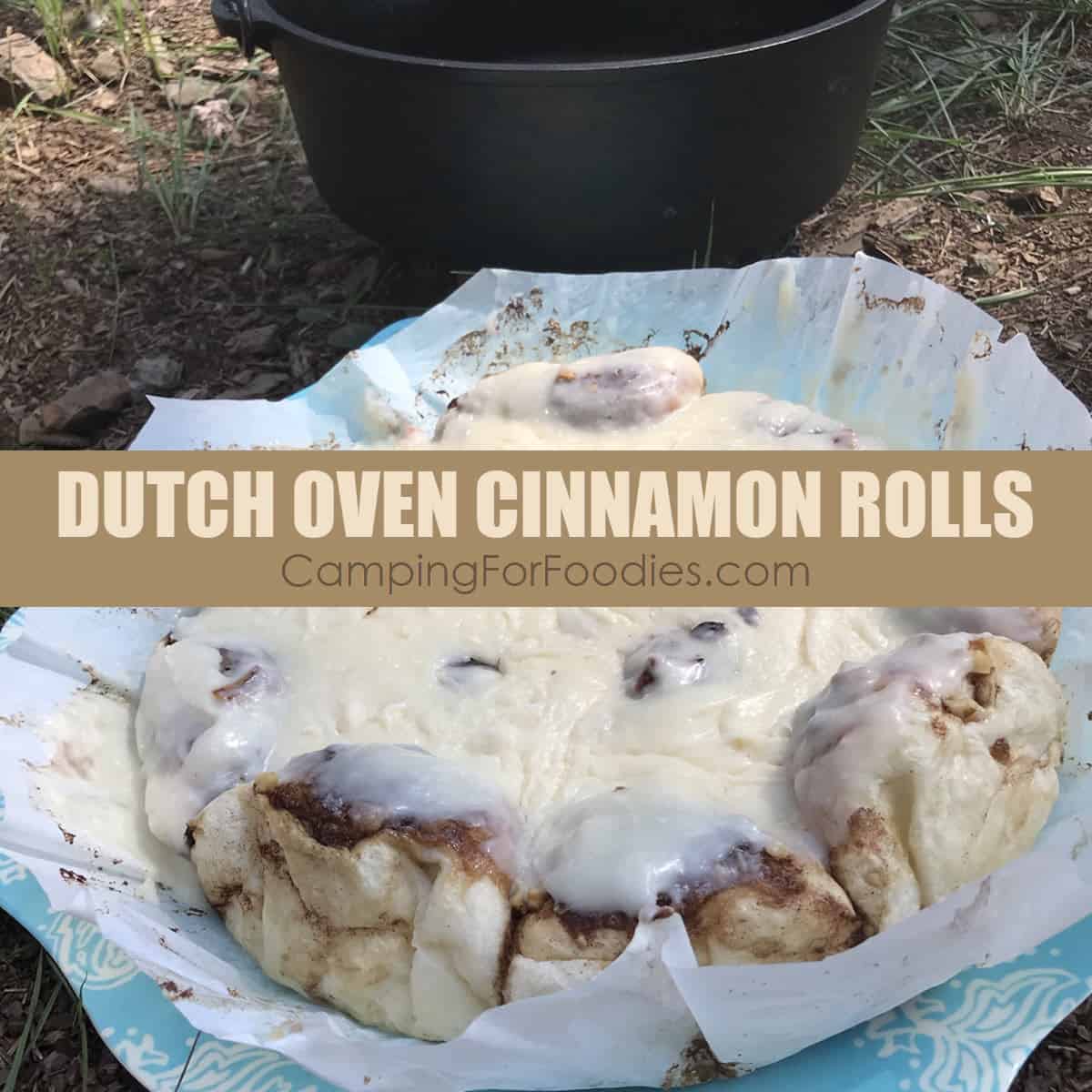 ---
Oh my … the glaze on these blueberry lemon Dutch oven muffins will make you lick your fingers!
It is just one of our yummy camping breakfast ideas you should try!
---
Cakes
This Dutch oven carrot cake is a from-scratch cake that is made easy for the campsite.
You'll love the cream cheese frosting too!
---
Individual Dutch oven chocolate lava cakes make a decadent dessert to finish off a camp meal fit for a 5-star restaurant!
---
This Dutch oven pineapple upside down cake is one of our camping dessert recipes our entire family agrees upon … and it is not easy for all of us to agree on anything! LOL
---
This super easy camp Dutch oven coffee cake is one recipe we make for breakfast and "stack bake" along with our savory Dutch Oven Breakfast Pizza Camping Recipe.
---
Cobblers
I made this Dutch oven blueberry cobbler as a surprise birthday cake for my dad on a camping trip.
He is one of the biggest blueberry freaks I know and he absolutely LOVED this recipe!
---
This Dutch oven berry cobbler was a recipe I threw together using frozen mixed berries I found hiding in the back of a freezer.
The end result was this super easy and totally yummy mixed berry cobbler.
---
Brownies
Ya know what is better than campfire s'mores?
These easy camping smores Dutch oven brownies!
You've gotta try them on your next trip!
---
When I am in the mood to bake on camping trips, this caramel nut brownies camping recipe is always a hit!
If you don't want to make them at the campsite, you can make them at home because they freeze and travel well!
---
Biscuits & Breads
These easy Dutch oven biscuits are savory with a flaky texture. You can add a bit of jam to make them a sweet snack.
---
This Dutch oven cinnamon bread camping recipe makes a fantastic breakfast served warm with a hot cup of coffee … and it makes a nice dessert too! If you don't know all of the simple methods to make your java, here's how to make coffee when camping whether you want yours strong and black, loaded with cream and sugar or you even want an espresso, latte or cappuccino.
---
If you are looking for a savory option, try this Dutch oven bread camping recipe that produces a loaf of bread with a biscuit-like texture.
We love serving it with our Campfire Roast Beef Dutch Oven Dinner!
---
This campfire Dutch oven jalapeño cornbread camping recipe features corn and jalapeño peppers making a sweet bread with a little kick!
It goes well with our campfire white chili recipe that has a mild Mexican flair.
Camp Cooking Tip: When you are making camping meals for two, use cornbread leftovers as dessert by adding a bit of honey and butter.
---
Dutch Baby Recipes
A quick batter and fresh blueberries make an AMAZING lemon blueberry campfire Dutch baby that is not too sweet for breakfast!
---
If you love the idea of Dutch baby recipes but don't want something sweet … try this savory Dutch baby for breakfast or a light lunch with a side salad!
---
Pies
Yes, we do actually camp on holidays and we make this Dutch oven upper crust apple pie for dessert as the perfect ending to a traditional Thanksgiving turkey dinner!
---
More Camp Food Ideas
Try something new and exciting on your next camp menu!