Pizza Without a Phone?!?! camp recipes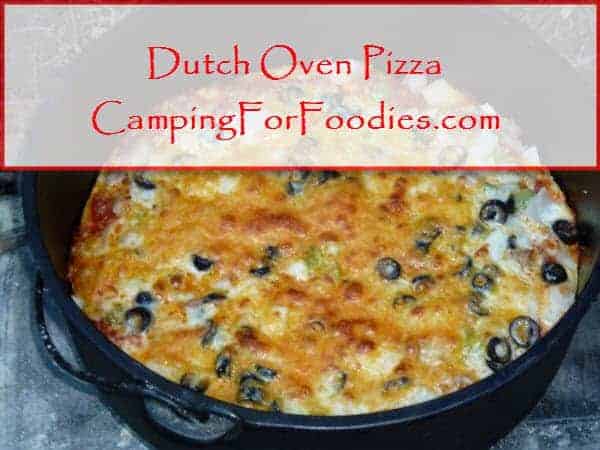 Try Dutch Oven Pizza On Your Camp Trip!
Doing a homemade pizza out in the wilderness might seem like a challenge a bit too lofty but this one is a breeze! The secret: ditch the traditional dough for a batter-based crust. This is one of our favorite dinner camping recipes for kids and adults. Who knows…You may even throw away your favorite pizza delivery phone number when you get home! Psst we're compensated…see our disclosures.
Lodge Camp Dutch Oven Lid Lifter
Camp Chef Heat Resistant Gloves
Lodge Camp Dutch Oven Lid Stand
&
How To Make Our Dutch Oven Pizza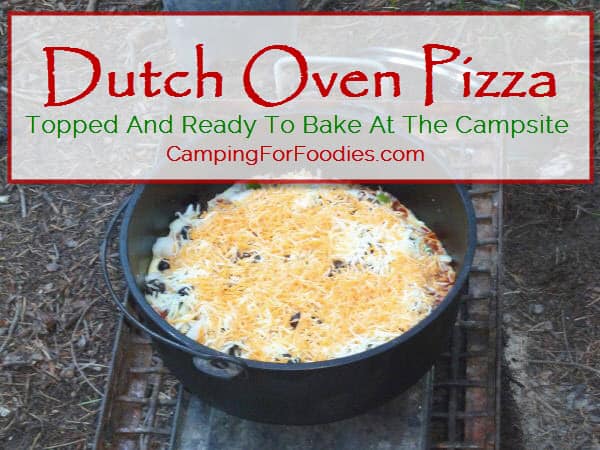 Make the topping
Heat oil in bottom of Dutch oven (I prefer a 12″ oven for this recipe), add meat and brown thoroughly
2 tablespoons vegetable oil
2 pounds ground meat (we like hot Italian sausage)
Add the onion, garlic and green pepper. Cook until the onion is translucent
2 cups chopped onion
1 large garlic clove, minced
1 cup chopped green pepper
Add the tomato paste, chili powder, oregano and pepper
1 cup tomato paste
2 teaspoons chili powder
1 teaspoon oregano
¼ teaspoon pepper
Remove mixture from dutch oven to hold for use later
Lodge Durable Pan Scrapers
Disposable Dutch Oven Liners
Lodge Camp Dutch Oven Tote Bag
&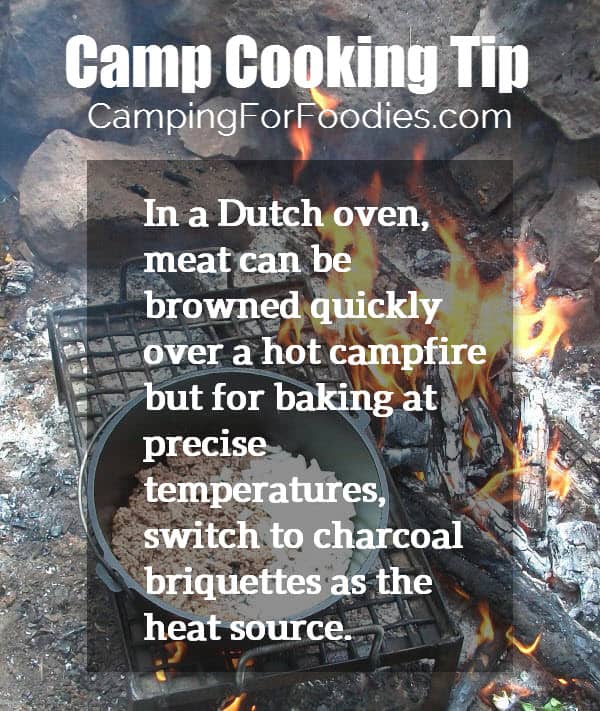 Make the batter/crust
Mix the dry ingredients together
1 cup unbleached flour
1 cup yellow cornmeal
1 tablespoon baking powder
Add the oil, egg whites and milk stirring lightly
3 tablespoons vegetable oil
2 egg whites
1 cup skim milk
Spread the batter in the bottom of a lightly sprayed Dutch oven (oven will be pre-heated from browning the meat)
Spoon the topping over the pizza crust (batter) and sprinkle with cheese and black olives
Spoon meat and sauce topping evenly over batter
1/2  cup grated part-skim mozzarella cheese
1/2 cup shredded cheddar cheese
1 small can sliced black olives (optional)
Bake it
Bake your Dutch oven pizza at 400° for 30-40 minutes
Note: Dutch oven sizes vary, bigger ovens require more briquettes, smaller require less, see our Dutch oven charcoal temperature chart for help!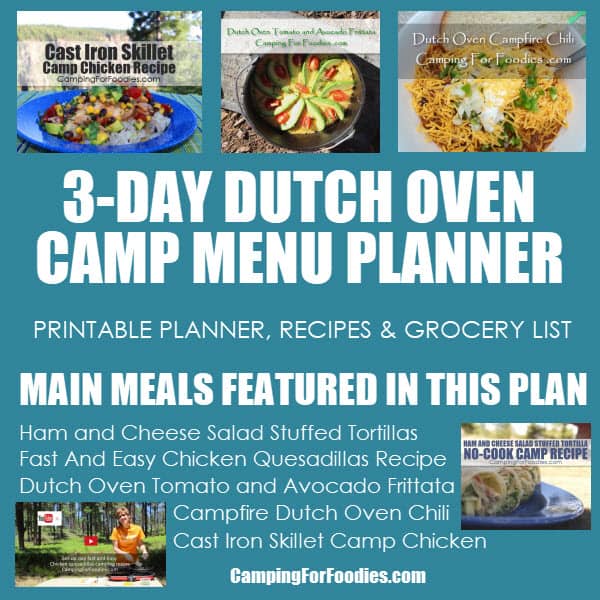 No time to look for recipes, create a menu and write a grocery list? No Problem! Get our 3-Day Dutch Oven Camp Menu Plan here!
Stainless Steel Cast Iron Cleaner
Cast Iron Oil
Rapidfire Chimney Starter
&
For this Dutch oven pizza camp recipe, I like to use a 12 inch Dutch oven which seems to create the perfect sized pie for our camping group. If you adjust the size of the oven, you will also need to adjust your cooking time so just keep an eye on your pizza as it bakes and use our handy Dutch oven charcoal temperature chart for help in determining the quantity and placement of your charcoal briquettes.
&
&nbsp
Camping For Foodies Flexible Cutting Mat with Retro RV Camper Theme Design
Chopping the veggies for this yummy Dutch oven pizza camp recipe is way more fun when you use camp-themed utensils like this cute flexible cutting mat with retro RV camper design! And seriously, who could resist chopping duty with a message like "Camp Hike Cook Drink Eat Repeat" and a Dutch oven hanging over a campfire?!?
&
&nbsp
Rubbermaid Easy Find Lid Food Storage Container, BPA-Free Plastic, 34-Piece set (1882084)
Camp Cooking Tip: Measure your dry ingredients at home for this Dutch oven pizza recipe so you are only transporting what you need to the campsite. I like using food storage containers with locking tabs for an extra secure lid seal because I really get grumpy when I have to clean up spills that could have been avoided. After all, camping is for relaxing and unplugging … and extra cleaning does not fit the agenda, right?
&
&nbsp
After your Dutch oven is pre-heated, take extra precaution when handling the hot cooking utensils … the lid as well as the handle. A cast iron lid lifter can keep you safely away from the hot campfire and coals and will keep you enjoying your camp trip as well as your Dutch oven pizza camp dinner that will be almost ready to serve by now.
&
&nbsp
Hot Sox Men's Pizza Crew Sock, Black, One Size
Sometimes you just need to "dress the part" when preparing your camp meals and we just love these fun and quirky pizza socks to get you in the mood to make this delicious Dutch oven pizza recipe for your camping clan!
&
&nbsp
Get Dutch Oven Camp Cooking Tips here!
Get More Dutch Oven Recipes For Camping!
Get all of our latest tips and secrets to make your next camping adventure a fun and fabulous one! Click here to subscribe to Camping For Foodies email updates.
 Grocery Tote
 Funny Apron
 Cutting Mat
 Mat Set
 Shaker Set
&
Enjoy my favorite camping food recipes!
If you need camping recipes and menu ideas, you can find them here at the Camping For Foodies Camping Recipes list.
Your purchase of our products will help support World Vision ® Building a better world for children.