Dutch Oven Pizza Camping Recipe: Fun, Tasty Batter-Based Crust
This pizza is one of our most popular Dutch oven camping recipes … for good reason! Doing a homemade pizza out in the wilderness might seem like a challenge a bit too lofty but this one is a breeze! The secret to this Dutch Oven Pizza Camping Recipe: ditch the traditional yeast dough for a batter-based crust.
Who knows … You may even throw away your favorite pizza delivery phone number when you get home!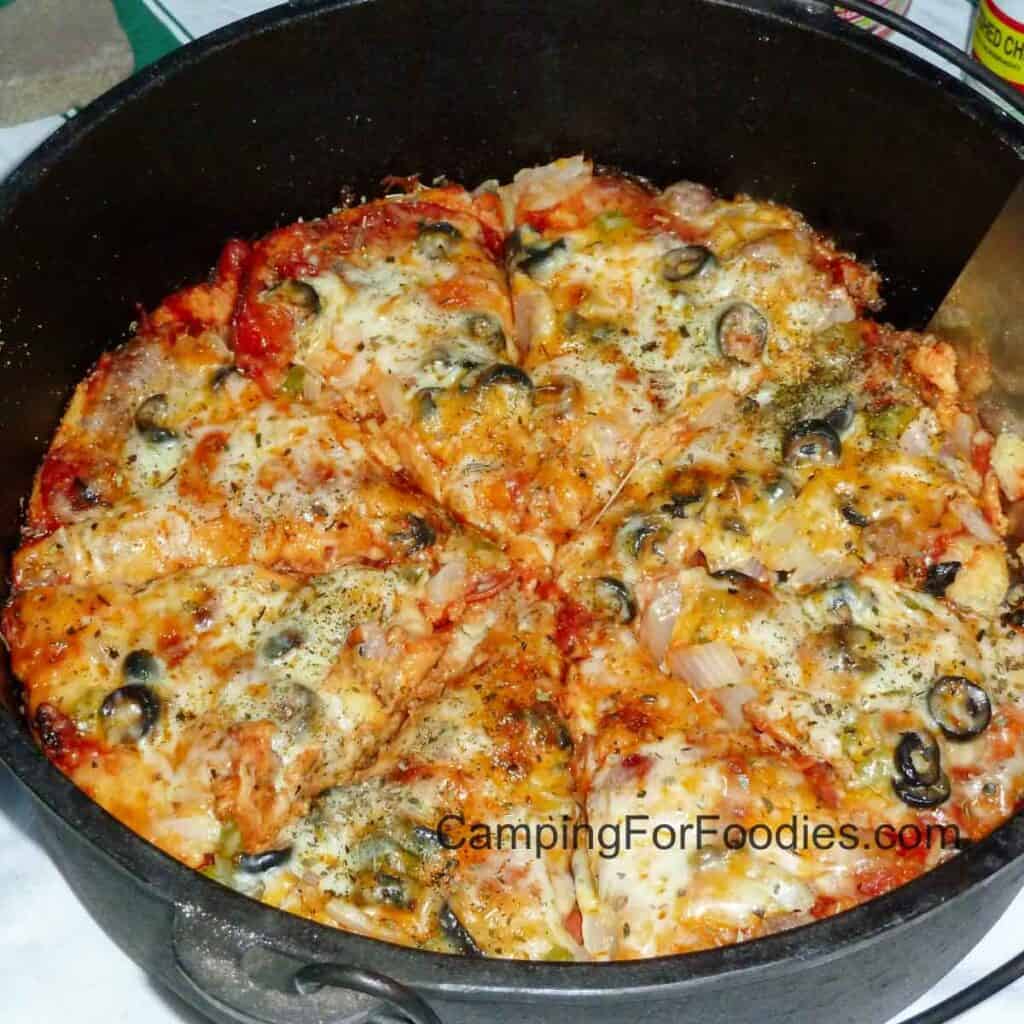 Steps To Make Pizza In A Dutch Oven
Step 1. Prep Your Veggies. Chop the onion, garlic and bell pepper.
Chopping the veggies for this yummy campfire Dutch oven pizza is way more fun when you use camp-themed utensils.
Step 2. Prepare Your Campfire For Cooking. If you are a campfire expert, you probably don't need any help getting your fire started but if you are like me … you might need a little extra advice. Check out our post, Fire Starters Camping Enthusiasts Must Have, for some tips and tricks!
Camp Cooking Tip: This Dutch oven pizza recipe requires you to brown meat and veggies then bake the crust with the meat sauce. You can brown the meat directly over the campfire but when it comes to baking at precise temperatures, you'll want to remove the Dutch oven from the fire pit and either use campfire coals or charcoal briquettes as the heat source for more even baking of your camp dinner.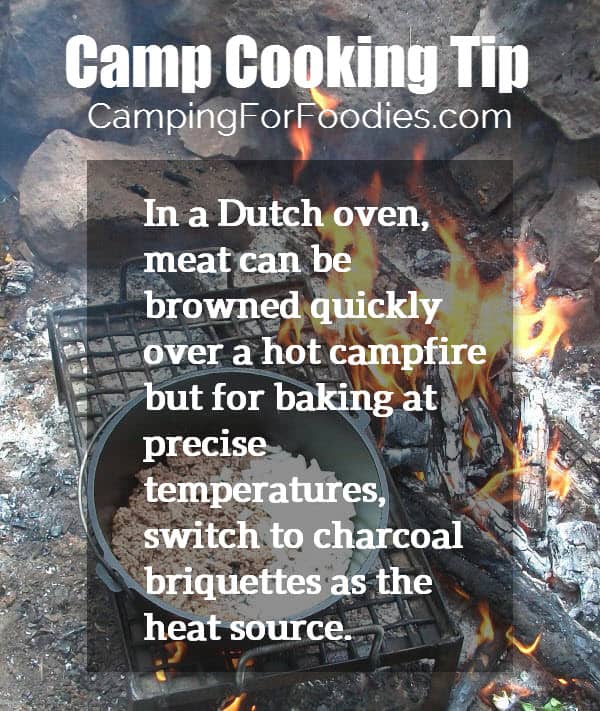 Step 3. Brown The Meat And Veggies. Add some oil to your Dutch oven then brown the meat and add the onion, garlic and green pepper then add the tomato paste, chili powder, oregano and pepper to make the sauce.
For this Dutch oven pizza camp recipe, I like to use a 12 inch Dutch oven which seems to create the perfect sized pie for our camping group.
Camp Cooking Tip: If you adjust the size of the oven, you will also need to adjust your cooking time so just keep an eye on your pizza as it bakes and use our handy Dutch oven charcoal temperature chart for help in determining the quantity and placement of your charcoal briquettes.
Step 4. Remove The Sauce. Remove the meat sauce mixture from the Dutch oven and set aside.
Step 5. Make The Crust Batter. Mix the flour, cornmeal and baking powder. Then add the oil, egg whites and milk to create the batter for the crust. Add some cooking spray. Now pour the batter in the pre-heated Dutch oven.
After your Dutch oven is pre-heated, take extra precaution when handling the hot cooking utensils … the lid as well as the handle. A cast iron lid lifter can keep you safely away from the hot campfire and coals and will keep you enjoying your camp trip as well as your Dutch oven pizza camp dinner that will be almost ready to serve by now.
If you don't have a lid lifter in your campfire cooking equipment gear box … you should!
Step 6. Top Batter And Bake. Once your batter is in your Dutch oven, it is time to layer on your meat sauce, cheeses and black olives.
Step 7. Remove pan from heat, let stand a few minutes then slice and serve.
Camp Cooking Tip: Use high-temperature oven mitts or a Dutch oven lid lifter to handle hot cast iron cookware.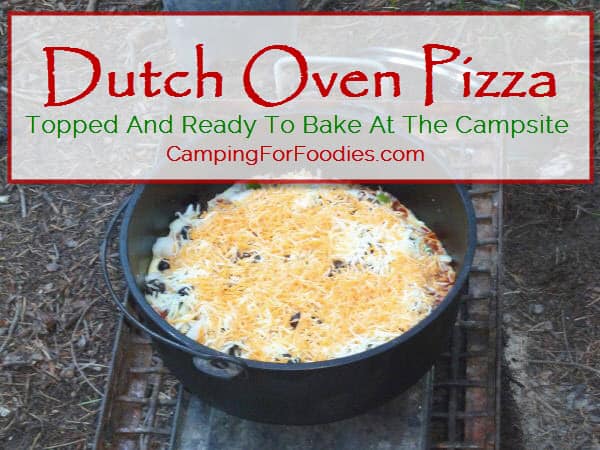 Prep At Home Options
Camp Cooking Tip: If you want to prep at home, there are several things you can do for this recipe.
You can make the entire meat sauce at home then just freeze it in a freezer bag or store it in a food storage container. Then you defrost at the campsite and continue with the recipe instructions.
You can also measure and mix your dry ingredients at home so you are only transporting what you need to the campsite. I like using food storage containers with locking tabs for an extra secure lid seal because I really get grumpy when I have to clean up spills that could have been avoided. After all, camping is for relaxing and unplugging … and extra cleaning does not fit the agenda, right?
Rubbermaid Lock-Its Food Storage Containers with Easy Find Lids, Racer Red, 20-Piece Set
---
Similar Recipes
Have you ever made Dutch Oven Upside Down Pizza? This is one of the craziest Dutch oven camping recipes you'll ever make! You put the toppings in the bottom of your oven then cover with pizza dough & bake. The magic happens when you invert the pie so it's right-side-up on your serving plate and top with fresh basil.
My 6-ingredient Chicken Pesto Pizza is so easy and delicious!
Try making easy pie iron campfire pizza recipes. Butter the outside of 2 pieces of bread and place buttered side into the campfire cooker. Top with jarred pizza sauce or tomato sauce and toppings. Close the cooker and cook over hot coals till the bread is toasted and the filling is warm.
Topping combination suggestions:

Pepperoni, fresh mushrooms, pizza sauce and low moisture mozzarella cheese.
Pineapple, ham, bacon, bbq sauce and low moisture mozzarella cheese.
If pizza for dinner is not enough, try our Dutch Oven Breakfast Pizza Camping Recipe too!
---
Print This Recipe
Dutch Oven Pizza Camping Recipe
Camping For Foodies Dinner Camping Recipes: Dutch Oven Pizza Camping Recipe
Ingredients
2

tablespoons

vegetable oil

(or olive oil)

2

pounds

ground hot Italian sausage

2

cups

chopped onion

1

large garlic clove

minced

1

cup

chopped green bell pepper

1

cup

tomato paste

2

teaspoons

chili powder

1

teaspoon

oregano

1/4

teaspoon

pepper

1

cup

unbleached flour

1

cup

yellow cornmeal

1

tablespoon

baking powder

3

tablespoons

vegetable oil

2

egg whites

1

cup

skim milk

1/2

cup

grated part-skim mozzarella cheese

1/2

cup

shredded cheddar cheese

1

small can sliced black olives

Cooking spray

(or Dutch oven liner)
Instructions
Prepare your campfire for cooking.

Heat oil in bottom of 12-inch camp Dutch oven.

Add meat and brown thoroughly breaking up meat as it cooks.

Add the onion, garlic and green pepper to the pot. Cook until the onion is translucent.

Now add the tomato paste, chili powder, oregano and pepper, stirring to combine all ingredients.

Remove the meat sauce mixture from Dutch oven, set aside.

In a bowl, make the batter/crust by mixing the flour, cornmeal and baking powder. Then add the oil, egg whites and milk stirring lightly. See * Note below.

Lightly spray the inside of the Dutch oven with cooking spray and spread the batter evenly on the bottom of the oven. See ** Note below.

Spoon the meat sauce mixture over the pizza crust batter and sprinkle with cheeses and black olives.

Cover and bake your Dutch oven pizza at 400 degrees (29 total charcoal briquettes = 19 hot coals on top of the lid / 10 hot coals below the bottom of the oven) for approximately 30-40 minutes depending on your weather conditions and elevation. See *** Note below.

Let cool slightly before slicing to serve.
Notes
*NOTE: This camping Dutch oven pizza makes a thick crust so if you prefer a thinner crust, use only half of the batter.
**NOTE: Your Dutch oven will be pre-heated from browning the meat so be careful not to burn yourself. If you prefer, you can line your Dutch oven with parchment paper or foil for baking. Then, you can lift the pizza out to cool and slice. We have a VIDEO on how to use Dutch oven liners and make your own for pennies!
*** NOTE: Use a lid lifter or heat-resistant gloves to turn the bottom of the Dutch oven and lid 1/4 turn in opposite directions every 10 minutes to ensure even baking.
Here are a few more useful links:
Camping For Foodies Recipes List
https://www.campingforfoodies.com/camping-recipes-list/
Our Products
https://www.campingforfoodies.com/shop/
Nutrition Information
Serving:
1
g
Calories:
954
kcal
Carbohydrates:
54
g
Protein:
36
g
Fat:
66
g
Saturated Fat:
22
g
Polyunsaturated Fat:
14
g
Monounsaturated Fat:
26
g
Trans Fat:
1
g
Cholesterol:
133
mg
Sodium:
1842
mg
Potassium:
1173
mg
Fiber:
7
g
Sugar:
11
g
Vitamin A:
1206
IU
Vitamin C:
37
mg
Calcium:
357
mg
Iron:
5
mg
---
Camp Food Inspiration
Keep your menu exciting with new recipe ideas!