Lasagna In A Dutch Oven Camp Recipe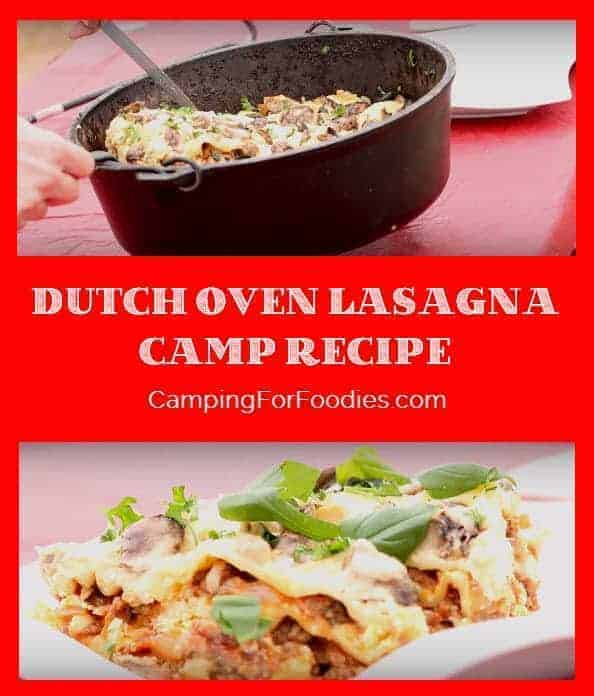 Lasagna Recipe For Dutch Oven Camp Cooking
Making lasagna is always a bit messy … not that it is complicated but it has so many layers and pre-boiling the noodles is one thing that adds to the challenge. My Dutch oven camp-friendly lasagna recipe uses oven-ready noodles to avoid part of that hassle. It serves 4 – 6 (more if you serve it with a side salad and garlic bread, and seriously, who wouldn't want to do that?!?) Psst we're compensated…see our disclosures.
---
Lodge Camp Dutch Oven Lid Lifter
Camp Chef Heat Resistant Gloves
Lodge Camp Dutch Oven Lid Stand
&
---
The meat mixture
Brown and drain the meat
½ lb ground beef
½ lb Italian sausage (bulk)
The Sauce
Sauté
¼ cup olive oil
1 onion, chopped
4 cloves garlic, minced
Then add the liquids
2 14-oz. cans crushed tomatoes
1 ½ Tablespoon tomato paste
¼ cup red wine
Now add the dry seasonings
1 teaspoon red pepper flakes (more if you like extra heat)
1 ½ teaspoon dried basil
½ teaspoon fennel seed
1 Tablespoon dried parsley
Salt and pepper to taste (about 1 t salt and 1/4 t pepper)
After the sauce mixture is fully incorporated, add the meat mixture and let simmer until thickened
The cheese mixture
Mix the following
15 oz. ricotta cheese
3 eggs
4 cup mozzarella cheese, shredded
¼ cup parmesan cheese, freshly grated
---
Lodge Durable Pan Scrapers
Disposable Dutch Oven Liners
Lodge Camp Dutch Oven Tote Bag
&
---
Build the lasagna in the Dutch oven
---
You are going to layer 1/3 sauce, 1/3 noodles and 1/3 cheese then top with mushrooms and a little extra cheese, repeat till all ingredients are layered
10 oven-ready lasagna noodles (there is no need to pre-boil these so they are great for camp cooking! Just break them in to pieces to fit the shape of your Dutch oven)
8 oz. pkg fresh mushrooms, sliced
½  cup mozzarella cheese, shredded
Bake it
Bake at 350 degrees for about 40 minutes. Take the Dutch oven off of the coals and let stand for about 15 minutes before cutting to serve.
&
---
Here is a quick rule of thumb to get to 350° when cooking with your Dutch oven. Example: 12 inch Dutch oven x 2 = 24 total briquettes. (8 bottom – 16 top). We have other awesome tips in our Dutch Oven Camp Cooking Tips post!
&
---
Top and serve
(Give or take a few leaves regarding the quantity of the fresh herbs and shredded cheese for serving, no science here, just adding that punch of flavor to take your Dutch oven lasagna camp recipe over-the-top)
¼ cup fresh parsley, chopped
4 large fresh basil leaves, torn
2 Tablespoons fresh parmesan cheese, shredded
---
Stainless Steel Cast Iron Cleaner
Cast Iron Oil
Rapidfire Chimney Starter
&
---
Dutch Oven Lasagna Recipe Camp Cooking Tips
---
Coleman Fold N Go InstaStart 2-Burner Propane Stove
I always love cooking on my Fold N Go Propane Camp Stove but it is especially handy for this Lasagna In A Dutch Oven Camp Recipe because you can have the meat browning on one burner, the sauce simmering on another and at the same time you can get your Dutch oven ready for the actual layer building exercise coming next!
&
---
Coleman Fold N Go Stove Carry Case
If you have a Fold N Go Stove, you will want to have this awesome Fold N Go Stove Carry Case to protect your stove during storage and easy transportation … and,  you'll LOVE the ability to carry your propane cans with it too! How much easier could this Lasagna In A Dutch Oven Camp Recipe get?!?
&
---
Camp Chef Mule Deer 12IN Dutch Oven
I like using a 12 inch Dutch oven for this Lasagna In A Dutch Oven Camp Recipe. It seems to be just the right size for the quantity of ingredients. If you decide to scale this recipe for a big camp crowd, you will want to use a larger sized Dutch oven.
&
---
Barilla Oven Ready Lasagna Pasta
One of the secrets to making lasagna in a Dutch oven at the campsite is by modifying the recipe to outdoor cooking. This Oven Ready Lasagna Pasta eliminates the need to boil noodles! It is a fast and easy way to adapt to rugged out-in-nature cooking conditions.
&
---
Flexicups Silicone Camping Wine Glasses 12 Oz Set of 2 Shatterproof and Lightweight with Handy Carry Bag Perfect Cups for Picnics and Outdoor Parties
If you are serving wine with this Lasagna In A Dutch Oven Camp Recipe, you might want to try these Flexicups Silicone Camping Wine Glasses; they are shatterproof, lightweight and have a handy carry bag too!
&
---
Italian Flag Metal Bookmark Page Marker with Charm
Because you might be in the middle of a great book and you don't want to lose your place, mark it with this cute Italian Flag Metal Bookmark Page Marker before you put it down to start cooking your Dutch oven lasagna recipe!
&
&nbsp
I really like serving this lasagna with a side salad I call: Caesar's Salad Dressing That Does Not Need "The Rule"!
Get More Dutch Oven Recipes For Camping!
I made this Lasagna In A Dutch Oven Camp Recipe on an episode of the Great Food Good Neighbors TV show, watch it here…
We filmed this episode at a campsite in the Usery Mountain Regional Park.
How to get there
&
---
No time to look for recipes, create a menu and write a grocery list? No Problem! Get our 3-Day Dutch Oven Camp Menu Plan here!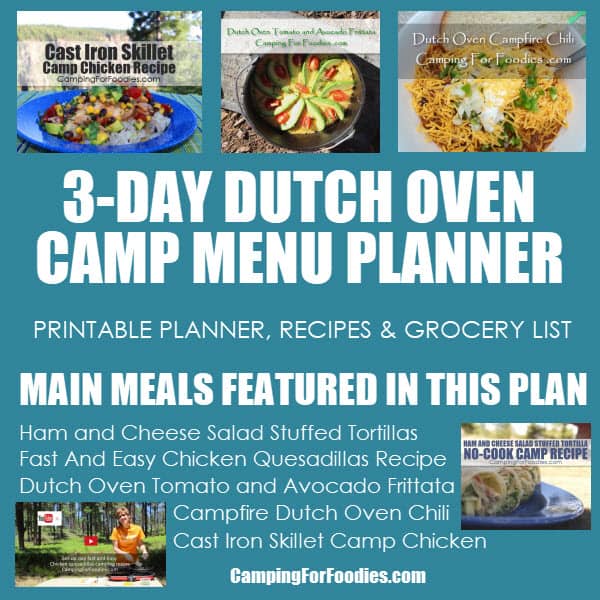 ---
Our Cool Camping Products Make Great Gifts!
Tote
Cutting Mat
Mat Set
Shaker Set
Apron
Hammock
Women's Tee
&
---
If you need camping recipes and menu ideas, you can find them here at the Camping For Foodies Camping Recipes list.
Don't miss a thing…sign up for Camping For Foodies email updates!
Your purchase of our products will help support World Vision ® Building a better world for children.