Slow Cooker To Dutch Oven Conversion
Every family has their favorite slow cooker recipes. They taste even better out in the wild after cooking them in your camping Dutch oven! Easy slow cooker recipes and Dutch oven camping recipes are the perfect match!
With a few simple tips on slow cooker to Dutch oven conversions, you'll be expanding your camp menu to included grandma's secret crock pot recipes!
Psst we're compensated…see our disclosures.
Crock Pot To Dutch Oven Conversion
There are a few things you need to know to make a crock pot recipe in a camp Dutch oven.
---
Slow Cooker vs Dutch Oven
One thing to be aware of before you convert your slow cooker recipe for your camp Dutch oven is the capacity difference between the two cooking vessels. Most slow cookers have a 7-quart capacity while the most popular camp Dutch oven size is 12-inch with some having regular depth being a 6-quart capacity Dutch oven and others having deep depth being an 8-quart capacity Dutch oven. So, you'll have to allow for differences when you convert the recipe. Check out our Dutch Oven Camp Cooking Tips post for more awesome information. 😉
&
---
6 Quart 12-Inch Dutch Oven
7 Quart Slow Cooker
8 Quart 12-Inch Deep Dutch Oven
&
---
Slow Cooker Conversion Chart
Maintaining a standard 325°F cooking temperature in your camp Dutch oven is easy. Here is a basic chart to convert your slow cooker recipe for your camp Dutch oven.
Slow Cooker Recipe Time/Setting CONVERTED TO Camp Dutch Oven Time/Temperature
SLOW COOKER ON LOW → DUTCH OVEN AT 325°F
12 Hours → 3 Hours
8 Hours → 2 Hours
4 Hours → 1 Hour
SLOW COOKER ON HIGH → DUTCH OVEN AT 325°F
4 Hours → 2 Hours
3 Hours → 1.5 Hours
2 Hours → 1 Hour
---
Our Dutch Oven Temperature Chart will indicate how many charcoal briquettes you need to maintain 325°F in your camp Dutch oven depending on the size of the Dutch oven you are using for the converted recipe.
Also, if you don't have enough slow cooker conversion recipes to fill your camp menu, you came to the right place for totally terrific camping food!
&
---
Slow Cooker Conversion Times
In order to maintain a long slow cooking process and keep the cooking time the same when you convert your slow cooker recipe for your camp Dutch oven, just maintain the proper temperature range for the time indicated in the slow cooker original recipe instructions. Slow cookers vary by manufacturer, but generally speaking, when you are cooking with your slow cooker it is maintaining a temperature range of approximately:
LOW setting in a slow cooker = 190-200°F
HIGH setting in a slow cooker = 250-300°F
---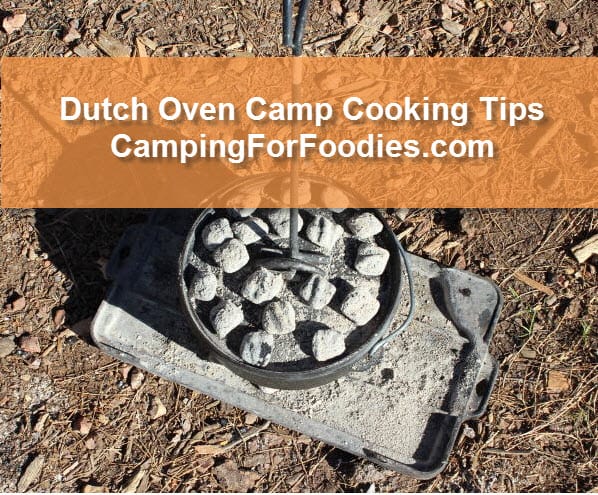 How Much Heat Comes from a Coal?
Each charcoal briquette produces about 10 degrees of heat. So, if you want to slow cook a recipe at 200°F you will need about 20 coals burning throughout the cooking process you calculated to be your proper slow cooker conversion times. Check out our Dutch Oven Camp Cooking Tips post for more super helpful information.
&
---
Easy Slow Cooker Recipes Camping Tips
---
Digital Instant Read Thermometer
As nice as it would be to have exact times and temperatures when converting your slow cooker recipes for your camp Dutch oven … we all know that camp cooking is a mixture of art and science because of the outdoor conditions, variations in altitude, differences in the moisture in the atmosphere, temperature of the air (and the list goes on) … when it comes to cooking on camping trips.
So, the good news is that most slow cooker recipes are really easy with minimal prep which is great for camping!
But, be flexible when it comes to these slow cooker recipe conversions because you may have to adjust cooking times or coals to adapt to the outdoors to ensure your food is properly cooked. It is best to use a thermometer to verify the food is up to the proper temperature, especially with large cuts of meat, before serving it. You don't want anyone getting sick … which brings me to my next point. 😎
&
---
Food Safety At The Campsite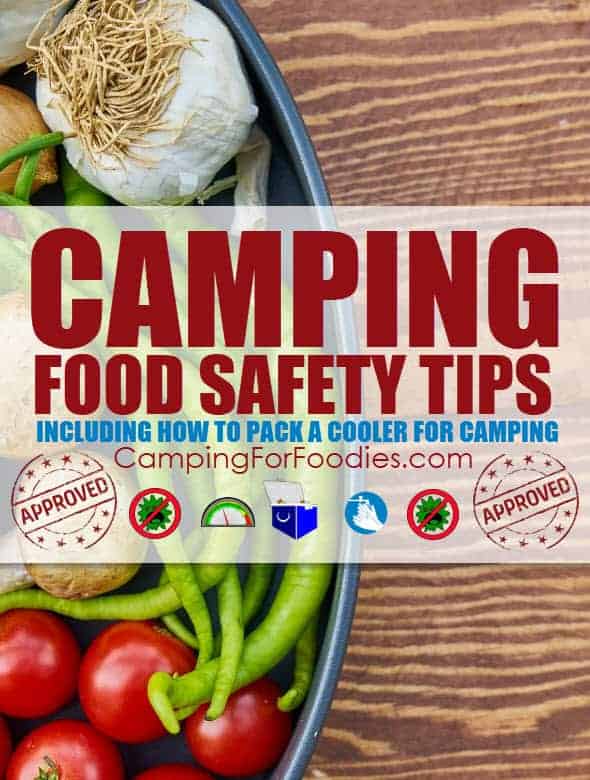 We have an awesome blog post, Camping Food Safety Tips Including How To Pack A Cooler For Camping, to help you keep your family and friends safe at the camp meal table. You should check it out if you agree with our motto: No food poisoning allowed! 😉
&
---
Some of our favorite Dutch oven accessories include making Dutch oven cooking efficient and cleanup easy!
---
Rapidfire Chimney Starter
Cast Iron Chainmail Scrubber
Durable Pan Scrapers
Disposable Dutch Oven Liners
&
---
More Camping Recipes
Thinking you want to do a little grilling and camp stove cooking in addition to your Dutch oven camp meals? Check out our entire Camping Recipes List that includes recipes for breakfast, lunch, dinner, desserts and more! Have I ever told you our family lives to eat good camp meals? LOL 😂
&
---
No time to look for recipes, create a menu and write a grocery list? No Problem! Get our 3-Day Dutch Oven Camp Menu Plan here!