Camp Dutch Oven Accessories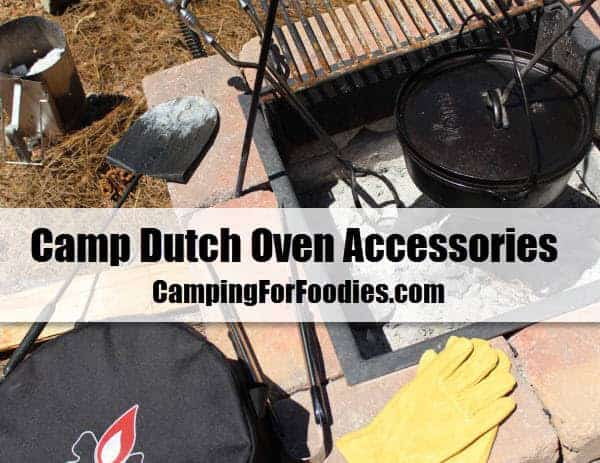 Coolest Camp Dutch Oven Accessories
Camp cooking with Dutch ovens is a fun part of every camping trip, especially if you have the right accessories! Some of these are "everyday" accessories and some are a bit more unique making them great gifts for people who love cooking with a camp Dutch oven! Believe it when we say, these are The Coolest Camp Dutch Oven Accessories Everyone's Excited About! Psst we're compensated…see our disclosures.
In a Hurry?
Note:
These images are "clickable" so if you want more information, pricing or want to get it fast … please click on the image. If you want to know why we love each one of these Camp Dutch Oven Accessories … please scroll down and read on.
&
Why These Camp Dutch Oven Accessories Are Awesome!
Dutch Oven Carry Cases
Using a Dutch oven carry case to store and transport your Dutch oven is a great way to keep it clean and organized with your other camp Dutch oven accessories. It's easy to store your cleaning and conditioning gear inside your oven within the zipped bag. The handles are sturdy making it easy to carry on your camping trips. Make sure you get the right size to fit your oven. Camp Chef has many different sizes and so does Lodge which fit standard sized ovens. If you have a "deep" oven, make sure the bag is designed for that; it will usually state something like "Fits standard and deep Dutch ovens". Makes me say, Have Dutch oven; Will travel! 😉 LOL
Camp Chef Carry Bag 12-Inch Dutch Oven
Lodge A1-12 Camp Dutch Oven Tote Bag, 12-inch
Lodge A1-14 Camp Dutch Oven Tote Bag, 14-inch
&
Dutch Oven Tripods
Hanging your Dutch oven on a tripod to cook over a campfire is fun! We call it "old school cool camp cooking" and we love it. You will find tripods made from different materials like half inch bar stock, steel, cast-iron and some come with a bag for storage and transport too. They all work basically the same way; using the chain, raise the Dutch oven high above the campfire to reduce the cooking temperature and lower the oven closer to the campfire to increase the cooking temperature. One caution: the Dutch oven has a tendency to sway when cooking with tripod accessories so be extra careful when cooking with this method.
Bayou Classic 7485, Tripod Stand With Chain And Bag
Camp Chef TRIPOD-050 Dutch Oven Tripod
Lodge 3TP2 Camp Dutch Oven Tripod
&
Dutch Oven Cooking Stands
There are many different types of stand accessories for cooking in a camp Dutch oven. A grill grate is a nice way to cook over a campfire because you can use the surface to cook other things too (like grilling meat and cooking soup in the Dutch oven at the same time.) I like using a Dutch oven stand that gets the charcoal and oven off the ground when using charcoal briquettes as a heat source. A camp Dutch oven cooking table is also good when cooking with charcoal and most styles can accommodate two ovens at the same time; they are also great because they block the wind and allow you to stand while cooking your food.
Stansport Heavy Duty Steel Camp Grill (36×18-Inch)
Camp Chef Cast Iron Dutch Oven Stand
Lodge A5-7 Camp Dutch Oven Cooking Table
&
Propane Fuel Source Camp Dutch Oven Accessories
If you are restricted to using propane as a heat source, or you just prefer it, you have additional options in Dutch oven accessories. This King Kooker Outdoor Propane Burner has a 54,000-BTU cast burner, propane hose regulator and heavy duty welded stand for stability. A Dutch oven dome and heat diffuser plate creates a type of convection oven by diverting, trapping, and circulating heat when you place it over a gas camp stove. This Browning Explorer 2 Burner Stove has two 30,000 BTU burners with heat-control knobs, a regulator and 3-foot hose; it is also protected on three sides with windscreens.
King Kooker 1650 16-Inch Outdoor Propane Burner with Cast Iron Dutch Oven
Camp Chef Dutch Oven Dome for Propane Grill
CAMP CHEF Browning Explorer 2 Burner Stove, Black/Yellow EX60B
&
Dutch Oven Lid Lifters
There are simple and fancy lid lifters. Whatever type you choose is your preference but I don't recommend not having one! They keep you a safer distance from the heat of the fire as well as hot cooking equipment. A basic lid lifter is 15 inches with a simple hook and handle; a Professional Style Cast Iron Lid Lifter is 22 inches and has a two-hand operation to clamp down on the lid for more positive controlled operation.
Stansport Lid Lifter
Lodge A5 Camp Dutch Oven Lid Lifter
Camp Chef 22-Inch Cast Iron Lid Lifter
&
Camp Dutch Oven Lid Stands And Trivets
Lid stands and trivets are great for keeping your Dutch oven lid off of the ground and out of the dirt and ashes. Some of the more sophisticated styles do even more. The Lodge Cast-Iron Meat Rack/Trivet can be placed inside the bottom of your Dutch oven to raise foods like meats and pies off of the pan bottom to prevent scorching. The CampMaid Kickstand Lid Holder and Grabber has a convenient handle that allows you to easily pick up your Dutch oven lid then tilt it onto the other legs to hold it off the ground.
ForHauz Folding Dutch Oven Lid Stand, 7-7/8
Lodge A5-3 Camp Dutch Oven Lid Stand
Texsport 4 in 1 Dutch Oven Trivet Rack Pot Lid Holder
Lodge L8DOT3 Pre-Seasoned Cast-Iron Meat Rack/Trivet, 8-inch
CampMaid Kickstand Lid Holder and Grabber
CampMaid Dutch Oven Lid and Pot Holder
&
Campfire Starters
Whether you are using charcoal briquettes or a campfire as your heat source, you need to get the fire started for Dutch oven cooking. We use our Mag-Torch to start both types of fires; it is easy to use with a self-lighting ignitor and uses a standard NRT propane cylinder (the kind that you use with regular camp stoves.) We start our charcoal with our Rapidfire Chimney Starter because it is fast, efficient and does not require lighter fluid. Wrapped Fire Starters are especially nice for starting campfires in difficult conditions; they are formulated to even light in damp conditions.
Weber 7416 Rapidfire Chimney Starter
Mag-Torch MT 450 Garden Torch
Zip Premium All Purpose Wrapped Fire Starter
&
Camp Dutch Oven Frying Accessories
We don't deep-fry foods very often but when we do you can bet we are camping! The mess and odor that comes with deep-fried foods is best left to cooking in the great outdoors rather than my kitchen at home. I use my grill press to make panini sandwiches but also to hold bacon flat when frying it at the campsite. For real heavy-duty frying of foods like donuts, fish or french fries, I like to use a deep fry basket along with a splatter screen to keep hot oil from burning me.
Lodge LGP3 Pre-Seasoned Rectangular Cast-Iron Grill Press
Lodge 10FB2 Original Finish Deep Fry Basket, 10.5-inch
Lodge K13SCRN Splatter Screen, 13-inch
&
Camp Dutch Oven Cleaning And Conditioning Accessories
One of the reasons I love cooking with our cast iron Dutch ovens, skillets and griddles at the campsite is the ease of cleaning. With proper care, your cast iron cookware can last generations. Stainless steel chainmail cleaners are becoming really popular now and so are pan scrapers. Don't forget to condition your cast iron after you clean it. Some conditioners are made from all-natural oil blends and cleaning agents, others from flax oil or blends of coconut and essential oils.
The Ringer Stainless Steel Chainmail Cast Iron Cleaner
Camp Chef PSS3 3-Pack Pan Scrapers
Lodge SCRAPERPK Durable Polycarbonate Pan Scrapers
KitchWhiz Cast Iron Conditioner 100% Natural Coconut Oil Blend
Camp Chef Cast Iron Cleaner
KitCast Cast Iron Conditioner 100% Natural From Flax Seed Oil
&
Camp Dutch Oven Liners
To reduce or possibly eliminate the need for cleaning, you can use Dutch oven liners. What you are cooking and the type of liner you use will determine the amount of clean-up you have to do after your meal. Liners come in parchment paper or aluminum foil and they come in different sizes so be sure to get the right size for your oven.
Lodge A5DOL Parchment Paper Dutch Oven Liners
Disposable Foil Dutch Oven Liners
Coleman Company Disposable Dutch Oven Liners
&
Heat Resistant Gloves
Handling hot equipment around the campfire is much easier and safer with heat resistant gloves. Some are machine washable, some are made of leather and others are longer to protect hands and arms. Whichever you choose, remember they are heat "resistant" not heat "proof" so you still need to be cautious when handling hot campfire tools and other gear.
Grill Armor 932°F Extreme Heat Resistant Oven BBQ Gloves
G&F 100% Premium Grain Leather BBQ Extra Long Sleeve Gloves
Camp Chef Heat Resistant Gloves
&
Totes, Cutting Mats, Aprons And T-Shirts
Some camp Dutch oven accessories have functionality and style! With a design of a Dutch oven hanging on a tripod and cooking over a campfire, these grocery tote bags, flexible cutting mat sets, flexible single cutting mat, women's tri-blend t-shirt and junior's slim-fit t-shirt make great gifts that are practical and fun! We also love the "Every Camper Knows … If Your Shoes Are Smokin' Back Away From The Campfire" design on these men's t-shirts, women's t-shirts and aprons! And no Dutch oven camp meal would be complete without the ringing of a triangle dinner bell!
Dutch Oven Tripod Campfire Design Grocery Tote Bag with Pen Loop
Dutch Oven Tripod Campfire Design Flexible Cutting Mat Set
Dutch Oven Tripod Campfire Design Flexible Cutting Mat
Campfire Funny Design Apron With Pouch Pockets
Campfire Funny Design Men's T-Shirt
Campfire Funny Design Women's T-Shirt
Dutch Oven Tripod Campfire Design Women's Tri-Blend T-Shirt
Dutch Oven Tripod Campfire Design Slim-Fit Junior's Cut T-Shirt
Texsport Triangle Dinner Bell
&
---
No time to look for recipes, create a menu and write a grocery list? No Problem! Get our 3-Day Dutch Oven Camp Menu Plan here!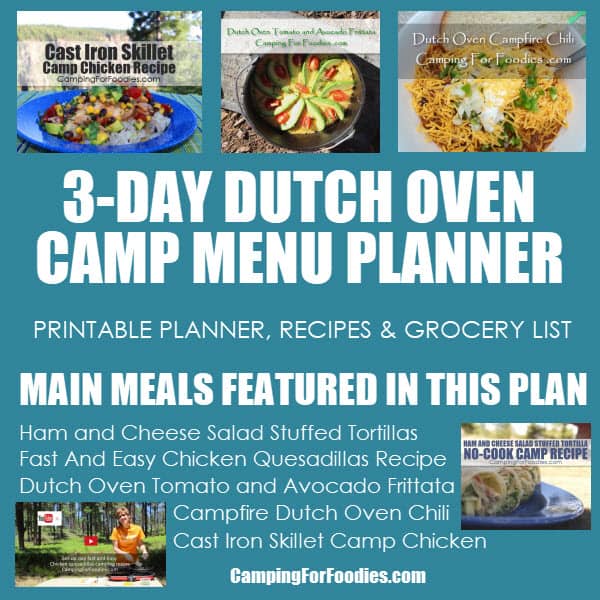 ---
Get Our Dutch Oven Recipes For Camping!
Get Our Dutch Oven Camp Cooking Tips!
---
 Grocery Tote
 Funny Apron
 Cutting Mat
 Mat Set
 Shaker Set
&
---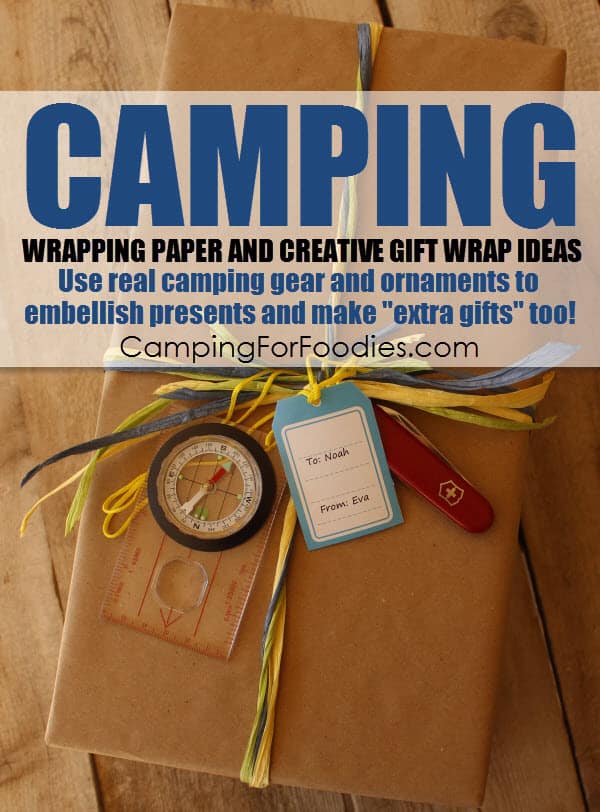 Get Fun Camping Wrapping Paper And Creative Gift Wrap Ideas here!
&
---
Need More Camping Gift Ideas? Check Out These Posts!
---
Need Camp Cooking Tips And Recipes? Check Out These Posts!
If you need camping recipes and menu ideas, you can find them here at the Camping For Foodies Camping Recipes list.
Don't miss a thing…sign up for Camping For Foodies email updates!
Your purchase of our products will help support World Vision ® Building a better world for children.