Bacon Avocado Camping Breakfast Wraps
Sometimes you want to walk and eat … this is one of those camping breakfast ideas that is easy to make and then enjoy on a morning stroll around the campsite.
These warm and savory Bacon Avocado Camping Breakfast Wraps are one of my favorite, single-handed breakfast camp meals!
Don't forget to grab a freshly brewed cup of camp coffee in your other hand before you strike out to listen to the birds welcome you to their home with their wake-up songs.
Psst we're compensated…see our disclosures.
How To Make Bacon Avocado Breakfast Camping Wraps
Step 1. Set up your cooking station.
---
Step 2. Chop your veggies.
---
Step 3. Fry the bacon.
My husband says bacon makes everything taste better so he would fry an entire package … but you only need to cook 6 slices. LOL
You'll drain, cool and crumble it next.
Camp Cooking Tip: When you fry bacon, do a little extra for other recipes that use it like these BLT camping wraps you can have later during your trip.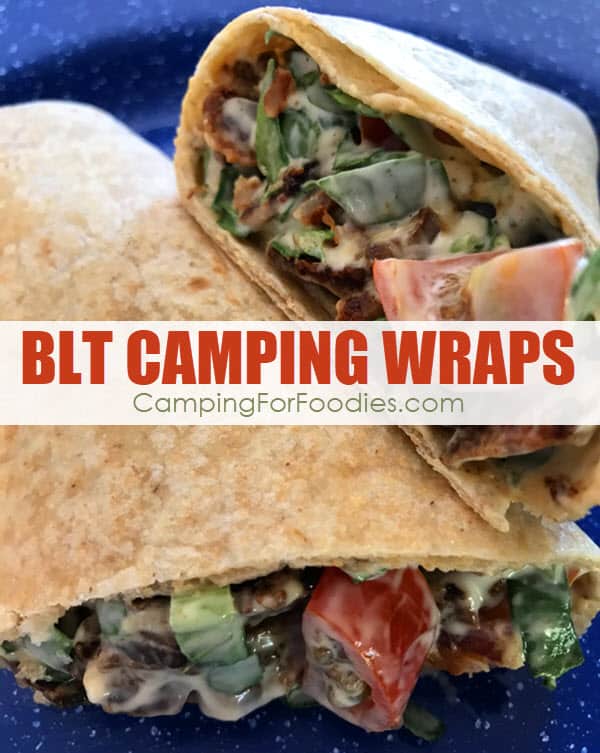 ---
Step 4. Saute the onion.
I always use a bit of the bacon grease to cook my veggies.
It adds extra flavor and eliminates the need for an extra ingredient, like oil or butter, for sautéing.
---
Step 5. Cook the eggs.
Now you'll just scramble the eggs over a low heat.
---
Step 6. Stir in the cheese.
After the eggs are almost completely set, you'll gently stir in the cheddar cheese to incorporate it.
---
Step 7. Assemble the wraps.
Now you'll just evenly divide the egg and avocado mixtures between the wraps.
Fold them and serve!
---
Step 8. Serve with camp coffee.
This Bacon Avocado Breakfast Wraps Camping Recipe goes really well with a nice hot cup of java!
Whether you want to make cowboy coffee or a fancy pressed style, we've got great tips for making the perfect cup of camp coffee!
---
More Camping Wraps
If you love eating wraps at the campsite, we have more ideas you should try!
This no-cook camp recipe only uses 5 fresh ingredients to make this Pesto Tomato Wraps Easy Camping Recipe that is ready in mere minutes.
It's crispy and filling! Try this Grilled Tortilla With Veggies And Black Beans Burrito Camping Recipe for your next camp dinner.
When you take your favorite salad and wrap it in a tortilla, you get this yummy Ham And Cheese Salad Stuffed Tortillas No Cook Camp Recipe.
These California-Style Camping Breakfast Burritos With Avocado, Eggs & Chorizo are sooooo yummy! They are packed with protein, fiber and carbs making the perfect breakfast to give you all the energy you need for a fun day-hike. The tortillas are topped with eggs, chorizo, potatoes, cheese, cilantro and fresh avocado slices.
---
Print This Bacon Avocado Breakfast Wraps Camping Recipe
camping food
for your entire menu!
---
---
---
If you need camping recipes and menu ideas, you can find them here at the Camping For Foodies Camping Recipes list.
&
Don't miss a thing…sign up for Camping For Foodies email updates!
&
Your purchase of our products will help support World Vision ® Building a better world for children.