Campfire White Chili Recipe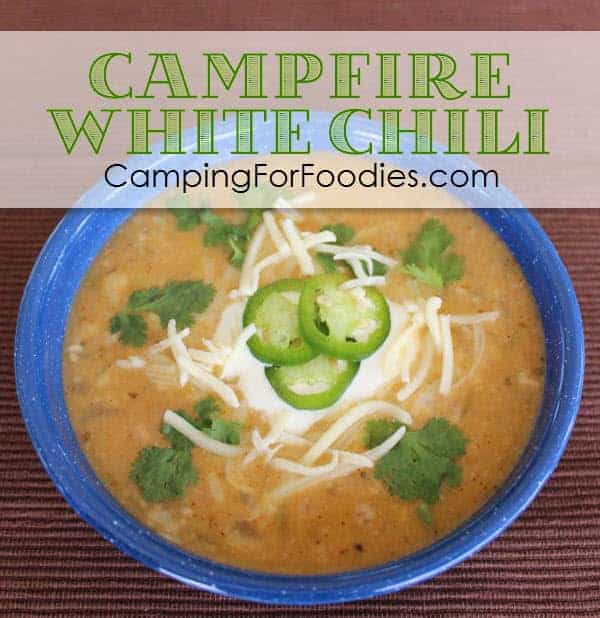 Easy Campfire White Chili Recipe
Camping and chili just seem to go together! This Easy Campfire White Chili Recipe is a slight twist on the traditional tomato-based chili; it uses ground turkey, white beans and chicken broth as its base. It's easily adaptable to a camp stove if you are dealing with fire restrictions too. This simple one-pot camping recipe makes for easy clean up!  Psst we're compensated…see our disclosures.
---
Lodge Camp Dutch Oven Lid Lifter
Camp Chef Heat Resistant Gloves
Lodge Camp Dutch Oven Lid Stand
&
Start your campfire and set up the Dutch oven for cooking. Try fire sticks to get your campfire started.
Use a grill grate or a hanging tripod for cooking in your Dutch oven. If you are cooking with fire restriction conditions, use a propane camp stove as the heat source. 
Brown the meat In a Dutch oven over medium heat, combine these ingredients and cook until turkey is browned
2 tablespoons butter
1 onion, chopped
4 cloves garlic, minced
1 pound ground turkey
Chop your veggies on cute retro RV camper trailer flexible cutting mats!
Now add these ingredients and cook till simmering
2 4-ounce cans diced green chili peppers
1 tablespoon ground cumin
1 tablespoon dried oregano
1 teaspoon chili powder
1 teaspoon cayenne pepper
Salt and pepper to taste
Lodge Durable Pan Scrapers
Disposable Dutch Oven Liners
Lodge Camp Dutch Oven Tote Bag
&
Add broth and beans, simmer another 20 minutes
Add the chicken broth and beans, bring to boil
1 32-ounce carton chicken broth
3 15-ounce cans white beans, drained and rinsed (I like cannellini beans but use your favorite)
Long "Tweezers" helps you stay a safe distance from the campfire while adjusting it for cooking temperature.
Stir in cheese and add toppings, just before serving
2 cups shredded Monterey jack cheese (stir most of this into the chili but reserve some for each bowl)
Optional toppings

Cilantro
Jalapeno slices
Sour cream
Coghlans Vinyl Tablecloth
Coleman Tablecloth Clamps
Camping Tableware Set
&
Serve it, as a first course or with a side of crusty bread or warmed tortillas as a main course
---
---
Want to make the classic combination of cornbread and chili? Try our totally yummy Campfire Dutch Oven Jalapeño Cornbread Camping Recipe!
&
---
We currently have 4 different campfire Dutch oven chili recipes on Camping For Foodies. You may want to try one or all 4!
&
---
Stainless Steel Cast Iron Cleaner
Cast Iron Oil
Rapidfire Chimney Starter
&
---
No time to look for recipes, create a menu and write a grocery list? No Problem! Get our 3-Day Dutch Oven Camp Menu Plan here!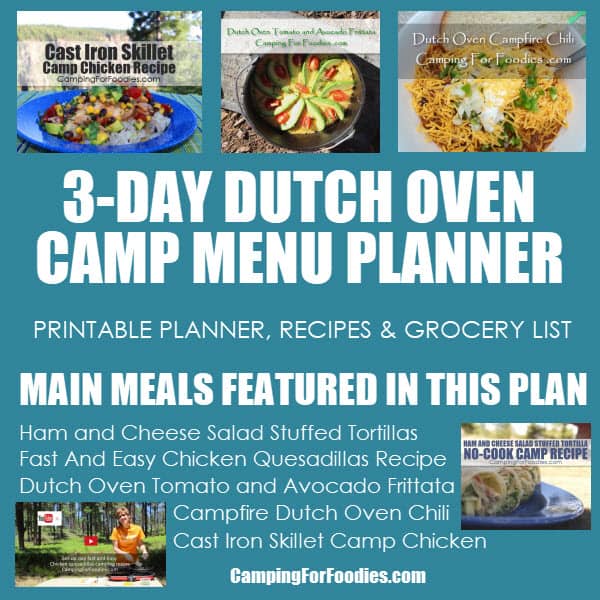 ---
Campfire White Chili Recipe Camp Cooking Tips
Coleman Eventemp 3 Burner Propane Stove
This chili recipe is easily adaptable to a camp stove if you are dealing with fire restrictions. We used this Coleman Eventemp 3 Burner Propane Stove for this recipe and love that it has a "bridge burner" connecting the two traditionally placed burners. It can handle 2 large or 3 smaller pots!
&
&
The Perfect CampfireGrill Heavy-Duty Log Tweezers
When preparing your campfire for cooking, I like to use "tweezers" to arrange the campfire logs and coals. Tweezers provide more control than just using a fire poker or shovel. You'll want to keep your campfire flames roaring to keep you warm and your Hot Italian Sausage Soup Recipe on schedule for your hungry campers.
&
&
Lodge A5 Camp Dutch Oven Lid Lifter
Camp cooking tip: Don't burn yourself while stirring and checking on your chili! If you don't already have a lifter, you will want to get one! These things are awesome! A Dutch oven lid lifter allows you to stay a safe distance from the hot campfire while removing the hot cast iron lid from your Dutch oven while it is still cooking over the campfire.
&nbsp
&
Lodge 3TP2 Camp Dutch Oven Tripod
If you are cooking this recipe in a remote camping environment without amenities like campfire rings with racks, don't worry, you have options. Using a camp Dutch oven tripod allows you to easily cook over a campfire by hanging your oven right over the hot fire. A hanging oven can have a tenancy to swing a bit while you are stirring so be cautious when cooking hot liquids over a hot campfire.
&
&
Lodge A5-3 Camp Dutch Oven Lid Stand
When you remove your Dutch oven lid to stir your chili, have a "landing pad" ready for the lid. There is nothing worse than setting it directly on the ground and picking up dirt and rocks. Using a camp Dutch oven lid stand allows you to keep you hot cast iron Dutch oven lid off the ground and clean while cooking your camp meals.
&
---
Get More Dutch Oven Recipes For Camping!
 Funny Apron
 Cutting Mat
 Mat Set
 Shaker Set
 Fun Hammock
&
---
If you need camping recipes and menu ideas, you can find them here at the Camping For Foodies Camping Recipes list.
Don't miss a thing…sign up for Camping For Foodies email updates!
Your purchase of our products will help support World Vision ® Building a better world for children.