Campfire Dutch Oven Jalapeño Cornbread
Who could think of planning a menu of awesome Dutch oven camping recipes without thinking about cornbread? People who go camping are the nicest people around! They even share their meals with complete strangers who are camping next door. I'm giving you fair warning right now! Caution: This Campfire Dutch Oven Jalapeño Cornbread Camping Recipe is so good you will be fending off the neighbors for the rest of the weekend! You better make sure you like them before offering them a slice!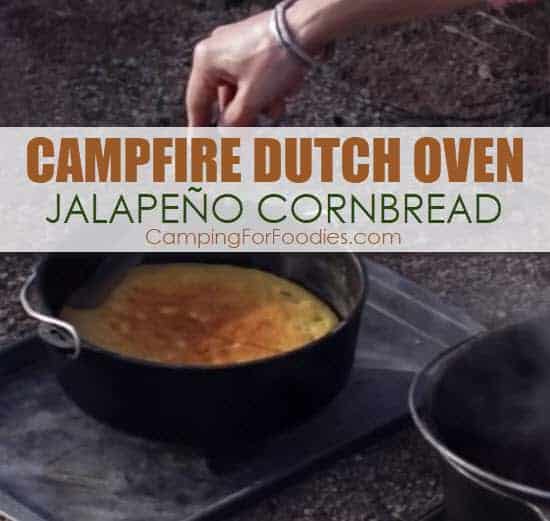 Psst we're compensated…see our disclosures.
How To Make This Dutch Oven Jalapeño Cornbread Camping Recipe
This is one of our favorite winter camping recipes to serve with a hot bowl of chili!
---
If a recipe calls for a Dutch oven, what can I substitute instead?
My easy cornbread recipe does not have to be made in a Dutch oven … there are some really fun campfire cooking equipment gadgets that are designed specifically for baking campfire skillet cornbread!
You can use a Cast Iron Cornbread Wedge Pan, or a Cast Iron Mini Cake Pan or even a Cast Iron Cornstick Pan (which seems to be a favorite among cornbread eating camping kids!)
You'll just pour the batter in the individual compartments of these pans and reduce the baking time … just watch them for doneness … these individual serving portioned pans are actually easier to use because the smaller amount of cornbread batter tends to bake more evenly than it does as a big batch in a larger Dutch oven.
Cast Iron Cornbread Wedge Pan
Cast Iron Mini Cake Pan
Cast Iron Cornstick Pan
---
How To Get A Golden Brown Color
Remember, in order to get a golden brown color when baking with a campfire Dutch oven, you need to use a regular (not deep) Dutch oven so the heat from the top of the oven is close enough to brown your batter, bread or whatever you may be baking.
You can learn more about this in our blog post that answers the question, What size Dutch oven should I buy for camping?
Camp Cooking Tip: If the bottom seems to be getting done before the top is browning, just take some coals from the bottom and move them to the top to even out the cooking process.
In my humble opinion, baking in a campfire Dutch oven is more art than science … and, that's part of the fun of using them!
---
Similar Recipes
If you like the idea of corn bread but don't want the slightly spicy addition of jalapeno peppers, try this classic Dutch Oven Cornbread that features cornmeal and canned cream style corn.
---
Pairings For Jalapeño Cornbread
Why is cornbread good for you? Because it makes you smile! LOL Cornbread and chili are a match made in heaven and the combination makes a hearty camp dinner meal!
We currently have 6 different chili recipes on Camping For Foodies. You may want to try one or all of them!
---
I made this Campfire Dutch Oven Jalapeño Cornbread Camping Recipe on the GFGN TV show with the episode that also featured Amuse Bouche and Wildflower Bread Company. You can check out that episode here.
---
How To Make Campfire Cornbread
If you are baking with a camp Dutch oven or cast iron skillet over the flames of a camp fire … you are doing it wrong!
You actually want to be cooking over the coals … not the fire.
So, you should ask yourself the question: "When should I build a campfire?"
The answer is: "Early enough to have the wood burn down enough to create a nice bed of coals that you can use for cooking."
You'll also want to be adding to your stash of coals throughout the cooking process …so, keep a fire burning on the opposite side of your campfire ring so you can steal coals for cooking when you need them.
---
Why Does Cornbread Stick To The Pan?
If your cast iron cooking equipment is not properly seasoned, your campfire cornbread may stick to the pan.
Check out our Cleaning And Seasoning Cast Iron Dutch Oven Cookware post for tips to avoid those problems and maintain your camp cooking equipment like a pro!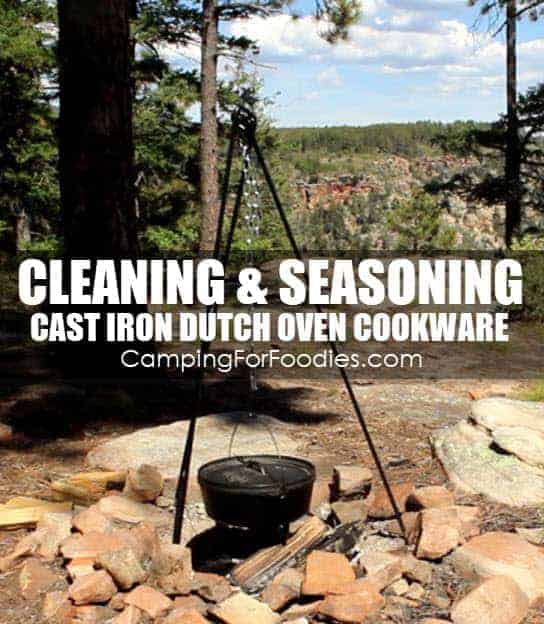 ---
Cornbread For Dessert
We have a bunch of sweet camping dessert recipes but we also make this cornbread as a less-sweet option for dessert.
If you are preparing camping meals for two, you will probably have leftovers so just add a little butter and honey for a slightly sweet treat!
---
Print This Recipe
Campfire Dutch Oven Jalapeño Cornbread Camping Recipe
Camping For Foodies Sides Camping Recipes: Campfire Dutch Oven Jalapeño Cornbread Camping Recipe
Ingredients  
Dry ingredients
1

cup

all purpose flour

1

cup

yellow cornmeal

2/3

cup

white sugar

1

teaspoon

salt

1

tablespoon

baking powder
Wet ingredients
1

egg

1

cup

milk

1/4

cup

butter

melted

1/4

cup

frozen corn

defrosted

1

large jalapeño pepper

seeds removed and finely diced
Instructions 
Start your campfire or charcoal briquettes and set up the Dutch oven for cooking.

Heat 10-inch Camp Dutch Oven.

Combine dry ingredients in large bowl.

Combine wet ingredients in small bowl.

Mix wet into dry just until combined and pour into preheated camp Dutch oven.

Bake at 350 degrees for approximately 30-40 minutes. Till slightly browned and toothpick comes out clean. (If you are using charcoal briquettes as your heat source, place 14 coals on top and 7 coals on bottom.) See my

Dutch Oven Temperature Chart

post and

Dutch Oven Camp Cooking Tips

post for more tips!
Nutrition
Serving:
1
g
Calories:
345
kcal
Carbohydrates:
58
g
Protein:
7
g
Fat:
10
g
Saturated Fat:
6
g
Polyunsaturated Fat:
4
g
Cholesterol:
55
mg
Sodium:
698
mg
Fiber:
2
g
Sugar:
23
g
---
More Simple Camping Recipes
If you're looking for awesome ideas for yummy camping food, you're in the right place!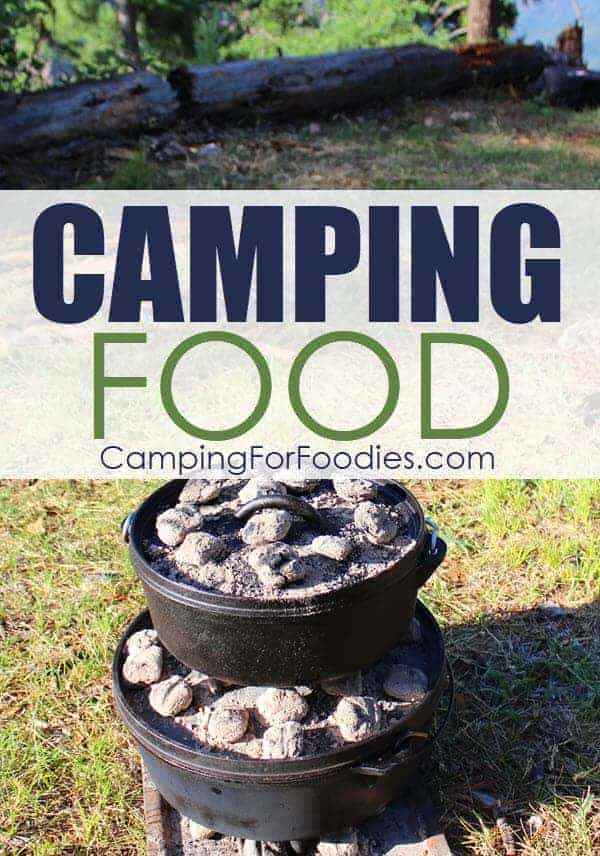 Here's our entire camping recipes list.
Get FREE camping tips and recipes emailed to you!
Our Camping Products Make Great Gifts!
Flexible Cutting Mat
Cutting Mat Set
Stainless Steel Cocktail Shaker Set