Smoked Ground Beef Chili: Easy Camping Smoker Pellet Grill Recipe
Looking for camping smoker recipes that use ground meat? This Smoked Ground Beef Chili might become one of your favorite things to include on your camp menus!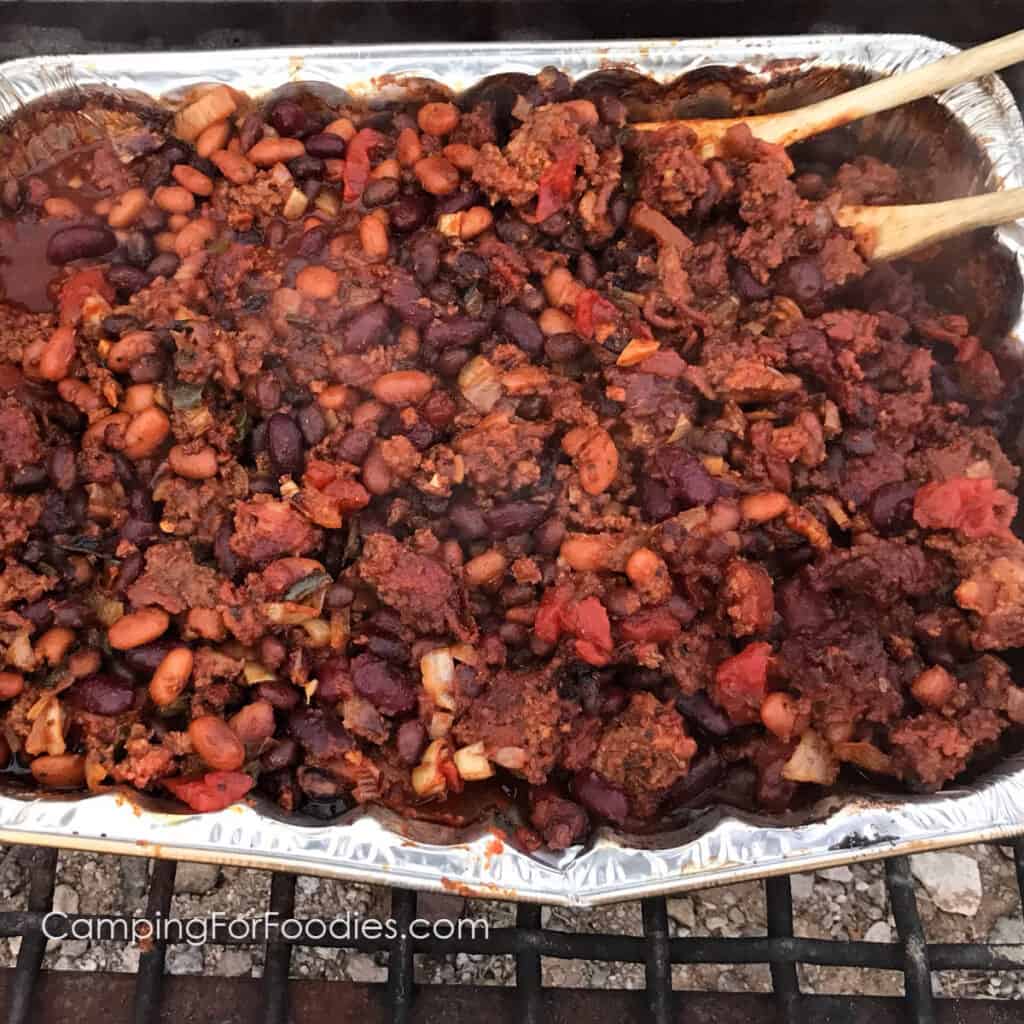 Psst we're compensated…see our disclosures.
Recipe Prep
When you are making easy camping meals, you want to reduce the amount of prep work you do at camp. But, how do you do that with chili recipes that have lots of ingredients? You can prepare them as one of our make ahead camping meals, and, cook the entire recipe in advance and just reheat it at the campsite. Or, you can do all of the prep work at home so you just assemble and cook at camp.
---
Prep In Advance
If you want to cook at camp, do this:
At home: Chop all ingredients, place in food storage containers, keep in your refrigerator and transport to the campsite maintaining safe temperatures until you are ready to cook. For this smoked chili recipe that would include the bacon, onion, garlic and jalapeno peppers. You will also measure and mix the spices which include the chili powder, dried oregano, ground cumin, dried basil, salt, black pepper, cayenne pepper, smoked paprika and white sugar.
At camp: Assemble the prepped ingredients and continue with recipe as directed.
---
Cooking Methods & Equipment
When we are smoking our camping dinner recipes, we use our small Green Mountain Grill Davy Crockett portable pellet grill.
Green Mountain Davy Crockett Sense Mate Electric Wi-Fi Control Foldable Portable Wood Pellet Tailgating Grill with Meat Probe
You'll also need an 13×9-inch aluminum foil pan.
If you don't have a tailgate smoker but you do have a little Smokey Joe grill, you can do a simple DIY Smokey Joe smoker mod to cook this recipe.
---
Recipe Steps
Step 1. Prepare your ingredients, heat source and equipment as directed. If you didn't chop your ingredients at home, you'll want to do that first. Also, you'll be smoking this chili in your pellet grill at 225 degrees F, so you get it preheated.
Step 2. Smoke veggies and meat. You'll be placing two pans in your pellet grill.
The olive oil, onions, garlic, jalapenos salt and pepper will be tossed together in a pot or cast iron skillet.
Using an aluminum 13×9-inch foil pan, spread the bacon on the bottom, then press the 2 pounds of ground beef (ground chuck is preferred by some people, but not necessary) into the pan so it forms one even layer. You want maximum meat surface area to have it absorb as much smoke flavor as possible.
Place both pans on racks and let smoke for 3 hours at 225 F degrees without opening the lid.
Step 3. Drain grease and break up meat. Remove the pan of meat from the pellet grill. These things look like giant burger patties, so, you'll see why it is easy to drain the grease by just holding the meat log with a fork so it doesn't slip out of the pan while you pour the grease into a disposable container. Then, you'll break-up the meat using a spoon.
Step 4. Mix in seasonings, veggies and remaining ingredients. You'll toss the remaining ingredients with the meat including the chili powder, oregano, cumin, basil, salt, black, cayenne pepper, smoked paprika, sugar, smoked veggies, black beans, pinto beans, kidney beans, diced tomatoes, tomato sauce, beef broth and Worcestershire sauce.
Step 5. Increase heat and cook. Increase the temperature to 300 F degrees. Place the entire tray back on a rack to simmer an additional 2 hours.
Step 6. Serve hot. Remove the pan of chili from the smoker, serve hot with desired toppings.
---
What To Serve With This Recipe
Our family loves eating cornbread with chili. We have two different recipes.
This Dutch Oven Jalapeño Cornbread has a little heat from the diced jalapeño pepper that is added to the batter.
If you want more classic flavors, try this gluten-free Dutch Oven Cornbread that uses cornmeal and cream style canned corn.
See all of our gluten free camping food ideas.
---
Leftovers
If you have leftovers keep it refrigerated. Then, use it later in your trip to make these yummy Campfire Chili Cheese Fries. They are so quick and clean-up is a breeze because they're made in a foil packet!
---
Scaling Servings
Many of our easy grilling recipes for camping can be scaled up or down as long as you have a large enough cooking surface to accommodate the food.
The key to success with any kind of smoked burgers and ground meat recipes is having enough of the meat exposed to the low temperature smoking process to get a good flavor. So, you only want a thin layer of meat pressed into your baking sheet. You can increase the recipe but your limiting factor will be how big of a pan your smoker can accommodate.
---
Similar Recipes
We love warm and hearty winter camping recipes, try some of these too.
If you want to make chili but don't have a pellet grill, try these yummy options.
This award-winning Campfire Chili consistently gets 5-star ratings.
This big batch Dutch Oven Chili serves 10 and it's my brother-in-law's secret family recipe.
Considering chicken? This Dutch Oven White Chicken Chili has a Mexican flavor profile and a thick, creamy texture.
This White Chili With Ground Turkey has fantastic flavors that come from the aromatics, spices, chicken broth and white beans.
Put your smoker to work with more delicious meals!
These Pellet Smoked Short Ribs use 6 simple ingredients and almost fall of the bone!
Heard of meat candy? If you want a quick version of Poor Man's Brisket Burnt Ends, try these Chuck Roast Burnt Ends.
Try these Easy Smoked Chicken Legs On A Pellet Grill that don't require any BBQ sauce!
These Smoked Honey Sriracha Chicken Drumsticks are sweet & spicy and totally delicious!
Need more ground beef ideas?
Looking for another fantastic ground beef recipe? These Big Mac Sloppy Joes are better than regular cheeseburgers. The loose meat sandwich is served double-decker style on burger buns with lettuce and pickles then topped with McDonald's Copycat Big Mac Sauce that is made with mayo, ketchup, relish, mustard and dried spices.
---
Print This Recipe
Smoked Ground Beef Chili
Camping For Foodies Dinner Camping Recipes: This Smoked Ground Beef Chili is an easy recipe to make on your portable camping pellet grill smoker.
Ingredients
2

slices

thick bacon

sliced into 1/4 inch pieces

2

pounds

ground beef

3

tablespoons

olive oil

1

large yellow onion

chopped

3

garlic cloves

minced (reduce to 1 clove garlic if you like a milder garlic flavor)

2

jalapeno peppers

seeded and chopped (reduce or eliminate if you don't like spicy peppers)

1/4

cup

chili powder*

1

tablespoon

dried oregano*

2

teaspoons

ground cumin*

1

teaspoon

dried basil*

1

teaspoon

salt*

1

teaspoon

black pepper*

1

teaspoon

cayenne pepper*

1

teaspoon

smoked paprika*

1

teaspoon

white sugar*

1

(15 oz)

can black beans, drained

1

(15 oz)

can pinto beans, drained

1

(15 oz)

can kidney beans, drained

1

(15 oz)

can diced tomatoes

1

(8 oz)

can tomato sauce

1

(14 oz)

can beef broth

1

tablespoon

Worcestershire sauce
Optional toppings for serving:
Shredded cheddar cheese

Sliced jalapenos

Chopped onions

Sour cream
Instructions
Ingredients marked with * can be measured and mixed at home.

Prepare ingredients as directed.

Set smoker at 225 degrees Fahrenheit. Fill the hopper with your favorite wood pellets, we like mesquite and hickory for this recipe.

Toss olive oil, onions, garlic, jalapenos salt and pepper in a small cast iron skillet and place them into the pellet grill smoker.

Spread bacon over the bottom of an 13×9-inch aluminum foil pan, then add the hamburger pressing it into the pan to form a flat, even surface and place into the smoker.

Smoke meat and vegetables for 3 hours to build up the smoky flavor and cook the meat.

Remove the ground beef pan from the smoker to drain the grease, and, break up the meat into smaller pieces using a spoon

Next, mix in the chili seasonings including chili powder, oregano, cumin, basil, salt, black, cayenne pepper, smoked paprika and sugar.

Now, stir in the smoked veggies, black beans, pinto beans, kidney beans, diced tomatoes, tomato sauce, beef broth and Worcestershire sauce.

Return the pan to the smoker and increase the temperature to 300 F degrees. Continue cooking for an additional 2 hours.

Remove from smoker and serve hot. Add toppings, if desired.
Nutrition Information
Serving:
1
g
Calories:
411
kcal
Carbohydrates:
8
g
Protein:
22
g
Fat:
33
g
Saturated Fat:
11
g
Polyunsaturated Fat:
2
g
Monounsaturated Fat:
16
g
Trans Fat:
1
g
Cholesterol:
86
mg
Sodium:
573
mg
Potassium:
554
mg
Fiber:
4
g
Sugar:
2
g
Vitamin A:
2482
IU
Vitamin C:
6
mg
Calcium:
73
mg
Iron:
4
mg
---
More Yummy Meal Ideas
Every camp meal doesn't have to be complicated to be delicious.