Camping Dutch Oven BBQ Ribs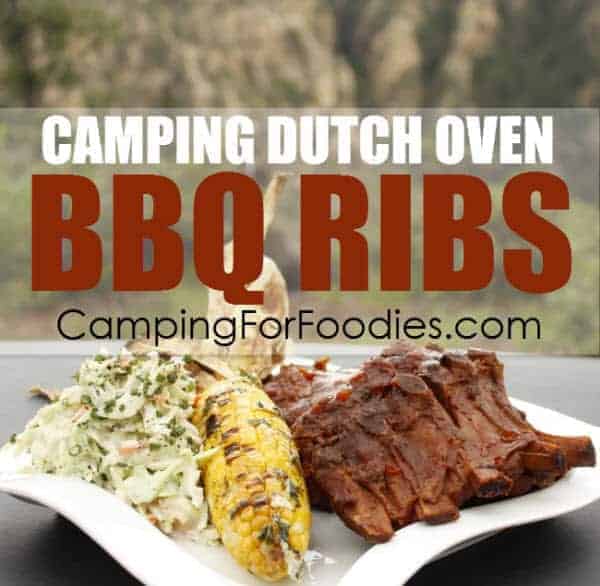 Camping Dutch Oven BBQ Ribs
A lazy day around camp also means tender mouth-watering Camping Dutch Oven BBQ Ribs are on the dinner menu! The meat simmers in sauce about 6 hours … maintaining the charcoal briquettes or campfire requires a little tending throughout the day but the outcome is worth it! These ribs will make you lick your fingers! Psst we're compensated…see our disclosures.
---
Lodge Camp Dutch Oven Lid Lifter
Camp Chef Heat Resistant Gloves
Lodge Camp Dutch Oven Lid Stand
&
---
---
Make The Sauce
The secret to these awesome ribs is the sauce! For easier campsite cooking, you can fully prepare the sauce at home … then you just need to cook the ribs at camp. If you do that, you will need to refrigerate the sauce until you are ready to cook the ribs. As an alternative, you can measure and mix the dry ingredients at home and then assemble the sauce at camp … this is what I like to do.
Build The Sauce in a large saucepan over medium heat melt butter … then … add veggies.
Then Sauté Until Tender
2 onions, chopped
4 cloves garlic, minced
Now Add The Wet Ingredients and stir until incorporated.
3 cups ketchup
29 ounce can tomato sauce
2 ½ cups red wine vinegar
1 cup unsulfured molasses
3 tablespoons hickory flavor liquid smoke
Now Add The Dry Ingredients I measure and mix the dry ingredients at home and just transport them in a sealed container to the campsite.
2 ½ cups brown sugar
1 teaspoon garlic powder
1 teaspoon onion powder
½ teaspoon chili powder
2 teaspoons paprika
1 teaspoon celery seed
½ teaspoon ground cinnamon
1 teaspoon cayenne pepper
2 teaspoons salt
2 teaspoons pepper
Thicken The Sauce, reduce the heat to low and stir occasionally, simmer about 20 minutes or till desired thickness (shorter cooking time = thinner sauce, the longer you cook it, the thicker it will become.) Camp Cooking Tip: If you prepare the sauce at home, keep it refrigerated (up to a week) until ready to use.
---
Lodge Durable Pan Scrapers
Disposable Dutch Oven Liners
Lodge Camp Dutch Oven Tote Bag
&
---
Time To Cook Your Camping Dutch Oven BBQ Ribs
Prepare The Meat, remove silverskin and cut slabs
Cut the silverskin off from the back of the ribs. You can use a butter knife to pull it up pretty easily. Depending on where you purchase your ribs, the silverskin may already be removed which is always a nice thing! Cut the rack to fit into the Dutch oven; 4-5 ribs per cut works well.
3 baby back rib racks (NOTE: If you don't have a deep 12″ Dutch oven and you are using a regular 12" Dutch oven, you may only be able to fit 2 – 2 ½ racks of ribs.)
Prepare For Cooking
In deep 12" Dutch oven, cover 3 cut racks of baby back ribs with BBQ sauce. Camp Cooking Tip: The key to these Camping Dutch Oven BBQ Ribs being super tender is keeping them submerged in the sauce throughout the cooking process. If you can't get all of the ribs in the sauce, rotate them throughout the cooking process pulling the ribs from the bottom and placing them on top every half hour or so.
---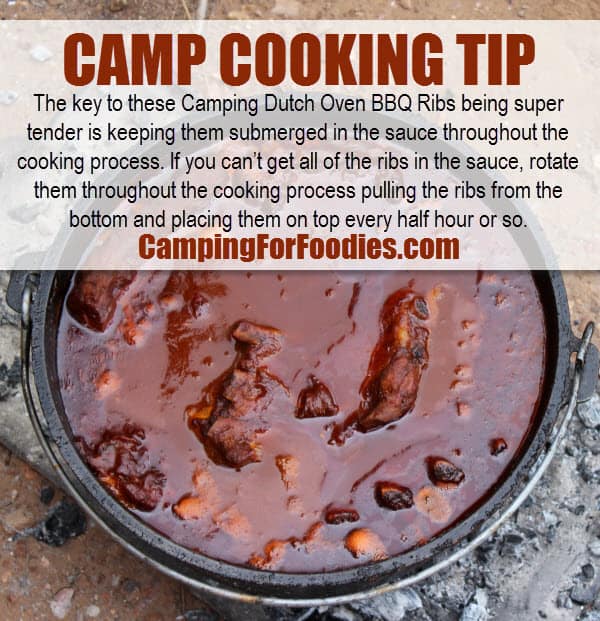 ---
Cook The Ribs
Simmer for 4-6 hours (6 is better, so make sure you start this meal early enough to get maximum flavor and tenderness out of this recipe.) You can use charcoal briquettes or a campfire to cook this Camping Dutch Oven BBQ Ribs recipe; either way, you want to monitor the heat throughout the cooking process to cook them at a simmer.
I'm updating this post because Jillian asked a really good question: Do you have a recommendation of how many charcoal briquettes to use on top and bottom to keep these at a simmer?
My answer: Hi Jillian! Thanks for the question! I always talk about Dutch oven camp cooking being part art and part science because there are so many factors that play into cooking with these beloved camp cooking gadgets. Outside air temperature, the altitude of your cooking location and quality of your charcoal briquettes are big factors in controlling temperature … so, I can't give you precise numbers but I can say when I am slow cooking over a long period of time I keep batches of about 15-20 briquettes in the rotation throughout the day. In other words, as the cooking briquettes burn down, I have another batch of about 20 briquettes in my Rapid Fire Chimney Starter getting ready to add to my cooking pot and I monitor the ribs to let me know if I need to add more coals or remove some of them to maintain a simmer. I'm sorry I can't be more exact but that is the "art" of Dutch oven camp cooking … which, by the way, I personally enjoy as a bit of a challenge. LOL 🤣 I hope that helps and thanks again for the question!
---
Stainless Steel Cast Iron Cleaner
Cast Iron Oil
Rapidfire Chimney Starter
&
---
I like to serve these Camping Dutch Oven BBQ Ribs with Grilled Sweet Corn Over The Campfire and Tangy Coleslaw. And, don't forget the cute tablecloth!
Campout Tablecloth
Tablecloth Clips
Camping Tableware Set
&
---
We've got great camp cooking tips in these other posts:
&
---
No time to look for recipes, create a menu and write a grocery list? No Problem! Get our 3-Day Dutch Oven Camp Menu Plan here!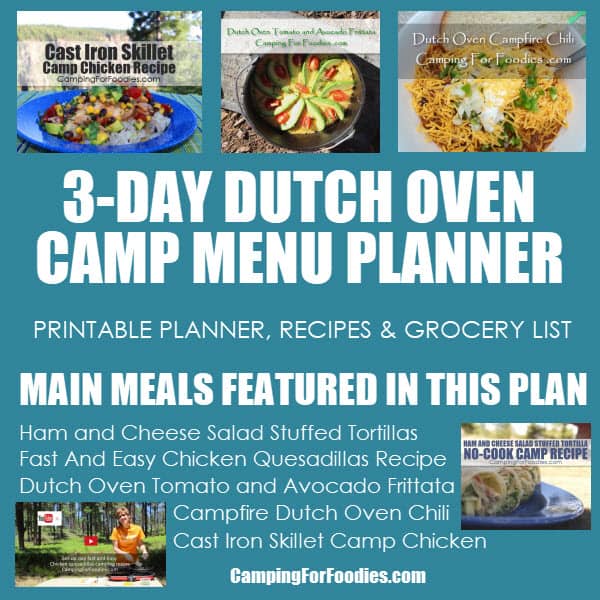 ---
Our Cool Camping Products Make Great Gifts!
Tote
Cutting Mat
Mat Set
Shaker Set
Apron
Hammock
Women's Tee
&
---
If you need camping recipes and menu ideas, you can find them here at the Camping For Foodies Camping Recipes list.
Don't miss a thing…sign up for Camping For Foodies email updates!
Your purchase of our products will help support World Vision ® Building a better world for children.