Camping Storage Ideas For Clean, Clutter-Free Camper Organization
So many RV tips and hacks start with being organized.
These camping storage ideas will help you pack like a pro and love every minute of your camping adventures!
Depending on whether you camp like a minimalist … or you like to camp with all the comforts of home … keeping your gear clean and clutter-free requires a little bit of camper organization which can be challenging.
These camping storage hacks will get you on your way!
Psst we're compensated…see our disclosures.
15+ Camping Organizing Ideas
There is no such thing as one single camping storage solution for everyone.
You need to determine how you camp and what space you want devoted to specific camping gear before you start organizing your camping space.
Here are some of the things we did to eliminate the chaos in our camper storage spaces.
---
Camping Storage Tips And Organizing Concepts
Your camping trips will be much more enjoyable if you follow these overarching philosophies…
Last In, First Out: Organizing For Setting Up Camp
When you are considering camping organization ideas, one of the most helpful concepts is to avoid digging through a pile of stuff to get to the things you need to set up camp!
As you organize your gear, make sure you:
BURY the equipment you will need at the END of your setup and
work your way BACKWARDS so the
LAST THING you pack (that will remain ON TOP)
will be the FIRST THING you need when you get to your campsite to
BEGIN YOUR SETUP.
This concept is especially important when it comes to food in your pantry and RV basements! We discuss this further in these 12 RV Packing Tips For Beginners.
---
Use Camping Storage Boxes
Group similar gear together and place it in a box that is sized for the items inside of it.
For smaller items that can be easily lost in the bottom of the box, secure them in a sealable plastic bag for safe-keeping.
Label Your Camping Organizer Boxes
It is a good idea to place an easily readable label on all of your storage boxes.
This has 2 benefits:
You know what is in the box just by reading the label and avoiding having to open it just to see what is inside. We recommend using clear storage boxes so you can see what is inside but we still like to label them.
You know where to pack an item and can store similar gear together. Also, keeping items together that you USE together is a great way to save time during your trip as well as during setup and teardown.
---
Camping Kitchen Storage Ideas
Your RV kitchen accessories can be the most difficult stuff to organize.
Here are a few ideas…
---
RV Plate Storage Ideas
Whether you use disposable or reusable plates, there are unique ways to keep them out of the way but still handy!
If you are "paper plate people", this dispenser is one of the camping storage ideas you will really appreciate because you will free-up cabinet space for kitchen items that are heavier and need to be secured during travel.
If you like regular plates, consider storing them upright to maximize your cabinet storage space.
Dinner Plate Holder Upright Organizer
---
Grocery Bag Storage Options
Are you grocery bag re-users?
We are!
I don't see the logic in buying small trash can plastic bags for garbage when you can re-use plastic grocery bags for the same purpose.
The only problem with those bags … they are not in a neat little roll so you have to find a way to contain them before they take over the inside of your cabinets!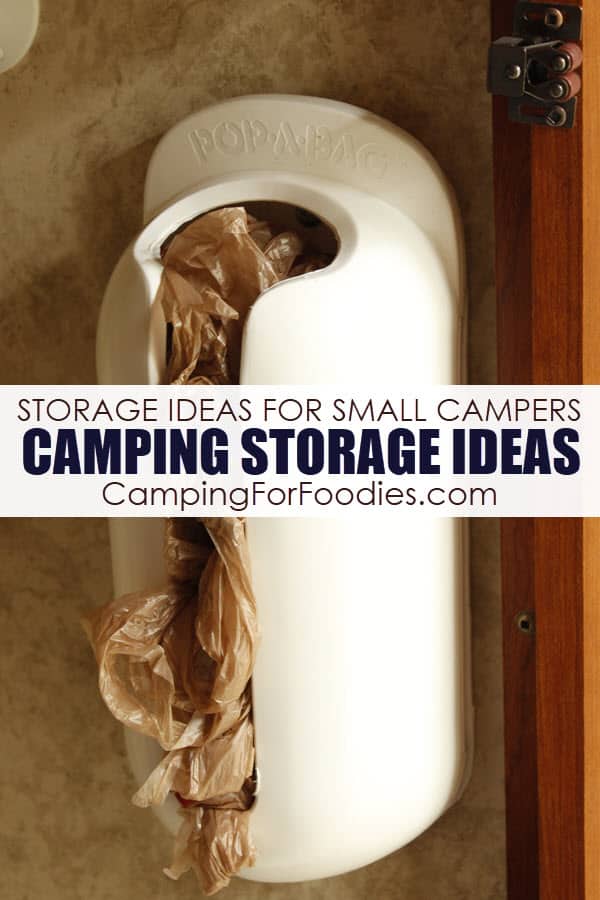 We use a dispenser to store our plastic grocery bags and it is mounted out of the way but convenient to access … inside our coat closet.
Plastic Bag Dispenser To Store And Reuse Plastic Grocery Bags
---
Storing Unrefrigerated Fruit & Vegetables
I love RV kitchen storage ideas that use "dead space" under the upper cabinets in your kitchen as well as on unused walls.
Having those healthy fruits and veggies in plain sight also makes them easily accessible making them a quick snack alternative rather than grabbing for a bag of chips or cookies!
Who knew camping storage ideas could have a positive impact on your diet?!?
Hanging Fruit And Vegetable Mesh Bags
---
Paper Napkin Storage
If you like using paper napkins but don't like them blowing around or falling out of cabinets when you reach for them … this undermount napkin dispenser might be the perfect kitchen camping storage solution for you!
Wall Or Cabinet Mounted Kitchen Paper Napkin Dispenser
---
Storing Paper Towels
I say you can never have too many paper towels when you are camping!
We keep a roll inside our trailer and another one at our outside stove.
This dispenser storage gadget lets you mount or carry your paper towel rolls easily whether you are inside or out of your camper.
Mountable Or Portable Paper Towel Holder Dispenser
---
Storing Cooking Spices
Spices are unique to everyone's individual tastes.
If I could only pack 5 camping spices in my kit, I would choose the ones that build Mexican and Italian flavors.
Check out my tips on how to choose and use camping spices for your trip.
Here are some ideas on how to store them…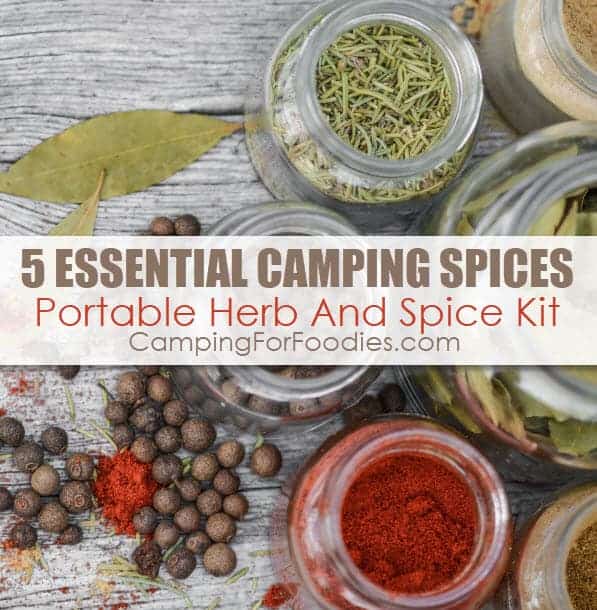 If you are in to cooking (like I am), you probably use spices when preparing your camping meals.
I like to do a lot of measuring and mixing of my dry spices at home and carry them in small tight-sealing food storage containers to the campsite.
Food Storage Containers That Nest For Storage
But, that also means I have no ability to "get creative" when I am camping unless I bring some additional spices …
so …
here are some camping storage ideas for carrying "unmixed spices" on your camping trips.
You can use a spice missile and add your own assortment or really do the gourmet thing and bring as many bottles as you can hang inside your cabinet doors using cabinet door spice grippers.
Spice Missile: Lightweight, Modular Spice Carrier For Camping
Gripper Clips Strips Inside Cabinet Storage Spice Holders
---
Camping Organizers For Kitchen Utensils
Use smaller organizers for smaller gear so you can keep them separated and easy to find.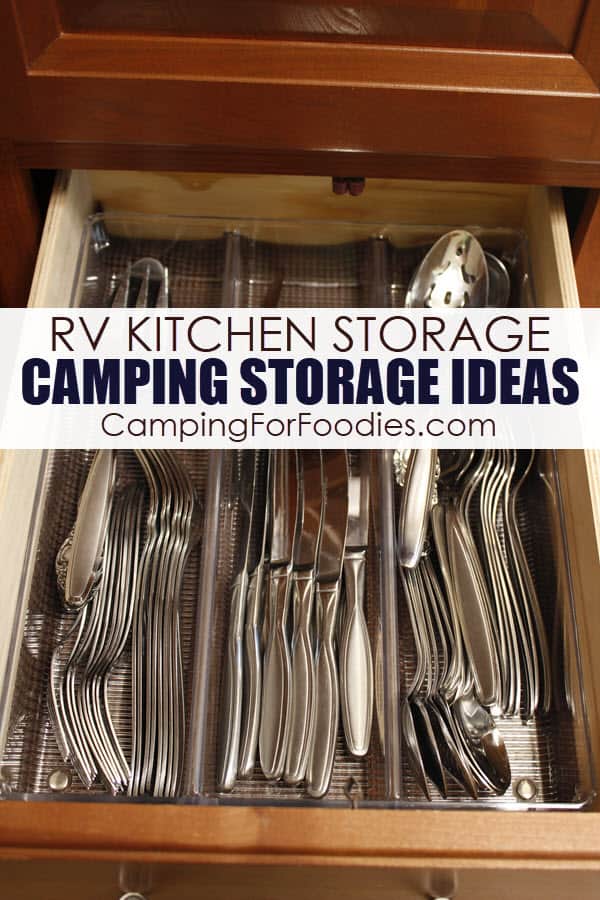 Using organizers for your kitchen utensils is the only way to go when it comes to camping organizing of your kitchen utensils.
I like clear plastic drawer organziers because they come in lots of different sizes and you can fit them in your drawer to accommodate whatever utensils you keep in your RV.
I actually have two drawers devoted to my kitchen utensils … one is for eating utensils and the other is for cooking/serving utensils.
One of my favorite RV organization hacks is to face my large forks and spoons toward the top of the RV drawer organizer and point the small forks and spoons toward the bottom.
Clear Plastic Drawer Organizers
---
Camper Pantry Organization
Many pantries are deep and narrow making it difficult to find the items you have stored in them.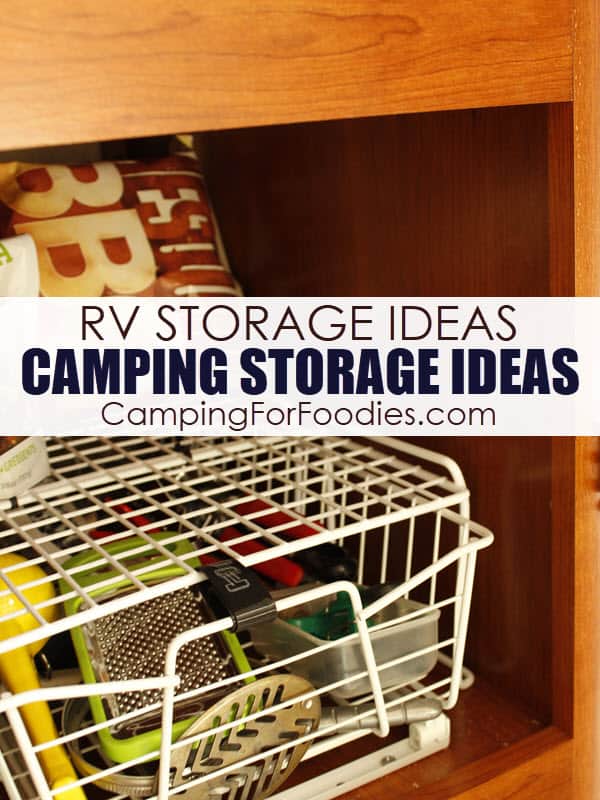 This is one of my favorite camping storage ideas for our kitchen. But, before I share this, I am going to ask you not to judge me … you are reading this on Camping For Foodies, after all.
I have another storage compartment for my big and bulky kitchen utensils.
Yes, I realize this is my 3rd storage space devoted to my kitchen equipment … no judging, right?
I wanted a space to hold things like my potato masher, lemon juicer, zester, grater, can opener etc.
Sliding Basket Cabinet Organizer
Those items don't fit neatly in a small compartment organizer so we installed a sliding basket organizer on one shelf in our kitchen pantry cabinet …
which was awesome …
but …
there was a TON of wasted space above it.
So we placed a couple of stacking shelf units over the top of the drawer so we had new "shelf space" above the new drawer …
we actually created more storage space!
We used a ziptie to secure the shelves together and used a small piece of Velcro-like hook and loop fastener to secure the drawer to the shelf during transportation.
---
If you have dedicated cooking utensils that are permanently stored in your RV … you won't have to remember to pack them!
But, there are other items you may have to pack on a trip-by-trip basis. Use our Camping Checklist to stay organized and frustration-free on your camping adventures!
---
Pop-A Camper Organization Solutions
There is an entire line of "Pop-A-something" products to help RVers find camper storage ideas that keep things neat, clean and organized … plus, they are totally practical to use!
The thing I like most about these products is that they provide storage solutions for items that would either take up valuable space inside cabinets or on top of counters … and, move them to wasted space areas like under cabinets or on empty walls!
---
Storage Ideas For RV Bathrooms
Clutter can overwhelm small camper storage areas in bathrooms.
Here are some ideas…
Tissue Organizers
Keep your tissue box off of your counter by hanging it on a wall.
Our bathroom sink counter is itsy bitsy, tiny … so, we needed a camping storage solution for our tissue box.
Can you relate?
A tissue box holder is an awesome little gadget to move your tissues to a convenient yet out-of-the-way location.
You can feed the tissues through the bottom to pull them out from beneath the box or set it in the snug holder to pull the tissues out from the top.
Tisssue Box Holder Mounts To Walls And Cabinets
---
Toothbrush Storage Solutions
It might sound a little weird to have camping storage ideas for your toothbrushes!
But, when you think about it, they take up valuable space on a medicine cabinet shelf …
and if you have more than one …
they tend to fall off the shelf as you hunt for the brush that belongs to you!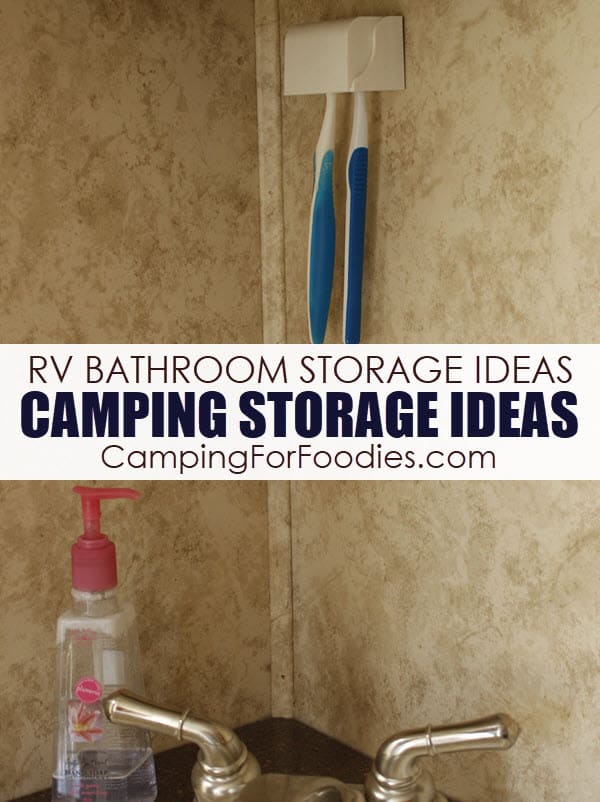 That's why I think the Pop-A-Toothbrush for your bathroom is one of the most brilliant camping storage ideas!
You can get a 4-brush holder if you camp with a family or a 2-brush holder if you are a camping couple.
These Pop-A-Toothbrush holders are one of the most popular gadgets people get after reading our RVing Tips For Beginners post!
Wall Mounted Toothbrush Holder Bathroom Organizer
---
Camping Organization Hacks For Trash
Re-cycling is a great way to be gentle on the environment during your camping trips.
Check out these green camping tips to camp and hike in an eco-friendly manner.
You might not think you need camping storage ideas for your trash … but, we do most of our camping in remote locations where we are boondocking in National Forests.
That means we have to haul our trash out when we leave.
We love being able to recycle while we are camping so we have two pop-up bins for our waste items …
one is our pop-up trash can …
and the other is a pop-up recycle bin which is always more full than the trash can at the end of the weekend.
---
Camping Storage Ideas For Hidden Spaces
One of the easiest ways to keep your hidden camping storage areas clean is by installing lights in those tucked away spaces.
The little "hockey puck" style lights are good for that. You can see that idea and more in our camping lights post.
Most RVs have storage spaces tucked in places the manufacturer determines to be unused by trailer systems like ducting, wiring and plumbing.
These storage locations might be above the bed or under kitchen bench seats …
which means they are NOT ideal to access and they can be long, narrow or deep spaces that don't have built-in space organizers.
In those spaces, I use clear storage boxes so I can easily see the contents.
Stack And Pull Clear Storage Boxes
When you are thinking about space planning, consider placing the "rarely used" items in the deepest part of the storage area that is difficult to access and the most frequently used items in the front of those storage spaces.
Using organizers that hang on doors can be a great use of space and is one of the best storage ideas for small campers.
A kitchen storage organizer basket can be hung on the BACK or FRONT of doors to conveniently hold kitchen and bathroom items discreetly or in plain sight.
Cabinet Over-Door Hanging Storage Basket
Some camper organization ideas have additional benefits beyond storage and organizing!
One of my biggest pet peeves … wet towels and clothes in the laundry bag … I can't stand that!!!
I used to hang our wet towels from a tree to dry before loading them in my dirty clothes bag but then I got an over the door organizer hook rack that I like waaaaaay more because the towel stays clean enough to use for two days of showers and the towel can fully dry before I need to toss it into the laundry bag …
no more stinky, mildewy clothes and towels to wash when I get home!
Over-The-Door Organizer Hook Rack
---
Foldable Organizers For RV Drawers And Closets
The great thing about using foldable organizers is that they "FOLD" for super easy storage when they are not in use.
A foldable closet underwear organizer will keep socks paired and underwear organized in trailer drawers or beneath hanging clothes in closets.
Foldable Closet Underwear Organizer
---
Exterior RV Storage Ideas
There is an amazing amount of storage space and other options outside of your rig to help you reduce RV clutter.
Here are some ideas…
RV Pass Through Storage Organization
Your basement storage is a great place to store your outdoor gear.
Be careful … the larger the storage area … the easier it is to collect more stuff!
Keep similar items together so you can find them at the same time.
You also want to put the items you need first during setup … closest to the access doors.
It is a good idea to put loose items in plastic storage boxes so you can quickly find them.
Small items will easily get lost in outside RV storage compartments so place them in clear plastic bags that are stored inside a larger plastic storage box.
---
RV Outside Storage Ideas For Bumpers
Bumpers and hitches give you an opportunity to expand your RV's exterior storage during transit as well as when you are parked.
Be careful not to exceed the manufacturer's maximum weights for these options … we have friends who carried a motorcycle on a rack that was engineered for pedal bikes and they tweaked their rig's frame resulting in thousands of dollars in damage!
When we bought our first RV, we were carrying our bikes in the bed of our truck but they were taking up too much room in a space we wanted to devote to other gear …
they were getting scratched and ugly too.
Now we carry our bikes with our bicycle hitch mounted rack carrier that mounts behind our RV.
It is one of the best RV organization ideas we have adopted in our RVing adventures because we don't have to decide if we are willing to "pay the expensive price" of devoting valuable storage space for our bikes …
even if we think bicycling is only going to be a small part of our experiences on a particular camping trip.
Bicycle Hitch Mount Rack Carrier
Did we miss something?
Got a question we didn't cover … just let us know in the comments.
If you have favorite camping organizer storage ideas, please share in the comments below … we'd love to hear from you!
---
Staying Organized Throughout Your Trip
Organizers are great tools but they don't do the work for you … you and your family have to use them!
If you have the best intentions to enjoy clutter-free camping and start on the right track but by the end of your trip it looks like a tornado blew through your campsite … don't fret!
These 7 simple rules for camping organization will help you START and FINISH strong!
---
Camping Trip Planning Help
One of the best ways to stay organized is to be totally prepared for your trips!
Get a copy of our FREE printable camping trip planner template!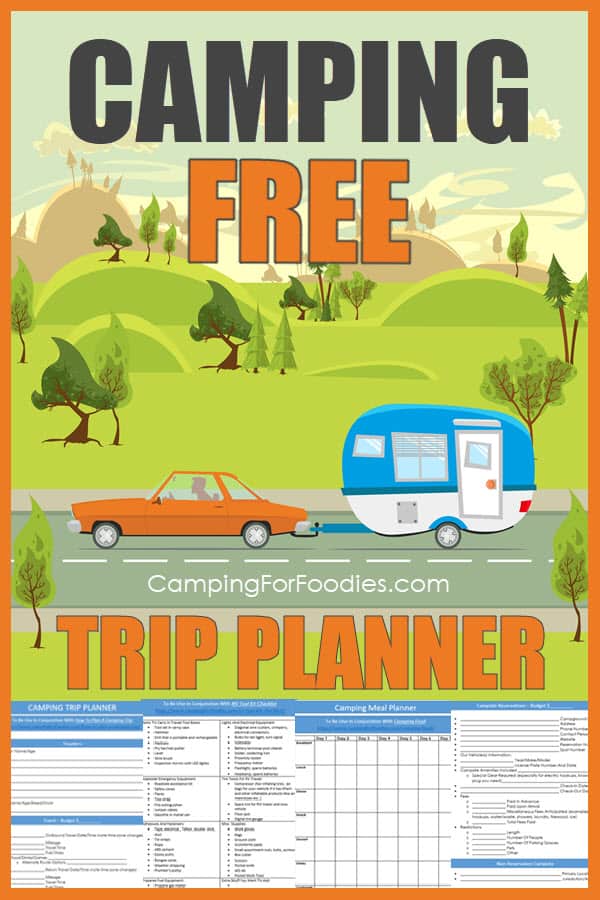 ---
Get more camping tips for every aspect of your RVing adventures!
---
No time to look for recipes, create a menu and write a grocery list? No Problem! Get our 3-Day Dutch Oven Camp Menu Plan here!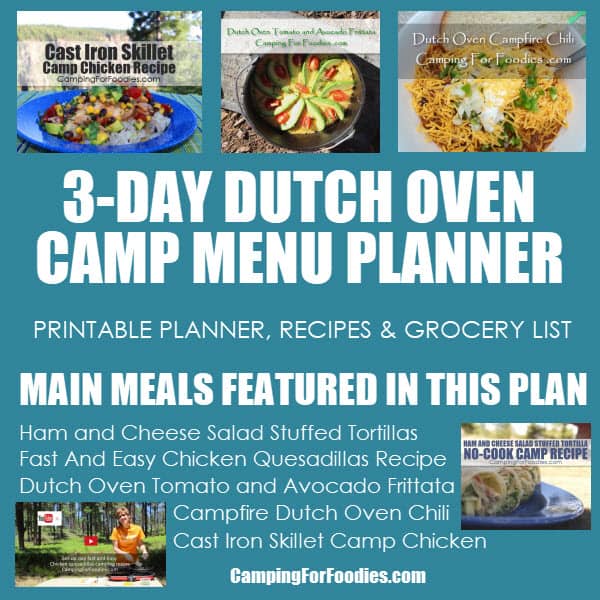 ---
Our Cool Camping Products Make Great Gifts!
Cutting Mat
Mat Set
Shaker Set
Hammock
---
If you need camping recipes and menu ideas, you can find them here at the Camping For Foodies Camping Recipes list.
Don't miss a thing…sign up for Camping For Foodies email updates!
Your purchase of our products will help support World Vision ® Building a better world for children.