How To Go Green On Camp Trips: 8 Easy Tips For Eco-Friendly Camping And Hiking
8 Easy Tips For Green Camping And Eco-Friendly Hiking
We all SAY it, but do we DO it? Whether hiking your favorite trail or camping at your most treasured camp spot, you want to leave it untouched for the next guy. Here are 8 super easy tips to lighten your impact on planet earth while you explore and indulge in its beauty. Psst we're compensated…see our disclosures.
---
---
Green Camping Tip #1: Go Solar
Outdoor Inflatable Solar Light
Using solar powered gear is a great way to stay environmentally friendly! This Outdoor Inflatable Solar Light has super bright LEDs and runs up to 12 hours on a charge. Just place it in direct sunlight for 7 hours and you are ready to light up the night!
&
---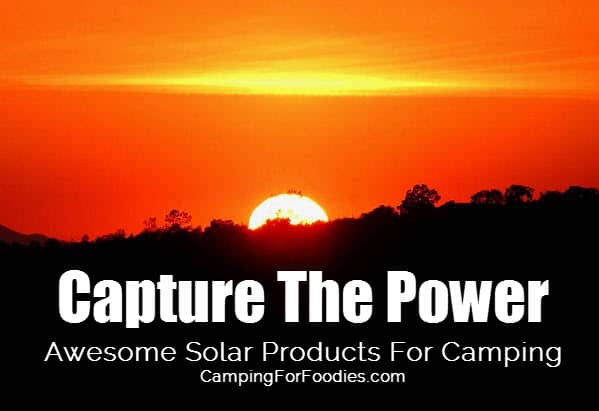 Don't stop with your lights, there are tons of other options to use solar powered camping gear. Check out our Solar Products For Camping post for tips on using solar backpacks, radios, showers, ovens and more!
&
---
Green Camping Tip #2: Recycle And Pack It Out
We like to have two containers at our campsite: one for recyclables and another for trash. If you are staying in campgrounds with trash and recycling service, you can just empty your bins as you fill them … but, if you are in more remote camp settings, you will have to pack your trash and recycles out with you.
Pop-Up Recycle Bin
Pop-Up Trash Can
&
---
Green Camping Tip #3: Quit With The Individual Bottles Of Water Already
Question: How many cases of bottled water does one person need for a camp weekend? Answer: Too many! Individual refillable water bottles and hydration packs eliminate the use of single serving package container waste. I use gallon jugs to transport drinking water for the weekend and take the empties home to refill for use on our next green camping adventure. To eliminate bad tastes, odors and bacteria in your hydration pack, just use a bladder cleaning kit and dry it after each use. You'll be ready for your next eco-friendly hike!
Refillable Water Bottle
Hydration Pack
Bladder Tube Cleaning Kit
&
---
Green Camping Tip #4: Stick With The Trail
Worldwide Handheld GPS Navigator
It's easy to minimize the potential for soil erosion if you stay on designated trails and avoid crushing plants and vegetation. I like to follow the trail signs and markers but if they are not really clear, it is easy to create cairns or use a Handheld GPS Navigator to track safely back home. This one has a 2.2-inch monochrome display, preloaded with worldwide basemap. It is WAAS-enabled with HotFix and GLONASS support for fast positioning and a reliable signal.
&
---
Green Camping Tip #5: Keep Your Campfire Safe
Multi-Purpose Fire Extinguisher
Keep your campfires small in designated fire pits. Control your cooking flames and plan for sparks that might accidentally get out of control. Carry a Multi-Purpose Fire Extinguisher that is fully charged and have it easily accessible at the campsite.
&
---
It seems that fire restrictions are part of life in the western United States. Between human-caused forest fires and years of drought conditions, it's not surprising that campfires are often restricted or banned in many locations. Check out our How To Camp When Camping Fire Restrictions Are Activated post for more helpful tips! Let's all make Smokey Bear proud! 🐻
&
---
Green Camping Tip #6: Let Wildlife Be Wild
Folding Binoculars Telescope With Low Light Night Vision
Think about how "wild" wildlife can be … Whoa! If there is a race between you and a wild bear … my money is on the bear! 😉 Just sayin'! Avoid close contact and feeding the wild animals you encounter on your camping and hiking trips. Enjoy them from afar using a set of Folding Bionoculars Telescope With Night Vision.  These things are lightweight, small, easy to carry and can be used for both day and low-light level night vision!
&
---
If you will be camping in a location that in inhabited by bears, check out our Safety Tips While Camping In Bear Country post for helpful info to keep you and your family safe in the great outdoors!
&
---
Green Camping Tip #7: Conserve Water
Dr. Woods Raw Black Moisturizing Liquid Soap With Organic Shea Butter
Water conservation is hip … and good for the environment too! One of the best parts about camping is being in nature; getting a little dirty makes the experience authentic. When camping we reduce our water consumption by taking short showers and rinse quickly; soap suds happen with the water turned off and by using liquid soap which tends to lather faster than bar soap. Using a single multi-purpose soap like this Dr. Woods Raw Black Moisturizing Liquid Soap With Organic Shea Butter works as a body wash, facial cleanser and shampoo and is made from tropical plantain skins, a renewable, sustainable natural resource.
&
---
Green Camping Tip #8: Think Green
The Mountains Are Calling And I Must Go Ceramic Coffee Mug
Green camping all starts with an attitude. Some rocks and plants are so cool you want to take them home with you … resist the temptation and just walk away empty handed. When the mountains call … Go. Remember, you are just visiting so enjoy your experience and leave the environment untouched for the next group of adventurers.  We love this The Mountains Are Calling And I Must Go Ceramic Coffee Mug with the inspirational John Muir quote! Camp on 🙂
&
---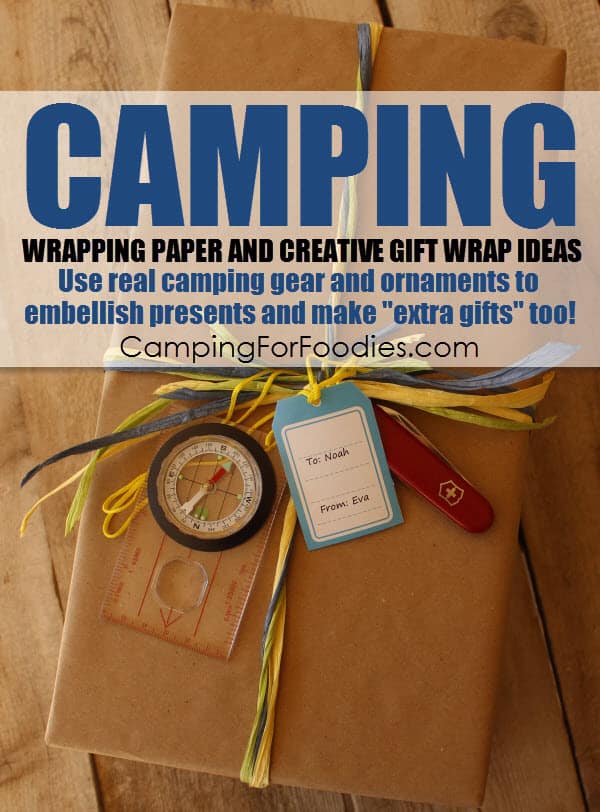 Get Fun Camping Wrapping Paper And Creative Gift Wrap Ideas here!
&
---
These Green Camping Gadgets Make Great Gifts! Need Camping Gift Ideas? Check Out These Posts!
&
---
No time to look for recipes, create a menu and write a grocery list? No Problem! Get our 3-Day Dutch Oven Camp Menu Plan here!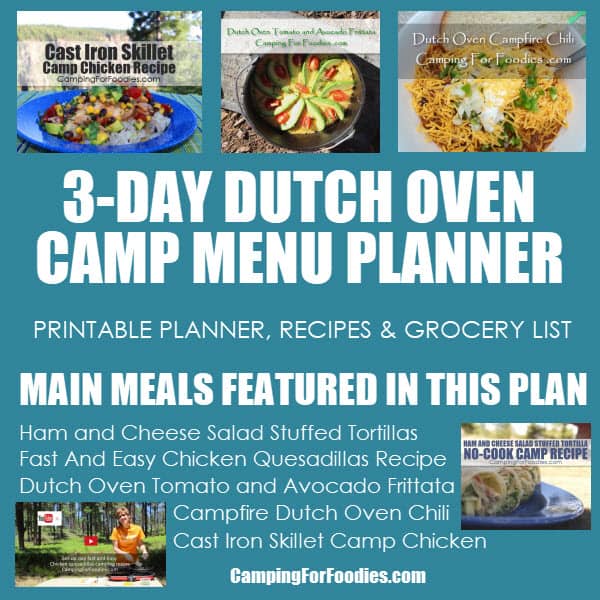 ---
Our Cool Camping Products Make Great Gifts!
Tote
Cutting Mat
Mat Set
Shaker Set
Apron
Hammock
Women's Tee
&
---
If you need camping recipes and menu ideas, you can find them here at the Camping For Foodies Camping Recipes list.
Don't miss a thing…sign up for Camping For Foodies email updates!
Your purchase of our products will help support World Vision ® Building a better world for children.