12 RV Packing Tips For Beginners: How, Where & What To Pack For Your Camping Trips
When it comes to new RVers, there are so many camping tips we want to share so other people can learn from our mistakes! These essential RV packing tips for beginners are often overlooked.
How and where to pack your gear is important for safe traveling. What to leave at home is just as important as what you should include on your packing list!
Psst we're compensated…see our disclosures.
Packing For RV Travel Using 12 Simple Tips
When we share RV camping tips for beginners, we discuss issues related to driving, travel timing, tools, hookups, reservations, packing and more. Today, we want to dive deeper into packing RV tips for camping trips.
Tip 1. There are important RV specifications you should know … it is one of the first things you should research. Each weight limit the manufacturer has set for your vehicle will be stated in the manual (and usually on placards too). It will indicate how much weight each axle can carry and the maximum allowable gross vehicle weight for proper weight distribution.
GAWR (Gross Axle Weight Rating)
GVWR (Gross Vehicle Weight Rating)
If you are unfamiliar with this lingo, I've got a list of camping terms and definitions you need to know.
These are the most critical RV packing tips beginners need to understand. For safe vehicle operations, these important things must be adhered to. You'll want to load your rig properly the first time.
On a side note: The height of your RV is another important specification you should have posted on your dashboard so you can easily see if you can pass safely when encounter a low-clearance road sign. I have an entire post dedicated to RV Travel Tips For RV Safe Routes.
Tip 2. Pack your heavy items in the areas where your rig is light. Pack your lightweight stuff where your rig is heavy. The heavy parts of the recreational vehicle itself include:
Slide rooms
Kitchen appliances
Generator
Water heater, water pump, fresh and waste water holding tanks
Engine (for A, B & Class motorhomes)
Tip 3. Pack light and leave unnecessary weight at home. If you don't carry unneeded gear, you won't have to find a place to store it.
Tip 4. Place heavier items as low as possible and toward the front of your rig (to avoid a heavy back-end and reduce the potential for swaying and tire blowouts.)
Tip 5. Secure everything before travel. Lock room doors, cabinet doors, fridge and freezer doors. Clear your kitchen and bathroom countertops before traveling. There are a lot of things to remember so I recommend creating your own tear-down and setup checklists.
Personalized written lists are a great way to ensure you don't overlook important items … they can become your best friend. Not relying on memory goes a long way in providing peace of mind so you can have a great time on your maiden voyage and every subsequent RV adventure you experience in your home on wheels!
Tip 6. Make sure necessary items are accessible during the travel portion of your trip. Many areas of your new rig won't be available until slide rooms are extended and fully opened.
For example, if we are traveling and make a quick stop at a grocery store to pick up a few items, naturally, we would want to put those items in our pantry while we are sitting in the parking lot before we start moving again. We can't … unless we open our slide because when the slide is closed, the pantry door butts-up next to our kitchen island making it impossible to put groceries in that cabinet while the slide is closed.
Tip 7. Place commonly used important items in areas that are easy to access, infrequent items in storage spaces that are hard to get to (like under the bed).
Tip 8. Create storage space. Look for small spaces, nooks and crannies in travel trailers, fifth wheels and motorhomes that can be used for storage spaces. Hooks make storage spaces out of flat walls, cabinets and doors.
CAUTION: If you just start stuffing things into every open storage space in your rig, you will soon have an over-stuffed mess. The good news is that I've got some great tips to help you organize your storage areas. I wrote an entire blog post on Camping Storage Ideas For Clean, Clutter-Free Camper Organization.
Tip 9. Use plastic storage bins that fit the storage spaces to arrange loose items and keep them organized.
Tip 10. Use your tow vehicle (or towed vehicle) for storage. I like keeping our dirty laundry bag in our truck. It is out of the way when we are camping and ready to take into a laundromat or back home for washing.
Tip 11. Follow a checklist/routine and do a final walk-around before moving your rig. Don't forget to close slides, awnings, stairs and handrails prior to movement.
Tip 12. Use a restocking list. We keep a small notepad and pen in our microwave … we call it "the list". Every time we notice that we are running low on an item, we add it to the list.
The types of items we add to the list are things like paper towels, toilet paper, dish soap, body soap, toothpaste, Q-tips, aluminum foil, Ziplock freezer bags, garbage bags, tape, citronella candles, bug spray, matches etc.
---
RV Packing List
When it comes to deciding what to pack, we like to think in terms of "rooms" in our RV that need to be stocked. We also pack personal items for the "people" and "pets" who will be traveling with us.
We recommend starting with our camping checklist and then modifying it to include or exclude items based on your personal needs. Minimally, you should consider the following items.
---
Item 1. Documents & information
I like being organized for our trips with a printed plan. The shorter the trip, the shorter the plan. The longer the road trip, the more detailed the plan.
New RV owners may not realize how much fuel they will consume on the open road. You don't want to be frantically searching Google maps looking for the nearest gas station while traveling on your first camping trip. The best way to manage a long drive is to plan the route including your fuel stops. You really don't want to learn this lesson the hard way!
If you don't have a system, you can grab a copy of my FREE printable camping trip planner template to help with this task. This is also really helpful when you have reservations for campsites, excursions and rental equipment.
I also like carrying a paper atlas. Digital maps are great until your device goes down or you lose connectivity.
Rand McNally 2024 Large Scale Road Atlas (USA)
---
Item 2. Food & drinks
Planning food and beverages is better than just throwing a bunch of groceries into your new travel trailer! You only have so much storage space in an RV and you don't want to take unnecessary items … especially food that requires RV fridge or freezer space.
On the other hand, you probably won't want to be running to the grocery store in the middle of your trip! Use my FREE printable camping meal plan template to help with this job.
---
Item 3. Kitchen gear & cooking fuel
You should have dedicated equipment and kitchen supplies that stay in your RV. If you have the need for special equipment, you can pack it on a trip-by-trip basis. Here are my favorite RV kitchen accessories I recommend keeping in your camper.
When the weather is good, we actually prefer cooking outside rather than inside our RV. We do that for several reasons: we like being outside, we like to keep our rig free-from cooking odors and messes (especially when we cook greasy food).
This is our go-to campfire cooking equipment that we use on a regular basis. We store most of this gear in the basement of our RV so we can access it directly from outside.
In addition to your cooking equipment, don't forget your cooking fuel. If you will be cooking inside your RV, you will either need propane or an electrical power source (depending on what appliances you're cooking with).
Make sure you have an ample amount of fuel to cook for your entire trip. If you will need to refill propane during your trip, we have tips on finding propane refill near me.
We are members of the Costco warehouse so we like to pick up supplies at the same time we use the Costco propane refill service when we are at a location that offers it.
---
Item 4. Bathroom, hygiene & health items
Just like our kitchen equipment, we have dedicated supplies that stay in our RV's bathroom including soaps, toilet paper, bath towels, toothbrushes, toothpaste, deodorant etc.
---
Item 5. Bedroom gear
In addition to our bedding, linens, pillows and blankets, we carry an extra set in case we have unexpected guests staying on our pull-out sofa bed.
---
Item 6. Personal clothing & footwear
We like to dress in layers to reduce the amount of clothes we need to carry. We wear slip-on shoes when we are at our campsite so we can quickly kick them off before entering our trailer. Then, we carry a pair of hiking boots for other activities. Don't forget the pajamas and specialty personal items for specific activities like swimming etc.
---
Item 7. Pet items
We travel with our two cats (who HATE the driving portion but LOVE the camping part.) Our first RV trip with them was really, really difficult but we learned what works (and what doesn't) and have made adjustments to keep all of us happy.
I make sure to pack plenty of their food because I never want to change their diet while we are on the road. Bring enough food, water, medication, leash, toys, litter and box along with their special blankets or beds so they feel at home during your camping trips.
---
Item 8. Entertainment & activity gear
We carry camping games (especially board games), music and reading material on every single trip. It is a good idea to add specialty items to your checklist based on your itinerary and planned activities.
Things like fishing gear and licenses are not part of our regular camping trips so we carry them only on trips when we will need them.
---
Item 9. RV Toolbox
DON'T try to be a hardware store on wheels … DO carry basic tools you may need while RVing. Think about carrying things like duct tape, spare parts, tire pressure gauges etc. In order to determine what you should carry for your specific needs, get a copy of my FREE printable RV tool kit checklist pdf and subtract or add new items for your particular situation.
---
Item 10. Safety and emergency items
Minimally, never leave home without a basic first aid kit, jumper cables and fire extinguisher. Be prepared with bandages, antiseptics, first aid ointments etc.
---
Item 11. Water
To RV beginners, water may seem like an odd thing to "pack" for your first trip but you need to think about this important item. It is heavy to carry and you'll want to limit your weight as much as possible.
If you will be staying at RV campsites in national parks or state parks with RV campgrounds or in private RV parks that have a potable water source available, you will probably only want to carry a small amount in your fresh water tank … just in case there is some sort of problem with the water supply when you arrive … I call this "starter water". Consider using a water filter when hooking up to those spigots.
If your campsite has water hookups, that's great. Check out our tips on how to hook up RV water, electric and waste so you can operate using the city water supply.
If you are staying at a dry campsite or you are boondocking off-the-grid, you may want to travel with extra water … possibly a full fresh water tank and maybe even extra jugs (depending on how long you will need to run between water supplies.) In either case, we have tips on how to refill fresh water tank during camping trips.
---
Item 12. Camping equipment
We don't live in our RV, we camp in it … often for extended periods of time on week(s)-long trips. But, no matter how long we are in our rig, we still enjoy feeling like we are on a camping vacation.
So, we still carry typical camping gear like folding camp chairs, folding tables, campfire tongs, camping string lights, coffee maker, bungee cords etc. Remember, if you are boondocking, you won't have the amenities that come with campground sites, like picnic tables, bathrooms, garbage dumpsters etc.
---
Item 13. RV gear & accessories
Make sure you pack everything you need to relocate, park and operate your RV. Essential items like propane, gas and/or diesel, sewer hose, and RV toilet chemicals, wheel chocks, hitch locks etc. are not optional.
---
Arranging The Perfect RV
Whether you are living a full time RV lifestyle crossing the United States in a larger RV for extended, long time and distance traveling … or … you are just doing little weekend jaunts with very little road experience, having the right type of RV is key to successful packing and organization. Personal preference has a lot to do with finding the right RV. Before you purchase your next rig, learn about Buying An RV: 5 Tips For Purchasing An RV.
---
FREE Printable Camp Trip Planner
If you're packing your RV, you're probably hitting the road for an awesome adventure! A little extra planning goes a long way.
Make your next trip stress-free with a little pre-planning. Get your copy of our FREE printable camping trip planner template!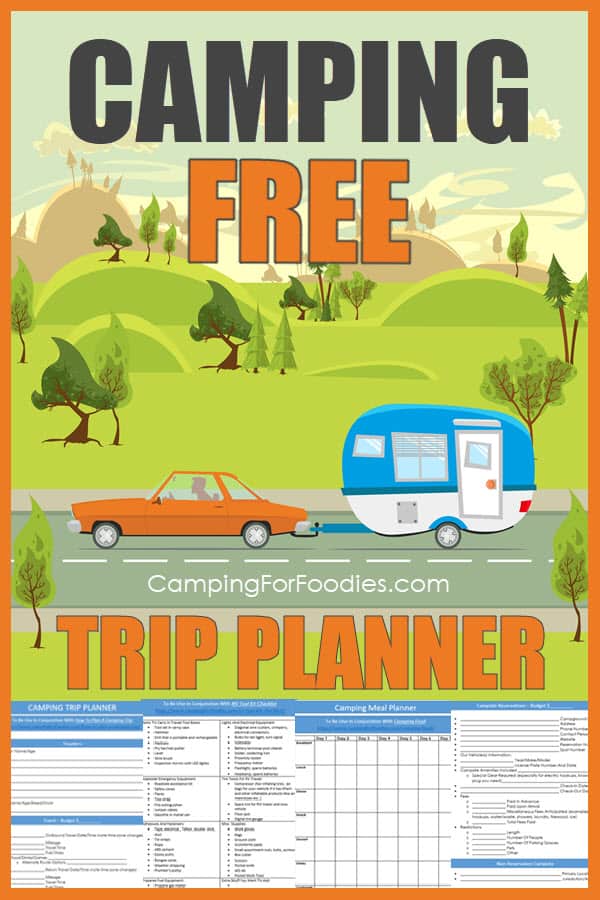 ---
Food Ideas For Camp Trips
Need ideas for the food you will be packing for your trip? I've got simple recipes so you don't have to eat hot dogs and beans!