Chuckwagon Sandwich Recipe: Perfect Homemade Deli Sandwiches
When it comes to easy camping meals, this Chuckwagon Sandwich Recipe is a great meal option for a quick and satisfying dinner.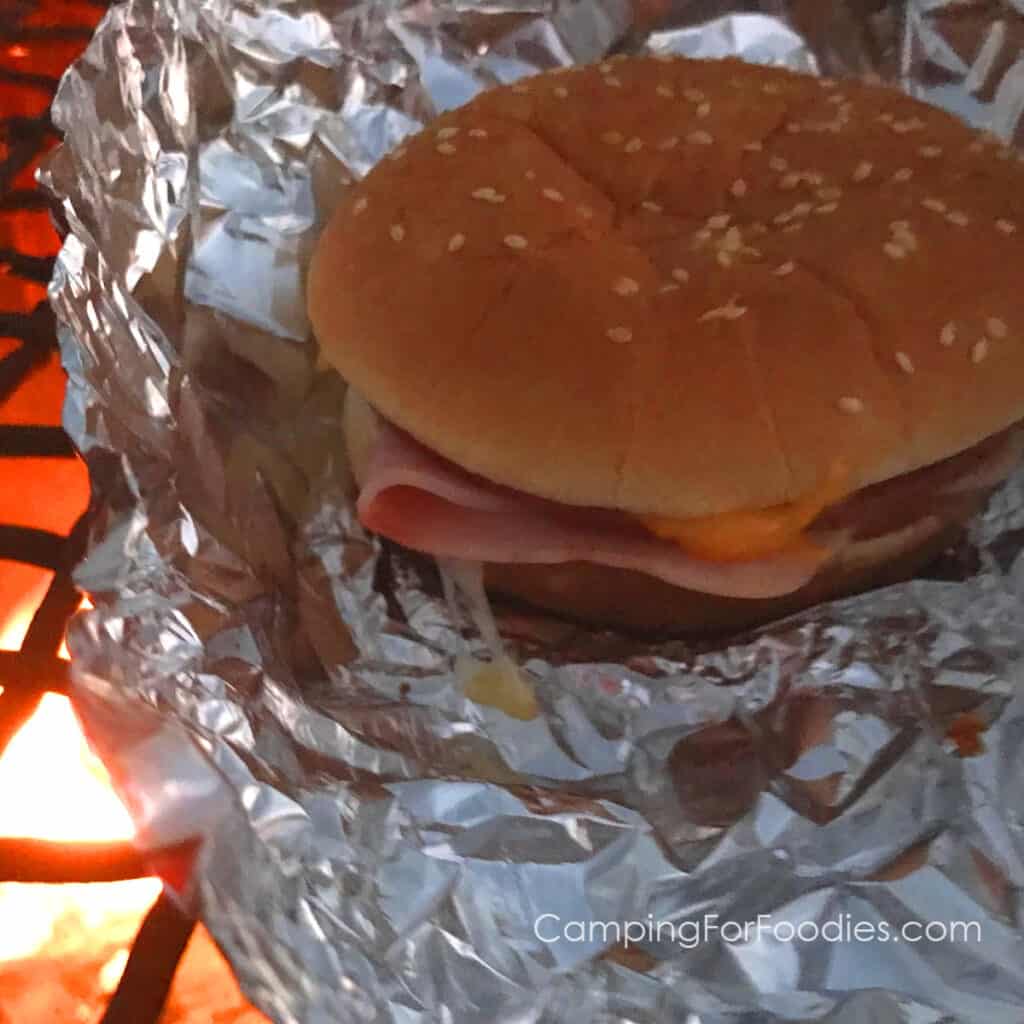 Psst we're compensated…see our disclosures.
What Are Chuckwagon Sandwiches?
Cowboys needed easily preserved food for wagon traveling on the trail. That included items like salt-cured meat and fish. Today, that means cold cut quality meats and cheeses!
The North American love story with chuckwagon food is demonstrated with the variety of 4 sandwiches people are referring to when sharing their particular recipe of this interesting food.
1. Crispy Chicken-Fried Steak Beef Patty
This chuck wagon sandwich recipe is also known as a chicken fried steak sandwich which is made similar to a pork tenderloin sandwich. It typically starts with tenderized cubed steak that is dredged in flour, eggs and breadcrumbs that are seasoned with paprika, garlic, chili powder, salt and black pepper. It's then fried in a large skillet with shallow oil to provide great taste and crunch. The chicken-fried steak patties are served on hamburger buns with lettuce and tomato slices.
2. Chuckwagon Burger
This recipe uses ground beef to make simple hamburgers. You combine the meat in a large bowl with onion soup mix that contains onion flakes and dried beef bullion and form into patties. You'll cook beef over a grill or broil it in an oven. It's then served on a toasted sesame seed bun or biscuits. Adding a slice of cheese is optional.
3. Oven-Cooked Grilled Cheese
Do you have a colleague who doesn't love a good grilled cheese sandwich? This version uses 1 piece bread as the foundation and an oven to do all of the work. Just butter slice of bread, place it on a cookie sheet, lay butter side down. Top with white cheese (slice of harvati cheese or swiss), smoked ham, orange cheese (American or cheddar cheese), cotto salami put second slice on top buttered bread face up. Place tray of sandwiches in oven, pre-heat to 350 degrees F and as soon as it comes up to temperature, shut oven off. Turn sandwiches over so cheese melts and to toast second side. This is a great way to make lots of grilled sandwiches quickly. It's like an assembly line to heat sandwiches when you want to do any kind of volume in a short period of time.
4. Deli Version Of The Chuck Wagon Sandwich
In the spirit of true chuck wagon fare, the deli version is the most authentic. A mixture of meats and cheeses are sandwiched between pillowy buns to create a quick and simple meal.
Two companies sell pre-made versions for resale by food trucks, vending machine operators, quick service restaurants and cafeterias.
Deli Express' top-selling sandwiches are so popular, you can even buy Deli Express Sandwich Bulk Packs as well as the Landshire Chuck Wagon Sandwich in the snack food section on Amazon.
Campsite and home cooks can duplicate the yummy ham and melty cheese Deli Express Chuckwagon Sandwich Recipe simply and quickly. That's what we're going to do today. It is one of the easiest camping dinner recipes you'll make.
---
Cooking Methods & Equipment
If you are making this as one of our easy campfire recipes, you'll need to get your fire going in order to cook over coals.
Alternatively, if you have access to a microwave, you can use it to heat the sandwich quickly.
---
Recipe Steps
Step 1. Prepare your ingredients, heat source and equipment as directed.
Step 2. Make the sandwich. Start with the bottom bun and layer on the salami, bologna, ham, American and Swiss cheese slices.
Step 3. Spread on condiments. Spoon mustard and mayo on the top bun and place it on the sandwich.
Step 4. Warm the sandwich. I prefer making this as one of my campfire meals in foil because we rarely have access to a microwave when camping.
If heating over a campfire, wrap the sandwich in aluminum foil and place it over hot campfire coals or in a warm Dutch oven with the lid on to heat the sandwich a bit, about 5-10 minutes.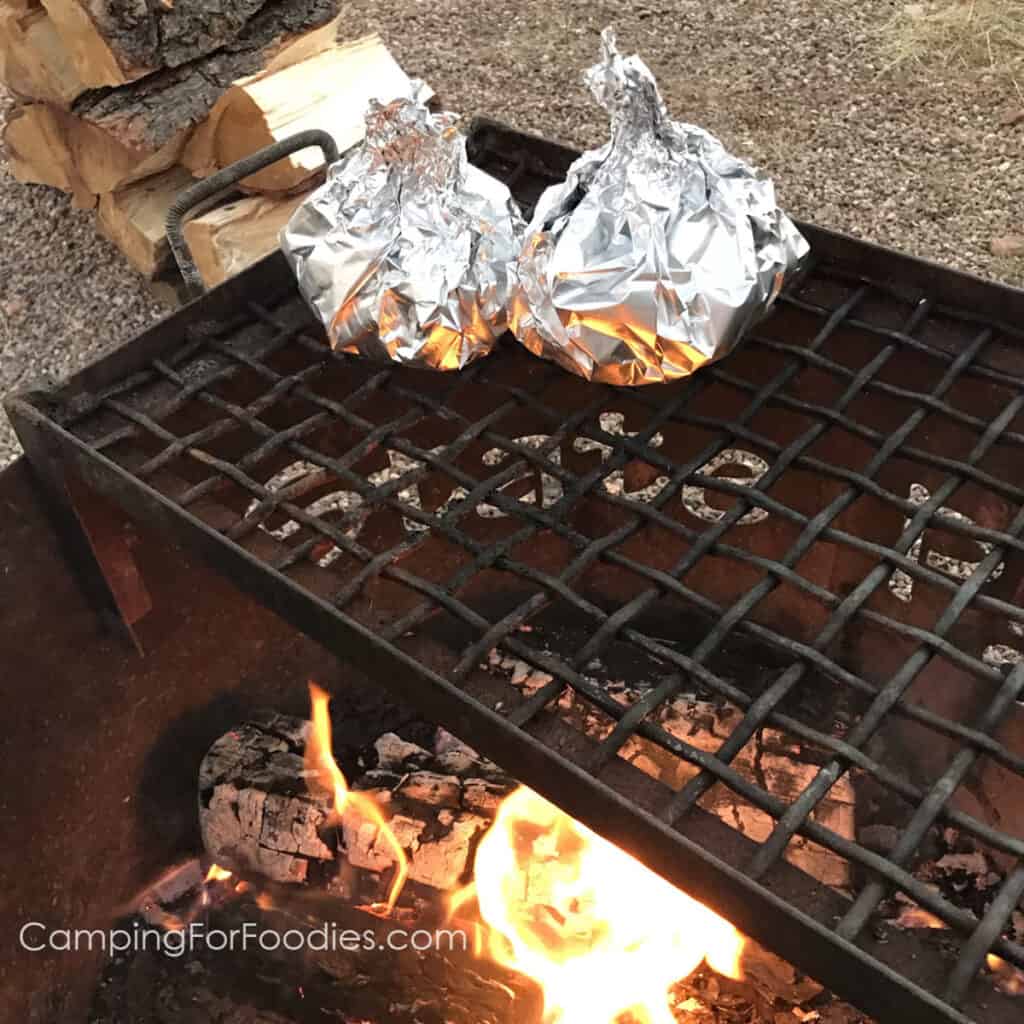 If you have access to a microwave, you can wrap the sandwich in a paper towel and heat for about 30 seconds. Leaving it in the oven too long will make the bread hard.
Step 5. Turn the package. The campfire will begin to toast the bun and make it hard so you'll want to turn the package to expose all sides of the foil to the heat (not just the bottom bun). Serve warm.
---
Sides
Kids love this recipe especially when you serve it with sides like fried onion rings, pickles, baked beans and potato chips.
How does "summer in a bowl" sound? You've gotta try this super-fresh Refrigerator Cucumber Salad!
These Campfire Chili Cheese Fries are always a hit!
This Potato Salad With Bacon And Chives is a great recipe to make-ahead. It tastes better after the flavors have a chance to marry for a few days.
These Grilled Potato Wedges are a fast and easy alternative to deep-fried French fries.
These Dutch Oven Baked Beans feature hamburger, bacon and five different types of canned beans.
---
Similar Recipes
Individual sandwiches make wonderful camping meals for two. Try these yummy recipes too.
This Basil And Prosciutto Sandwich is a completely no-cook camping meal that has fabulous flavor because of the fresh basil and soft, creamy mozzarella.
A really filling comfort-food sandwich is fast to make and yummy to eat. Enjoy Big Mac Sloppy Joes with a copycat secret sauce.
Check out all of our camping sandwich ideas, we've got them for breakfast, lunch and dinner!
---
Print This Recipe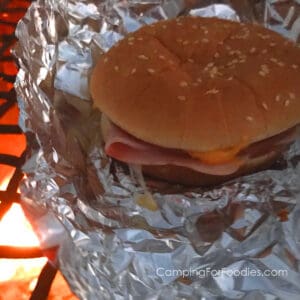 Chuckwagon Sandwich Recipe
Camping For Foodies Dinner Camping Recipes: Chuckwagon Sandwich Recipe quick and simple dinner option ready in minutes.
Ingredients
1

Large Hamburger Bun

sesame seed bun or kaiser bun

1

Slice

Cotto Salami

1

Slice

Bologna

1

Slice

Deli Thin Ham

1

Slice

American Cheese

yellow or white American cheese

1

Slice

Swiss Cheese

Yellow mustard

to taste

Mayonnaise

to taste

Hot pepper sauce

optional
Instructions
Make a sandwich by layering the bottom of the hamburger bun, then adding the salami, bologna, ham, American and Swiss cheese slices. Spoon on the mustard and mayo and finish with the top bun.

Now, you just want to warm the sandwich slightly.

Wrap the sandwich in aluminum foil and place over hot campfire coals or in a warm Dutch oven with the lid on to heat the sandwich a bit, about 5-10 minutes. Turn the package while it is heating so the bottom bun does not begin to toast and actually get hard.

If you have access to a microwave, you can wrap the sandwich in a paper towel and heat for about 30 seconds. Leaving it in the oven too long will make the bread hard.

Shake on hot pepper sauce, if desired. Serve warm.
Nutrition Information
Serving:
1
g
Calories:
453
kcal
Carbohydrates:
25
g
Protein:
25
g
Fat:
28
g
Saturated Fat:
13
g
Polyunsaturated Fat:
2
g
Monounsaturated Fat:
10
g
Trans Fat:
1
g
Cholesterol:
78
mg
Sodium:
1403
mg
Potassium:
298
mg
Fiber:
1
g
Sugar:
5
g
Vitamin A:
364
IU
Vitamin C:
1
mg
Calcium:
455
mg
Iron:
2
mg
---
More Camping Recipes
Every meal on your trips can be fast and yummy!