Potato Salad With Bacon And Chives Make Ahead Camping Recipe
Don't you just LOVE make ahead camping meals?!? If you have an action-packed trip planned, you may not have time to cook all of your camping meals during your trip. This Potato Salad With Bacon And Chives Make Ahead Camping Recipe is one of those side dishes that is even more tasty after it has time for the flavors to meld.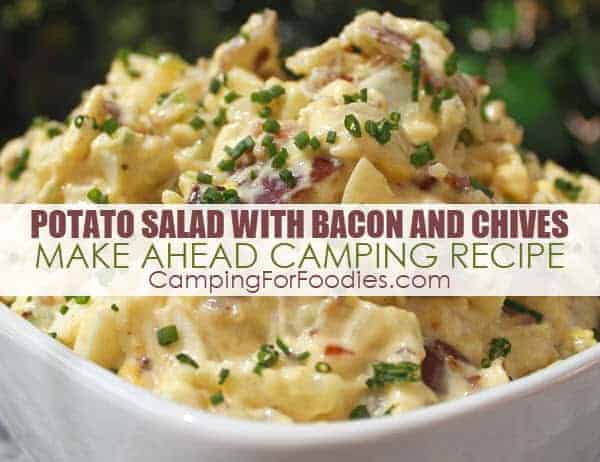 Psst we're compensated…see our disclosures.
How To Make This Bacon & Chive Potato Salad
Because this recipe actually tastes better after the flavors have time to marry for a day or two, it is one of those perfect make ahead camping salads.
I don't make potato salad often because it is actually a pretty time consuming, labor intensive event.
But, every time I make this Potato Salad With Bacon And Chives … my family GOES WILD over it and I decide it was well worth the time and effort!
When I do easy make ahead camping side dishes at home, I transport them to the campsite using Food Storage Containers that have tight fitting lids so I don't have to worry about spills or cross-contamination in my RV refrigerator or cooler.
---
Food Safety For Make Ahead Recipes For Camping
Any time you are camping, you need to pay particular attention to the temperature of your food that requires refrigeration.
Mayonnaise-based make ahead recipes for camping are especially sensitive to holding temperatures.
We have a post dedicated to food handling tips including how to keep food cold while camping which will protect the safety of your perishable camp food.
---
On-Site Is Possible
For all of the reasons I explained, I like making this Potato Salad With Bacon And Chives as one of my make ahead camping side dishes that I do at home … but … if you have the desire, you can totally make this recipe at the campsite. The easiest way to achieve that is by making it as one of your camp stove recipes.
---
On-Site Camp Cooking Tip
Prepare the bacon for this recipe on a morning that you are having bacon as part of your breakfast.
Just cook this bacon first then set it aside to drain and cool while you cook the breakfast for the day.
After you finish eating your breakfast, the bacon for the potato salad will be cool enough to crumble and then you can refrigerate it until you are ready to make the potato salad.
One of the reasons this does NOT work well at my campsite … my husband is a "bacon thief" … and even though I would have cooked a pound of it for this recipe, I would only have half of it remaining by the afternoon. LOL
---
This potato salad starts with typical ingredients but doesn't stop there … it packs a punch with bacon, celery salt, garlic salt and a few fresh chives.
I took this Potato Salad With Bacon And Chives to a party celebrating my picky eater friends' new motorhome … it got the thumbs up from everyone in the crowd! Here's how you make it.
---
Pairings
If you are looking for a pairing with another make ahead camping food main course, try this French Dip Beef Sandwiches Dutch Oven Campfire Recipe dump and cook freezer meal!
We have so many Dutch Oven Recipes For Camping, it is hard to pick a favorite!
When you just can't get enough bacon, try this Bacon Basil Tomato Ciabatta Sandwich Recipe alongside the potato salad.
This hot Bacon Wrapped Grilled Cheese sandwich is so yummy with a cold salad.
If you're looking for an entire meal that's yummy gluten free camping food, try pairing this potato salad with a nice protein that is grilled or smoked. My Grilled Flat Iron Camping Steak Recipe is so delicious because it marinates for 6 hours, BUT, only takes 5 minutes to prep and 8 minutes to cook!
---
Print This Recipe
Potato Salad With Bacon And Chives Make Ahead Camping Recipe
Camping For Foodies Sides Camping Recipes: Potato Salad With Bacon And Chives Make Ahead Camping Recipe
Ingredients
2

pounds

small red potatoes

6

eggs

1

pound

bacon

1

celery stalk

finely chopped

1

onion

finely chopped

2

cups

mayonnaise

1/2

teaspoon

garlic salt

1/4

teaspoon

celery salt

Pepper to taste

2

tablespoons

finely chopped fresh chives
Instructions
Scrub the potatoes under cold water, removing dirt but leaving the skins on.

Bring a large pot of water to a boil.

Add potatoes to boiling water and cook them until they are fork tender, then drain the pot and set the potatoes aside to cool.

While the potatoes are cooking, put the eggs in a saucepan, cover with water and bring to boil over high heat.

After the egg water begins to boil, remove the pan from the heat and cover it with a lid to allow the eggs to finish cooking for another 30 minutes.

Remove eggs from pan and let them cool before peeling.

Once cooled, peel the eggs and give them a rough chop. Then set them aside for assembly.

While the potatoes and eggs are cooling, in a large skillet, fry the bacon until it is thoroughly cooked.

Remove the bacon from the pan and let it drain on paper towels till it is cooled, then crumble it and set it aside for assembly.

In a large bowl, mix the mayonnaise, celery, onion, garlic salt, celery salt and pepper.

Now, add the chopped eggs and crumbled bacon to the mayonnaise mixture, stirring until everything is well combined.

Cube the potatoes into bite-sized pieces and gently fold them into the mayonnaise mixture.

Cover and refrigerate until you are ready to serve this yummy potato salad. This recipe is better after the flavors have time to meld so if you can make it a day or two before you plan to eat it … you are golden!

NOTE: Because this recipe actually tastes better after it rests for one or two days, it makes a fantastic make-ahead camping recipe … but … because it has mayonnaise, it must be kept at a safe temperature so be sure to check our

Camping Food Safety Tips Including How To Pack A Cooler For Camping

post for helpful tips.

https://www.campingforfoodies.com/camping-food-safety-tips-including-how-to-pack-a-cooler-for-camping/

Top with chives for serving.
Nutrition Information
Serving:
1
g
Calories:
1068
kcal
Carbohydrates:
34
g
Protein:
36
g
Fat:
86
g
Saturated Fat:
19
g
Polyunsaturated Fat:
64
g
Cholesterol:
292
mg
Sodium:
2017
mg
Fiber:
3
g
Sugar:
4
g
---
More Recipe Ideas
Get inspired to make something new on your next trip.