Camping Without Fire: How To Camp With Fire Restrictions
Too many rainless days often result in camping fire restrictions on public lands, so, you need to take a few extra camping safety precautions. Camping without fire is really easy with a few camping tips!
Psst we're compensated…see our disclosures.
How To Camp When Camping Fire Restrictions Are Activated
There are different levels of fire ban camping. Let's clarify those first then talk about how to camp when the different types of restrictions are active.
Stages Of Camping Fire Restrictions
There are Stage 1 Fire Restrictions and there are Stage 2 Fire Restrictions.
Stage 1 is the LEAST restrictive

Generally speaking, Stage 1 prohibits campfires or stove fires (unless you're in a developed campground or picnic area, or, you have a special permit).

You are allowed to use petroleum-fueled stoves, lanterns and heaters that meet the fire underwriter's safety specifications.
There are additional restrictions regarding smoking, use of equipment etc.

Stage 2 is the MOST restrictive

Generally speaking, Stage 2 completely prohibits campfires or stove fires.
There are additional restrictions regarding smoking, use of equipment etc.
There is no such thing as stage 3 restrictions … when things get that bad, the forests just get shut down and camping in National Forests is no longer an option until the restrictions are lifted and the forest is re-opened.
---
Cooking During Restrictions
How to cook while camping without fire is pretty simple. The point of restricting charcoal use and campfires for cooking is that they produce airborne sparks and the heat source can't be quickly extinguished.
When you use propane cooking equipment that has a control knob, the fire can be instantly turned off and is much safer to manage.
Can You Use A Camp Stove During A Fire Ban?
If Stage 1 or Stage 2 Restrictions are in place, we put our easy campfire recipes on the back burner (LOL … pun intended). Why?
The use of charcoal grills and campfires are not allowed, but camping propane gas-fueled devices, like small propane grills and camp stoves, are permitted because the flame can be quickly turned off.
So, we adjust our menu as well as some of our favorite camping activities. We'll talk about more specifics in a bit.
---
Camp Oven Cooking Without Fire
If you want to make Dutch oven camping recipes that need heat from below, a propane camp stove will be sufficient.
But, if you want to make meals that are baked or broiled, you'll need to use a Camp Chef Dutch Oven Dome along with your propane camp stove. The heat diffuser plate sits on top of your camp stove and under your oven so the flames from your propane stove are evenly distributed under the entire oven (kind of like how you evenly space coals under the oven to avoid hot or cold spots.)
Dutch Oven Dome & Heat Diffuser Plate
The dome traps the heat from escaping and creates a type of convection oven (when you can't place campfire coals or charcoal briquettes on top of your oven) to evenly bake and brown the top of your food.
If you have not used this equipment before, we have a full post and video to show you how to cook with a Dutch oven dome and heat diffuser plate on a propane stove instead of using campfire coals or charcoal briquettes.
---
Cooked Recipes During Fire Restrictions
When you are planning your camp meals and there is a possibility of Stage 1 or Stage 2 fire restrictions limiting you to propane gas-fueled devices … you will want to cook some really yummy camp stove recipes!
Just a few of our favorite recipes that are easily made on a propane stove:
Bacon Avocado Breakfast Wraps
Peanut Butter Chocolate Chip Camp Stove Pancakes
Campfire Stew Dutch Oven Camping Recipe
Shrimp Po Boys
Blackened Trout With Cajun Cream Sauce
Campfire White Chili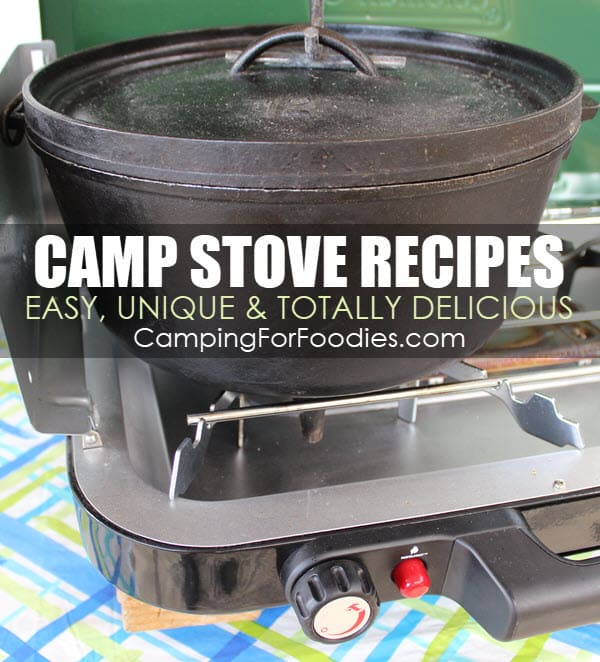 ---
No Cook Meal Options
If you are in a location with portable gas stoves banned, you will need to prepare no cook camping meals. You'll be amazed how creative you can get with your menu when you have to eliminate all cooking!
Some of our favorite no-cook food recipes include:
Pesto Tomato Wraps
Easy No Cook Healthy Southwest Camping Salad Recipe
Fruit And Nut Peanut Butter Stuffed Tortilla
Panzanella Salad
Basil And Prosciutto Sandwiches
Chicken Parmesan Wraps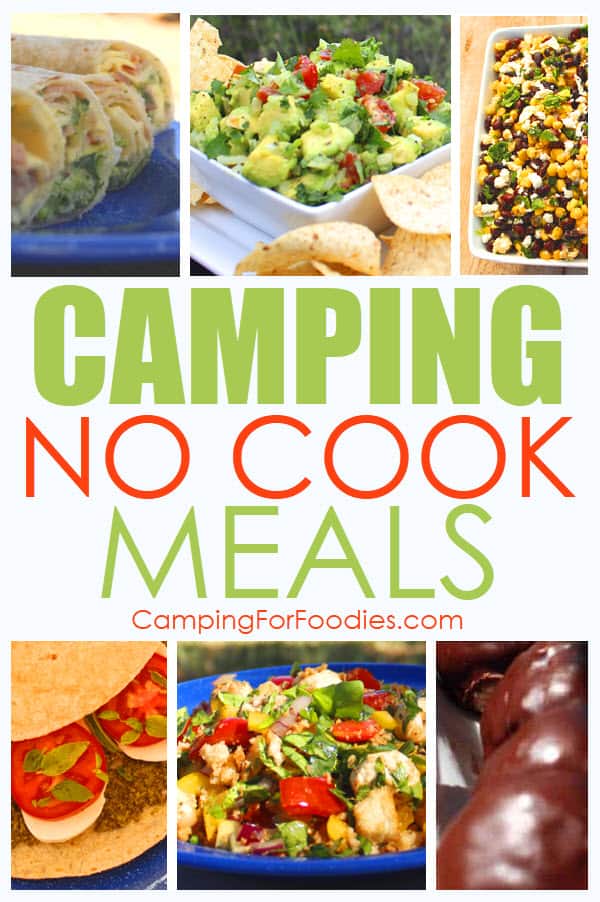 You don't even have to carry pots and pans if you prepare make ahead camping meals that are served cold or at room temperature.
Some of our favorite recipes include:
Refrigerator Cucumber Salad
Make Ahead Greek Tomato And Feta Pasta Salad
BLT Camping Wraps
Polish Potato Salad Recipe
Potato Salad With Bacon And Chives
Broccoli Sunshine Salad
Dutch Oven Cornbread
Mexican Three Bean Salad
Rosemary Spiced Nuts
Chocolate Covered Peanut Butter Balls
Caramel Nut Brownies
Dutch Oven Coffee Cake Recipe
Bacon And Cheese Quiche
A few other ideas include:
Peanut butter & jelly on bread or crackers
Sub sandwiches made with cold cuts
Boil eggs to eat them with a little salt & pepper or make egg salad sandwiches
Dry cereal and milk
Bagels and cream cheese
Beef jerky
Fresh fruit and veggies with dips
---
Propane Gear And Camping Fire Restrictions
We have reviewed the best propane camping gear for lighting, cooking, heating and more … this is the type of gear you will need when camp fire restrictions are activated.
---
How To Have A Fire (Legally) When They Are Not Allowed
In cold weather you'll miss the warmth provided by campfires during cold weather trips. At times when restrictions on burn bans don't allow burning firewood in the fire ring, BUT, do allow open flames from propane devices, a propane fire pit is a great option to replace a real wood fire. You can still enjoy campfire games and activities, including roasting marshmallows, without having to deal with smoke or ashes.
This Outdoor Portable Propane Gas Fire Pit is designed for travel … it is lightweight and sets up in minutes with no special tools. It comes with an attached 10-ft hose that you simply connect to a standard 20-lb propane tank.
Outland Firebowl Outdoor Portable Propane Gas Fire Pit, 19-Inch Diameter 58,000 BTU
Some people actually prefer camping gas fires because they don't require wood hauling or ash cleanup.
Check out our review to see why we think it's the best camping propane fire pit and why we purchased it.
---
How To Stay Warm When Camping Without A Fire
We have more tips for generating heat for all types of campers that go beyond dressing in layers, using warm sleeping bags and electric heaters. Check out:
---
How To Light A Campsite Without A Fire
A fire-free evening can get pretty dark so be prepared to illuminate your space with solar or battery operated lanterns, headlamps and string lights.
Replacing Campfire Light
Some of the best camping light ideas can enhance your entire camping experience because they perform dual purposes, like charging electronic devices and repelling bugs.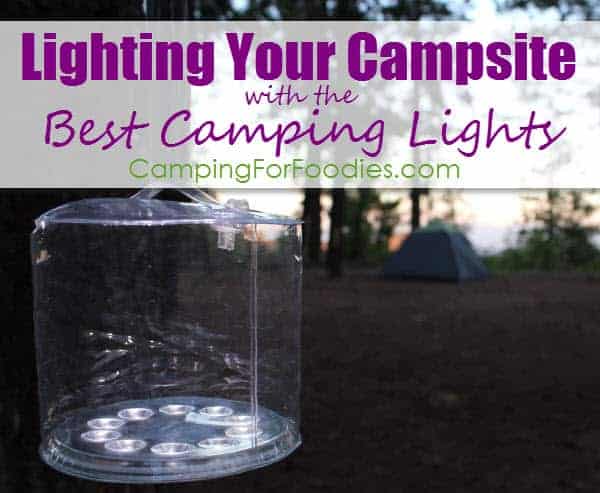 ---
Activities During Camping Fire Bans
The dancing flames of a campfire are a big part of a camping experience. You'll need campfire alternatives during burn bans.
Build A Fake Fire For Camping
Create the ambiance of flickering flames by building a flameless campfire.
Pile firewood logs as you would to build a real campfire
Place battery- or solar-powered string lights around the logs. It's even better if the lights have a mode for blinking or flickering.
Now, you can continue on with your favorite fun activities and campfire games as usual. Try some of these ideas:
Singing songs
Gaze upon the stars
Tell stories and jokes
Listen to music
Play games
Roast marshmallows over the flame of an approved propane fire pit or stove to make your favorite campfire smores recipes.
---
Know The Boundaries Of Public Lands
It is not always easy to determine where a fire restriction starts and stops. We often camp in two National Forests that share a border. We often find that the Apache-Sitgreaves National Forest activates restrictions while at the same time the Coconino National Forest does not so we need to make sure we are camped on the Coconino side of the boundary line.
---
Benchmark Recreation Atlases
One of my favorite resources for information about areas approved for dispersed camping is my Benchmark Road & Recreation Atlas.
It contains maps of public lands including backcountry roads, trailheads, campgrounds, RV parks, golf, boating and points of interest.
Arizona Road & Recreation Atlas
It is especially helpful in times of camping fire restrictions because each National Forest has its own jurisdiction so you need to know the location of the boundaries … especially if you are camping near the border of two different forests.
---
Camp Trip Planning For Fire Restrictions
Make sure you research your trip in advance so you know if you will be dealing with restrictions.
If restrictions are already in place or they are likely to be activated during your trip, you can save yourself a lot of time and effort by not packing gear you can't even use. This also helps with camping organization so your campsite is as clean and clutter-free on the last day of your trip as it was on the first day!
Use a copy of my FREE printable camping trip planner template to plan and organize your next camping trip.
---
Public Agency Resources For Camping Fire Restrictions
Fire Restriction Stages Explained by USDS United States Department of Agriculture Forest Service, Coconino National Forest does a great job explaining the differences in Stage Restrictions.
---
INCIWEB For Real-Time Information
Meet my friend, INCIWEB!
This Incident Information System is fantastic for camping because it is the national incident information system for wildfires and all-hazard incidents.
There is information on:
Incidents
Announcements
Closures
News
Photographs
Maps
As their fact sheet says:
"InciWeb is a real-time searchable website that has become a "go-to" source for public and media seeking the most current official information about emergency response to incidents such as:
Wildfires, hurricanes, tornados, floods, earthquakes, and other natural disasters
Oil spills and other hazmat and human-caused accidents
Avian flu and other public health crises
as well as planned incidents affecting the public, such as:
prescribed fires
burned area rehabilitation
The site currently offers automatic Twitter and GoogleEarth feeds, as well as RSS feeds for immediate notification of new incident information."
You can download the InciWeb fact sheet here.
---
Fire Restriction Chart
This fire restriction chart by the National Interagency Fire Center is useful quick-glance information.
---
Camping In Remote Areas
Many Western states have an abundance of national parks, national forests and wilderness land available for the public to explore. Unfortunately, those with dry climates, like California, Arizona and New Mexico, also experience elevated fire danger. Even when there is not much material that can burn, you may have issues. I was surprised to find restrictions when we were camping in Joshua Tree National Park.
Please respect the locals, including wildlife and abide by the regulations during your visits. If you're camped at a campground that requires a permit, you'll probably be advised of the conditions when you purchase the permit.
But, if you're boondocking in a really remote area, you'll need to check websites, call local authorities and watch for posted signs at your destination.
---
This is a really informative video from our friends at the U.S. Forest Service.
---
After Restrictions Are Lifted
Once the fire restrictions are lifted, you need to know how to start a campfire easily, safely and efficiently!
It's also a good idea to bring the right amount of wood. If you don't know how to calculate that check this out: How much firewood do I need for camping?
---
More Ideas For Yummy Camp Food
Want to try some new recipes … we've got them.