3TV Shrimp Tacos With Jalapeno Lime Sauce Camp Recipe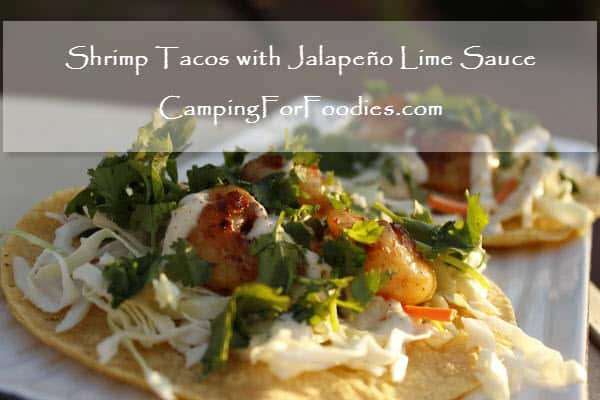 ---
So what would you do if you got a request to demo a recipe on Channel 3TV's show Good Morning Arizona? And, oh by the way, you have 3 ½ minutes to do it.  My first response: PANIC!  My second response … after some deep breathing exercises and serious "you can do this" self talk … Sure, this will be fun!  What better way to spread my message to the masses!  I'm on a mission to let outdoor enthusiasts know they can permanently scratch off the dreaded hot dogs and beans from their camp menus! Psst we're compensated…see our disclosures.
---
Lodge Cast Iron Reversible Grill/Griddle
Camp Cooking Tip: When I am making this Shrimp Taco camp recipe, I typically grill the shrimp over a campfire or with our little Smokey Joe grill. But, in the instances when we have fire restrictions (because of the potential for wildfires which occur way too often in Arizona) I just use the grill side of our Cast Iron Reversible Grill/Griddle over the burners of our propane camp stove. This thing works great for grilling steaks and flip it for pancakes in the morning too!
&
---
Shrimp Tacos With Jalapeno Lime Sauce Camp Recipe
For this special tv appearance occasion, I wanted to create a new recipe.  So, I rolled up my sleeves and got into my element—cooking at the campsite.  (It was at this point that calmness prevailed and all fear and anxiety disappeared.  Yes, a very good thing!)  I wanted to do something that would demonstrate techniques and secrets that make cooking while camping easy, creative, fast and bodaciously flavorful.  And, with a nod of gratitude for the invitation to appear on the show, the aptly named 3TV Shrimp Tacos with Jalapeno Lime Sauce camp recipe was born! Here's how you make them.  Serves 4.
3TV Shrimp Tacos with Jalapeno Lime Sauce camp recipes
For the sauce
1/4 cup mayo
1/2 cup sour cream
1/4 teaspoon ground cumin
1/4 teaspoon chili powder
1/8 teaspoon salt
1 lime, zest and juice
1 small jalapeno, finely diced
Measure all ingredients into small resealable plastic bag, let the air out and seal the bag.  "Squish" (I know this is not a technical cooking term—but it is a camping cook term!) the bag until all ingredients are incorporated and refrigerate until ready to use.
For the shrimp marinade
2 tablespoons olive oil
1 garlic clove, finely minced
1/2 teaspoon cumin
1/2 teaspoon chili powder
1/4 teaspoon salt
1/8 teaspoon pepper
28 medium shrimp, tails off and deveined
Measure marinade ingredients into large resealable plastic bag, "squish" the bag until all of the marinade ingredients are incorporated, then add the shrimp, seal the bag and "toss" to coat.  Refrigerate for about 30 minutes.  Cook the shrimp over medium heat until no longer translucent (about 3-5 minutes per side).
For assembly and serving
16 corn tortillas (warm these slightly on each side in a pan over medium heat, you just want them pliable before you fill them)
3 cups shredded cabbage
1 bunch cilantro, roughly chopped
2 limes, quartered
Your favorite peppers, diced (if desired)
Layer 2 tortillas for each taco.  Top with a little shredded cabbage, shrimp (4 per taco) and cilantro.  Cut corner off of plastic bag to use like a squirt bottle to apply the sauce.  BIG HINT: Make sure you cut only the corner off of the plastic bag; if you make the hole too big the sauce will glob out instead of float out in a cute little gourmet-looking stream.  Serve with lime wedge and extra peppers, if desired.
---
No time to look for recipes, create a menu and write a grocery list? No Problem! Get our 3-Day Dutch Oven Camp Menu Plan here!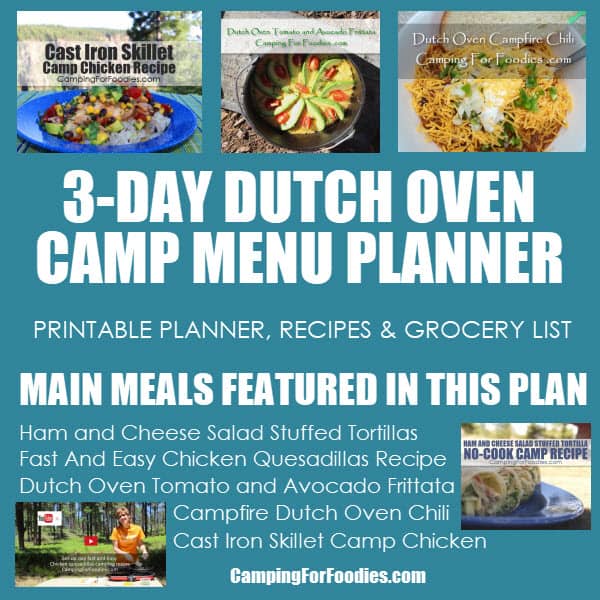 ---
Get More Dutch Oven Recipes For Camping!
Don't miss a thing…sign up for Camping For Foodies email updates!
Your purchase of our products will help support World Vision ® Building a better world for children.