Chili Lime Shrimp Tacos With Slaw & Creamy Jalapeno Sauce
You don't have to miss Taco Tuesday when you make camping dinner recipes from your favorite Mexican restaurants. These Chili Lime Shrimp Tacos get tons of flavor from a simple homemade shrimp taco marinade, a grilled char and finish with a creamy jalapeno sauce.
Psst we're compensated…see our disclosures.
Recipe Prep
I use shredded cabbage slaw and peeled and deveined shrimp to eliminate a lot of work for myself. If you choose to buy a head of green cabbage, you'll need to shred it. If you purchase un-prepped shrimp, you'll need to devein them and remove the shells and tails.
You'll also need to mince garlic, dice jalapeno, chop cilantro, zest and juice a lime.
---
Cooking Methods & Equipment
If you are making this as one of our easy campfire recipes, you'll need to get your fire going in order to cook over coals. You can place the shrimp in a grilling basket or on skewers for fast grilling.
To make these shrimp tacos as one of our camping grill recipes, you'll want to use a grill basket or skewers if your grill grate has large gaps where the shrimp can fall through. I like using our little Smokey Joe grill because it is convenient to carry and the grate openings are small enough to keep the shrimp from falling into the charcoal.
If you are making this as one of our camp stove recipes, the shrimp can be grilled on a grill-style skillet frying pan with ridges or on the grill side of a cast iron reversible grill/griddle.
Lodge Pre-Seasoned Cast Iron Reversible Grill-Griddle
---
Recipe Steps
Step 1. Marinate the shrimp. Mix the marinade ingredients in a plastic bag, add shrimp and refrigerate for about 1/2 hour.
Step 2. Make the sauce. While the shrimp is marinating, mix the sauce ingredients together and set aside in cooler or refrigerator.
Step 3. Prepare your ingredients, heat source and equipment as directed.
Step 4. Warm the tortillas. Place a pan over medium heat, warm the tortillas on both sides.
Camp Cooking Tip: Warm tortillas to make them pliable before you fill them.
Step 5. Grill the shrimp. Use a grill pan, grill basket, small grill grate or skewers to cook the shrimp.
Step 6. Assemble the tacos. Layer 2 tortillas, shredded cabbage, 4 shrimp, cilantro and drizzle with sauce. Serve hot.
---
Substitutions
I know it is tempting to use dried herbs and spices when cooking in the wilderness but you really want to use fresh garlic, fresh lime juice and fresh lime zest for maximum flavor. I do not recommend substituting garlic powder or bottled lime juice here.
---
Pairings
When I'm making tacos as a main dish, I like starting the meal with some of our favorite camping snacks.
This Sweet Onion Salsa combines fresh tomatoes, onions, garlic, cilantro, jalapeno pepper and lemon juice to make a wonderful chunky salsa to serve with chips.
This awesomely Fresh Guacamole makes a great appetizer but it's also a fabulous spread on veggie wraps and is a great substitute for mayo in sandwiches. It is so versatile, that's why it's one of my favorite vegetarian camping recipes.
We love making Dutch oven camping recipes on our trips. We use cheddar cheese but often swap out with cotija cheese for a more traditional flavor profile when making these loaded Dutch oven nachos. They can be served as a starter or a main course when you don't feel like eating a big meal.
Get your FREE printable camping trip & menu planner before you create your next meal plan!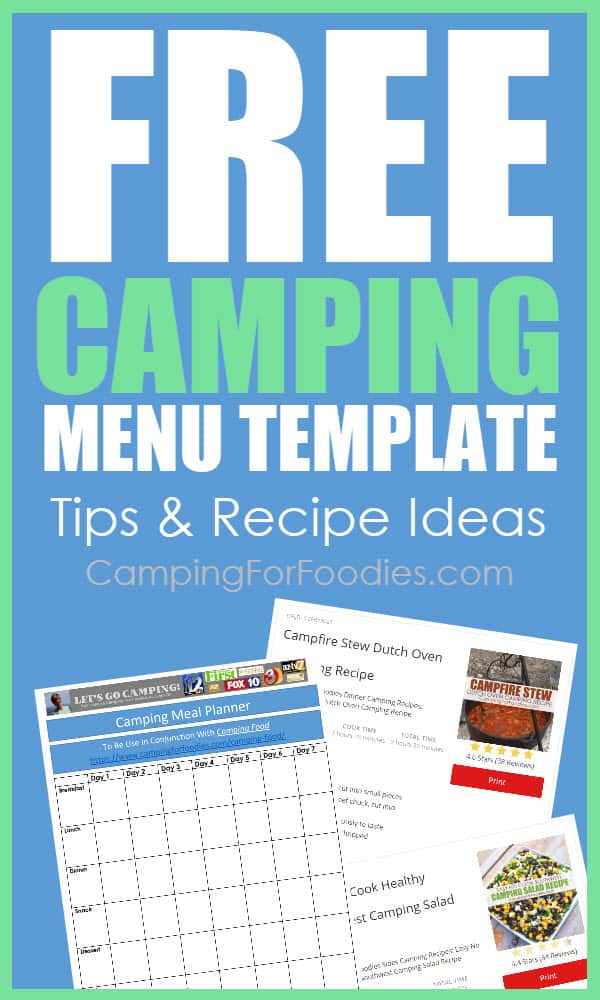 ---
Leftovers
If you have leftover shrimp, place it in an airtight container and keep refrigerated. Sprinkle them over a big bowl of lettuce for a healthy and refreshing lunch.
---
Print This Recipe
Chili Lime Shrimp Tacos With Slaw & Jalapeno Lime Sauce
These Chili Lime Shrimp Tacos are packed with flavor from a simple homemade marinade and a creamy jalapeno lime sauce.
Ingredients
For the shrimp marinade
2

tablespoons

olive oil

1

garlic clove

finely minced

1/2

teaspoon

cumin

1/2

teaspoon

chili powder

1/4

teaspoon

salt

1/8

teaspoon

pepper

28

medium shrimp

tails off and deveined
For the chili lime sauce
1/4

cup

mayo

1/2

cup

sour cream

1/4

teaspoon

ground cumin

1/4

teaspoon

chili powder

1/8

teaspoon

salt

1

lime

zest and juice

1

small jalapeno

finely diced
For cooking, assembly and serving
16

corn tortillas

3

cups

shredded cabbage slaw

1

bunch cilantro

roughly chopped

2

limes

quartered

Your favorite hot sauce or peppers

(if desired)
Instructions
Measure marinade ingredients into large resealable plastic bag, "squish" the bag until all of the ingredients are incorporated, then add the shrimp, seal the bag and "toss" to coat.

Refrigerate the shrimp in the marinade for about 30 minutes.

While the shrimp is marinating, make the sauce. Measure all ingredients into small resealable plastic bag, let the air out and seal the bag. "Squish" the bag until all the ingredients are incorporated. Refrigerate until ready to use.

Slightly warm each side of the tortillas in a pan over medium heat to make them pliable before you fill them.

Using a grill pan, grill basket, small grill grate or skewers, cook the shrimp over medium high heat until no longer translucent, about 3-5 minutes per side.

Build the tacos: Layer 2 tortillas for each taco. Top with a little shredded cabbage, 4 shrimp, cilantro and sauce. (see * Note)

Serve with lime wedge, hot sauce and extra peppers, if desired.
Notes
*NOTE: Sauce can be drizzled with a spoon or squeezed from bag. Cut the corner off of the plastic bag containing the sauce and use it like a squirt bottle to apply the sauce. Camp Cooking Tip: Only cut a small corner off of the plastic bag. If the hole is too large, the sauce will glob out instead of float out in a cute little gourmet-looking stream.
Camping For Foodies Recipes List
https://www.campingforfoodies.com/camping-recipes-list/
Nutrition Information
Serving:
1
g
Calories:
480
kcal
Carbohydrates:
57
g
Protein:
9
g
Fat:
26
g
Saturated Fat:
6
g
Polyunsaturated Fat:
9
g
Monounsaturated Fat:
10
g
Trans Fat:
0.03
g
Cholesterol:
34
mg
Sodium:
389
mg
Potassium:
420
mg
Fiber:
10
g
Sugar:
5
g
Vitamin A:
455
IU
Vitamin C:
39
mg
Calcium:
164
mg
Iron:
2
mg
---
Similar Meals
Make Creamy Tacos when you want an easy, tasty & fun one-pot camping meal that uses simple ingredients and requires minimal prep work
We've got tons of different camping sandwich ideas. This one is a Tex-Mex style sloppy joe that is slightly spicy and totally delicious!
We have so many easy camping meals that are quick to prep and cook. These tacos are made with ground beef.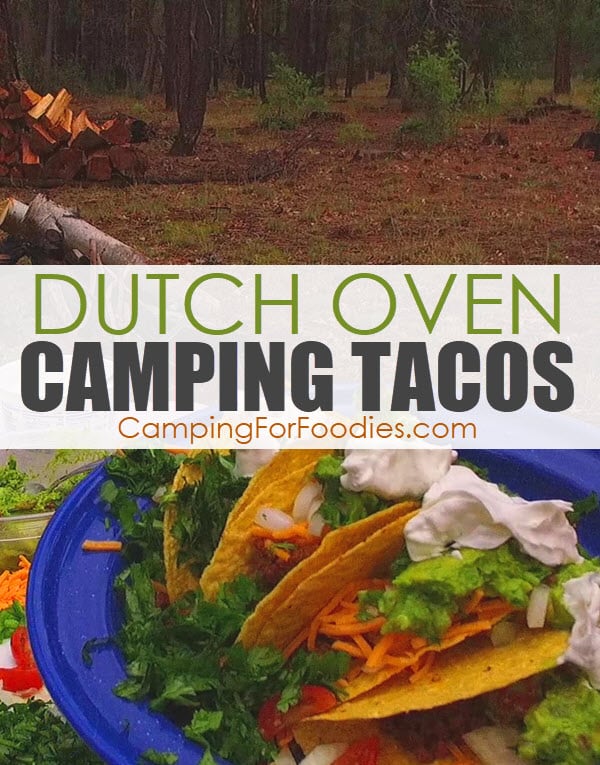 Basil is the secret ingredient in this super-tasty dinner.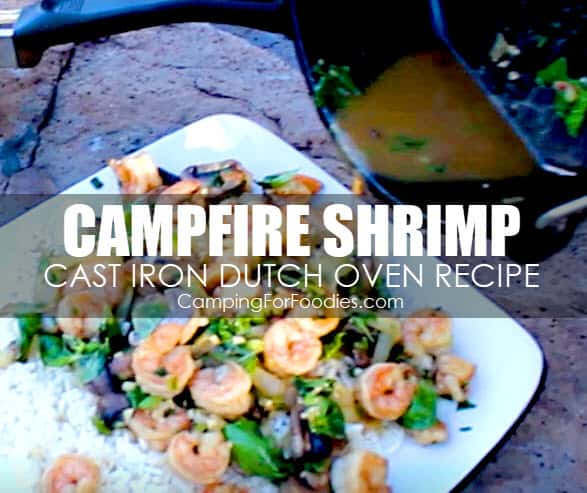 You can make an expensive protein like shrimp go far to feed lots of hungry campers when you make one pot camping meals that use pasta.
Shrimp is a great ingredient when making gluten free camping food like this fresh salad that features marinated and grilled shrimp with spinach, ruby red grapefruit segments, orange segments, avocado slices and a simple homemade dressing.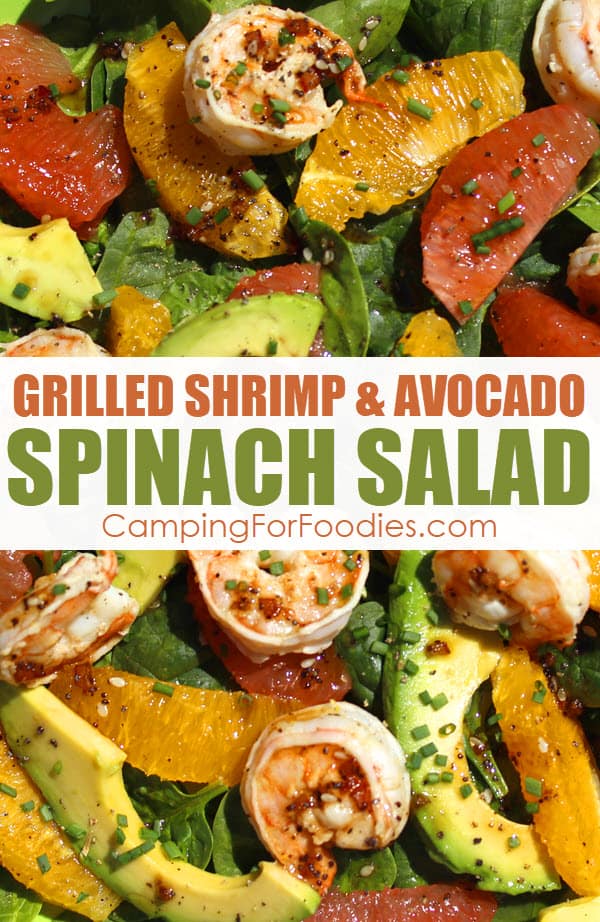 ---
As Seen On TV Making Camping Shrimp Taco Recipe
If you watch 3TV in Phoenix, you may have seen me make these tacos on Good Morning Arizona. I had 3.5 minutes to do the segment and was excited to spread my message to the masses! As a recipe developer, photographer and blogger, I'm on a mission to let outdoor enthusiasts know they can permanently remove the dreaded hot dogs and beans from their camp menus!
For this special television appearance, I wanted to create a new meal that would demonstrate techniques and secrets that make cooking while camping easy, creative, fast and flavorful. And, with a nod of gratitude for the invitation to appear on the show, I named this dish 3TV Camping Shrimp Tacos aka Chili Lime Grilled Shrimp Tacos With Jalapeno Lime Sauce.
---
More Yummy Meal Ideas
Every camp meal should taste awesome while still being easy to make in the great outdoors. Try something new on your next trip.