Pastrami Reuben Sandwich Recipe: Easy & Fast Camping Meal
Buttering the bread, layering flavorful ingredients and toasting them in a skillet is all it takes to have this Pastrami Reuben Sandwich Recipe on the table in minutes! This is one of our easy camping meals that is perfect for a fast dinner because there is next to zero prep required to make it.
Psst we're compensated…see our disclosures.
The Ingredients
Six simple ingredients is all it takes to put this Pastrami Reuben Sandwich on the table! Because this sandwich has so few ingredients, I make sure to use high quality ones because their flavor really stands out, especially the meat and two slices rye bread.
I like getting my pastrami from a good local deli, but, any local grocery store will usually carry a nice brand like Boar's Head. I always use beef but when my deli is out of it, I have substituted turkey pastrami which works but doesn't have the classic sandwich flavor you get with beef.
---
Pastrami vs Corned Beef
Pastrami and corned beef are both cuts of beef that go through a brine process.
Traditionally, corned beef is exclusively made using brisket.
Pastrami is typically made from the navel cut which is fattier than brisket.
Technically, my sandwich is a cross between "The Rachel" and a "Reuben".
The Rachel is usually made with Pastrami then topped with a sliced green cabbage cole slaw salad.
The Reuben is usually made with corned beef, sauerkraut, and Russian dressing.
---
How To Make This Recipe
Step 1. Prepare your ingredients, heat source and equipment as directed.
Camp Cooking Tip: Keep your camp kitchen simple and organized. Prepare your cooking utensils and ingredients before you begin cooking.
Step 2. Let your ingredients get to room temperature. Like any grilled cheese, a classic pastrami Reuben is served hot. You can't make a good sandwich with cold ingredients. If you start with cold ingredients, you won't get the meat warmed through or get a slice of cheese to melt before burning the bread. I like to place my ingredients on a cutting board or plate to take the chill off before trying to cook them.
Step 3. Drain the sauerkraut. Squeeze as much moisture out of it as possible, otherwise it will make your bread soggy.
Step 4. Butter the bread slices, one side only.
Step 5. Build the sandwich. Layer all the ingredients between the bread slices, make sure the buttered sides are facing outward.
Step 6. Toast the sandwich. Using a skillet or griddle over medium-high heat, toast one side of the sandwich then flip to toast the second side. Be careful when flipping to keep the whole thing together.
---
Scaling Servings
Individual sandwiches are great options for making camping meals for two. Whether you're looking for hot or no-cook cold meals, make sure you check out all of our yummy camping sandwich ideas.
They are also great when you need easy camping meals for large groups because you can get an assembly line going and really crank them out quickly. It's best to use a large flattop griddle here. When the pastrami sandwiches are done cooking use a piece of aluminum foil to tent them so they stay warm. You want to serve them as soon as possible, otherwise, the bread will begin to get soggy from the steam trapped inside the foil wrap.
Camp Cooking Tip: Use versatile camp cooking utensils, like cast iron skillets and Dutch ovens. They can be easily used with a camp stove on top of a table but they are rugged enough to withstand the heat of a hot campfire!
The simplicity of this recipe makes for easy camping lunches if you'd rather have a heavier mid-day meal and just a snack later during the dinner hour.
For tips on making sure your camp cast iron cookware lasts for generations, check out our Cleaning And Seasoning Cast Iron Cookware post for helpful tips!
---
What To Serve With This Recipe
Kosher dill pickles are always a nice touch with classic deli sandwiches. If I want to get fancier, I serve my Refrigerator Cucumber Salad that combines English cucumbers, red onion, bell pepper and garlic in a simple homemade dressing. It's best after being refrigerated for a few days (or up to 2 months) so it's great to make ahead.
If I'm serving this in the summer and want to keep it really simple, I serve a simple coleslaw and potato chips on the side. When I have a bit more time and enough cooler space, I make my yummy Polish Potato Salad at home and bring it to camp.
Some of the easiest winter camping recipes include doing a simple grilled cheese sandwich with some sort of meat. During those cold weather trips, I like to add a hot side, like soup or mac & cheese to keep the meal warm and cozy.
Get your FREE printable camping trip & menu planner before you create your next meal plan!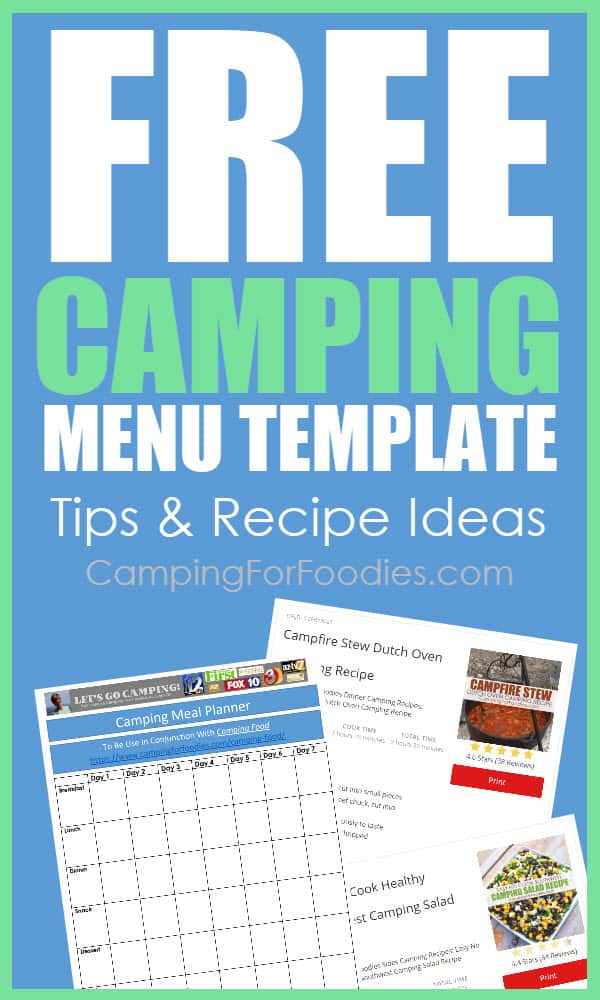 ---
Similar Recipes
If you like pastrami reuben sandwiches, you'll love this Pesto And Turkey Grilled Cheese made with deli turkey, provolone cheese and prepared pesto. Try it the next time you want a hot, toasted sandwich.
This Bacon Wrapped Grilled Cheese combines bread, bacon and a few slices of cheese to make an AMAZING meal. It's my favorite grilled sandwich when I really want to splurge.
My Basil And Prosciutto Sandwich is the best sandwich to make when you don't feel like cooking! The fresh mozzarella cheese and thinly sliced prosciutto are complimented with tomato slices and a simple homemade vinaigrette.
---
Print This Recipe
Pastrami Reuben Sandwich Camping Recipe
Camping For Foodies Dinner Camping Recipes: This hot pastrami sandwich is a quick meal that creates a nice crispy texture on the slices of bread with an ooey, gooey center from melted Swiss cheese slices.
Ingredients
2

slices

marble rye bread

slices of rye bread with caraway seeds or pumpernickel bread may be substituted

1

tablespoon

butter

1/4

pound

beef pastrami

sliced thin from the deli (see * Note)

2

slices

Swiss cheese

1/4

cup

tart sauerkraut

4

tablespoons

prepared Thousand Island dressing

tangy Russian dressing may be substituted
Instructions
This recipe makes 1 sandwich, multiply as necessary.

Bring meat to room temperature just before cooking. Slightly warm meat in pan to take the chill off, if necessary.

Thoroughly drain and squeeze as much moisture out of the sauerkraut as possible.

Butter one side of each slice of bread.

Lay one slice of bread (butter side down) in cast iron camp skillet.

Place pastrami on the bread, then, layer the rest of the ingredients.

Top with second piece of bread, buttered side out.

Place cover on skillet and cook over medium-high heat until the toasted rye reaches a nice golden brown color.

Flip to toast the other side and cook until the cheese melts.
Notes
*NOTE: 1/4 pound of meat makes a good Reuben,

but, if you want more of an "authentic deli"

classic Reuben sandwich found in many New York City deli restaurants, you'll want to pile on the meat. The famous Katz's Deli in NYC actually uses over

1/2 pound of meat per sandwich!
Nutrition Information
Serving:
1
g
Calories:
757
kcal
Carbohydrates:
44
g
Protein:
38
g
Fat:
48
g
Saturated Fat:
17
g
Polyunsaturated Fat:
13
g
Monounsaturated Fat:
12
g
Trans Fat:
0.5
g
Cholesterol:
132
mg
Sodium:
2534
mg
Potassium:
521
mg
Fiber:
5
g
Sugar:
13
g
Vitamin A:
778
IU
Vitamin C:
45
mg
Calcium:
384
mg
Iron:
6
mg
---
More Camping Meals
Cook something awesome with these ideas!