Pesto And Turkey Grilled Cheese Sandwich Campfire Recipe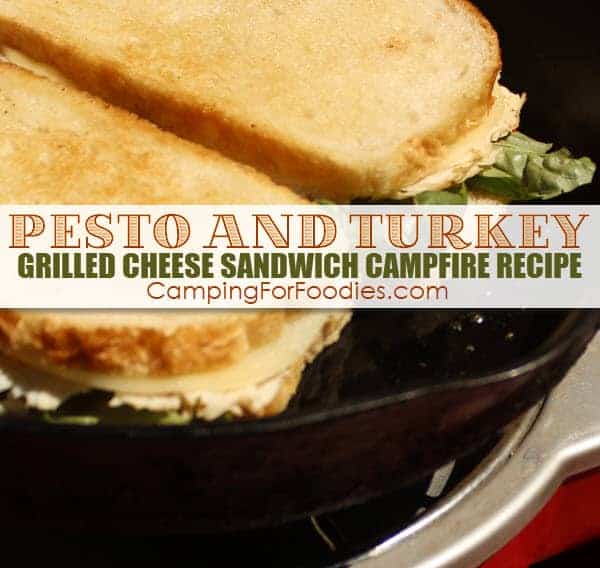 Pesto And Turkey Grilled Cheese Sandwich Campfire Recipe
One of my favorite ways to "dress up" a plain old lunchmeat sandwich is to use a good bread and grill it. That's exactly what this Pesto And Turkey Grilled Cheese Sandwich Campfire Recipe is all about! Turkey, provolone, pesto and fresh basil on toasted sour dough bread … it makes a quick lunch or dinner that is easy, fast and almost gourmet! Here's how you make it, serves 4. Psst we're compensated…see our disclosures.
---
Fold N Go InstaStart Propane Stove
I have made these Pesto And Turkey Grilled Cheese Sandwiches over a campfire using my pancake griddle but I live in Arizona so when we are camping during times of fire restrictions (which is quite often lately 🙁 boo!) I use my cast iron skillet over my propane camp stove 🙂 yeah! Either way, they are fast and so yummy!
&
---
Make This Pesto And Turkey Grilled Cheese Sandwich Campfire Recipe
Butter one side of each bread slice:
8 sour dough bread slices
4 tablespoons butter
Lay 4 of the bread slices (butter side down) on the hot griddle or in cast iron skillet and layer with these evenly divided ingredients:
1 pound roasted turkey lunchmeat sliced thin from the deli
4 slices provolone cheese
4 tablespoons prepared pesto
1 bunch fresh basil leaves
Top with remaining bread slices
Top the layered sandwiches with the 4 remaining bread slices (make sure you have placed the buttered side out 😉 )
Toast it and serve
Cook on griddle or in skillet till browned and flip to toast the other side. If your ingredients are really cold to start, you will want to cover the sandwiches (foil or some sort of lid is fine) during cooking to make sure the meat is slightly warmed and the cheese is melted. Another way to toast these sandwiches is to assemble them, individually wrap them in foil and place them on the campfire grill grate for toasting.
---
Make sure you clean and condition your cast iron cookware well! And, if you like cool camping kitchen gear, check out these flexible cutting mats (they make great gifts too!)
Lodge Durable Pan Scrapers
Cast-Iron Conditioner
Flexible Cutting Mats
&
---
No time to look for recipes, create a menu and write a grocery list? No Problem! Get our 3-Day Dutch Oven Camp Menu Plan here!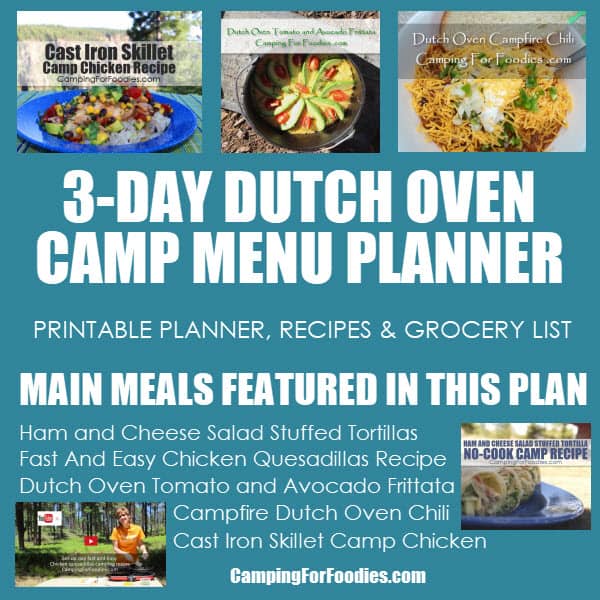 If you need camping recipes and menu ideas, you can find them here at the Camping For Foodies Camping Recipes list.
Don't miss a thing…sign up for Camping For Foodies email updates!
Your purchase of our products will help support World Vision ® Building a better world for children.