RV Road Trip Ideas With Unusual Roadside Attractions
Does your camping fun always happen in the same location?
Some camp trips are short weekend getaways, others are full-fledged vacations.
For our family, camping trips are about the journey as much as the destination.
When planning your next trip, allocate some time to stop along your route.
Here are a few RV road trip ideas to experience a bit of Americana through unusual roadside attractions!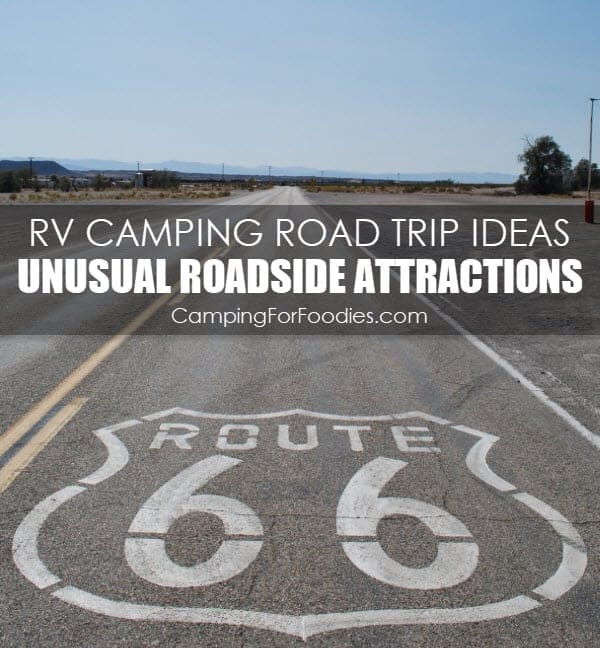 Psst we're compensated…see our disclosures.
RV Road Trip Ideas Across America
The best RV tips and hacks take you somewhere new!
Before we travel to new destinations, we do a bit of planning…
---
Travel Safely Along Unknown Roads
If you want unique experiences, the best camping road trip ideas will take you to less-traveled streets.
One caution: When you are off the beaten-path of RV-friendly highways, you may find yourself in areas with …
---
Plan Your Road Trip With FREE Apps
Some of the best camping apps won't cost you a penny and will help you plan your …
route,
campsites,
attractions,
activities (like hiking, fishing, birdwatching) as well as
track weather,
administer first aid and
find water and dump stations too!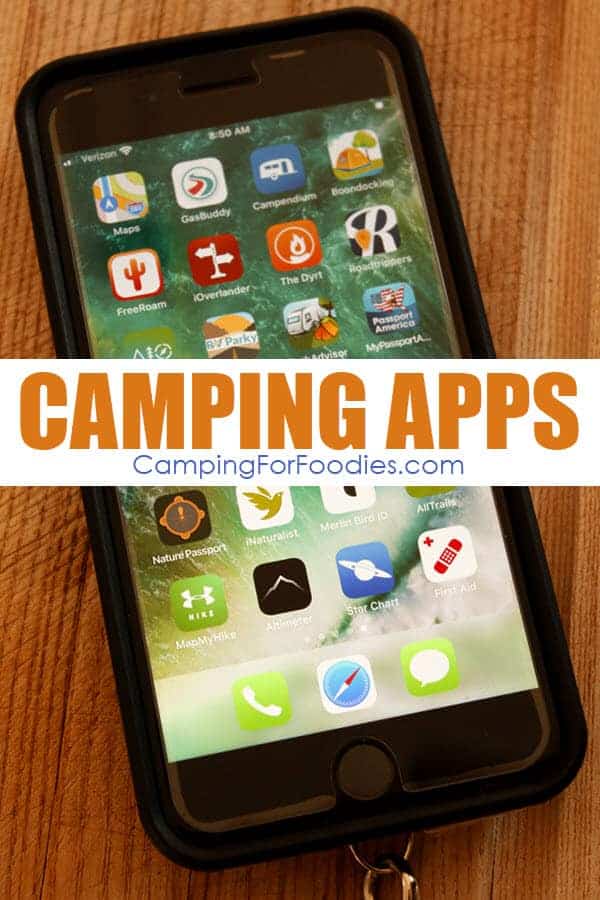 ---
Prepare For Traveling During The Season
Depending on the time of year you will be taking your trip, you should start planning with our seasonal camping checklists.
---
America's Historic Route 66
Route 66 spans 2,400 miles across two-thirds of the United States.
From the shores of Lake Michigan to the Pacific Ocean, the historic highway runs through states including …
Illinois,
Missouri,
Kansas,
Oklahoma,
Texas,
New Mexico,
Arizona and
California.
Travelers along the Route experience …
farm fields,
mining towns,
woodlands,
open plains,
ranch lands,
deserts,
small towns and large cities but that's not the best part …
the historic buildings and iconic landmarks along the Route are what make it fun and fascinating!
---
Route 66: EZ66 GUIDE For Travelers
Have you ever tried to find Route 66 on a modern map?
It is NOT easy … in fact, it is not on most current maps even though over 80% of the original Route is still totally drivable.
Using a guide like the Route 66: EZ66 GUIDE For Travelers is the solution for easy navigation with easy-to-follow detailed maps as well as exploring its attractions.
The book's author, Jerry McClanahan, is also an artist and historian who has been mapping Route 66 since his family vacations during the 1960s.
&
---
NPS's List Of Historic Sites Along Route 66
If you were to travel along the entire path of Route 66, you would be able to visit each location on the National Park Service's Route 66 List Of Sites.
Your journey would begin in Illinois and end in California (or vice versa depending on the direction you are traveling).
We have provided a link to each site so you can get more information to determine where you may want to stop along your RV camping road trip excursion.
---
IN A HURRY? → Click on the links below to quickly jump down to these National Park Service Route 66 Sites in each state:
---
ILLINOIS
---
Route 66 Dining & Lodging Guide
Yes, I know what you are thinking! Camping For Foodies is all about sharing great recipes to cook while camping …
BUT …
when your RV Camping Road Trip runs along Route 66, you have to experience the food and super-cool vintage restaurants!
The Route 66 Dining & Lodging Guide covers all 8 states and includes tons of photos with their objectively reviewed (no advertising is allowed) 500+ vintage properties that made the Route famous.
&
---
MISSOURI
---
Good Sam RV Travel & Savings Guide: RV Travel Guide And Campground Directory
Our regular camping weekends usually consist of dispersed camping in National Forests but road trips are a whole different story.
If your planned route takes you through more populated areas, you will probably be staying at RV parks or campgrounds.
I like having a directory like the Good Sam RV Travel & Savings Guide: RV Travel Guide And Campground Directory for pre-planning as well as inside our tow vehicle during our travels.
This particular guide has listings for over 12,500 locations across the United States and Canada.
The rating system includes evaluations by consultants completed in person during the past 12 months for privately owned parks.
&
---
KANSAS
---
Route 66 Roadside Signs And Advertisements
Vintage signs are hot!
They have the ability to transport you back in time almost instantly!
The Route 66 Roadside Signs and Advertisements book has beautiful photos that highlight the history of commercial signage along Route 66 as well as anecdotes and history about the signs that decorated the roadway.
Some of the iconic signs in the book include the Blue Swallow in Tucumcari, New Mexico, the Munger Moss in Lebanon, Missouri, the U-Drop Inn at Shamrock, Texas, and the El Vado in Albuquerque, New Mexico.
This is a totally fun addition for Route 66 RV camping road trips!
&
---
OKLAHOMA
---
Roadside Attractions Coloring Book: Weird And Wacky Landmarks From Across The USA!
Depending on the length of your camping road trip and how many consecutive hours you will be driving, you may want to keep the kids busy with games and books.
This Roadside Attractions Coloring Book: Weird And Wacky Landmarks From Across The USA! will keep the roadside attraction theme going as the kids color their way through the attractions along America's most famous routes and highways.
This coloring book explores the Elvis mansion in Tennessee, Georgia's giant peanut, the Golden Driller in Oklahoma, the Cadillac Ranch in Texas and more!
&
---
TEXAS
---
Have you ever heard the saying, "Everything's bigger in Texas!"
I'm guessing you probably have … Texas is one really BIG state!
If your RV camping road trip has a few boring miles filled with nothing but tumbleweeds, you may need to create a little excitement inside your vehicle!
Check out our 10 Fun Camping Road Trip Games To Play In The Car for some totally awesome travel games that will keep you (and the kids) smiling down the highway!
&
---
The Illustrated Route 66 Historical Atlas
Route 66 has changed dramatically from its opening in 1926 and its removal from the U.S. highway system in 1985.
The Illustrated Route 66 Historical Atlas is a state-by-state fully illustrated atlas which spotlights the shifting alignments, historic sites, and current points of interest along the historic roadway.
The atlas includes 500 of the Mother Road's most significant sites like Lincoln's home and presidential library, locations of infamous crimes and disasters, parks, military-specific sites including Civil War battlefields, film-related sites and more.
&
---
NEW MEXICO
---
Your Guide To The National Parks: The Complete Guide To All 59 National Parks
Our regular camping weekends don't give us enough time to enjoy our National Parks but on longer super-extended weekends or long road trips … you can't keep us away!
We did a week-long National Park road trip to the Grand Canyon National Park's North Rim, Zion National Park and Bryce National Park.
It is soooooooooo helpful to plan trips like that using a book like Your Guide To The National Parks: The Complete Guide To All 59 National Parks …
I like having everything organized in one place.
This book has step-by-step itineraries, kid-friendly activities, and most popular ranger programs along with photographs, maps, and hiking tables.
&
---
ARIZONA
---
One of the reasons we LOVE living in Arizona is the abundance of RV road trips that are in our own backyard!
Get our insider secrets for the best places to go Camping In Arizona!
&
---
Adventures My Road Trip Journal
One of the best parts about RV road trips … the memories that last a lifetime!
Make sure you take lots of pictures. I also recommend you take a few minutes at each destination to jot down your memories in a journal.
In addition to capturing thoughtful reflections, the Adventures My Road Trip Journal also has writing prompts for more practical information like: departure location, destination, route, sights/memorable events, stops, where you stayed and ate.
Each page also includes space for odometer readings and gas prices.
All of which is helpful if you want to repeat the itinerary yourself or share it with a friend.
&
---
CALIFORNIA
---
The Most Scenic Drives In America: 120 Spectacular Road Trips
One of the most popular resources for finding scenic RV road trips is The Most Scenic Drives In America: 120 Spectacular Road Trips book by the editors of Readers Digest.
Drives are grouped in sections including: Western, Mountain, Central, Eastern as well as some of Canada's most stunning destinations.
You'll find awesome photos and easy-to-follow maps … plus, mileage, best season to travel, nearby attractions special events and more!
With 120 trips, this resource will keep you exploring for a while!
&
---
One of the most scenic places in the world is northern California, the home of Yosemite!
If you have not been there … you really need to go! It is a place that has one jaw-dropping view after another!
Check out our Yosemite National Park Must See Attractions VIDEO And Travel Tips post for a little inspiration and start packing your bags!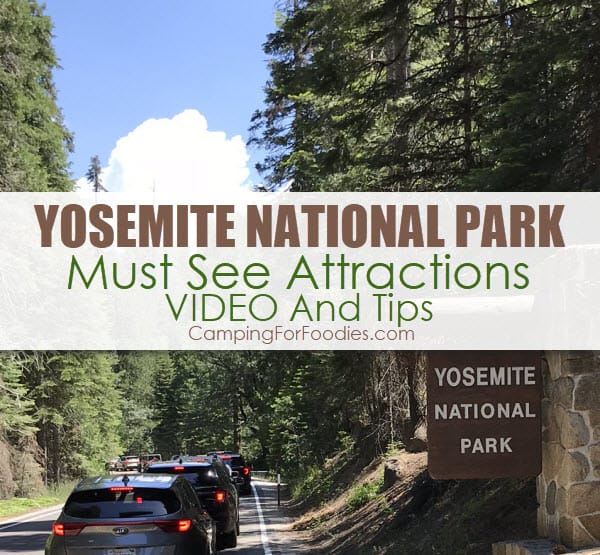 ---
Texas: Cadillac Ranch
Have you heard about Cadillac Ranch?
It's a public art installation about 10 miles southwest of Amarillo, Texas on the south side of Interstate 40.
It is a sight to see with a row of graffiti-like painted Cadillacs that are buried halfway into the ground with their fins reaching into the sunny Texas sky.
It's one of the funkiest unusual roadside attractions worth a stop if your camping RV road trip takes you to the northern part of the state.
There are 14 National Parks scattered throughout the state of Texas.
---
Totally Wacky Roadside Attractions
Lots of kids just want to know "Are we there yet?"
It's better traveling with kids that are excited about the journey!
Include them during the trip planning stages using books like Totally Wacky Roadside Attractions by Pamela Chanko.
It's a fun read for kids (and adults) that will give you ideas for your RV camping road trips.
It is filled with unusual roadside attractions that can be found across America like an elephant-shaped museum, a giant peanut, and more!
&
---
Florida: Coral Castle
Florida is filled with awesome natural beauty but the Coral Castle in Miami is a mysteriously man-built structure carved from over 1,100 tons of coral rock.
Edward Leedskalnin was the eccentric man who individually (and secretly) built the structure in the 1900s … to this day, people have been unable to figure out how he did it!
It's one of the most beautiful unusual roadside attractions on the planet and worth a visit if your RV Camping Road Trip takes you to the southern part of the state.
There are 11 National Parks to explore in the state of Florida.
---
125 Wacky Roadside Attractions: See All the Weird, Wonderful, and Downright Bizarre Landmarks From Around the World!
You'll find more information on the Coral Castle Museum in the 125 Wacky Roadside Attractions: See All the Weird, Wonderful, and Downright Bizarre Landmarks From Around the World! book from National Geographic Kids.
It highlights the wackiest landmarks in the United States and around the world including a place to walk in real dinosaur tracks, a hotel where you sleep in an igloo, a crazy beard festival, a UFO museum, and more!
&
---
Plan Your Road Trip With Our FREE Trip Planner
There is a lot of planning that goes into a camping road trip with lots of traveling, stopping, sightseeing etc.
Use our FREE printable camping trip planner template to stay organized through every stage of your trip!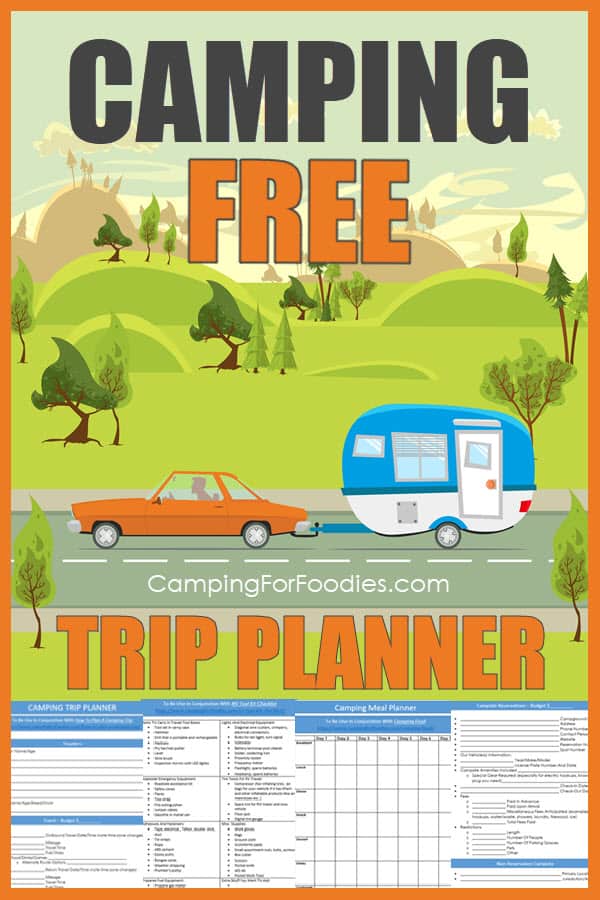 ---
If there are too many miles between your dining destinations, don't go hungry … pack some goodies!
Our Road Trip Food Ideas And Travel Snacks post has great options for healthy snacks as well as food ideas that let you treat yourself with something a little more indulgent.
&
&
---
Before heading out on your camping RV road trip, make sure you have the proper tools.
We have a FREE printable tool kit checklist in our RV Tool Kit Checklist post!
It would be really embarrassing to cause a traffic jam on the main park road because you had an avoidable mechanical issue …
not to mention, you don't want to miss out on any leisure time while on your trips!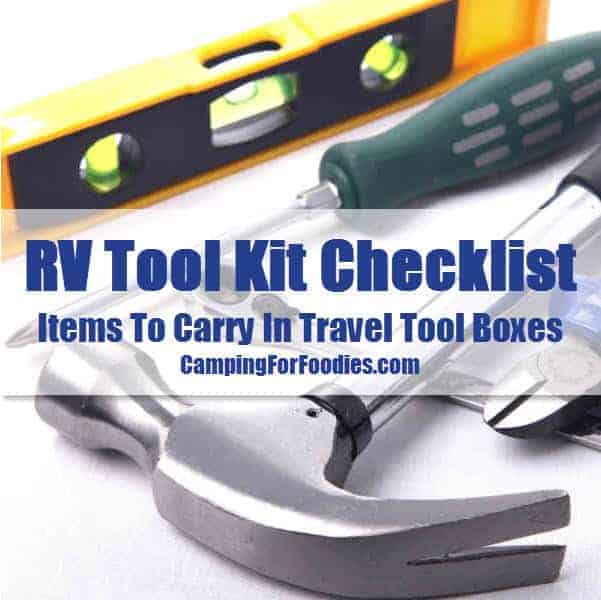 &
---
If you are new to RV road trip camping, make sure you check out our RVing Tips For Beginners: Enjoying The Maiden Journey post which has a FREE printable packing checklist!
This post is especially helpful for people who are traveling in a rental RV for their trip!
&
---
One of the most expensive parts of any vacation is eating out at restaurants.
So, it only makes sense that one of the easiest ways to save money on your camping RV road trips is to eat at your home on wheels!
We have tons of meal ideas that range from super-fast recipes with minimal ingredients to almost-gourmet feasts … and … everything in between!
Check out our Camping Recipes List for inspiration!
&
---
Some people consider RV road trips to be "budget travel" but you can make your trip as luxurious as you want it to be … beautiful jewelry and all!
With that being said … RV camping is filled with totally awesome people …
BUT …
on the rare occasion you find a bad apple, you want to be prepared.
Check out our A Secure Campsite Protects Valuables From Theft post for easy tips to stay secure!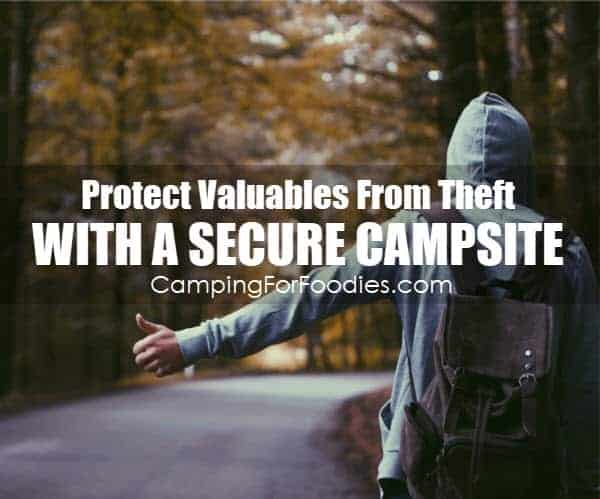 ---
Is your RV camping road trip taking you somewhere buggy?
No worries!
Check out our How To Keep Bugs Away While Camping post. You'll be laughing at those critters!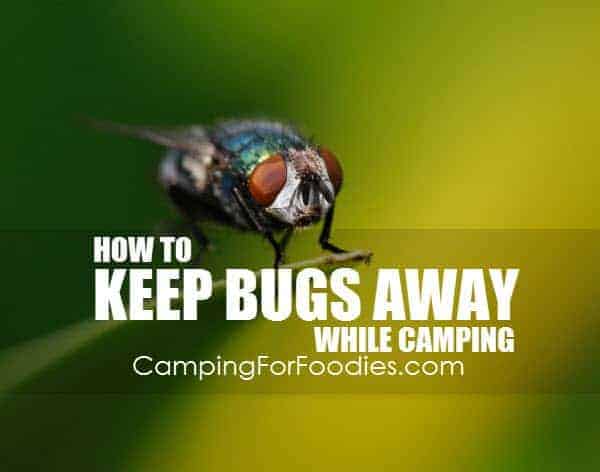 ---
Keep your family safe and your trip full of fun and smiles!
Our Camping Safety Tips For Families post has great info to help your entire camping clan stay safe and sound on your RV camping road trip!
&
---
If you need camping recipes and menu ideas, you can find them here at the Camping For Foodies Camping Recipes list.
Don't miss a thing…sign up for Camping For Foodies email updates!
Your purchase of our products will help support World Vision ® Building a better world for children.