10 Easy Decorating Ideas For Halloween Camping And RV Adventures
Halloween is all about costumes and decorations so when we decided to leave town for a camping weekend over the holiday, we came up with some ideas to bring the festivities along for the ride. A few quick tricks will turn your campsite, tent or RV into a fun and slightly spooky kid-friendly Halloween camping adventure the adults will love too! Psst we're compensated…see our disclosures.
---
Fun Halloween Camping Ideas And RV Decorations
---
Who doesn't love carving a pumpkin for Halloween? This is one of the most fun Halloween camping ideas because kids and adults can get creative with fun or spooky designs. One of my totally non-artistic friends carved a pumpkin with a lot of detail in the design and I was amazed at how easy it was when she told me she "cheated" by using a Pumpkin Carving Kit With Pop-Out Stencils! The pumpkins are so cute … WOW!!! It is an easy and a fun craft project for your Halloween camping trip!
&
---
A quick caution about carving pumpkins at the campsite … carving tools are sharp and pumpkins can be awkward to handle so take extra precautions … especially when small kids are carving your jack-o'-lantern during your Halloween camping trip! Check out our Camping Safety Tips For Families post for more info on staying safe and having fun on your camping adventures!
&
---
2. Spook Up Your Lights
We LOVE our MPOWERD Luci Original – Inflatable Solar Light but were soooooo excited to find the SPOOKY MOON INFLATABLE SOLAR LANTERN and the SPOOKY SPIDER INFLATABLE SOLAR LANTERN!!! Blow it up like a mini beach ball and power it by the sun with its small solar panel! It is one of our favorite fun camping Halloween decorations for your campsite and ideas for decorating your RV!
&
MPOWERD Luci Spooky Moon Inflatable Solar Lantern
MPOWERD Luci Spooky Spider Inflatable Solar Lantern
&
---
IMPRESS LIFE Ghost Battery Operated String Lights, 10 ft, 50 LEDs, Remote And Timer
Swap out your typical camping string lights for a set with a Halloween style like these Ghost String Lights. They run on 3 AA batteries and have flicker as well as steady-on modes with various levels of brightness. The timer function is built-in and it also has a remote control with a range of about 15 feet.
&
---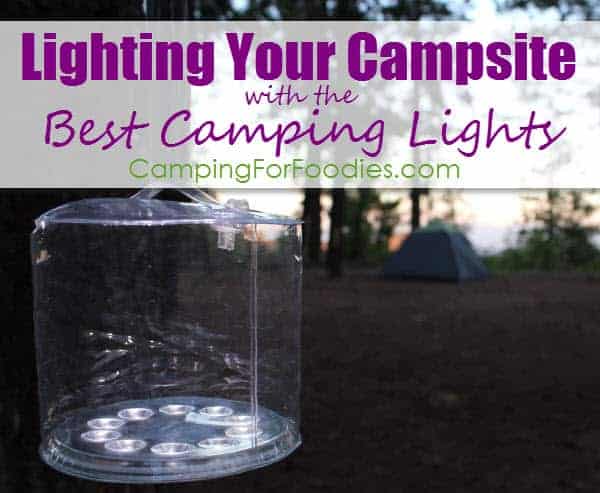 Halloween campsite decorating ideas using Halloween-inspired camping lights may not be the only type of lighting you need for your Halloween camping activities … some may require brighter work/task lighting or focused spot lights. Check out our Best Camping Lights For Lighting Your Campsite post for more tips including camping lights you wear and more!
&
---
3. Spice Up Your Linens
Using cute pumpkin or witch Halloween kitchen towels are fun and super easy Halloween camping decorating ideas that do triple duty! First, it is cute and brings in the holiday theme to your Halloween camping experience. Second, it is a functional decoration that you will actually use. Third, it may even get you a little extra help in the camp kitchen with all of those fun Halloween camping food ideas you are bringing to life!
Pumpkin Halloween 2-Piece Towel And Pot Holder Set
Witch Halloween 2-Piece Towel And Pot Holder Set
&
---
Halloween camping usually means colder weather camping conditions … making warm comfort food a MUST when it comes to meals! Here are a few Halloween camping food ideas that will keep you cooking by the campfire for breakfast, lunch, dinner and dessert!
 Eggs Cheesy Dip Jalapeño Cornbread White Chili Lava Cakes
&
---
Get even more Halloween camping food ideas on our Camping Recipes List page! We've designed some of our recipes to be super-simple camp meals … others are next-to-gourmet feasts! Whatever your camp cooking ability, cooking method preference, food palate style … we've got camping recipes you'll love!
&
---
RVers have the unique ability to add Halloween decorations to RV doors by wrapping them in a Halloween themed cover like this Witch's Brew Door Cover. It creates a big festive splash but is still easy and quick to do; it's also lightweight and requires minimal space during transportation to and from your campsite. It's almost as "difficult" to use as pushing a button to roll out an electric RV awning! LOL 🤣
&
&
---
5. Pick At Your Food And Decorate Your Drinks
Play with your food! Using Halloween picks for cupcake and cake toppers as well as food picks for meat and cheese trays are super fast and fun ways to decorate for a Halloween camping bash! Straws are another fun way to add to your Halloween decoration theme at the campsite. You can find paper or plastic straws with Halloween colors or go all out with something more elaborate like these skeleton plastic straws.
Halloween Food Picks
Halloween Food Decorations
Skeleton Plastic Straws
Halloween Paper Straws
&
---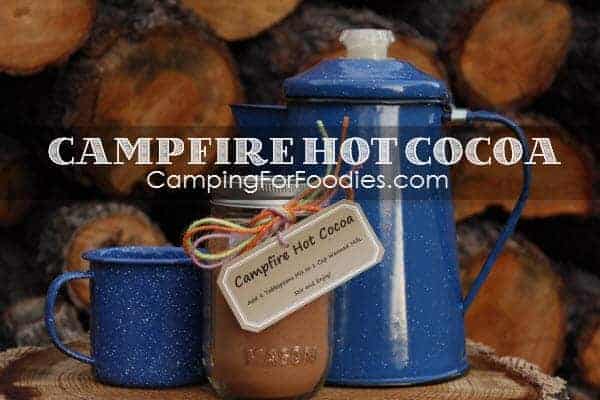 Some Halloween camping activities have to include a mug of Campfire Hot Cocoa! It is a warm and toasty drink to enjoy around the campfire during the day or night! Looking for something a little more refreshing? Check out all of our Camping Cocktail Drink Recipes for kid-friendly drinks as well as others that include alcohol.
&
---
6. Frighten Up Your Table
Using a bright fun tablecover is another way to create a big Halloween impact really easily. Some themed tablecovers can even do double duty like this Halloween Kids Activity Tablecloth with puzzles, games and pictures to color. These Halloween campsite decorating ideas are fun for kids of all ages!
Halloween Activity Tablecloth Bundle
HalloweenTablecover
&
---
7. Play With Your Plates, Utensils And Drink Wraps
Halloween themed plates, cups and napkins are great for adding practical decorations to your campsite. Something a bit more unique is decorating your beverage bottles. These Halloween Glow In The Dark Soda Bottle Slapstickers make an ordinary soda fit for a zombie!
&
Halloween Dinner Plates
Halloween Paper Cups
Halloween Beverage Napkins
Halloween Glow In The Dark Soda Bottle Labels
&
---
Bar accessories add a slightly spooky touch to your Halloween camping decorations. This Boooooze! Halloween Flask is a cute container for your holiday cheer.
&
&
---
9. Share Slightly Spooky Stories
Enjoy kid-friendly Halloween stories! Read books like Eek! Halloween! around the campfire … or show movies like It's The Great Pumpkin, Charlie Brown with an outdoor mini projector on a portable outdoor screen. We are not big fans of really scary stuff … BUT, if you are really in to the whole slasher thing … knock yourself out with the Halloween: The Complete Collection!
Eek! Halloween! (Book By Sandra Boynton)
It's The Great Pumpkin, Charlie Brown (Warner Home Video)
Outdoor Indoor Projector Screen
Outdoor Indoor Mini Projector
&
---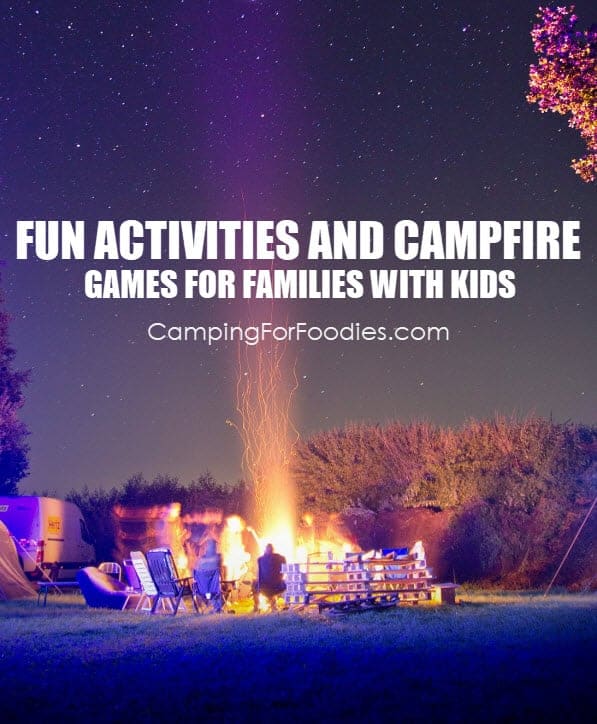 Looking for more campfire fun Halloween camping ideas? Consider Campfire Activity #2 – Color Your Campfire Flames from our list of 10 Fun Activities And Campfire Games For Families With Kids!
&
---
10. Don't Forget The Costumes And Candy
Make sure you bring candy for the kids and treats for the pets who will be doing the tricks at your Halloween campsite! Camping Halloween costumes for the kids and pets are fun too!
&
S'More Kids Halloween Costume
HERSHEY'S Halloween Assortment Pumpkin Bowl
Ghostbusters Movie Pet Costume
Halloween Dog Trick or Treat Bag
&
---
Using Temporary Halloween Tattoos along with Glow In The Dark Sticks And Masks are fun alternatives to wearing full-blown camping Halloween costumes.
Want a variety in one convenient package? This Halloween Craft Kit contains stickers, stampers, party favors and temporary tattoos … it's like camping Halloween costumes + Halloween camping activities + Halloween camping decorating ideas … all rolled-up in one neat little box! 🎁
Boo Bunch Halloween Temporary Tattoos
Halloween Glow Sticks, Masks, Bracelets And Party Favors
Halloween Craft Kit: Stickers, Stampers, Party Favors And Temporary Tattoos
&
---
Fun Halloween Camping Ideas Create Memories
OK, I have to admit that I am a TOTAL wimp when it comes to scary movies and stories and I love getting a good solid 8 hours of sleep so I avoid the really freaky stuff and keep it light!  If you add a few Halloween camping activities and fun decorations … I'm guessing you will make life-long Halloween camping memories that your family will cherish in the years to come.
---
Here are a few more fun Halloween ideas from across the web!
&
---
No time to look for recipes, create a menu and write a grocery list? No Problem! Get our 3-Day Dutch Oven Camp Menu Plan here!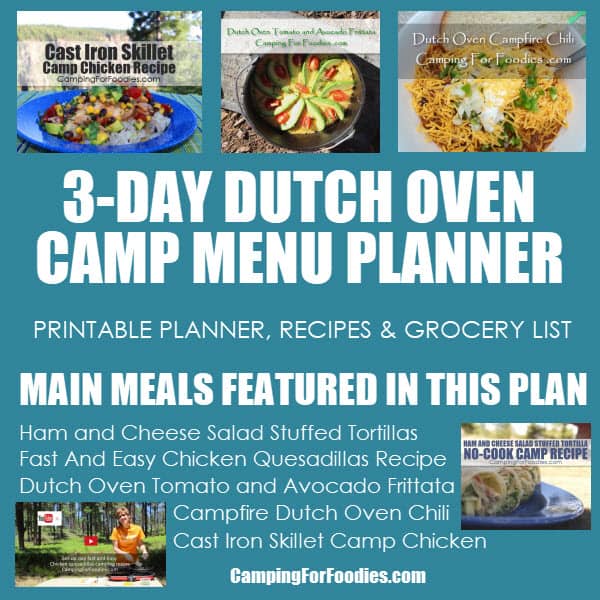 ---
Our Cool Camping Products Make Great Gifts!
Tote
Cutting Mat
Mat Set
Shaker Set
Apron
Hammock
Women's Tee
&
---
If you need camping recipes and menu ideas, you can find them here at the Camping For Foodies Camping Recipes list.
Don't miss a thing…sign up for Camping For Foodies email updates!
Your purchase of our products will help support World Vision ® Building a better world for children.
---