Fall camping is EXHILARATING! Chilly temps, fun activities, scenery
Fall camping is EXHILARATING and these tips will help you prepare for cooler temperatures, experience awesome outdoor activities and find the best places to camp during this beautiful time of year. Our fall camping tips and checklist will have you adventuring in autumn and loving it!
Talk about unique and different kinds of camping tips to create tons of fun! Chilly temperatures, smaller crowds, fewer insects and stunning scenery all add up to unique camping adventures you just can't experience in the summer camping season!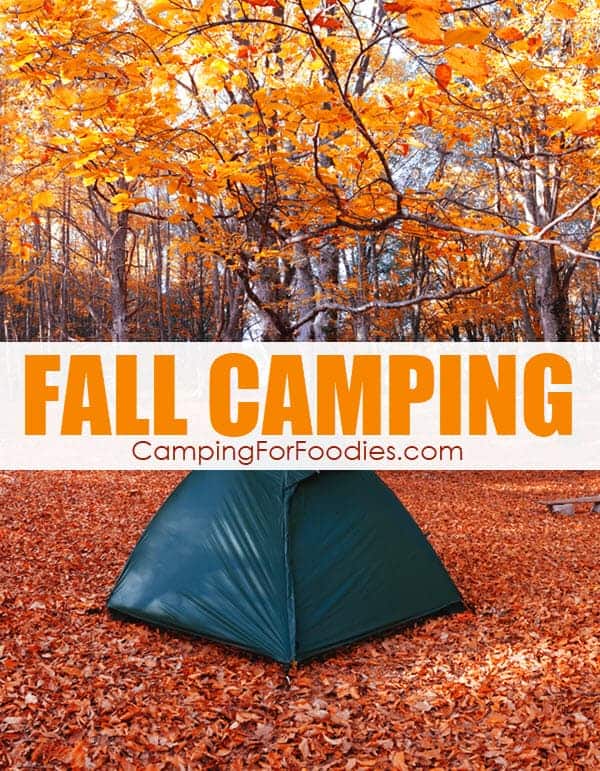 Psst we're compensated…see our disclosures.
Fall Camp Season Timing
The perfect time to go camping in the fall depends on the activities you want to enjoy and the local weather.
The fall season in the U.S. begins in late September and runs through late October and even into early November depending on the specific region of the country.
One unique aspect of camping in the fall, it is a great time to enjoy the beautiful colors of autumn leaves, especially in places like the New England states.
Leaf peeping happens to be one of the most popular things to do in the crisp fall air.
---
Fun Fall Activities
There are so many family activities associated with camping in cooler months, and you'll want to make sure you experience all of them before you head for home! Here are a few ideas:
Activity #1: Leaf Peeping.
Taking-in and photographing the fantastic views of gorgeous fall colors (also known as leaf peeping) can be done by taking a walking tour or driving excursion.
Some scenic drives go for miles. You'll want to pull over, park and take a short walk to really get the full experience. Don't expect easy access to parking if you are visiting in peak season. You'll usually find less people and fewer crowds if you time your visit early in the morning on those occasions.
You need to do some pre-planning because the leaf peeping season is short and Mother Nature is unpredictable regarding timing to catch the most vibrant colors of the changing leaves.
Get the inside scoop from locals on the very latest current conditions of the autumn colors. Employees who work in gift shops, camp stores, visitor centers and park offices can provide a wealth of information on the special places to see vibrant fall colors as well as lesser-known attractions and hidden gem restaurants that are off the beaten path.
The typical times for the best leaf peeping depend on the specific location and the timing of the season change for that particular year. Generally the best times to see the most brilliant colors include:
New England: Mid-September to Early October

Vermont
New Hampshire
Maine

Upper Midwest: Early October to Mid-October

Michigan
Wisconsin
Minnesota

Lower Midwest: Mid-October to Early November
Colorado Rockies: Early October to Mid-October
There are some awesome tools to help you plan a leaf peeping camping trip!
There are interactive prediction maps for advanced planning and up-to-date current conditions fall foliage reports for locations across the country.
We have an entire post dedicated to these FREE planning tools to help you plan your foliage camp trip!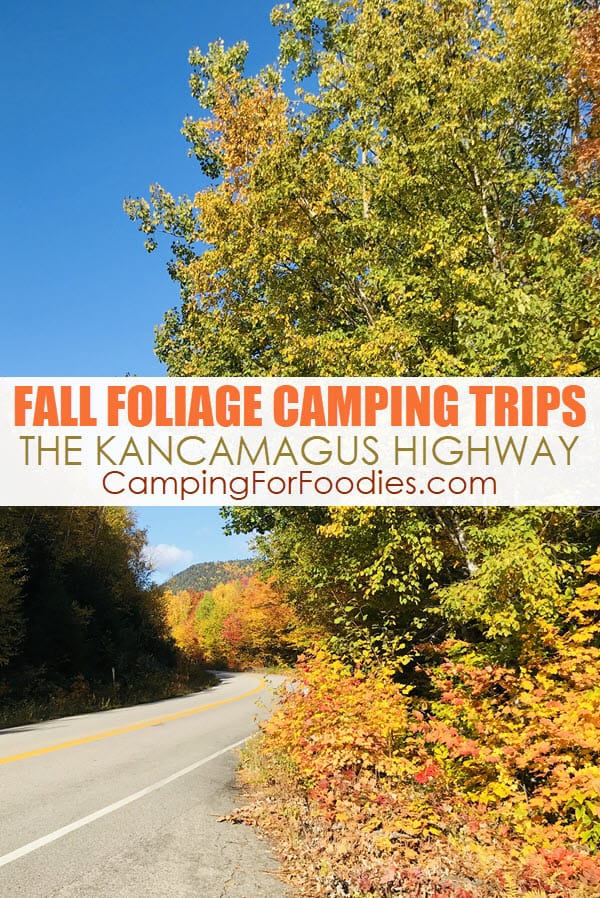 ---
Activity #2: Berry Picking.
Autumn is berry picking season and it is one of the most delicious peak season activities you can imagine!
Whether you want to eat them plain or use them in a recipe, picking berries is a fun camping activity that can be experienced by the whole family.
The most common berries found in the U.S. and Canada include blackberries, blueberries, and raspberries.
If your destination is on public lands, you can do your plucking around your campsite area.
Alternatively, you can travel to a "You Pick It" type of berry site that is near your camping destination.
Berry Picking Tips:
Make sure you properly identify it before eating any berry to make sure it is safe to eat.
Avoid picking berries that may have been sprayed with chemicals and pesticides.
Wear closed toe shoes, long pants, long sleeves and gloves to avoid bugs like chiggers and ticks, as well as harmful vegetation like poison ivy and thorns etc.
---
Activity #3: Local Autumn Events.
The facility you are camping at during your trip may have planned activities to celebrate the fall season.
Many public parks and campgrounds have ranger-led interpretive programs that include educational guided tours, walks and hikes that help campers discover the seasonal aspect of the wildlife, plant life and local habitat.
Many privately owned campgrounds have planned activities including wagon rides, games and seasonal arts and crafts.
Harvest festivals are commonly found throughout the country during the season.
Whether you are camping near a small town or larger city, you are likely to have several festivals to choose from.
Lots of these types of festivals include pumpkin picking and carving.
If your trip does not take you near a festival but you'd like to do some of those types of activities at your campsite, just prepare a few items in advance. Here are a few Halloween camping ideas.
---
Activity #4: Fall Fishing.
Outdoor recreation activities that include water sports usually disappear after Labor Day.
Fishing is a normal summer camping activity, but, you don't have to put the poles away just because you are camping in the fall!
You may find fall fishing derbies hosted near your campground. Otherwise, you can just fish on your own.
Depending on your location, this is the perfect season for catching trout, salmon, pike and many other popular varieties, but, don't head out in the morning because the water is too cold. The fish are typically biting late afternoon and early evening.
Fishbrain is one of our favorite FREE camping apps to help us learn where the fish are biting at a particular time and place.
---
Activity #5: Campfire Activities.
If the daytime temperatures are really cold, you may want to start a campfire in the morning and have it burning throughout the day.
It will keep you warm, you can cook over it and enjoy fun campfire games and activities well into the evening.
---
Activity #6: Horseback Riding.
One of the most popular activities to explore miles of trails and beautiful scenery is on the back of a horse. Taking a guided tour on top of a gentle giant is a great way to get a different perspective of great fall landscapes.
One caution, this type of experience usually requires advance reservations and tickets must be purchased well in advance during the best seasons for viewing the most gorgeous scenery during the peak color season.
---
Activity #7: Hiking.
Just because it might be cold and rainy, you don't have to skip one of the most popular camping activities, hiking!
Just plan your day hikes carefully, be prepared for changing weather and anticipate the length of daylight because the days are shorter in the autumn season and you don't want to get stuck hiking in the dark.
We have tips for hiking in rainy conditions as well as other situations you may encounter if you are camping in the rain.
---
Activity #8: Indoor Activities.
Some people handle wet and cold weather conditions better than others and because those situations can be quite unpredictable, you should be prepared with some indoor activities.
If you are staying at a campground with a rec room and planned indoor events, great!
If you need to plan your own, you can plan to do jigsaw puzzles, brain teasers, crafts or other indoor camping games.
---
Warm Camping Food
You may want to consider camp meals that are warm and comforting to offset the colder autumn camping temperatures.
Make sure you have plenty of options for warm beverages and food that goes with cooler weather. Here are a few of our favorites:
Breakfast
Fall is pumpkin season! We love putting it in food and drinks. If you are a pumpkin flavor lover, you've gotta try these Pumpkin Walnut Pancakes With Mascarpone Drizzle. This is an almost-gourmet breakfast that is easy enough to make at camp.
This Camping Dutch Oven Campfire French Toast Recipe is the perfect breakfast meal to enjoy in the morning crisp autumn air! The cinnamon spices give it a nice warm seasonal flavor and the icing makes it a tad sweet.
Don't you just love a good hearty breakfast with meat, cheese, eggs and potatoes all in one pot? This Mountain Man Breakfast Dutch Oven Camping Recipe has a bit of a southwest flair and it is delicious!
Dinner
Lower temperatures mean soup, stew and chili is on the menu! My Dutch Oven Campfire Chili Recipe is the top pick in my family on trips with not-so-hot weather.
Talk about a nice, warm meal for cold nights. This Hot Italian Sausage Soup Campfire Recipe is the perfect hearty dinner! It is filling and with a loaf of crusty bread, it is a meal!
This easy beef stew is a fantastic one pot camping dinner you cook over your campfire. The root vegetables are perfect for fall and the thick rich sauce simmers the beef to make it fork tender! Try this Campfire Stew Dutch Oven Camping Recipe on your next trip with cooler temps!
Drinks & Desserts
You can't go camping in the fall without Campfire Hot Cocoa! This recipe makes the most amazing rich and creamy hot chocolate you will ever sip around a campfire!
You can always find extra warmth in a cup of hot coffee. I drink it black, my husband likes a sweet creamer so I usually pick up a season flavor (like pumpkin) to celebrate a autumn camping trip. There are so many ways to brew your java, check out how to make coffee when camping for helpful tips.
There's nothing like sipping a mug of hot apple cider with a cinnamon stick to enhance your fall camping experience in the crisp air. It's really fun to pick up a fresh jug of it at seasonal festivals or farmers markets.
These Smores Dutch Oven Brownies are oooey, gooey and delicious. It's a great thing to serve warm. Top it with scoop of vanilla ice cream if you really want to indulge. If you want a traditional s'more that is jazzed up a bit, try these smores camping variations.
My Cinnamon Cupcake Recipe is fantastic. I've made scratch baking easy for the campsite.
You can't have a fall family camping trip without apple pie! I make my Upper Crust Apple Pie on our Thanksgiving camp trips. It uses fresh apples, cinnamon and sugar as the filling. If your camping plans don't give you time to bake, but, you want a ridiculously easy alternative, my Dutch Oven Apple Dump Cake is a great option because is uses apple pie filling and a boxed cake mix.
Sit down with a cup of hot tea and scroll through all of my cozy winter camping recipes before you prepare your fall camping meals menu!
If you planning your trip to the great outdoors with a bunch of people, check out my easy camping meals for large groups.
---
Autumn Camping Safety
In addition to applying normal camping safety practices, you should be aware of a few specific autumn safety items to keep in mind.
Watch the weather.
Autumn weather can be unpredictable and inclement weather may force you to adjust your plans, route or hunker down in place, so, be prepared for the unexpected.
Bring extra tarps and be prepared to take cover under picnic shelters if a rain storm suddenly moves into the area.
Wear your sunscreen.
Most people would not think of camping without sunscreen in the summer but often forget about it in the fall and winter seasons.
You can get sunburned and damage your skin when camping in the changing seasons so wear your protection.
Avoid hypothermia.
If you allow your body to get to a dangerously low temperature, you may have a medical emergency on your hands.
This happens when your body loses heat faster than it can produce it, which is a very real possibility when you are camping in the fall and winter months.
Keeping your body heat at safe levels requires you to stay warm and dry.
Avoid dehydration.
We all drink water during the summer heat. But, when the air temperatures are cool, you may not think too much about drinking lots of water. You need to consciously drink enough water to stay hydrated even when you don't feel thirsty.
Keep your distance from wild animals.
It is always a good idea to keep a safe distance from any wild animals you encounter on camp trips.
During the fall season, it is especially important to stay clear of them because it is mating season. Many large animals, with a 6-month gestation period, mate in fall to give birth in spring.
During this time some animals are irritable, aggressive and extremely dangerous to campers who get too close.
Practice normal camping safety.
Of course, you should practice regular camping safety tips just as you would on any other camping trip.
---
Staying Warm While Camping In Autumn
When you are camping in the fall, you have to be prepared for erroneous weather forecasts.
If you plan for a dry, cool weather experience and the actual conditions are wet and cold, you don't want to be forced into a hotel or, worse yet, having to pack up and go home early.
Admittedly, it is easier staying warm in RV campers rather than staying in a tent but either way, it is possible to enjoy a comfortable trip!
Here are some camping tips for staying warm:
Campfires For Warmth
Campfire heat can keep you warm but you need to be prepared to start your fire even if the conditions are not optimal.
You might find damp or wet kindling around your campsite, so, be prepared with fire starters camping experts recommend.
---
Fall Camping Checklist
You need to pack your regular camping essentials, plus, colder weather gear. Grab our comprehensive FREE printable Ultimate RV And Tent Camping Checklist.
The last thing you want to do is forget to pack the regular stuff because you're focused on the different things you need for this special season. I'll go into more detail on these items but want to give you a quick list first.
Warm clothes and good footwear
Bring an extra layer of every type of clothing you wear. Layering allows you to shed extra clothes during daytime warm weather and add layers for the cool nights.
Wear a rain cover outer layer to keep your other layers dry.
A light jacket is a great idea for milder autumn climates. A nice puffy jacket or puffy vest is perfect for cooler days.
Pack several long sleeve shirts and long pants, bring an extra outfit in case you need to change out of wet clothing. Bring several pairs of extra socks.
A fleece jacket and beanie are essential.
Bring a good pair of waterproof hiking boots and an extra pair of warm shoes or boots.
If you plan activities that require a swimsuit, don't forget to pack it along with a towel. An epic family camping trip may include a visit to hot springs or an excursion to a heated swimming pool at a nice campground.
Gear and personal items
If you're car camping, don't forget a sleeping pad or air mattress to keep you off the damp, cold ground. A good sleeping bag with a quality sleeping bag liner will also help keep you warm.
A hot water bottle can help heat up your sleeping bag and pillow too.
You'll want a good tent (at least a 3-season tent if not a 4-season tent, depending on the temperature and weather of your destination), and, don't forget the tent stakes.
If you're campsite doesn't have a picnic table, you may want to bring a table along with your camp chair. Here are the best camping tables we use and love.
Make sure you pack the basics like flashlight, toothbrush, toothpaste, toilet paper and hand sanitizer etc.
Camp kitchen essentials
Pack your regular cooking gear and supplies like camp grill, cast-iron skillet, pans, spatula, aluminum foil, fuel and a fire starter. This is our list of the best campfire cooking equipment on the market.
Don't forget to pack a few extra bowls and mugs because this is a favorite time of year to consume hot beverages, soups, stews and chili recipes.
---
Tents And Warm Sleeping Bags
How cold is too cold when camping in a tent? If you are using tents and sleeping bags during your chilly camping trips, make sure they are rated to the weather conditions and temperatures you expect during your adventure.
Tent camping in 30 degree weather is different than camping in above freezing temperatures but still cold at 40 or 45 degrees.
There are frosty weather tent options for different numbers of people including family tents. Some are rated for all weather conditions including extreme rain, snow, wind, heat and cold.
The same goes for sleeping bags, the temperature ratings on sleeping bags are reliable.
The best type of sleeping bag for autumn camping is one that is rated at or beyond your expected conditions. You may want to consider using a camping pad for extra protection from the cold.
We have an entire post on how to stay warm camping in a tent.
And, if you plan to use portable propane heaters in your tent, you might want to refill camping propane canisters rather than throwing them away after a single use.
---
RV Camping In Cold Weather
Fall RV trips usually don't present challenges regarding staying warm AS LONG AS your heater is in good working order and you have plenty of propane.
If you heat your rig with electric heaters, make sure your camping destination has ample power available to sufficiently meet your demands.
If you will be camping toward the end of the fall months, you should be prepared for winter conditions just in case the weather is worse than you expect it to be.
We have tons of tips for winter RV camping in temperatures that drop below freezing.
---
What To Pack: Best Fall Camp Gear
A good fall season camping checklist starts with a comprehensive year-round camping checklist that you modify based on how severe the conditions will be during your autumn trip.
The normal things to bring camping still apply. Even though there will be fewer bugs, we still have our bug spray because it never leaves our camping gear box. The same goes for items like our camping stove, tables, chairs, first aid kit etc.
When it comes to packing the right gear when camping in the fall, remember it might be wet, cold and dark. The things you might want to add to your packing list would be things like extra camp stove fuel, extra blankets (this is a really good time to pull out your best wool blankets for camping) and your heavier gear that will protect your from harsh natural elements.
Be prepared for less hours of daylight (because the days keep getting shorter the later it is in the season) so bring ample lanterns, camping lights and the power to run them, don't forget extra batteries if you are using battery powered lighting.
---
Clothing For Camping In The Fall
Your clothing choice is critical! Again, be prepared for cold and wet weather by packing rain gear including rain jackets, waterproof boots, warm socks, hats and gloves.
Fall weather can rapidly change from sunny, warm days-to-cold, wet nights. Dress in layers so you can add and remove clothing as your activity level and the outside air temperature change throughout the day and evening.
The right clothes include base layers that are made from synthetic materials like polyester or animal-based materials like wool that pull moisture away from your skin as you sweat. You don't want to trap moisture next to your body, especially as the temperatures drop later in the evening.
If you will be camping toward the end of the autumn months as the transition begins into the next season, you'll want to bring winter camping clothes with all three layers of wicking, warmth and wind/waterproof clothing.
---
Best Destinations For Camping In Fall
Where can you camp in the fall? State Parks, National Parks and National Forests are all potential destinations to find RV sites and tent sites for fall campers.
You may have to reserve your campsite but there are also options for walk-ups that are "no reservations required" locations.
If you are asking yourself, "What are walk-up only campsites?", don't worry, I have an entire post explaining what they are and how to get the perfect place!
Don't make the mistake of thinking, the forest is open year round and saying "There is fall camping near me in the National Forest", because, some forest roads are CLOSED during parts of the year.
When you are camping in the wild, make sure you check with the regulatory agency regarding road closures and other restrictions for your planned timing.
We have an entire post dedicated to Boondocking which will keep you legal, safe and having fun when camped in primitive sites.
If you are looking for awesome camping destinations to fully experience the change of seasons, some of the most popular places campers choose are National Parks that are known for their beautiful autumn foliage colors.
Some National Parks are especially famous for their spectacular fall colors including:
Acadia National Park in Maine
Blue Ridge Parkway (the range of the Blue Ridge Mountains) in North Carolina and Virginia
Glacier National Park in Montana
Grand Teton National Park in Wyoming
Great Smoky Mountains National Park in North Carolina and Tennessee
Olympic National Park in Washington
Rocky Mountain National Park in Colorado
Yellowstone National Park in Wyoming
Yosemite National Park in California
Zion National Park in Utah
Check out the best national parks to visit in fall for stunning autumn scenery.
Private campgrounds and RV parks can be really great places because many of them have fresh water, waste water and electric hookups which is really nice if you want to operate electric heaters to stay warm.
If the weather is too cold for tent campers who typically only camp during the summer months, some of these facilities offer camp sites with rustic cabins for rent.
These cabins often have picnic areas with picnic tables, basic kitchenettes, bathrooms and bedrooms that usually have sleeping arrangements that can handle families and include bunk beds.
These private camp facilities expand their summer months busy season by offering special seasonal events and activities to their guests. They often partner with other businesses so campground patrons receive discounts at local popular attractions.
No matter which destination you choose, make sure you employ a little extra preparation and set up your campsite in anticipation of camping in the rain.
---
Don't get overwhelmed as you try to find the perfect place to stay at a popular camping destination, plan your route, meals and everything else. I have a FREE printable trip planner that can help you to stay organized and sane!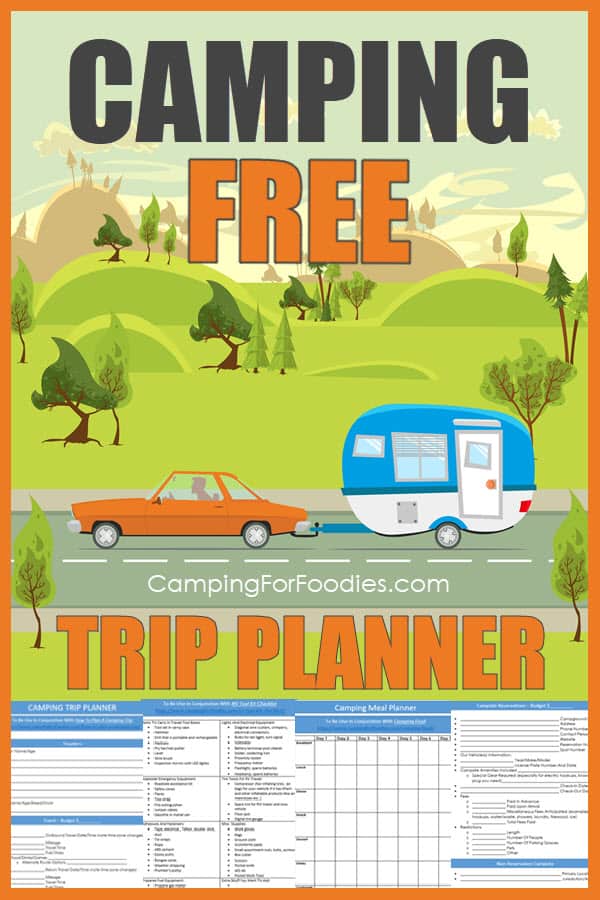 ---
Get More Inspiration For Meals
There are so many ways to celebrate the seasons with yummy recipes. Get creative with your menu on your fall trips.