All Day Breakfast Burger: My Recipe, Your Menu, Any Location
Are you an All Day Breakfast Burger fast food fan? If so, what do you do when there's no drive-through in sight but you're craving your all-day menu favorite? You make one of our best camping breakfast ideas and blissfully go about your day in the great outdoors!
Psst we're compensated…see our disclosures.
The Winner Of The Restaurant Business Industry's Breakfast Battle: You & Me!
Years ago this announcement about their popular Breakfast Burger made headlines:
"When Carl's Jr. created the Breakfast Burger over a decade ago, we became the first major hamburger [quick-service] chain to put an egg on a burger and it really was the perfect marriage of a great burger and classic breakfast items. In fact, Carl's Jr. has always sold its entire burger line during breakfast—and they make up a significant portion of all of the meals served in the morning—so it became obvious that we needed to create a true 'breakfast burger' for our guests," says Brad Haley, chief marketing officer for Carl's Jr. and Hardee's. "While we've served burgers all day for a long time, serving breakfast all day is a big thing in the industry right now. So, the Carl's Jr. way to meet that demand is to offer our classic Breakfast Burger all day long." Source
My personal opinion, we are the winners because there are so many variations of food items used by the competing recipes, we get to use them as inspiration to make our very own breakfast burger for ourselves.
---
Variations Of These Hearty Breakfast Sandwiches
These popular breakfast menu items are a mash-up of the breakfast and lunch worlds in one sandwich.
Carl's Jr.'s Breakfast Burger features a charbroiled all-beef patty, crispy bacon, egg, American cheese, Hash Rounds, and ketchup on a seeded bun.
Whataburger's Breakfast Burger features a 100% beef patty, Whataburger's one-of-a-kind Creamy Pepper Sauce, two slices of savory bacon, a freshly-cracked egg, three crispy hash browns, and American cheese, all conveniently sandwiched in a 4" bun. They keep it special by only offering it for a limited time.
BurgerFi's Breakfast All Day Burger features natural Angus Beef, bacon, American cheese, maple syrup, fried egg, hash brown, grilled onions and ketchup.
McDonald's has an All Day Breakfast Menu that features Biscuit Sandwiches, McMuffin Sandwiches and McGriddles.
Burger King restaurants are famous for their Cheese Croissan'wich, French Toast Sticks and combo meals.
Camping For Foodies All Day Breakfast Burger: My Recipe, Your Menu, Any Location! My version features breakfast sausage patty, hash brown patty, maple bacon, fried egg, sautéed onions, cheddar cheese and ketchup on a potato burger bun.
---
Prep To Make This Recipe
There is very little prep required for this meal. You'll just need to chop a bit of onion and form the sausage into patties.
---
Cooking Methods
I prefer making this as one of my camp stove recipes because there are a few things cooking at the same time and it is easier to control the heat of a propane stove than it is to cook with campfire coals. Get your stove ready for cooking on a level surface.
It is possible to make this as one of my campfire recipes. You'll want to have a large fire ring because of the amount of food you're cooking. Alternatively, you can just cook the individual items in batches and keep each ingredient warm as you continue cooking. You'll need to get your fire going in order to cook over coals from a nice hardwood.
---
Steps To Make This Meal
Step 1. Prepare your ingredients, cooking equipment and heat source as directed.
Step 2. Fry the bacon. Place a frying pan over medium heat and thoroughly cook the bacon. Then, let it drain on a paper towel.
Step 3. Cook the onions. Remove some of the bacon fat from the pan before you cook the onions till they are softened.
Step 4. Fry the sausage and top with cheese. Use a separate pan to fry the sausage until it is fully cooked and browned on both sides. Then top with cheese and let it melt.
Step 5. Toast the hash browns. Cover a skillet with a tight fitting lit to toast the hash browns. If you really want an even greasier sandwich, you can pan fry or deep fry them in oil.
Step 6. Cook the egg. You're looking for a soft medium center on the egg you fry. It will take about 2 or 3 minutes per side.
Step 7. Build the sandwiches. Now it's time to build the burger starting with the bun then adding the bacon, egg, sausage, hash brown, onions, ketchup and top bun. Serve hot and enjoy.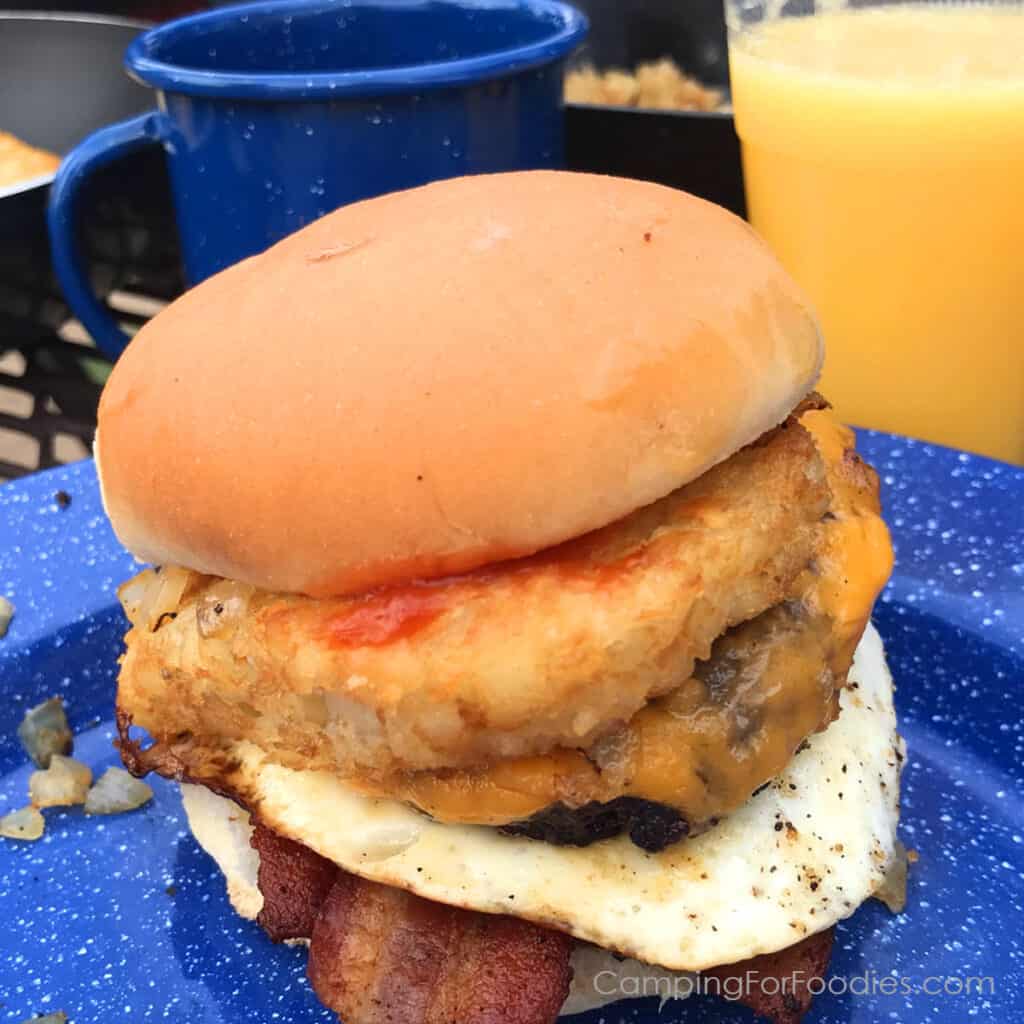 ---
What To Serve With This Breakfast Burger
This sandwich has it all … no sides are required. I do like serving a hot cup of coffee and freshly squeezed orange juice too. Need tips on how to make coffee when camping? We've got them!
---
Similar Recipes
I love making hearty sandwiches when planning my menus with winter camping recipes. Comfort food that sticks to your ribs is the name of the game on cold weather trips!
This Mountain Man Breakfast is filled with meat, eggs, potatoes and cheese for a hearty one-pot breakfast.
This Greek Breakfast Pita Sandwich is the perfect meal for brunch. The pitas are stuffed with eggs, sausage, bacon, spinach, cucumber, tomato, feta cheese and a yummy yogurt sauce.
These Camping Breakfast Sandwiches are on the lighter side and really simple to make. They are like a McDonald's breakfast menu bacon McMuffin but homemade! Check out all of our camping sandwich ideas!
Print This Recipe
All Day Breakfast Burger Recipe
Camping For Foodies Breakfast Camping Recipes: All Day Breakfast Burger Recipe
Ingredients
4

Potato Burger Buns

1

(16 oz) package

bulk ground breakfast sausage, divided into 4, made into patties

4

(3 oz)

frozen hash brown patties, defrosted

4

slices

thick maple bacon

4

eggs

1

cup

diced onions

4

slices

cheddar cheese

4

tablespoons

ketchup

Salt & pepper

to taste

Cooking spray for pan
Instructions
In a large frying pan over medium heat, cook the bacon strips until they are crispy. Remove to a paper towel lined plate to drain.

Reserve a good layer of bacon fat in the pan and add the onions. Cook them until they are softened.

In a separate pan, fry the sausage burgers to an internal temperature of 165 degrees F. Flipping to brown both sides. Add cheese to top of burgers and let it melt.

Place hash brown patties in a skillet and cover with tight fitting lid. Toast over medium heat until they are golden brown and crispy, flipping to toast both sides. Alternatively you can pan fry or deep fry them in oil.

Heat a small non-stick skillet over medium heat. Spray with cooking spray and crack an egg into the pan being careful not to break the yolk, season with salt and pepper. Cook the egg enough to get a soft medium center, about 2-3 minutes per side.

Assemble the sandwiches by laying out the bottom buns then topping with bacon strips, eggs, sausage patty cheeseburgers, hash brown patties, sautéed onions, ketchup and finish with top buns. Serve hot.
Nutrition Information
Serving:
1
g
Calories:
577
kcal
Carbohydrates:
56
g
Protein:
28
g
Fat:
27
g
Saturated Fat:
11
g
Polyunsaturated Fat:
14
g
Cholesterol:
248
mg
Sodium:
964
mg
Fiber:
5
g
Sugar:
9
g
---
More Yummy Meal Ideas
Make every meal of your trips exciting and delicious! Try all of our recipes.
If you're looking for awesome ideas for yummy camping food, you're in the right place!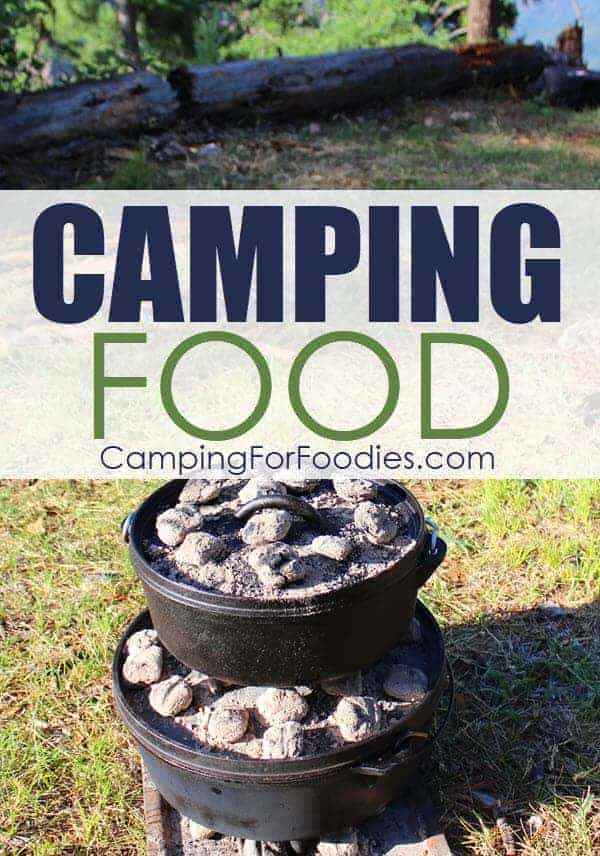 Here's our entire camping recipes list.
Get FREE camping tips and recipes emailed to you!
Our Camping Products Make Great Gifts!