Camping Pancake Mix: Easy No-Mess Plastic Bag Pancakes Hack
It's easy to make fluffy homemade pancakes at the campsite. With this Camping Pancake Mix, you'll prepare the dry mixture at home in a plastic bag, then, add the wet ingredients when you're ready to cook them. This is one of my camping breakfast ideas that uses a handy hack so there's no dirty bowl or whisk to clean!
Psst we're compensated…see our disclosures.
Prepare In Advance
To prepare as one of our make ahead camping meals, do this:
At home: Mix and measure the dry ingredients into a plastic ziptop bag.
At camp: Add the egg and water to the bag, mix everything together, cut off a corner and pipe (don't pour) the batter onto the hot cooking surface to fry pancakes till they are golden brown.
---
Cooking Methods & Equipment
I like the texture of pancakes that are cooked with cast iron so I use a skillet or griddle over a camp stove or hot coals. But, you can use a non-stick skillet if that's your preference.
To make as one of your easy campfire recipes, you'll need to get your fire going in order to cook over coals.
To make as one of your camp stove recipes, get your stove ready for cooking on a level surface.
---
Recipe Steps
If you don't like doing dishes on your camping trip, you'll love this hack!
At home:
Step 1. Prepare dry pancake mix. Label a one gallon Ziplock freezer bag, measure and mix dry ingredients into the bag.
At camp:
Step 2. Prepare your ingredients, heat source and equipment as directed. You'll be cooking over medium-high heat.
Hand Test For Cooking Temperatures
You don't need a thermometer to determine the temperature of your heat source for cooking. Here's steps for the "hand test".
Hold the palm of your hand about 5 inches above the heat source (campfire coals, charcoal briquettes, propane grill etc.) you're using for cooking. (Make sure nothing is flammable, like clothing or jewelry.)
Pull your hand away from the heat before it hurts and note how many seconds have passed. Example: 5-6 seconds = medium heat.
| | | |
| --- | --- | --- |
| Heat Level | Temperature Range | Time |
| High Heat | 450-550°F | 2-3 seconds |
| Medium Heat | 350-450°F | 5-6 seconds |
| Low Heat | 250-350°F | 8-10 seconds |
Hand Test For Cooking Temperatures
Step 3. Combine wet ingredients into bag. Add the water and egg to the dry ingredients in the bag. Mix them by squeezing the bag until all the ingredients are combined.
Step 4. Pipe batter to cook. Cut a small corner off the bag and pipe the batter into small circles to create the pancakes.
Step 5. Flip. Bubbles will form then begin to burst in the batter, that's when it's time to flip the hot cakes to cook the second side.
Step 6. Cook till golden brown, keep warm till ready to serve with your favorite toppings. We like the flavor of butter and real maple syrup. When fresh berries are in season, they make great toppings too.
---
What To Serve With This Recipe
I like to serve bacon or breakfast sausage with camp pancakes. If I have a large group, I make a savory casserole too. This Mountain Man Breakfast is always a crowd-pleaser.
Get your FREE printable camping trip & menu planner before you create your next meal plan!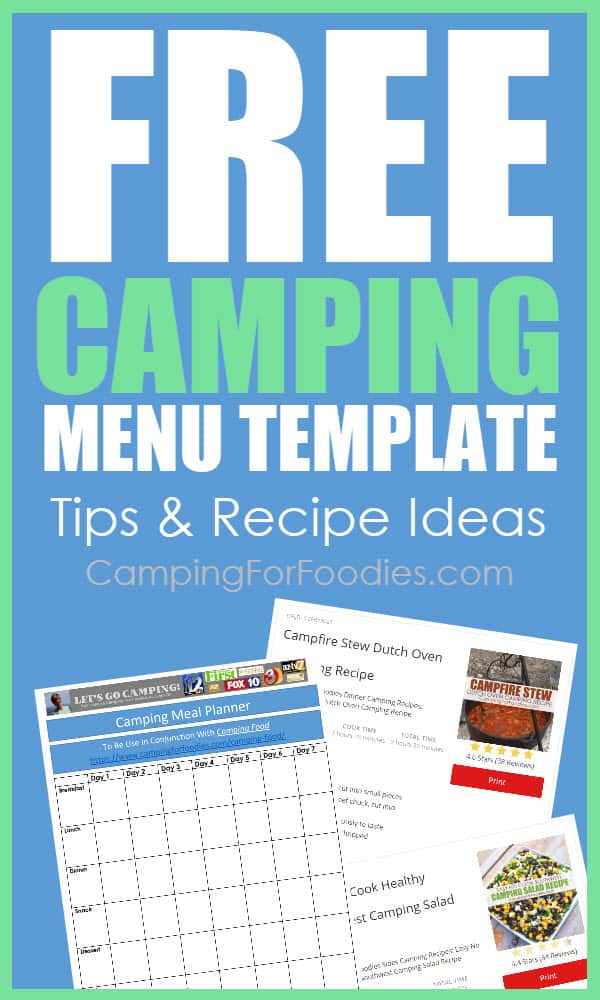 ---
Leftovers
I like having leftovers because they are so easy to reheat. I just wrap them in aluminum foil and keep them refrigerated. Then, just place the foil packet over hot campfire coals to reheat them the next day.
---
Similar Recipes
We have so many camping pancake recipes because they are yummy and such easy camping meals.
I use a just-add-water mix to make these Camping Pancakes. I make them special by combining fresh strawberries with some sugar to let them macerate a bit. A nice juice will form to create a unique syrup rather than using maple syrup.
You'll need 3 ripe bananas to create these healthy, simple and fast 4 Ingredient Banana Pancakes.
I was slightly surprised when the adults enjoyed the chocolate chips in these hot cakes made with a just-add-water mix. The real secret to these Peanut Butter Chocolate Chip Pancakes is the homemade drizzle made with a quarter cup milk, some powdered sugar, creamy peanut butter and vanilla extract.
Like cooking non refrigerated meals? I participated in an emergency preparedness campaign where I had to make meals using only non-refrigerated ingredients. One of my submissions was this recipe for Simple Nutty Pancakes With Peach Topping.
My Sweet Cream Pancakes were inspired by the famous Black Bear Diner pancakes. They are so fluffy, they just melt in your mouth.
The spices in these hot cakes are the perfect pairing for autumn adventures. I combine allspice, cinnamon and ginger with pumpkin puree to make these Pumpkin Walnut Pancakes.
This Swedish Oven Pancake is a cross between a popover and a crepe. You can serve it with a sweet or savory topping.
When blueberries are in season, I love making this Lemon Blueberry Dutch Baby Camping Recipe. You can swap out the fruit and use raspberries or blackberries. In the fall and winter months, I make a quick compote with apples, orange juice, brown sugar and nutmeg. Dutch babies make great vegetarian camping recipes.
---
Print This Recipe
Camping Pancake Mix
Camping For Foodies Breakfast Camping Recipes: This pancake mix for camping is made in a plastic bag so you have no bowls to wash. You'll love this easy plastic bag pancakes hack that makes fluffy, homemade hot cakes!
SUGGESTED EQUIPMENT
Camp stove (my personal preference for better temperature control) or campfire grate to cook over hot coals (not open flames)

Large cast-iron skillet or cast iron griddle
Ingredients
Cooking spray or vegetable oil
Dry Ingredients (measure and mix at home)
1

cup

all-purpose flour

1/4

cup

dry milk powder

1

tablespoon

white sugar

1

tablespoon

baking powder

2

teaspoons

baking soda

1/4

teaspoon

salt
Wet Ingredients (add to dry ingredients at camp)
Optional For Serving
Butter, Maple Syrup, Fresh Fruit
Instructions
At Home:
Label 1 gallon Ziploc freezer bag as such:

* Name: Camping Pancake Mix Recipe

* Today's Date: (Note: if kept in a cool location away from direct sunlight, your dry mix can last a few months in your pantry)

* Directions: Mix with 1 cup water and 1 egg

Measure and mix the dry ingredients in the bag, work out the air and seal it tightly. Store in a cool dry place until your camp trip.
At Camp:
Prepare your equipment and heat source for cooking on a griddle or large cast iron skillet over medium-high heat. (see * Note)

Mix the wet ingredients with the dry ingredients right in the plastic food bag by squeezing the bag (or stir in a large bowl if you really love doing dishes.)

Apply a light coat of oil to the hot skillet or griddle.

Cut a small corner off the Ziploc bag, squeeze out pancake batter to form a small round circle on your hot griddle, use about 1/4 cup batter for each hotcake.

Bubbles will form then burst, and, the outside will begin to form slightly crispy edges, in about 2 minutes. That means it's time to use your spatula to flip and cook the second side.

As soon as the second side is golden brown, remove the hot cake from the pan, transfer to a plate and wrap with a sheet of aluminum foil to keep warm.

Continue cooking batches of pancakes to use the remaining batter.

Serve hot with your favorite toppings.
Notes
*NOTE: Use the "hand test": hold the palm of your hand about 5 inches above the heat source, pull it away before it hurts, 4 seconds = medium-high heat.
Nutrition Information
Serving:
1
g
Calories:
156
kcal
Carbohydrates:
32
g
Protein:
6
g
Fat:
0.4
g
Saturated Fat:
0.1
g
Polyunsaturated Fat:
0.1
g
Monounsaturated Fat:
0.04
g
Cholesterol:
2
mg
Sodium:
1057
mg
Potassium:
178
mg
Fiber:
1
g
Sugar:
7
g
Vitamin A:
175
IU
Vitamin C:
1
mg
Calcium:
284
mg
Iron:
2
mg
More Yummy Meal Ideas