Dutch Oven Egg Bake – Quick & Simple Camping Breakfast!
Looking for breakfast Dutch oven camping recipes that require no chopping? This Dutch Oven Egg Bake is quick to put together and a yummy way to start your camp day!
Psst we're compensated…see our disclosures.
How To Bake Eggs In Your Cast Iron Dutch Oven
You'll want to get all of your ingredients together before you start cooking breakfast casseroles because this is one of those easy camping meals that moves along speedily once you begin.
Step 1. Prepare your coals for cooking. You can make this as one of our fast campfire recipes.
Get your camping fire starters going to start your campfire if you are using coals from it. Alternatively, you can use charcoal briquettes. If you've never used one of these gadgets before, check out our tips and VIDEO on how to use a charcoal chimney.
Weber Rapidfire Chimney Starter
Whichever type of coals you use, you will need about 21 of them to bake this recipe.
Step 2. Brown the sausage. You'll start this camping recipe by using your 10-inch Dutch oven like a frying pan and you'll be putting all of your coals under the pot to brown the sausage.
Break up the sausage as it cooks so you have small pieces that are the same size so they cook at the same rate.
Step 3. Cook the potatoes. Once the sausage is browned, you'll add the hash browns to the pot.
If the potatoes are frozen it will take 10-15 minutes to soften them, if they are already defrosted it will only take a few minutes here.
Step 4. Combine the egg mixture. You will beat the eggs in a bowl then stir in the milk, salt, pepper, dry mustard, Worcestershire sauce and cheddar cheese.
Camp Cooking Tip: If you are using defrosted hash browns, you'll want to have the egg mixture prepared before you add the hash browns to the Dutch oven because the cooking goes much faster and you don't want the sausage and potatoes to burn while you are combining the egg mixture.
Step 5. Add the egg mixture to the Dutch oven. Now it is time to pour the egg mixture into the oven with the sausage and potatoes.
You'll gently stir to combine all of the ingredients. I like making one pot camping meals where everything cooks together at the same time in one piece of equipment.
Step 6. Bake the eggs. Now you are turning your Dutch oven from a "frying pan" into an "oven" to bake the eggs.
You'll add the cover to the pot and bake at 350 degrees (21 total coals: 14 top/7 bottom) until the eggs are set which will take approximately 20 minutes.
If you are using a different size Dutch oven, check out our Dutch oven temperature chart to see how many coals you need to maintain 350°F.
---
Pairings For This Dutch Oven Egg Bake Recipe
This is a great option if you're avoiding gluten in your diet. Check out all of our ideas for awesome gluten free camping food.
If you want camping breakfast ideas that are extra snazzy, consider a fruit salad. I like to serve these baked eggs with English muffins and some fruit.
Our Fresh Summer Fruit Tossed In Honey Mint Syrup Camp Recipe is AMAZING!
Get your FREE printable camping trip & menu planner before you create your next meal plan!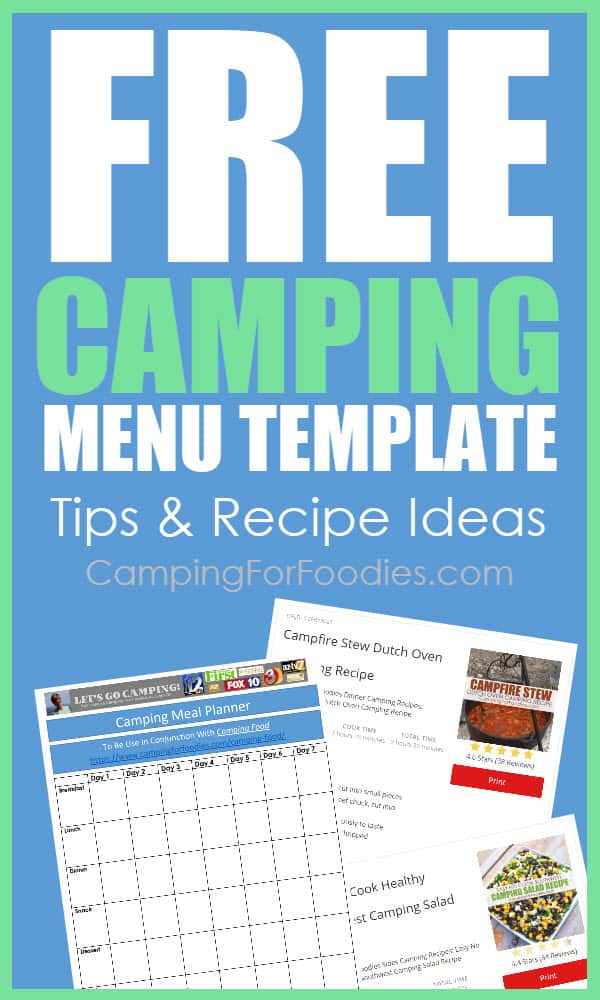 ---
More Baked Egg Scramble Dutch Oven Ideas
---
Print This Recipe
Dutch Oven Egg Bake Camping Recipe
Camping For Foodies Breakfast Camping Recipes: This Egg Bake Casserole is a simple Dutch oven breakfast that takes only 5 minutes to prep!
SUGGESTED EQUIPMENT
10-Inch, 4 Quart Cast Iron Camp Dutch Oven

If your Dutch oven is larger than the 10-inch size, you can reduce the cooking time and get a thinner casserole. Or, just set a 10-inch pie plate inside your oven rather than baking the egg casserole directly in the larger pot.
Ingredients
1/2

pound

ground hot pork sausage

1

(16 oz)

frozen country style hash brown shredded potatoes

half of a 32 oz bag

6

eggs

1

(5 oz)

can evaporated milk

1

teaspoon

salt

1/8

teaspoon

pepper

1

teaspoon

dry mustard

1

teaspoon

Worcestershire sauce

1

cup

shredded cheddar cheese
Instructions
Get your coals ready for cooking. Whether you are using campfire coals or charcoal briquettes, you'll be baking this breakfast at 350 degrees F.

Brown the sausage in a 10-inch Dutch oven over medium heat, breaking up the sausage as it cooks.

Stir the potatoes into the pot and cook for about 10-15 minutes or until they are softened. (This assumes the hash browns are being cooked from frozen, if they are defrosted this will only take a few minutes.)

Beat the eggs in a bowl then stir in the milk, salt, pepper, dry mustard, Worcestershire sauce and cheddar cheese.

Pour the egg mixture into the Dutch oven and stir till all the ingredients are combined.

Cover the Dutch oven and bake at 350 F degrees (21 total coals: 14 top/7 bottom) until the eggs are set, approximately 20-30 minutes. (see * Note)

Let stand a few minutes before slicing, serve hot.
Nutrition Information
Serving:
1
g
Calories:
788
kcal
Carbohydrates:
43
g
Protein:
33
g
Fat:
54
g
Saturated Fat:
17
g
Polyunsaturated Fat:
33
g
Cholesterol:
367
mg
Sodium:
2102
mg
Fiber:
4
g
Sugar:
6
g
---
More Meal Ideas
Enjoy easy recipes on your next camp trip.