Dutch Oven Tomato and Avocado Frittata
I love making frittatas for breakfast camp meals! They are easy to whip up and every happy camper gets to eat together (rather than making eggs to order for each individual.) You can totally change the flavor profile of your frittata too by swapping out a few ingredients. This particular camp recipe is meatless so I serve it with a side of bacon or sausage to satisfy the meat-lover campers in my clan. (I do have a few that think if meat is not part of my camp meal, it's just a snack…LOL). Serves 4-6, here's how you make it. Psst we're compensated…see our disclosures.
This recipe can be made in a Dutch oven, camp oven, solar oven or RV oven.
 Lodge Camp Dutch Oven, 4 Qt
 Coleman Camp Oven
 All Season Solar Cooker and Trivet
&
Dutch Oven Tomato and Avocado Frittata
Preheat Dutch oven to 400 degrees (for a 10 inch Dutch oven you need 25 coals total = 17 Top/8 Bottom). NOTE: baking times vary depending on outside air temperature, elevation and humidity so be ready to make adjustments as necessary. See my Dutch Oven Camp Cooking Tips for more information.
Dutch Oven Temperature Chart – Number of Charcoal Briquettes Required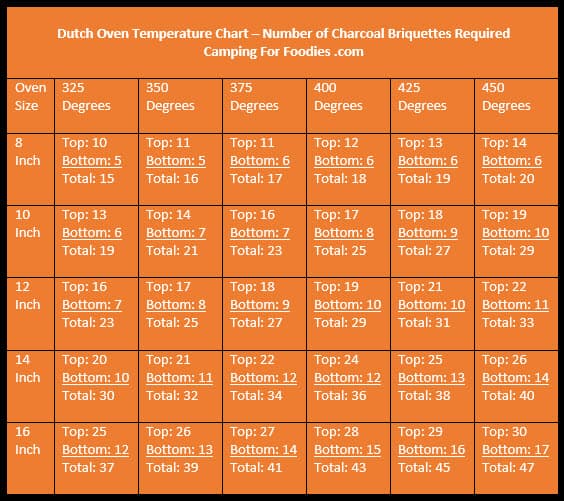 Dutch Oven Tomato and Avocado Frittata Instructions
Heat butter and oil in bottom of heated Dutch oven
1 tablespoon butter
2 tablespoons olive oil
Sauté veggies
1 small onion – chopped
1 clove garlic – minced
Now add the dried spices
½ teaspoon salt
¼ teaspoon black pepper
½ teaspoon dried basil
½ teaspoon dried oregano
Beat the egg mixture in separate bowl, then pour it over the garlic and onion mixture in the Dutch oven
6 eggs – beaten
¼ cup milk
Rotate while baking with lid on for about 10 minutes until the frittata is almost firm
Add the cheese to top of frittata, replace lid and continue cooking until cheese is melted and frittata is firm.
1 cup shredded cheddar cheese
Top it with these just before serving
1 avocado – sliced
3 cherry tomatoes – sliced into quarters
3 fresh basil leaves – chopped
Serve warm.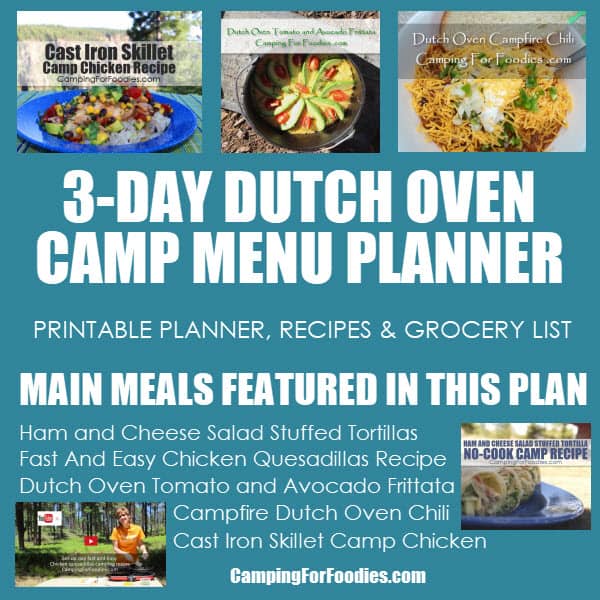 No time to look for recipes, create a menu and write a grocery list? No Problem! Get our 3-Day Dutch Oven Camp Menu Plan here!
Weber 7416 Rapidfire Chimney Starter
If you are using charcoal briquettes with your Dutch oven, a chimney starter is great because it is a fast, efficient and clean way to light your charcoal.
&
&
Camping For Foodies Flexible Cutting Mats with Retro RV Camper Trailer Theme Design, Set of 3
Chop your veggies on cute retro RV camper trailer flexible cutting mats!
&
&
Using a Dutch oven lid lifter makes it easy to rotate the lid as well as the oven while baking.
&
&
Dutch Oven Tomato and Avocado Frittata Pairings
Pairs well with a side of my Fresh Summer Fruit Tossed In Honey Mint Syrup!
Camp cooking tip: You can use whatever size Dutch oven you'd like to make this delicious Dutch Oven Tomato and Avocado Frittata, just remember the smaller the oven the thicker the frittata and vice versa.
I like using a 10 inch oven for this recipe but a 12 inch oven will work too … you'll just have a wider frittata that is not as thick. Adjust the number of coals to get the desired heat for the size of oven you are using.
PS. If you don't have your own, my basil butter recipe is easy and freezable so you can make it way in advance at home and freeze it so it is ready to use on any camp trip.  If you don't have basil butter, you can use regular butter but it won't have quite as much flavor.
My Dutch Oven Camp Cooking Tips blog post has tons of helpful camp cooking tips!
Get More Dutch Oven Recipes For Camping!
 Grocery Tote
 Funny Apron
 Cutting Mat
 Mat Set
 Shaker Set
&
If you need camping recipes and menu ideas, you can find them here at the Camping For Foodies Camping Recipes list.
Don't miss a thing…sign up for Camping For Foodies email updates!
Your purchase of our products will help support World Vision ® Building a better world for children.