Easy No Cook Healthy Southwest Camping Salad Recipe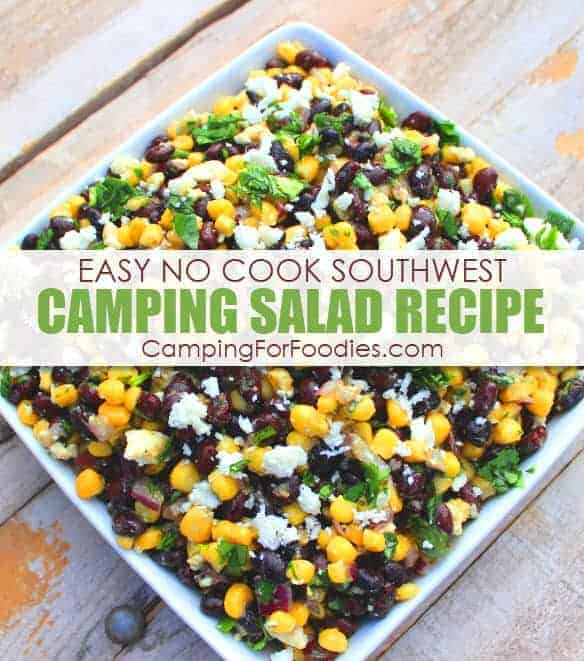 Easy No Cook Healthy Southwest Camping Salad Recipe
We just love simple no cook healthy camping side dishes that provide a punch to a main course or can stand alone with a little protein added to the mix! Our Southwest flavor-packed cold camping salad is one of those easy make ahead camping recipes you can prepare at home and refrigerate up to 2 days; but it's one of those super easy camping side dishes that can be thrown together in minutes at the campsite. It's also a great option for camping potluck side dishes when you're camping with a crowd! This recipe serves 4-6 as a side dish or 2-3 as a main dish, here's how you make it! Psst we're compensated…see our disclosures.
---
Southwest Camping Salad Side Dish
Mix the dressing
1 lime, zest and juice
2 tablespoons olive oil
1 tablespoon honey
1 teaspoon ground cumin
1/8 teaspoon cayenne pepper
Salt and pepper, to taste
---
Camp Cooking Tip: One of my favorite ways to easily add a crazy amount of flavor to my camping recipes is to use the zest and juice of fresh lemons and limes. I always carry a Citrus Zester With Protective Cover and a Lemon Lime Squeezer in my camp kitchen gear box for this very reason. 😉
---
Citrus Zester With Protective Cover
Lemon Lime Squeezer
&
---
Combine the salad, then toss with the dressing and serve (or refrigerate up to 2 days)
2 cups frozen corn, defrosted
1/4 cup red onion, finely chopped
1 (15 oz.) can black beans, rinsed and drained
3 oz. queso fresco cheese, crumbled (Note: if you are doing this as one of your make ahead camping recipes, store the cheese separately and toss just before serving so it stays a nice pretty color 😉)
Small bunch fresh cilantro, chopped
---
Optional main dishes
If a cold side salad sounds like a great idea for a hot summer camping lunch this Southwest salad is a great vegetarian option … if you are looking for something more substantial for dinner, just toss in a cubed grilled chicken breast or two for a well-rounded main course and serve with a nice crusty loaf of bread.
---
Camping Potluck Side Dishes
This is one of my favorite side dishes to take to a camping potluck party! It is a real crowd-pleaser and ridiculously easy to scale to the size of the crowd. The Southwest flavors are fresh and bright but not overwhelming. This is one of those easy make ahead camping recipes that goes with an All-American burger or a Mexican feast! Best of all, because you can make it ahead, you get to enjoy the party!
---
Camp Cooking Tip: If our camping trip happens to be an extended extra-long weekend and I want to do most of my camping recipes prep at home, I will transport ingredients in separate Food Storage Containers and just toss everything together right before we are ready to eat. That way our meals are fresh (and not all soggy and gross 🤔) but I still don't have a ton of work to do at the campsite. 😁 Make sure you have a container set that nests when not in use and has various sizes too.
---
Rubbermaid Easy Find Lids Container Set
42-Piece Food Storage Container Set
&
---
When you have make ahead camping recipes on your camping menu, make sure you keep everyone healthy by employing our Camping Food Safety Tips Including How To Pack A Cooler For Camping because no matter how easy it is to make your food at home, it is never easy rushing to the emergency room because a camper got food poisoning! 😳
&
---
No time to look for recipes, create a menu and write a grocery list? No Problem! Get our 3-Day Dutch Oven Camp Menu Plan here!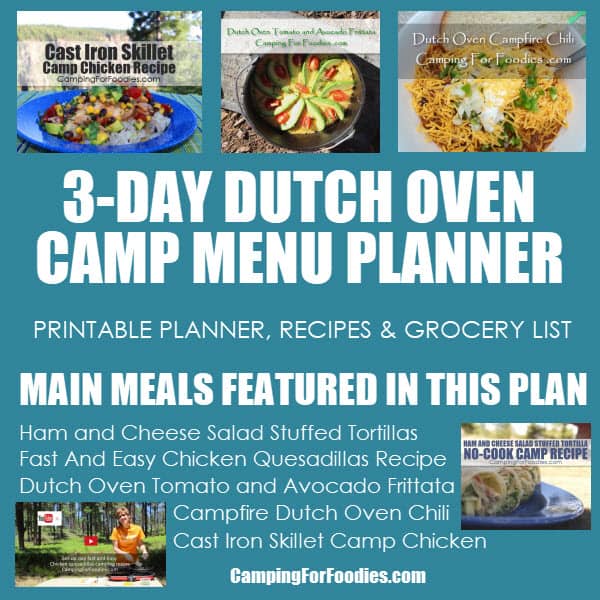 ---
Get More Dutch Oven Recipes For Camping!
Don't miss a thing…sign up for Camping For Foodies email updates!
Your purchase of our products will help support World Vision ® Building a better world for children.