Grilled Flatbread With Prosciutto, Charred Tomatoes, Fresh Mozzarella And Basil
Grilled flatbread makes a great foundation for flavors
It's like magic! Flatbread is so versatile you can use it as a wrap right out of the package or you can slather a light coat of olive oil on it so when you grill it you end up with a cross between a thin crispy wood-fired pizza crust and a crunchy cracker as a base for any flavor profile your little heart desires. Psst we're compensated…see our disclosures.
---
One of our family favorites is a super easy Italian combination…It's crispy, it's charred, it's salty, it's slightly sweet and it's totally fresh and fabulous. Here's how you make my Grilled Flatbread With Prosciutto, Charred Tomatoes, Fresh Mozzarella And Basil Camp Recipe that serves 1 for a luscious lunch or serves 2-4 as a light dinner appetizer.
Note: I'm indicating quantities here to make a single lunch-sized serving so just scale it up for the size of your group and whether you are doing them for a main course or an appetizer.
---
Heat Resistant Gloves
Camp Grill
Rapidfire Chimney Starter
&
---
Grilled flatbread with prosciutto, charred tomatoes, fresh mozzarella and basil camp recipe
---
Weber 7416 Rapidfire Chimney Starter
Camp cooking tip: These are awesome little tools that are efficient and clean. Use a Rapidfire Chimney Starter to get your charcoal going quickly without the need for lighter fluid.
&nbsp
&
---
Start your grill to medium heat
Whichever heat source you are using, get it heating up. These things cook so fast that you don't need a huge grill to serve your camping crowd. I like to use my mini charcoal grill if I don't already have a campfire going at the time I am ready to make these little lovelies.
Char the tomatoes
Toss the tomatoes in a little olive oil then grill till charred. Be careful to avoid over-doing the olive oil so you don't have flare-ups from oil dripping in to the campfire or charcoal coals. Remove from heat and let cool.
8 cherry tomatoes
Olive oil to lightly coat (about 1 t should be enough)
&nbsp
---
Weber Style 6434 Professional-Grade Vegetable Basket
Camp cooking tip: Skip the headache that comes with the dreaded runaway tomatoes rolling into the fire if your grill grate is too large…use a grill basket to char your veggies for this grilled flatbread recipe.
&nbsp
&
---
Grill the flatbread
Coat both sides of the flatbread with a little olive oil. Grill on one side and when slightly toasted, flip to cook the second side. As soon as you flip it, add the mozzarella, prosciutto and crush the tomatoes in your fingers over the flatbread so they burst and the juices top the bread. Remove from heat as soon as the bread gets toasted which will be very quick.
1 piece flatbread
Olive oil to lightly coat (about 1 t should be enough)
2 slices prosciutto, chopped in bite-sized pieces
2 slices (about ½ inch thick) fresh mozzarella
---
Lodge L8SGP3 Pre-Seasoned Cast-Iron Square Grill Pan, 10.5-inch
Camp cooking tip: This grilled flatbread with prosciutto, charred tomatoes, fresh mozzarella and basil camp recipe can be made over the coals of a charcoal grill or campfire. No grill or campfire? No problem! Use a grill pan on your camp stove or RV kitchen stove.
&nbsp
&
---
Top the grilled flatbread with fresh basil and eat
Once the grilled flatbread is removed from the heat, add fresh basil and serve.
3 leaves fresh basil, chopped
---
BBQ Grill Brush
BBQ Grill Tool Set
Instant Read Meat Thermometer
&
---
Camp cooking tip: Set up an "assembly line" if you are cooking for big crowds that way each camper can help with the cooking and pick the ingredients they love while avoiding the ingredients they don't.
---
If you are doing this grilled flatbread recipe for a main course, you will want to serve it with a side salad. A great combination for this is my Caesar's Salad Dressing That Does Not Need "The Rule"!
---
If this grilled flatbread is an appetizer, you'll love these options for a main dish:
Pasta with a Garlic and Sun-Dried Tomato Cream Sauce camp recipe
---
Drunken Meatballs Over Spaghetti camp recipe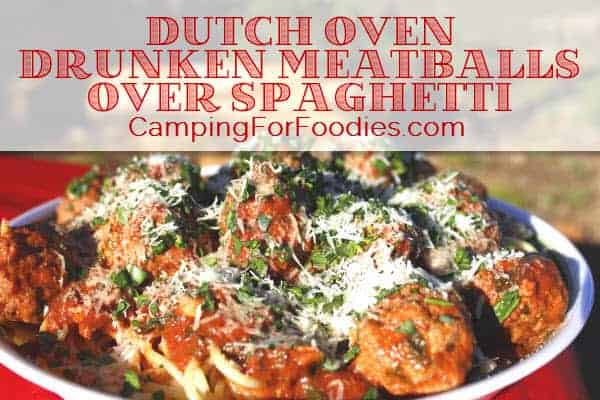 ---
No time to look for recipes, create a menu and write a grocery list? No Problem! Get our 3-Day Dutch Oven Camp Menu Plan here!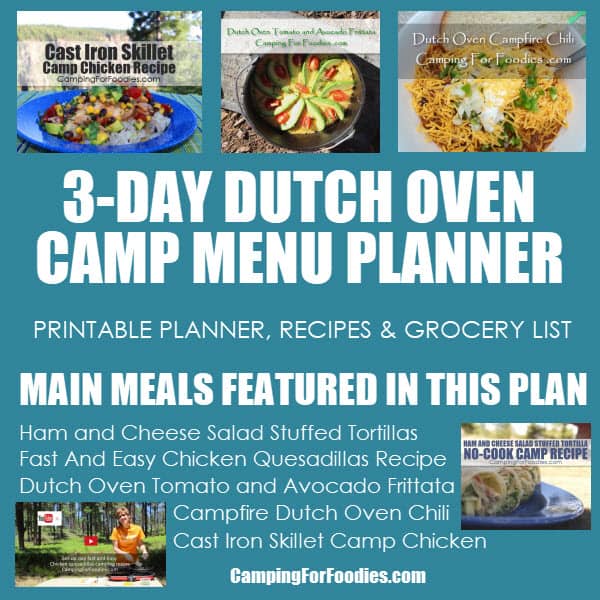 ---
If you need camping recipes and menu ideas, you can find them here at the Camping For Foodies Camping Recipes list.
Don't miss a thing…sign up for Camping For Foodies email updates!
Your purchase of our products will help support World Vision ® Building a better world for children.