In Honor of Smokey Bear's Upcoming Birthday Have a Safe 4th of July Camping Trip
Campers can give Smokey Bear the best birthday gift…ever!
Did you know Smokey Bear is over 70? He was actually created August 9, 1944. The best birthday gift we can give him is to have safe and responsible celebrations…whether you are camping in the wilderness…or at a campground…or hanging out in the middle of a concrete jungle. Smokey is still a hip dude who is now embracing technology to continue to spread his message: "You can prevent wildfires!" Psst we're compensated…see our disclosures.
---
Check this out, Smokey Bear has his own…
Great info for campers about wildfires
It looks like Smokey has his work cut out for him when you take a look at the US Wildfire Activity Public Information Map. Here's a snapshot from today…
Here's the link for the live version of the US Wildfire Activity Public Information Map.
Another great resource for campers to get information about wildfires is INCIWEB, the Incident Information System.
There is information on:
1. Incidents
2. Announcements
3. Closures
4. News
5. Photographs
6. Maps
As their fact sheet says:
"InciWeb is a real-time searchable website that has become a "go-to" source for public and media seeking the most current official information about emergency response to incidents such as:
• Wildfires, hurricanes, tornados, floods, earthquakes, and other natural disasters
• Oil spills and other hazmat and human-caused accidents
• Avian flu and other public health crises
as well as planned incidents affecting the public, such as:
• prescribed fires
• burned area rehabilitation
No time to look for recipes, create a menu and write a grocery list? No Problem! Get our 3-Day Dutch Oven Camp Menu Plan here!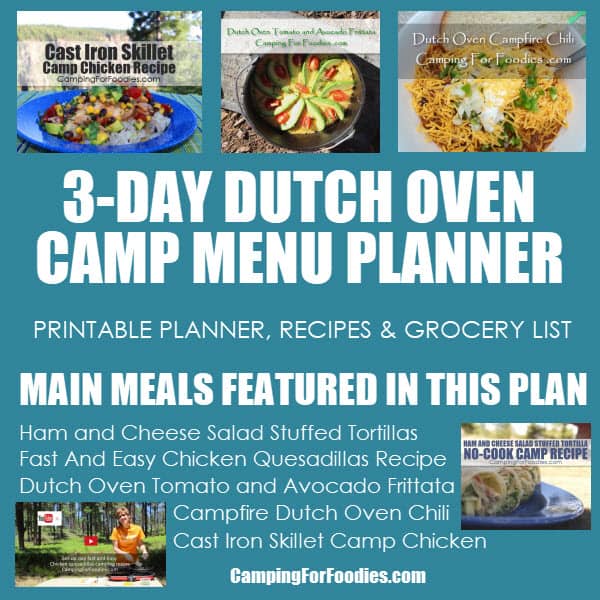 We've got great camp cooking tips in these other posts: