Middle Eastern Chicken: Easy Dutch Oven Camping Recipe
My Middle Eastern Chicken has sweet and salty flavors from spices, olives and apricots. The exotic tastes can almost transport you to another continent, that's why it's one of my favorite Dutch oven camping recipes.
P.S. You gotta see the reader comment from Carla at the bottom of this post about the guy who was shocked to find out he was eating fruit and loved it!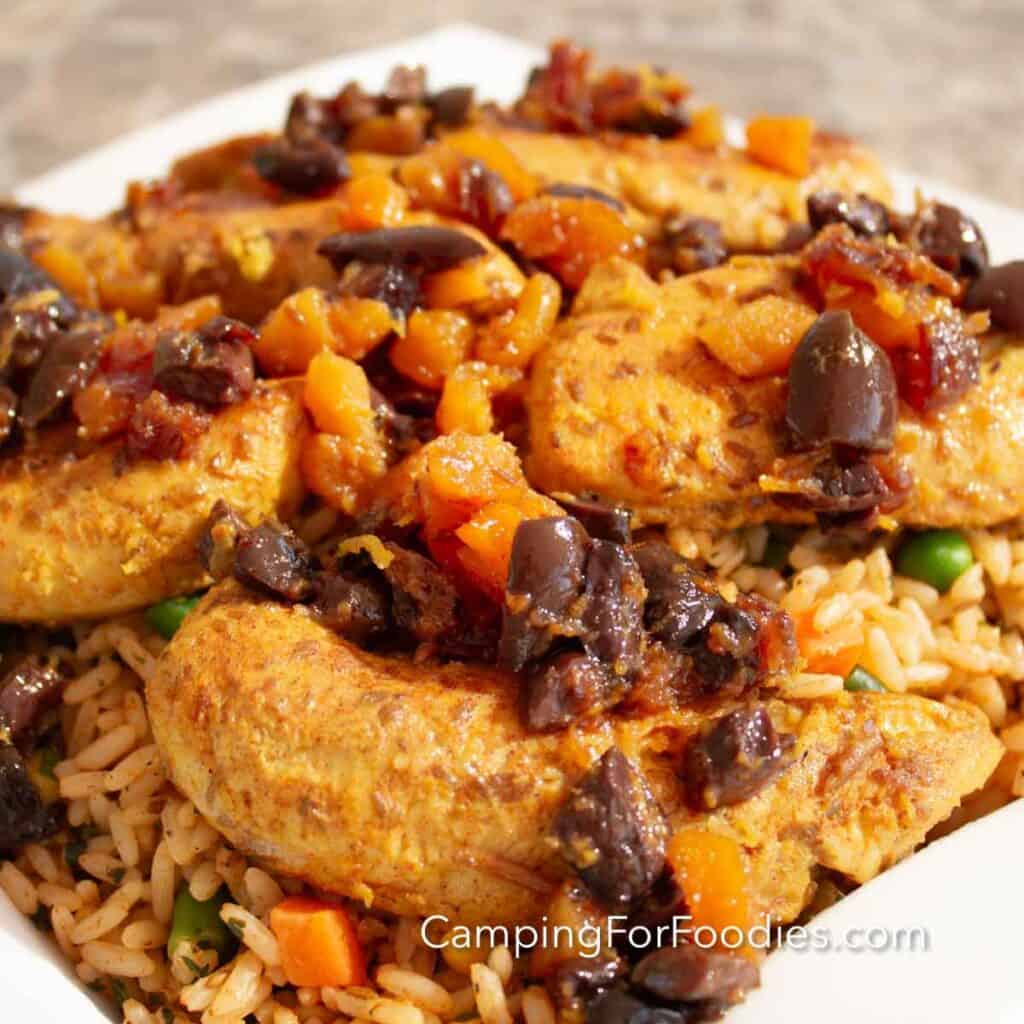 Psst we're compensated…see our disclosures.
Home Prep
Step 1. Measure And Mix Spices At Home
Camp Cooking Tip: When I am making a recipe that uses small measurements of dried spices, I only take what I need to the campsite. I mix and measure my spices at home and transport them in small food storage containers with tight-fitting lids.
That allows me to create camping dinner ideas with interesting flavors like this one without having to carry a bunch of individual bottles of spices.
Step 2. Prepare Chicken At Home
Camp Cooking Tip: Prepping and cleaning up when cooking with poultry is so much easier at home.
For this recipe, I cut my chicken breast into strips and place it in a Gallon Freezer Bag in a flat layer, then I work out the air, seal the bag and freeze it. If you prefer dark meat, you can substitute boneless skinless chicken thighs.
This accomplishes three things:
My prep and cleanup work is done at home where I have an abundance of soap, water and bleach for clean-up.
My chicken is frozen for transporting to the campsite which eliminates the potential for unsafe temperatures and cross contamination in my RV refrigerator or camp cooler (whichever I am using on that particular trip).
It allows me to prep far in advance of a camping weekend so I'm not rushing at the last minute.
At The Campsite
When I get to the campsite, I just make sure I allow enough time to defrost the chicken before I am ready to cook it. Check out these camping food storage safety tips.
Step 3. Defrost Chicken.
If you prepped and froze your chicken at home, fully defrost your chicken for cooking.
If you did not freeze it, skip this step.
Step 4. Marinate Chicken. Now, combine the chicken and the marinade ingredients in the freezer bag.
Seal the bag and toss it so the chicken is coated with the marinade.
Place the sealed bag in your camping cooler or RV fridge for about an hour.
Step 5. Prepare Your Cooking Equipment And Fruit.
While the chicken is marinating, you will chop the fruit and get your cooking equipment ready.
If you are making this as one of our easy campfire recipes, you'll need to get your fire going in order to cook over coals. You can also place the pot over charcoal briquettes.
If fire restrictions prevent you from using an open flame, or, you just prefer cooking with propane, you can also make this as one of our camp stove recipes or use your RV stovetop.
Step 6. Brown Chicken, Add Remaining Ingredients And Cook. Even though it seems like this recipe has a lot of ingredients, it is really simple and fast!
You'll brown the chicken over medium heat (about 5-6 seconds using the hand test for cooking temperatures), and then, add the broth and fruit. The entire cooking time only takes about 14 minutes!
Hand Test For Cooking Temperatures
You don't need a thermometer to determine the temperature of your heat source for cooking. Here's steps for the "hand test".
Hold the palm of your hand about 5 inches above the heat source (campfire coals, charcoal briquettes, propane grill etc.) you're using for cooking. (Make sure nothing is flammable, like clothing or jewelry.)
Pull your hand away from the heat before it hurts and note how many seconds have passed. Example: 5-6 seconds = medium heat.
| | | |
| --- | --- | --- |
| Heat Level | Temperature Range | Time |
| High Heat | 450-550°F | 2-3 seconds |
| Medium Heat | 350-450°F | 5-6 seconds |
| Low Heat | 250-350°F | 8-10 seconds |
Hand Test For Cooking Temperatures
Step 7. Serve And Enjoy!
---
Pairings
I like to serve this juicy chicken with jasmine or basmati rice. If I want to get extra fancy I serve it over my Moroccan Spiced Rice.
With only 8g net carbs, this is a great option for people preparing keto camping food. Simple side salads are always a nice touch to add some leafy greens to the meal. I just toss them with a prepared vinaigrette dressing and add some thinly sliced red onion, cherry tomatoes and freshly ground black pepper.
Get your FREE printable camping trip & menu planner before you create your next meal plan!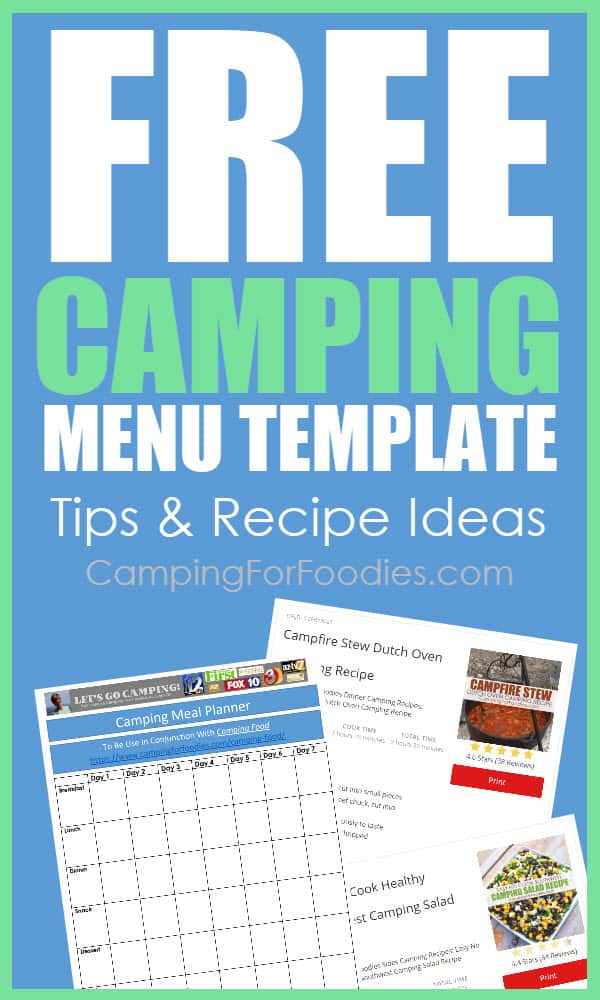 ---
Leftovers
Store any leftovers in your fridge or cooler. I like to chop the chicken into small pieces, toss in a bowl with a little plain yogurt and serve with wedges of pita bread for a yummy snack the next day.
---
Similar Recipes
The possibilities are endless when you are combining the basic ingredients of chicken and rice. This Dutch Oven Chicken And Rice is a creamy version of the old classic without using canned soup!
Try this Dutch Oven Thai Campfire Chicken, it's one of my almost-gourmet dinners that you prep & freeze at home, then, just dump & cook at the campsite. Check out all of my make ahead camping meals.
These Grilled Greek Pita Sandwiches are similar to a chicken shawarma recipe that is served on pitas and topped with veggies and a yummy homemade yogurt sauce.
Try these Chicken And Veggie Camping Kabobs when you want a meal that is fast to prep and cook.
---
Print This Recipe
Middle Eastern Chicken Dutch Oven Camping Recipe
Camping For Foodies Dinner Camping Recipes: This Middle Eastern Chicken is simple to prep at home and quickly cooks at the campsite.
Ingredients
1

pound

skinless boneless chicken breasts

cut into strips
Marinade
1

tablespoon

extra-virgin olive oil

2

garlic cloves

crushed

1

teaspoon

ground ginger

1

teaspoon

ground cumin

1/2

teaspoon

paprika

1/4

teaspoon

turmeric

1/4

teaspoon

cinnamon

1/4

teaspoon

salt
For Cooking
1

tablespoon

extra virgin olive oil

1

cup

low-sodium chicken broth

1/4

cup

dried apricots

chopped

2

pitted dates

coarsely chopped

10

small kalamata olives

pitted and chopped

1

small lemon

zest (you are using the zest only, not the lemon juice, save that for another recipe)

May need water during cooking
Optional Serving Suggestions
Instructions
Place the chicken in a plastic gallon sized freezer bag.

Add the marinade to the bag of chicken.

Seal the bag, toss to coat the chicken and marinate in a refrigerator or camp cooler for about an hour.

Heat 12-inch cast iron Dutch oven to medium heat (see * Note). You can cook this recipe on a camp stove, RV stove or over a campfire.

Coat bottom of the Dutch oven with the remaining 1 tablespoon of olive oil.

Add the marinated chicken to the Dutch oven, turning to brown on both sides. (Throw out the excess marinade.)

Add the chicken broth to the pot, cover and cook about 7 minutes.

Now, add the apricots, dates, kalamata olives and lemon zest to the chicken, stirring until all of the ingredients are incorporated.

Continue cooking until the chicken is cooked through, about 7 more minutes.

The cooking time will depend on how thick you sliced the chicken and the altitude you are cooking at so if the chicken is not done but the liquid has evaporated, add a little water to keep some moisture in the Dutch oven and continue cooking until the chicken is fully cooked.
Nutrition Information
Serving:
1
g
Calories:
252
kcal
Carbohydrates:
10
g
Protein:
26
g
Fat:
12
g
Saturated Fat:
2
g
Polyunsaturated Fat:
1
g
Monounsaturated Fat:
7
g
Trans Fat:
0.01
g
Cholesterol:
73
mg
Sodium:
453
mg
Potassium:
625
mg
Fiber:
2
g
Sugar:
7
g
Vitamin A:
497
IU
Vitamin C:
4
mg
Calcium:
31
mg
Iron:
1
mg
More Yummy Meal Ideas