Middle Eastern Inspired Chicken Dutch Oven Camping Recipe
The exotic flavors in this dish make it one of my favorite Dutch oven camping recipes and it will make you feel like you have been transported across the globe!
The closest I have been to the Middle East is through food.
In my Middle Eastern Inspired Chicken Dutch Oven Camping Recipe, the sweet and salty distinctive flavors that come from the spices, olives and apricots can almost transport you to another continent if you close your eyes and let your sense of smell and taste take over.
P.S. You gotta see the reader comment from Carla at the bottom of this post about the guy who was shocked to find out he was eating fruit and loved it!
Psst we're compensated…see our disclosures.
Middle Eastern Inspired Chicken Dutch Oven Camping Recipe
---
Step 1. Measure And Mix Spices At Home.
Rubbermaid Easy Find Lids Food Storage Containers
Camp Cooking Tip: When I am making a recipe that uses small measurements of dried spices, I only take what I need to the campsite.
I mix and measure my spices at home and transport them in small food storage containers with tight-fitting lids.
That allows me to make camp recipes with interesting flavors like this Middle Eastern Inspired Chicken Dutch Oven Camping Recipe without having to carry a bunch of individual bottles of spices.
&
---
Step 2. Prepare Chicken At Home.
Camp Cooking Tip: Prepping and cleaning up when cooking with poultry is so much easier at home.
For this recipe, I cut my chicken into strips and place it in a Gallon Freezer Bag in a flat layer, then I work out the air, seal the bag and freeze it.
This accomplishes three things …
(1) my prep and cleanup work is done at home where I have an abundance of soap, water and bleach for clean-up, and …
(2) my chicken is frozen for transporting to the campsite which eliminates the potential for unsafe temperatures and cross contamination in my RV refrigerator or camp cooler (whichever I am using on that particular trip), and …
(3) it allows me to prep far in advance of a camping weekend so I'm not rushing at the last minute.
When I get to the campsite, I just make sure I allow enough time to defrost the chicken before I am ready to cook it.
Check out these camping food storage safety tips.
&
---
Step 3. Defrost Chicken.
If you prepped and froze your chicken at home, fully defrost your chicken for cooking.
If you did not freeze it, skip this step.
---
Step 4. Marinate Chicken.
Now, combine the chicken and the marinade ingredients in the freezer bag.
Seal the bag and toss it so the chicken is coated with the marinade.
Place the sealed bag in your camping cooler or RV refrigerator for about an hour.
---
Step 5. Prepare Your Cooking Equipment And Fruit.
While the chicken is marinating, you will chop the fruit and get your cooking equipment ready.
You can cook this Middle Eastern Inspired Chicken Dutch Oven Camping Recipe over a campfire or using an RV or camp stove.
Whichever you choose, get your equipment ready and camping fire starter (if you are cooking with your campfire.)
---
Step 6. Brown Chicken, Add Remaining Ingredients And Cook.
Even though it seems like this recipe has a lot of ingredients, it is really simple and fast!
You'll brown the chicken and then add the broth and fruit.
The entire cooking time only takes about 14 minutes!
---
Step 7. Serve And Enjoy!
I like to serve this chicken with jasmine rice or my Moroccan Style Rice.
---
Other Chicken And Rice Camping Recipes
The possibilities are endless when you are combining the basic ingredients of chicken and rice.
This Dutch Oven Chicken And Rice Camping Recipe is a creamy version of the old classic without using canned soup!
Try this Dutch Oven Thai Campfire Chicken for an almost-gourmet meal that you prep ahead and just dump and cook at the campsite.
---
Print This Middle Eastern Inspired Chicken Dutch Oven Camping Recipe
Middle Eastern Inspired Chicken Dutch Oven Camping Recipe
Camping For Foodies Dinner Camping Recipes: Middle Eastern Inspired Chicken Dutch Oven Camping Recipe
Ingredients
2

tablespoons

olive oil

divided

2

garlic cloves

crushed

1

teaspoon

ground ginger

1

teaspoon

ground cumin

1/2

teaspoon

paprika

1/4

teaspoon

turmeric

1/4

teaspoon

cinnamon

1/4

teaspoon

salt

1

pound

skinless boneless chicken breasts

cut into strips

1

cup

low-sodium chicken broth

1/4

cup

dried apricots

chopped

2

pitted dates

coarsely chopped

10

small kalamata olives

pitted and chopped

1

small lemon

zest (you are using the zest only, not the juice)

May need water during cooking
Instructions
Place the chicken in a plastic gallon sized freezer bag.

Now add 1 tablespoon of the olive oil, garlic, ginger, cumin, paprika, turmeric, cinnamon and salt to the chicken.

Seal the bag, toss to coat the chicken and marinate in a refrigerator or camp cooler for about an hour.

Heat 12-inch cast iron Dutch oven to medium heat (you can cook this recipe on a camp stove, RV stove or over a campfire.)

Coat bottom of the Dutch oven with the remaining 1 tablespoon of olive oil.

Add the marinated chicken to the Dutch oven, turning to brown on both sides. (Throw out the excess marinade.)

Add the chicken broth to the pot, cover and cook about 7 minutes.

Now, add the apricots, dates, kalamata olives and lemon zest to the chicken, stirring until all of the ingredients are incorporated.

Continue cooking until the chicken is cooked through, about 7 more minutes.

The cooking time will depend on how thick you sliced the chicken and the altitude you are cooking at so if the chicken is not done but the liquid has evaporated, add a little water to keep some moisture in the Dutch oven and continue cooking until the chicken is fully cooked.
Nutrition Information
Serving:
1
g
Calories:
310
kcal
Carbohydrates:
11
g
Protein:
37
g
Fat:
13
g
Saturated Fat:
2
g
Polyunsaturated Fat:
10
g
Cholesterol:
96
mg
Sodium:
285
mg
Fiber:
2
g
Sugar:
7
g
---
No time to look for recipes, create a menu and write a grocery list? No Problem! Get our 3-Day Dutch Oven Camp Menu Plan here!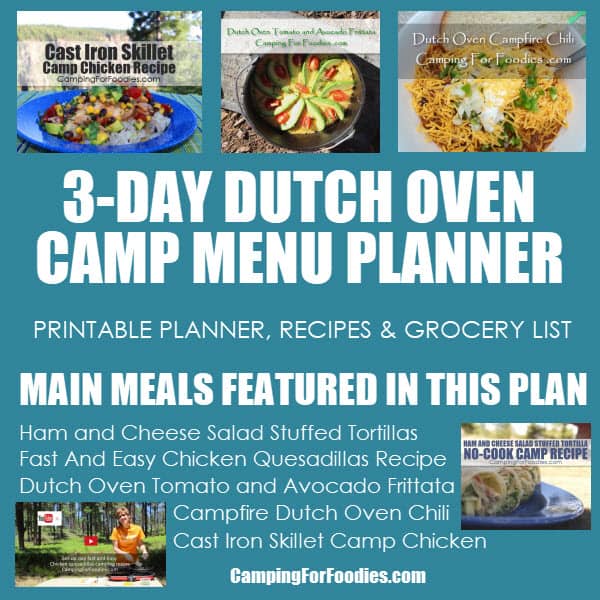 ---
Our Cool Camping Products Make Great Gifts!
Cutting Mat
Mat Set
Shaker Set
Hammock
&
---
If you need camping recipes and menu ideas, you can find them here at the Camping For Foodies Camping Recipes list.
&
Don't miss a thing…sign up for Camping For Foodies email updates!
&
Your purchase of our products will help support World Vision ® Building a better world for children.