French Dip Beef Sandwiches Dutch Oven Campfire Recipe
Make ahead camping meals can save you tons of time at the campsite! This French Dip Beef Sandwiches Dutch Oven Campfire Recipe is so simple because you just "dump and cook" on your camping trip!
Prep at home and freeze these simple ingredients to make a fast camping dinner that is full of flavor and short on effort. The richness of the savory beef dipping juice requires a hearty roll to absorb all of the tasty deliciousness in this satisfying camp meal.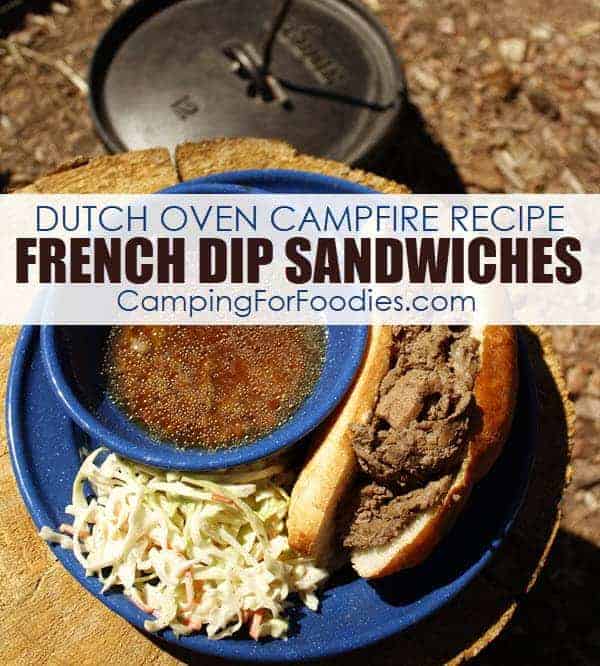 Psst we're compensated…see our disclosures.
French Dip Beef Sandwiches Dutch Oven Campfire Recipe Home Prep
There are some camp meals I like to do from scratch at the campsite but I also like having a few "dump and cook" options so I can enjoy the more adventurous side of camping.
I also like doing prep work at home where I have unlimited water for cleaning up … and a DISHWASHER too!
This French Dip Beef Sandwiches Dutch Oven Campfire Recipe is perfect for making at home because all of the ingredients are mixed together and cooked together.
I just combine the ingredients directly in my Gallon Freezer Bag working out the air as I close the seal on the bag.
Then, just write on the bag so you know what is in it and how to cook and serve at the campsite.
Now, just lay it flat in the freezer and defrost it at the campsite when you are ready to cook.
Camping Tip: When I am prepping make-ahead freezer meals I like to do a double batch … I make 1 mess and get 2 meals out of it!
One meal is for the campsite and one is for home!
I label the bag with the name of the recipe, date I put it in the freezer and cooking instructions.
After it freezes I don't want look at it and say, "Looks like a 'mystery dinner' night because I don't know what is in this bag!" LOL
---
How To Make French Dip Beef Sandwiches Recipe In A Campfire Dutch Oven
This is one of our Dutch oven camping recipes that works well using a tripod directly over your camping fire pit.
Lodge Tall Boy Camp Dutch Oven Tripod
This is one of my favorite make-ahead camping meals.
I prep and freeze at home … then just dump the ingredients from the freezer bag into my Dutch oven and simmer over a campfire.
These kinds of recipes are great for busy camp days … like day-long hikes that get us back to camp just in time for dinner.
My personal preference is to use a Dutch oven hanging from a Camp Dutch Oven Tripod when I am making my French Dip Beef Sandwiches Dutch Oven Campfire Recipe but you can also use your Dutch oven on a grill grate or even a camp stove or RV stovetop.
---
Cooking Campfire Recipes During Fire Restrictions
We most frequently camp in National Forests throughout Arizona.
Soooo, we have to adjust our camp menus if fire restrictions are activated.
This French Dip Beef Sandwiches Dutch Oven Campfire Recipe is awesome because you just "dump and simmer" directly over a campfire BUT if you need to change your cooking method because of fire restrictions, you can easily do that!
Check out our How To Camp When Camping Fire Restrictions Are Activated post for more tips!
---
Serving These French Dip Beef Sandwiches
Make sure you get "sturdy" rolls for this Dutch Oven Campfire Recipe because the whole point of it is dipping these French "Dip" Beef Sandwiches in the au jus (you know, that French term that means "with juice" … did I ever mention I flunked my French language class in high school? Ooops!)
---
Similar Recipes
If you have 3 basic ingredients … you are ready to start cooking these Dutch Oven Beef Sandwiches! You just let the beef roast simmer … low and slow … with jarred mild peppers and their juice to create a tangy and slightly spicy meal of shredded beef sandwiches. Check out all of our yummy camping sandwich ideas.
This Campfire Stew is soooooo delicious! The tomato-based sauce is the perfect backdrop for the beef, carrots and potatoes. You gotta love one-pot camping meals!
---
Print This Recipe
French Dip Beef Sandwiches Dutch Oven Campfire Recipe
Camping For Foodies Dinner Camping Recipes: French Dip Beef Sandwiches Dutch Oven Campfire Recipe
Ingredients
1

teaspoon

onion powder

1/4

teaspoon

ground mustard

1/8

teaspoon

pepper

2

tablespoons

Worcestershire sauce

4

garlic cloves

minced

1

14.5 oz

can beef broth

1 1/2

pounds

flank steak

trim fat and cut in thin strips against the grain

4

hearty hoagie rolls

for serving at the campsite
Instructions
At home: Mix all ingredients (except rolls) in gallon freezer bag, seal and lay flat in freezer. Label outside of bag with name, cooking and serving instructions.

At campsite: Defrost freezer bag and dump contents in 12-inch camp Dutch oven.

Simmer covered over medium heat of campfire, charcoal briquettes or camp stove till fully cooked through, about 20 minutes.

Serve on crusty hoagie rolls with juice on side for dipping.

Camp cooking tip: We love cooking over the campfire with our Dutch ovens, but this recipe can be made in a cast iron skillet or other pan with a lid and be made using a camp stove or RV stove.
Nutrition Information
Serving:
1
g
Calories:
427
kcal
Carbohydrates:
36
g
Protein:
43
g
Fat:
11
g
Saturated Fat:
4
g
Polyunsaturated Fat:
1
g
Monounsaturated Fat:
3
g
Cholesterol:
102
mg
Sodium:
871
mg
Potassium:
725
mg
Fiber:
1
g
Sugar:
5
g
Vitamin A:
7
IU
Vitamin C:
2
mg
Calcium:
66
mg
Iron:
14
mg
---
Cast Iron Dutch Oven Cleanup
I always say: treat your camp cast iron gear right and it will last for generations!
After you have enjoyed this French Dip Beef Sandwiches Dutch Oven Campfire Recipe, clean and season you cast iron camp cookware.
Check out our Cleaning And Seasoning Cast Iron Dutch Oven Cookware post for tips!
---
More Camping Recipes
Looking for more yummy but simple meal ideas for your next trip? We've got tons of them!