Solar Products For Camping
The best camping gear works whenever and wherever you want to camp. Harness the free, clean and never-ending power of the sun with these awesome solar products for camping.
&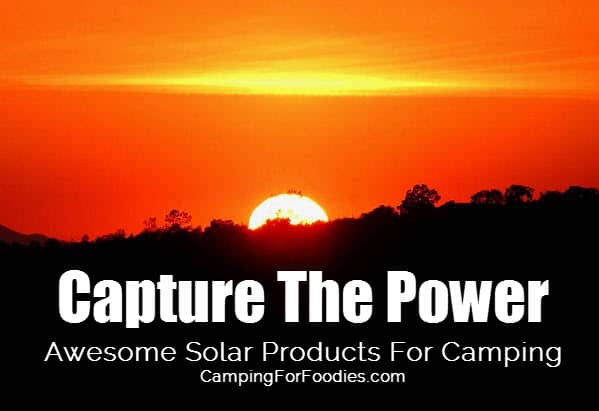 Psst we're compensated…see our disclosures.
Solar Products For Camping
Many of our camping trips are temporary escapes from our crazy-paced modern society; they include adventures in remote locations … Some call it dispersed camping while others call it boondocking.
Whatever you call it, it is off-the-grid and you need to bring your own water and power, and that's where solar equipment for camping comes in to play.
---
Goal Zero 23000 Yeti 400 Solar Generator
This Yeti Solar Generator's name is a little misleading, it's not really a "solar generator", it's a battery power pack with a built-in inverter that can be charged by solar panels (or AC outlet).
In other words, you have to charge the internal battery with an external source.
It has USB outlets and AC wall-type plugs. In spite of the slightly confusing name, it's a great backup power source.
&
---
Goal Zero Yeti 400 Solar Generator Kit with 2X Nomad 20
This Goal Zero Yeti 400 Kit includes two 20 Watt Solar Panels.
&
---
We are always using solar products for camping at our favorite dispersed camping locations like the one we have in Sedona, Arizona.
During one of our camping trips on FR525, we got a VIDEO of a HOT AIR BALLOON that LANDED AT OUR CAMPSITE!
&
---
Portable Solar Phone Charger And Solar Panel Backpacks
---
We encourage "unplugging" but it's still a good idea to keep your phones fully charged in case you need them.
This Solar Charger Backpack allows you to charge your devices while you hike.
If you are going to be hanging out at the campsite, this Foldable Solar Panel Charger can be placed on a table and can charge two devices at the same time.
If you need power after the sun goes down, this Solar Charger Power Bank is great because it stores power in its internal battery; that means you can charge it during sunlight hours and the battery stores it until you are ready to use it.
Solar Charger Backpack For Tablets, Smartphones And Other USB-Charged Devices
Foldable Solar Panel Charger For Tablets, Smartphones And Other USB-Charged Devices
Solar Charger Power Bank With Dual USB For Tablets, Smartphones And Other USB-Charged Devices
&
---
There are so many cool ways to keep your phone charged when you are camping which includes more than just solar options!
Check out these CRAZY COOL gadgets in our How To Charge Your Phone Without Electricity While Camping post!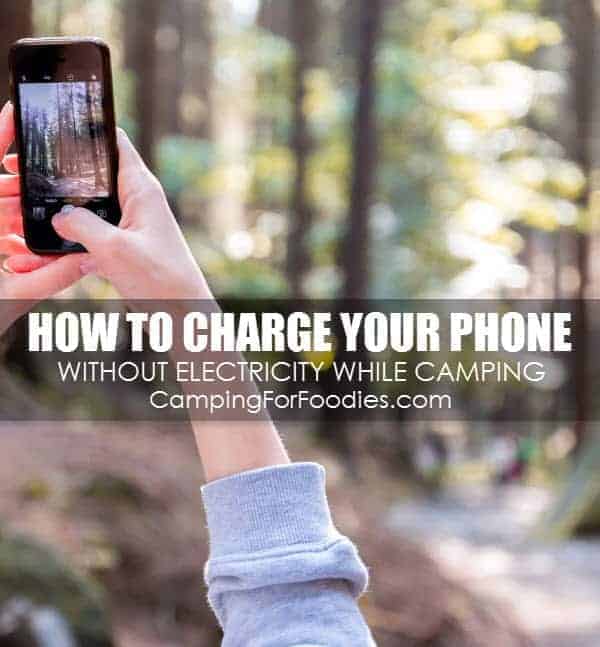 ---
Solar Powered Portable Radios
---
Emergency solar powered portable radios are great for AM/FM listening; many of them receive other frequency bands and even have the capability of charging mobile devices.
The iRonsnow is an inexpensive lightweight AM/FM/NOAA emergency radio that has the capability of charging from its small solar panel.
The Kaito is a little more sophisticated adding a shortwave band, tiltable solar panel and an LED light that can be used as a flashlight or red flashing emergency signal.
The Ivation is the higher end of emergency radios with a digitally tuned radio and stereo speaker system.
It also displays the time, date, current temperature and can be used as an alarm clock.
iRonsnow Solar/Hand Crank/Micro USB Powered Emergency AM/FM/NOAA Weather Radio
Kaito 5-Way Powered Emergency AM/FM/SW Weather Alert Radio
Ivation Solar/Hand Crank Powered AM/FM/NOAA Radio, Bluetooth Stereo Speaker And Phone Charger
&
---
Staying in touch when camping in the wilderness is essential for keeping our family safe.
Check out our Camping In National Forests post which includes Rules For Camping In National Forests and more tips!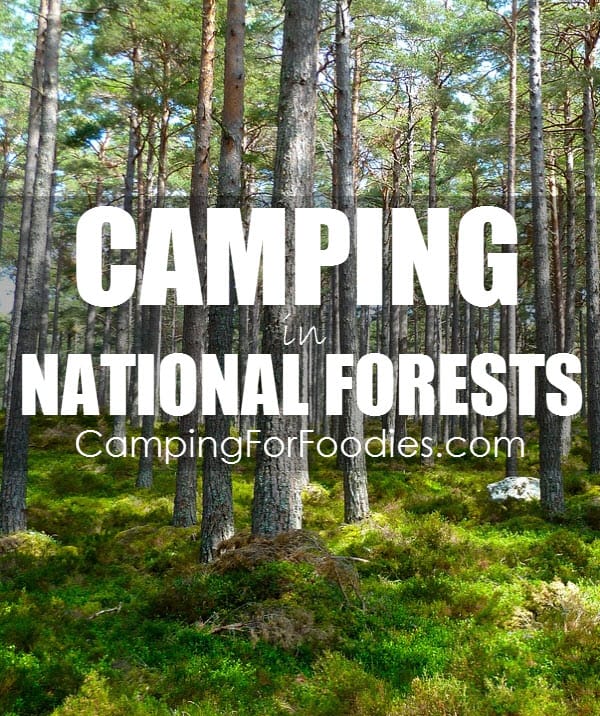 ---
Camping Solar Panel Kits
Converting daytime solar power into nighttime amps! If you need to recharge your batteries including your car, RV or a 12-volt powerpack, a camping solar panel kit will do the trick.
We like these kits that are portable, easy to pack and reposition in order to track the sun as it moves throughout the day.
Camping solar panel kits range in size, cost and energy producing capability; your energy needs will determine the kit that is right for your family.
Sunforce 50048 60W Solar Charging Kit
Renogy 100 Watts 12 Volts Monocrystalline
ECO-WORTHY 120watts 120w 12v Polycrystalline Photovoltaic
&
---
Keeping your campsite well lit is just one way to keep your family safe on your outdoor adventures.
Check out our Camping Safety Tips For Families post for more ways to easily protect kids and adults on camping trips!
---
Solar Camping Lanterns, Solar Power Flashlights
We love gadgets that have multiple uses like this Solar Powered Camping Lantern which can also charge personal electronic devices through a USB port.
The Inflatable Solar Light is kinda like a mini beach ball, just blow it up, turn it on and it shines bright for hours; it only weighs 3 ounces!
This Solar Powered Flashlight can be charged by the sun or by cranking for a few minutes; it also has a carabiner clip.
Compact Solar Camping Lantern With USB PowerBank
Inflatable Solar LED Light Collapsible And Waterproof
LED Solar Powered/Hand Crank Rechargeable Flashlight
&
---
Solar String Lights
---
Solar string lights are a great way to gently light your campsite.
The Globe Ball set is bright and colorful; covering a 20 foot span.
The Purple Flower set has a light sensor which can be set to automatically turn on at dusk and off at dawn; it covers a 23 foot span.
If you have a large area you want to light, this Warm White set is 72 feet and provides a classic-feeling glow.
Globe Crystal Ball Solar String Lights, Multi-Colored, 30 LED, 20 Feet, Waterproof
Solar Purple Flower String Lights, 50 LEDs, 23 Feet, Waterproof With Light Sensor
Warm White LED Solar String Lights, 200 LED, 72 Feet, Waterproof
&
---
Thinking you might want some lighting options that include battery-powered and rechargeable lights in addition to solar lights?
You'll love our Best Camping Lights For Lighting Your Campsite post!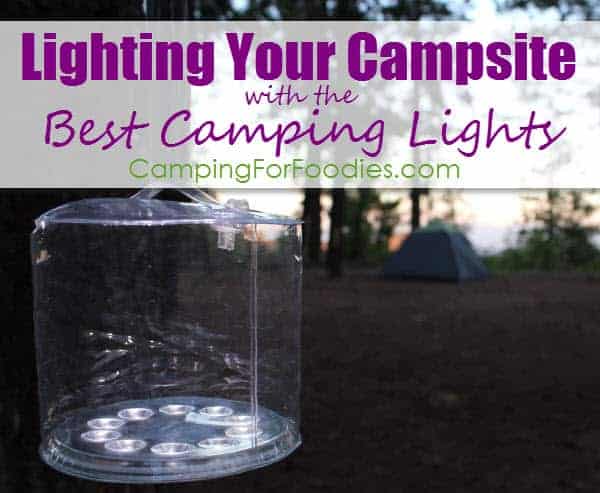 ---
Cool Solar Gadgets
Your needs for power change a bit if you are camping in an RV or a tent so we've included cool solar gadgets for both scenarios.
Camping Solar Shower
A freezing cold shower in the wilderness is not necessary!
These camping solar shower bags heat the water surprisingly well, even in indirect sunlight.
The water temperature can actually get too hot if you leave the bags in direct sunlight for long periods of time (trust me on this, I'm speaking from experience … ouch!).
The size of your camping group and the length of their showers will determine the capacity you need for your camping solar shower.
They come in 2.5 Gallon, 5 Gallon and 10 Gallon sizes.
Solstice 2.5 Gallon Super Solar Shower
Coleman 5-Gallon Solar Shower
Docooler 40L 10 Gallon Camping Hiking Solar Heated Camp Shower
&
---
Thinking you need some meal ideas for your next camping trip?
Check out our Camping Recipes List for FREE recipes that can be made in solar ovens, Dutch ovens, foil packets, grills and more!
---
Solar Power Oven
Let's eat! Using a solar oven is an easy way to avoid the need for charcoal or propane to cook your food while dispersed camping.
Solar ovens range in size, complexity and cost.
The compact units are easier to fold, pack and carry but don't cook as much food as the larger types.
Your camping style and size of crowd to feed will help you determine which solar power oven is right for you.
Sunflair Mini Portable Solar Oven
All American Sun Oven- The Ultimate Solar Appliance
All Season Solar Cooker and Trivet
&
---
Sun Tea Containers
Thirsty? A freshly-brewed glass of iced tea is so satisfying!
We love the idea of fruit-infused tea.
It can be brewed in individual servings with this tumbler or in a 2 gallon jar with an infuser ball.
If you prefer an alternative to glass, this acrylic infusion pitcher can be filled with fruits, herbs etc.
Tea Infuser Tumbler, Fruit Infusion Glass Bottle
Mason Jar Beverage Dispenser With Grape Fruit Infuser Ball
Acrylic Fruit Infusion Flavor Pitcher
&
---
There are lots of locations to do wilderness remote camping.
When asked where we like to go, our answer: Camping In National Forests!
We have more tips in our How To Camp When Camping Fire Restrictions Are Activated post if you are dispersed camping in super dry conditions.
You'll also find more boondocking tips in our Boondocking: How And Where To Go Dispersed Camping post.
&
---
Our Cool Camping Products Make Great Gifts!
Cutting Mat
Mat Set
Shaker Set
Hammock
&
---
If you need camping recipes and menu ideas, you can find them here at the Camping For Foodies Camping Recipes list.
Don't miss a thing…sign up for Camping For Foodies email updates!
Your purchase of our products will help support World Vision ® Building a better world for children.