When you are making campfire meals in foil you can put an entire meal in a packet or do the meat and veggies separately. These Campfire Veggie Packets are easy, flavorful and make awesome camping side dishes for grilled meats.
An added bonus … you can get the kids to eat their veggies because foil pack campfire vegetables are fun to make and eat!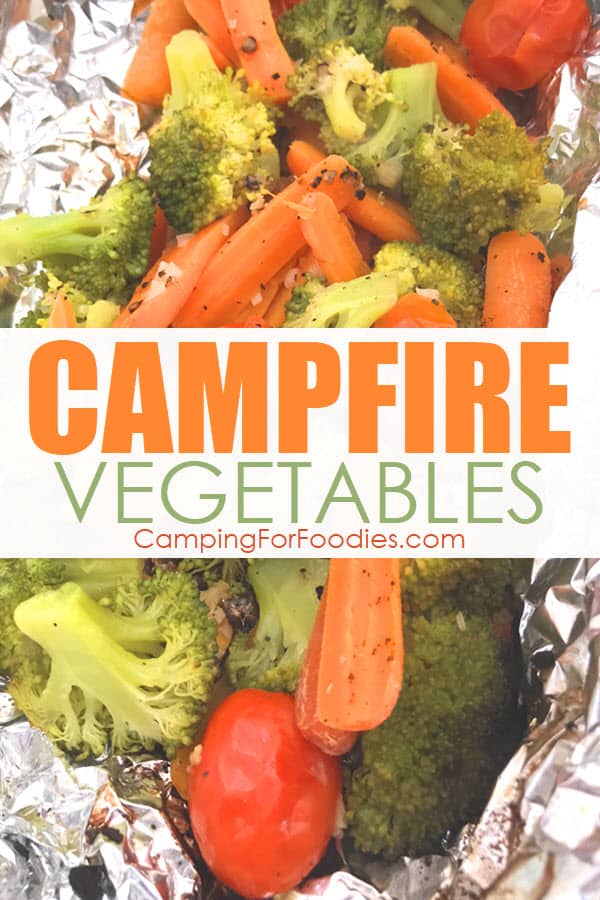 Psst we're compensated…see our disclosures.
How To Make Campfire Vegetables In Foil Packs
When vegetables are on your menu, you need to plan ahead and know how to keep them fresh throughout your trip. Check out these simple tips for planning, buying and storing your camping veggies.
---
Recipe Steps
Step 1. Prep the veggies. You'll need to cut the broccoli and carrots … then mince the garlic before you place them in the foil packet for cooking. These basic readily-available veggies are perfect for summer as well as winter camping recipes.
Step 2. Prepare the foil. Cut a 2 foot-long piece of heavy duty aluminum foil and place it on a level surface.
Camp Cooking Tip: It is best to use heavy duty foil for campfire cooking but if you don't have it, just layer two pieces of regular aluminum foil as a replacement.
Step 3. Pile the veggies on the foil. Layer the broccoli, carrots, tomatoes and garlic in the center of the foil. Make sure you leave all of the edges of the foil exposed so you can fold and crimp the packet to seal it.
As one of our vegetarian camping recipes, these campfire veggie packets have no meat. But, if you are packing meat and veggies in your cooler or refrigerator, check out our tips on how to pack a cooler efficiently so you don't cross-contaminate raw meat with your vegetables.
Step 4. Add the butter and seasonings. In order to evenly distribute the butter, you'll need to "dot it" around the piled veggies. Now you can liberally sprinkle salt and pepper over the veggies and butter.
Step 5. Fold the foil packet. You'll want the packet completely sealed so you can turn it during cooking. Also, if the packets have too many air gaps, the food inside won't be able to steam and cook. When you make easy camping meals that are cooked in foil, the cleanup is easy too!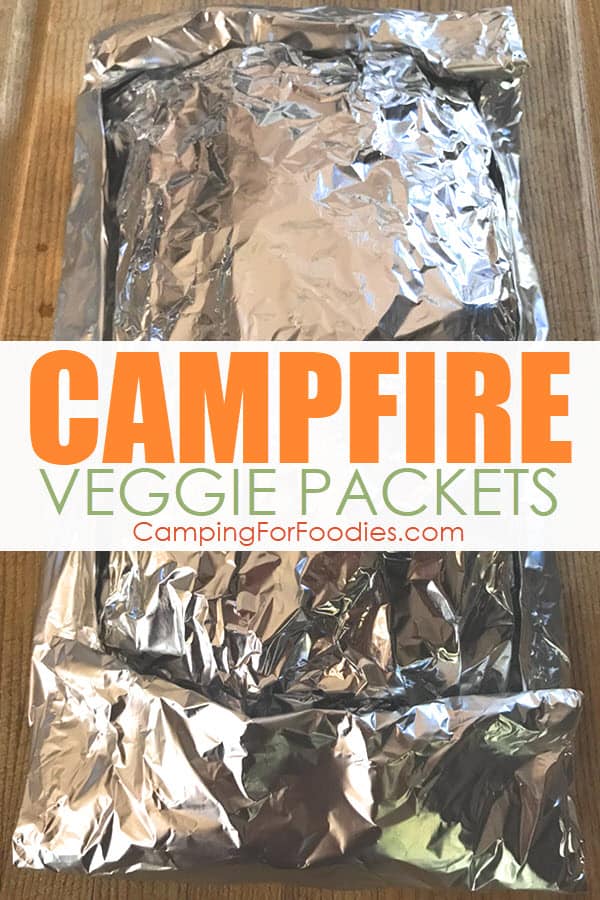 Step 6. Cook the veggie packet. Prepare for cooking over medium-high heat.
If you are making this as one of our camping grill recipes, get your charcoal or propane grill ready for cooking. You will NOT be using the cover of the grill … the sealed packet creates the steam for cooking these veggies.
If you are making this as one of our campfire recipes, you'll need enough campfire coals (not flames) to create a medium-high heat. You will be placing the foil packet on a campfire grill grate for cooking.
Every 5 minutes or so you should turn the packet so all of the veggies are evenly cooked.
It will take approximately 10 – 15 minutes … but, adjust the time as necessary to achieve the tenderness you like for your vegetables.
Camp Cooking Tip: Foil packets create hot steam to cook food so be very cautious when opening them to check for doneness so you don't burn yourself. It is a good idea to have heat resistant gloves or extra long tongs in your campfire cooking kit.
---
Pairings
This packet of veggies goes with almost any meal. It is especially good with grilled meats.
This simple Grilled Dijon Chicken With Garlic And Jalapeno only requires 5 minutes to prep and is packed with flavor. This pairing is a great option for low carb diets. Before you plan your next camp menu, see all of our keto camping food ideas.
The prep and cook time is so fast and the brown sugar, garlic powder, ground ginger, cayenne pepper and soy sauce make this easy Grilled Halibut Fillet taste fantastic. If you're looking for a meal that doesn't contain gluten, this is a great choice. See all of our gluten free camping food ideas.
This Grilled Flat Iron Camping Steak is a winner! It is easy to make this affordable beef cut tender when you marinate it in a simple homemade combination of brown sugar, balsamic vinegar, olive oil, Worcestershire sauce, dried rosemary, garlic powder and cayenne pepper.
---
Similar Recipes
Like the flavor and texture of charred vegetables? Try this easy Burnt Broccoli Recipe that combines the flavors of lemon and Parmesan cheese to create a light, fresh dish.
You don't have to cook the broccoli but you do need to cook some bacon for this yummy Broccoli Sunshine Salad. The raisins, sunflower seeds and simple homemade dressing are the perfect finishing touch.
Looking for a fast-cooking meal that combines meat with plenty of veggies? Try this delicious Beef, Broccoli & Carrot Camping Stir Fry.
Want a recipe that cooks the meat and veggies together in individual foil packets? Try this Hobo Stew Camping Meal.
---
Prepare In Advance
To prepare as one of our make ahead camping meals, do this:
At home: Clean and prep the veggies. Wrap in foil packet with butter, salt and pepper.
At camp: Place foil packet over hot campfire coals and cook until veggies are tender. Enjoy.
---
Print This Recipe
Campfire Veggie Packets Camping Recipe
Camping For Foodies Sides Camping Recipes: Campfire Veggie Packets Camping Recipe
Ingredients
1

small head broccoli

cut off stems to form individual broccoli florets

1

cup

baby carrots

cut in half lengthwise

1/2

cup

cherry tomatoes

1

clove

garlic

minced

1

tablespoon

butter

cut in small pieces

Salt and pepper

to taste
Instructions
Lay a 2 foot-long piece of heavy duty foil on a flat surface. Camp Cooking Tip: If you don't have heavy duty foil, use two sheets of regular aluminum foil for making your campfire foil packet recipes.

Layer the broccoli, carrots, tomatoes and garlic in the center of the foil.

Place small pieces of the butter around the veggies, evenly dotting the pile of vegetables.

Liberally add salt and pepper over all of the veggies and butter.

Fold the foil packet to completely seal it.

Cook over medium-high heat of campfire coals or a charcoal or propane grill until the veggies are done to your desired tenderness, turning every 5 minutes or so to ensure even cooking. Total cooking time will be approximately 10 – 15 minutes.

Camp Cooking Tip: Open foil packets very carefully when checking for doneness because the foil is very hot and the steam can burn you … stay safe!
Nutrition Information
Serving:
1
g
Calories:
55
kcal
Carbohydrates:
6
g
Protein:
1
g
Fat:
3
g
Saturated Fat:
2
g
Polyunsaturated Fat:
1
g
Cholesterol:
8
mg
Sodium:
137
mg
Fiber:
3
g
Sugar:
2
g
---
More Camping Food Ideas
Find more exciting and easy recipes to make on your next trip.