Unique Camping Gifts For Men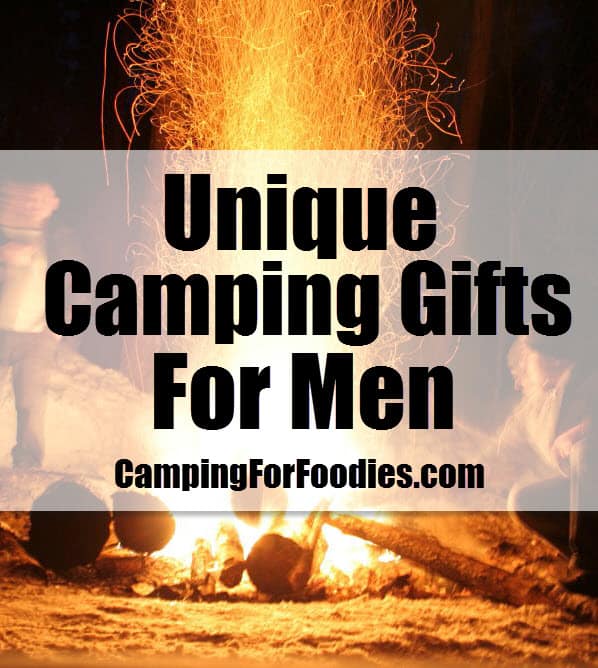 Unique Camping Gifts For Men
Need a cool gift for a guy who loves camping? We've found outrageously unique gifts for men who like to camp, fish, hike, hunt, shoot, drink, eat or just relax while camping! My husband created this list, and soon you'll see why one of his favorite sayings is "You just don't know what you can't live without!" 😉 I'm betting you'll have just as much fun giving these awesome gifts as he will receiving them! Psst we're compensated…see our disclosures.
In a Hurry?
Note:
These images are "clickable" so if you want more information, pricing or want to get it fast … please click on the image. If you want to know why we love each one of these Unique Camping Gifts For Men … please scroll down and read on.
&
---
This "I'm Unplugging" Hammock With Attached Accessory and Carrying Bag is perfect for the guy who wants to relax in the great outdoors! It's roomy and comfortable, has an awesome bag attached so his favorite drink, reading material, phone and sunglasses are easily within reach without ever having to change from his lounging position. When he's ready to pack up, just roll this thing up inside itself and close the drawstring … he'll be on his way! Check out the video to see this camping hammock in action!
&
&
---
Unique Drinking Gifts For Camping Men
Fairly Odd Novelties Beer Hip Holster Single Bottle or Can Soda Beverage Holder
This Beer Bottle Hip Holster is just what the doctor ordered! For the hot shot who likes to "quick draw" his favorite beverage, this nylon holster also holds cans and has a leg side pocket that will fit cash and cards. If your guy likes to play horseshoes while wearing this beer holster, he might need to become ambidextrous! LOL 😉
&
&
---
Camping For Foodies Sleek Brushed Stainless Steel 5-piece Martini and Cocktail Shaker Gift Set including Strainer Topped Shaker displaying Fun Outdoor Inspired Camping Message, Dual-Sized Jigger and Long Handle Muddler in Decorative Box
Because it's always 5 o'clock somewhere! This Sleek Brushed Stainless Steel 5-piece Cocktail Shaker Gift Set is perfect for the guy who likes shaking it up while camping or playing the bar master in his own backyard. This hip outdoor bar accessory includes a shaker, muddler and jigger in a decorative box ready for gift giving … no wrapping paper required! It is ready to mix cocktails in style with the message "Camp, Hike, Cook, Drink, Eat, Repeat" and that's why this made our list of unique camping gifts for men. Cheers! 🙂
&
&
---
Pine Ridge 12 Gauge Shotgun Shell Coaster Set Holder Buckshot Drink Coasters with Base for the Man Cave Decor Hunting Cabin Dining Furniture Gun Shop Decor
This Pine Ridge 12 Gauge Shotgun Shell Buckshot Drink Coaster Set is perfect for shotgun and hunting enthusiasts. These coasters look like the bottom of a 12 gauge shotgun shell and the holder resembles the side of the shell itself. This set is a great addition to any man cave but especially those that have nice enough furniture that needs protection from those unsightly drink rings! Bottoms up guys!
&
&
---
The LED Flashlight Koozie Beverage Cooler Torch Light (Black) Male Designed Koozie Flashlight, Water Bottle Accessory – Great for Your Gift Baskets.
This LED Flashlight Koozie Beverage Cooler Torch Light makes drinking after dark a little more enlightened. Just like a normal koozie, this one will keep his drink cool but it will also add some extra glow while hanging out around a campfire or any other low-light activity!
&
&
---
Field Champ 12 Gauge Shot Glass
Ready, aim, bottoms up! This 12 Gauge Shot Glass Set is a shooters dream! The glasses resemble 12 gauge shotgun shells and are made of red impact proof plastic with a metal base. We all know that drinking and shooting don't mix, but in this case, after all of the real shots are fired, he might want to take a shot or two from one of these!
&
&
---
Unique Fishing Gifts For Camping Men
"Gone Fishing & Never Coming Back" 7″x10″ Aluminum Sign
This "Gone Fishing & Never Coming Back" Aluminum Sign says exactly what every fisherman has felt from one time or another. Just like guys of few words, this one needs no additional commentary and that's why it made our list of unique camping gifts for men.
&
&
---
The Fish Whisperer….Funny Fishing Decal Boat Car Truck Removable Fishing Sticker (6
This Funny Removable Fishing Sticker/Decal: The Fish Whisperer is what every fisherman really longs to be, but very few actually achieve this noble status. 😉 LOL! This decal can be placed on any smooth clean surface like a mirror, boat, car window or his fishing tackle box.
&
&
---
"I Love My Wife" Porcelain 18 oz Fishing Coffee Mug Fun Gift for Our Fisherman
Flatter your wife and she lets you go fishing? That's what some guys think! This "I Love My Wife" Porcelain Fishing Coffee Mug is great for the guy who loves his wife, coffee and fishing … not necessarily in that order. 😉
&
&
---
Fire Buggz Fishing Pole Campfire Roatser (Blue)
This Fire Buggz Fishing Pole Campfire Roaster is the next best thing when there is no real fishing available. This pole allows him to roast marshmallows or hot dogs by "casting" them over a campfire. Just "jig" it to flip the marshmallows! 🙂 Even though this fishing pole made our list of unique camping gifts for men, it is a favorite among fisher-kids and fisher-ladies too!
&
&
---
Rivers Edge Products Antique Lure Playing Cards In Gift Tin
The guys who fish with high-tech gear today will appreciate this nod to the past when fishing was a bit simpler. These Antique Lure Playing Cards are like a mini encyclopedia of old time fishing lures.  This set includes 2 decks of quality playing cards with illustrations of antique fishing lures from as early as the 1800's, 5 dice and all of that is contained in a felt-lined gift tin. This is a great addition to any fisherman's gear!
&
&
---
Outrageously Unique Gifts For Camping Men
Ivation Battery-Powered Handheld Portable Shower – Turns Water from Bucket/Sink Into Steady, Gentle Stream – Built-In 2200mAh Rechargeable Battery
After an outdoor, action-packed day, camping guys can get a little stinky! 🙁 This Battery-Powered Handheld Portable Shower only requires a bucket of water! The pump delivers a steady shower stream and is rechargeable with any USB power supply so your guy has a few options for charging it … like a cigarette lighter, computer or USB wall-type plug! Now, there is no excuse to smell like a wet dog!!! You're welcome ladies. 😉
&
&
---
Sasquatch Soap – 100% Natural & Handcrafted, in Reusable Travel Gift Tin
If this soap is good enough for that elusive hairy monster of the woods, it's good enough for your guy at the campsite! Any camping guy will love this 100% Natural & Handcrafted Sasquatch Soap that comes in a reusable travel tin. This soap is a fun way to add some manly flare to your guy's personal grooming camping experience!
&
&
---
Camouflage Bandages (Camo – CB Outdoors – Browns)
Cammo is always cool at the campsite! Any self-respecting camping guy would never think of using a normal fleshy-colored bandage while camping with a group of guys. Even something as simple as a paper cut needs these Camouflage Bandages which have "rugged outdoor camping adventure" written all over them! To make these unique bandages a more substantial gift, add them to a gift basket filled with camping themed gifts for men who like cammo gear. They also make great Christmas stocking stuffer gifts too!
&
&
---
Bullet Shaped Deluxe Gun Cleaning Kit
If your guy likes guns, he's probably into keeping them clean too! This Bullet Shaped Deluxe Gun Cleaning Kit has everything he needs to keep his shooting equipment in top shape. This kit works with most gun models and comes with brushes, mops, patches, adapters, rods and gun oil. But, the most unique thing about this kit is that it resembles a .22 long rifle shell!
&
&
---
Martin Paul 100-75 Flyshooter The Original Bug Gun, Colors may vary
When my husband told me he wanted one of these, I thought he was joking. Then he said … Seriously, who wouldn't want to shoot a fly with this Flyshooter Original Bug Gun? I thought … he's right! Instead of just chasing down insects with a common everyday flyswatter, this flyshooter almost makes getting rid of insects at the campsite a fun small game hunting adventure.
&
&
---
Camp Kitchen Unique Gifts For Camping Men
HellFire BBQ & Ove Gloves are Flame & Heat Resistant — Use these Barbecue Mitts for Grill, Smoker, Pit, Fireplace, & Kitchen Oven
Show the fire who's the boss! This HellFire BBQ Glove will help him dominate the grill as never before. No more singed knuckle hair while your carnivore is trying to flip a t-bone! P.S. That also means no more listening to complaining about his knuckle hair being gone! 😉
&
&
---
Is your guy the chef of the campground? He can let everyone know when it is time to eat with this Texsport Triangle Dinner Bell. Personally, I love hearing "Soup's On!" with the bell clanging in the background and my husband happily dishing out his signature meal of campfire charbroiled steaks! 🙂 YUM!
&
&
---
G4Free® 4pcs Outdoor Camping pan Hiking Cookware Backpacking Cooking Picnic Bowl Pot Pan Set(Green))
What guy wants to carry around an arsenal of pots, pans and cups when he can consolidate them all in a single set. This lightweight set of bowls, pots/pans and cups nest inside each other and have foldable handles making them simple to carry. Less space needed for gear means more space for beef jerky! 😉
&
&
---
Stainless Steel Insulated Water Bottle With Pouch And Clip
Water bottles are great gifts for campers. This trim sleek masculine style stainless steel water bottle has a double wall vacuum insulation design keeping hot drinks hot and cold drinks cold. He'll love that it has a leak resistant cap with a convenient flip straw for drinking on the move! Best of all, this bottle easily fits in a camp chair cup holder and backpack side pocket!
&
---
There is nothing worse than reaching into a dark drink cooler and coming up with a diet soda instead of an icy cold beer that he wanted! This Cooler Light is just plain cool! When the cooler lid is lifted, this light turns on and automatically turns off after the lid is closed. Simple, smart and super popular … that's why it made our list of unique camping gifts for men.
&
&
---
Unique Gadget Gifts For Camping Men
DJI Phantom 3 Standard Quadcopter w/32GB SanDisk Memory Card
Ground-level videos are boring! My husband loves his DJI Phantom 3 Standard Quadcopter w/32GB SanDisk Memory Card because it takes videos to a whole new level … literally. And, it does it in HD! It is GPS assisted and has a stabilized camera mount for steady aerial videos. We use ours to preview potential hiking trails, scout future campsites and to make Camping For Foodies videos, of course. 🙂
&
&
---
Drone With Wifi Camera Live Video Headless Mode RTF RC Quadcopter
This Drone Quadcopter is the perfect entry-level drone with a camera for the guy who wants to start experimenting with taking aerial videos. People use these for lots of fun camping activities … capture your camp trip for viewing later, check out hiking trails, see wildlife from a sky-high vantage point etc. We love the affordable price point and easy controllability of this unit too.
&
---
Solar Charger FKANT 15000mAh Portable Dual USB Solar Battery Charger
This Solar Charger FKANT 15000mAh Portable Dual USB Solar Battery Charger is basically a solar charged battery pack that will charge iPads/Tablets, cellphones or other electronic devices via 2A USB and 1A USB ports. It is compatible for outdoor use with a compact, rugged and shockproof design and don't we all know that is a requirement for men's camping gear?!? 😉 LOL
&
&
---
Waterproof Bluetooth Speaker Portable 12W Stereo Shockproof SpeakerWith Built-In Mic And Passive Subwoofer
This Waterproof Bluetooth Speaker Portable 12W Stereo Shockproof Speaker With Built-In Mic And Passive Subwoofer is perfect for the guy who wants to play his tunes while hanging out in the great outdoors. It has powerful high-definition 12-watts of full-range sound. It's compatible with just about any Bluetooth-enabled device and quickly pairs within seconds with a range of up to 30+ feet. Plus, it has plenty of battery life and is waterproof.
&
---
Not All Who Wander Are Lost Handmade Wooden Case Phone Cover
This Not All Who Wander Are Lost Handmade Wooden Case Phone Cover sets the tone for the outdoor adventurous guy. If he has to take his phone with him while camping, he can do it in style with one of our favorite sayings, Not All Who Wander Are Lost. Even with our electronic devices, we like to stay in the theme of exploring the great outdoors and that's why this made our list of unique camping gifts for men.
&
---
Wearable Unique Gifts For Camping Men
Foot Traffic – Outdoors Men's Socks
These Great Outdoors Statement Socks add a little fun camp feel to any guy's sock drawer. These things can even start conversations, the tents, campers, marshmallows, trees and campfires make these socks look outdoorsy and the reinforced heel and toe provide lasting wear. They make great stocking stuffer gifts for camping men!
&
---
Camping For Foodies Campfire Funny Design Men's Soft Short Sleeve T-Shirt
This Campfire Funny Design T-Shirt is something any guy who has hung around a campfire can relate to! With the message 'Every camper knows … If your shoes are smokin' back away from the campfire' you gotta laugh at this one and so will he! 🙂
&
&
---
These "Gone Camping" Men's Cotton Flannel Lounge Pants are hilarious with images like bears, tents, canoes, fish, Swiss army knives and more … they can be worn while lounging during the day or as PJs at night and remind a true camper of where he always wants to be … in the great outdoors!
&
&
---
Pull Out All The Stops Inspirational Men's Short Sleeve Cotton Tagless T-Shirt
This Pull Out All The Stops Inspirational T-Shirt makes a statement to the world that he is a guy who lives life to the fullest! With a super cool graphic that is jam-packed with motivational words such as: strong, courageous, challenge, tough, resilient, determined … just to name a few, this tee has a cool message and contoured fit he will love wearing while camping or at home!
&
&
---
BigMouth Inc The Grill Sergeant BBQ Apron
This Grill Sergeant BBQ Apron has it all! This thing has tons of pockets to hold stuff like grilling utensils, condiments and even multiple cans of beer! With a cammo themed material, this apron can turn the average guy into a grill master sergeant.
&
---
Totally Cool, Practical And Ingenious Camping Gifts For Men
So you need a unique camping gift for a guy who is a little snarky? This Take A Hike Car Window Decal might be the perfect gift! It's a slightly sassy message that makes me personally answer … Okay, I will! 😉
&
---
Gentlemen's Hardware Adventure Mug
Every camping guy I know would love to sip coffee from this Gentlemen's Hardware Adventure Mug! You don't have to stop there because you can actually get this design in plates and bowls too! Give him a gift that screams, The Adventure Begins!
&
---
Why stop at one when you can give a bunch of gifts? This large Deluxe Hunters Gift Basket has two coffee mugs with deer hunting scenes, a gift book with 10 hunting tips, snacks and it usually ships the same day you order! It's a great option if you are giving your gift across the miles!
&
---
Even the best Boy Scout can get a little lazy over time. For camping guys who forgot how to start a campfire with a couple of twigs, this Zippo Cedar Campfire Starter makes a great gift! It has a cedar aroma and burns when wet! P.S. This is a no-guilt zone and it is not "cheating" to avoid the twigs! 😉 LOL
&
---
Stormproof Match Kit With Waterproof Case
Looking for a totally practical and insanely popular camping gift that men love? This Stormproof Match Kit With Waterproof Case is it! This little thing comes with 3 strikers and 25 stormproof matches that are easy to light, will burn up to 15 seconds and will relight after being submerged in water! Bring on the rain!
&
---
InstaFire Granulated Fire Starter (As Seen On Shark Tank)
How many camping gifts can you give that appeared on the TV show Shark Tank and have been awarded 2017 Fire Starter Of The Year? If you guessed one, you are correct! InstaFire Granulated Fire Starter is an all natural, eco-friendly, fire starter that is made from recycled wood, volcanic rock, and a food-grade paraffin wax. It will light your WET wood, and actually floats on water! If that isn't crazy enough, the leftover ash serves as a natural fertilizer!
&
---
Buying a gift for a camping gadget guy? He'll love this Spork Outdoor Multi Tool that serves as a spoon, fork, bottle opener, screwdriver and has 3 hex wrench holes! Plus, it easily links to a key chain for travel! Go gadget go! As Inspector Gadget would say! 😉
&
---
Depending on the time of year you are giving camping gifts to your guy, a cooling towel may seem just wrong … but, trust me, he will love you in the heat of the summer! My husband does not know how he ever survived hot summer camping without his! This Chill Pal Cooling Towel works by soaking it in cold water, wringing it out, giving it a quick "snap" and then just draping around your neck. Ahhhhhhhh, the coolness will make him sooooooo happy! 🙂
&
---
LED Lighted Telescoping Rectangular Inspection Mirror
Guys who like camping and tools can tell you they need a good mirror to see things in out-of-the-way places. If you give them this LED Lighted Telescoping Mirror as a gift, even if YOU don't appreciate this thing, you will hear about how cool it is from them! It extends up to 24 inches, has two bright white LED lights and has a 360 degree flexible goosehead to see areas that are virtually hidden. Superman's x-ray vision has got nothin' on this thing!
&
---
Tac-Force Blue Police Assisted Open LED Tactical Rescue Pocket Knife
There are so many uses for knives at the campsite. Let's say he needs to cut a rope in the dark and doesn't have enough hands to hold a flashlight and do the cutting at the same time. He'd be so happy that you gave him this LED Tactical Rescue Pocket Knife as a gift! This folding knife has a spring assist, rapid one-handed deployment, locks securely into place with a liner lock and a built-in LED flashlight!
&
---
Folding Wood Comb For Head Hair And Beards
Have you ever noticed how fanatical bearded guys can be about their hair? They don't want to just forget the whole obsession during camping trips so this cool little Folding Wood Comb makes great gifts for those dudes! It's compact which is great for camping and its wood so that means it is anti-static to tame the prized possession. Groomed beards make happy hairy camping men! 😉 LOL
&
---
36-Quart Kool Kaddy Electric Cooler/Warmer
There are all sorts of ways to keep food cold/hot while out in the wilderness. Men who go on extended camping, hunting and fishing trips may not have access to ice for traditional coolers but they will often have access to a vehicle battery to power an electric cooler. This Electric Cooler/Warmer can be plugged in a cigarette-lighter adapter and cools to 40 degrees F below ambient temperature or heats to 135 degrees F. It makes a really unique gift for guys who want roughin' it to be a little less rough!
&
---
Wood-Burning CampStove With Internal Powerbank
Backpacking and lightweight camping requires small and light gear. Can you even imagine roasting marshmallows over a camp stove that uses the excess heat to charge electronic devices through its USB?!?! WHOA! During a full burn, the CampStove can boil 1 liter of water in about 5 minutes and provides approximately 20 minutes of charging time! It makes a great gift for guys who do that type of camping!
&
---
Nighttime camping activities are great unless you are trying to set up, tear down or do some other task in the dark. My husband swears by his headlamp even though he may look a little weird wearing it, sort of like one of those cyclops, he says it's pitch black and nobody can see him anyway so he just doesn't care! 😉 LOL I can give him one of these as a gift every year and he'd be happy! This LED Headlamp has 4 modes and operates on 3 AAA batteries.
&
---
Mosquito Repellent Camp Lantern
Want to know how to become an instant hero with camping men? Give a gift that repels bugs and provides light all-in-one! This Mosquito Repellent Camp Lantern provides a 15-foot mosquito protection zone with an odor-free, DEET-free, and virtually silent operation! But that's not all … it also functions as an LED lantern with 4 light settings and up to 50 hours of run time!
&
---
Goal Zero Switch 10 Recharger With Nomad 7 Solar Panel And Multi-Tool Kit
Being able to charge gear with solar power is a big benefit to guys who like to bring (and actually use) their electronics on camping trips. This Goal Zero Switch 10 Recharger With Nomad 7 Solar Panel And Multi-Tool Kit is one of the pricier gifts on our list but it's a great value for everything it features. It's an all-in-one power solution for camping packs. It quick charges phones and other USB-powered gear, has a bright light flashlight, plus it has a fan to cool off. It's solar-ready and features a replacement, rechargeable battery. He'll love receiving this gift!
&
---
Eton Rugged Rukus: The Solar-Powered, Bluetooth-Ready, Smartphone-Charging Speaker
Some guys like to camp in the peacefulness of nature while others like to rock out with their tunes. If you need a unique camping gift for the tune-loving guy, you should consider this Eton Rugged Rukus: The Solar-Powered, Bluetooth-Ready, Smartphone-Charging Speaker. It has a high efficiency solar panel with an internal Li-ion battery that provides 8+ hours of music time. The stereo sound comes from 2 full range speaker drivers and it is rugged and water resistant too!
&
---
NRGsolar Series Eco Computer Laptop Messenger Backpack
Geeks like camping too! For the camping men on your gift list that just can't seem to part with their laptops, consider the NRGsolar Series Eco Computer Laptop Messenger Backpack. This this is awesome! Check it out: 40L Capacity, Water Resistant, 16,000mAh Battery + 8.8-Watt Solar Panel, 5 USB Ports Total (2-Ports On Solar Panel, 2-Ports Inside Backpack, 1 External Port), 15.6″ Laptop Compartment + Multi-Compartments, Integrated LED Power Bar Indicator. WOW … Just, WOW!!!
&
---
Camping + Men With Wallets = Bad Idea! I've seen way too many guys misplace their wallets in the middle of a camping trip. Let's see, maybe we should trace our steps to try to find it. We started the day by walking to lookout point with our coffee, did a little firewood chopping, took a bike ride down our favorite path, scouted for a new campsite, hiked the Turkey Springs Trail, came back to camp for a quick shower and took a nap in the hammock before making dinner at the campfire. Where do you think you noticed it missing? Uh, Nevermind … Let's just cancel the credit cards and call it a lesson-learned. And, get one of those HitchSafe Key Vaults before our next trip!
&
---
Colder-weather camping is much more enjoyable when you can stay comfortable. For guys who do a lot of camping in cold weather (especially hunters), these little warmers are like magic! The HotHands Warmers Variety Pack includes warmers for hands, toes and bodies. They make great stocking stuffer gifts. 🙂
&
---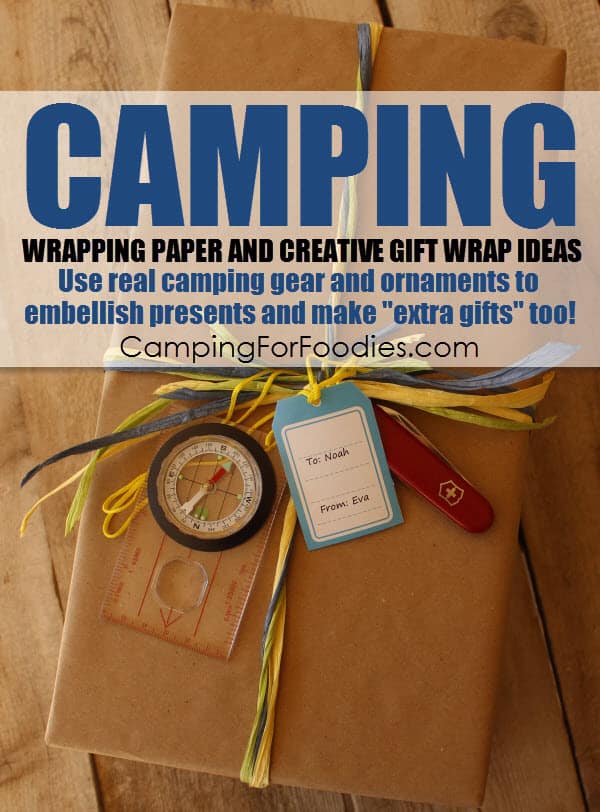 Get Fun Camping Wrapping Paper And Creative Gift Wrap Ideas here!
&
---
Need More Camping Gift Ideas? Check Out These Posts!
---
No time to look for recipes, create a menu and write a grocery list? No Problem! Get our 3-Day Dutch Oven Camp Menu Plan here!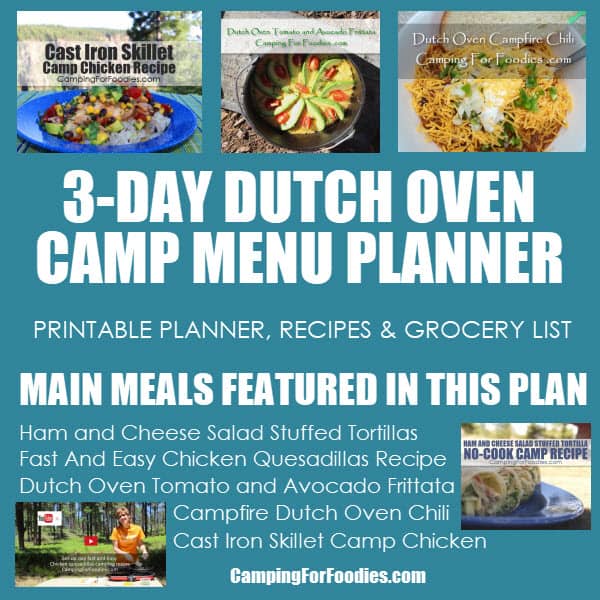 Need Camp Cooking Tips And Recipes? Check Out These Posts!
If you need camping recipes and menu ideas, you can find them here at the Camping For Foodies Camping Recipes list.
Don't miss a thing…sign up for Camping For Foodies email updates!
Your purchase of our products will help support World Vision ® Building a better world for children.