Fun Camping Activities Kids Love (and adults will too!)
Fun Camping Activities Kids Love
Some people think kids and camping go together like PB&J … others think it's more like oil and water. Camping has the ability to bring a family together as everyone unplugs from their digital devices and connects with each other … we call it a "digital detox" and it is good for the ENTIRE family. Knowing how to plan a successful camping trip is key. Here are my best camping ideas and tips for fun camping activities kids will love! Psst we're compensated…see our disclosures.
Daytime vs. Nighttime: Fun Camping Activities Kids Love
Think about kids activities around the campsite. It's good to have daytime fun planned as well as nighttime entertainment. Consider this: If you are camping in the middle of summer you will have shorter periods of darkness; camping during the winter-ish month's means less daylight. Here are a few ideas for daytime and nighttime activities for the kids around camp.
Fun Fishing Activities Kids Love
For many adults, camping activities automatically include fishing, so why would it be any different for the kids? It is especially fun with the right gear! A Fishing And Adventure Vest has lots of pockets, a rod-holder strap and comes in fun colors. A Kid Casters Fishing Kit is the perfect "first" rod and reel set that comes with plugs for practicing casting on land but it can also be used to catch real fish! No fishing adventure would be complete without actually catching fish so giving kids a Fishing For Kids Book  book helps introduce them to the sport!
Fishing And Adventure Vest
Kid Casters Fishing Kit
Fishing For Kids Book
&
Safari Hunting For Butterflies and Insects
Getting up-close and personal with bugs shoots to the top of our activities list! Kids love catching and investigating critters! Whether they like using a Kids Bug Net, a Kids Bug Vacuum or a Kids Bug Viewer Set, they will have fun interacting with insects in the great outdoors.
Kids Bug Net
Kids Bug Vacuum
Kids Bug Viewer Set
&
Kids have wild imaginations and the right gear will help them create memorable "safari" experiences even if you are camping nowhere near the plains of the African Serengeti. The Kids Binoculars, Kids Cargo Vest and Kids Lantern all work together to make lasting family memories and don't forget to snap a few photos during these fun activities too!
Kids Binoculars
Kids Cargo Vest
Kids Lantern
&
Indoor Rainy Day Camping Fun Activities For Kids
Make sure you are prepared for those dreaded rain days! It is no fun sitting inside a tent or under an awning staring at each other with raindrops falling in the background! Camping Coloring Book, Crayons and Kids Rock Painting Kit are great alternatives to outdoor fun for kids during rainy weather conditions.
Camping Coloring Book
Crayons
Kids Rock Painting Kit
&
Outside Daytime Game Fun Activities For Kids
Kids of all ages love to get in on a good Ring Toss Game and Outdoor Scavenger Hunt Game! But, the one that seems to be the most popular, among the kids and adults alike, is the Bubble Gun Shooter … with LED flashing lights, this toy is so fun it will actually draw spectators from nearby campsites!
Ring Toss Game
Outdoor Scavenger Hunt Game
Bubble Gun Shooter
&
Fun Nighttime Glow-In-The-Dark Camping Activities
When the sun creeps down below the horizon and the kiddos start getting feisty, it's time to break out the glow toy activities. We've found a few favorites to keep the entertainment going during the evening hours before crawling into our sleeping bags for the night: Glow In The Dark Fidget Spinner, Glow In The Dark Body Paint and Glow In The Dark Party Sticks. A quick note of caution, clear the camping area of any tripping hazards before the kids begin to run around in the dark with these fun glow-in-the-dark activities.
Glow In The Dark Fidget Spinner
Glow In The Dark Body Paint
Glow In The Dark Party Sticks
&
Campfire Fun Camping Activities Kids Love
What kids wouldn't want to roast their marshmallows with Telescoping Marshmallow Sticks and pop their own popcorn over the campfire using a Campfire Popcorn Popper while sitting in a totally fun Kids Camp Chair?!? They can also help with activities like gathering kindling and wood for the campfire. With adult supervision, they can help build and maintain the campfire for cooking too. Keep their camping chairs a safe distance from the fire and smoke and let them feel special with a chair fit for a kid! Here are a few ideas.
Telescoping Marshmallow Sticks
Campfire Popcorn Popper
Kids Camp Chair
&
Campfires are such a big part of the camping experience, including activities for meal prep and cooking.  So, make mealtime part of the fun adventure; let the kids participate in preparing the campsite and food at whatever level is age appropriate. Kids love my Hobo Stew Recipe For A Campfire That Cooks In Foil Packets. They can pick and choose what ingredients they want in their meal. Here's a quick video of that campfire recipe.
Camping Activities Need To Include Rest
There is nothing worse than fun camping activities being spoiled by cranky kids that did not get enough sleep.  To keep your campers smiling you need to keep them comfy and dry.  If you are tent camping there are lots of ways to stay comfortable; it all starts with a buffer between sleeping campers and the cold, hard and sometimes wet ground.  Here are a few ideas.
Stay Off Of The Ground When Tent Camping
There are many ways to add a barrier between your kids and the ground, some of the most popular include using Kid's Puzzle Solid Play Mats, Kids Inflatable Airbeds and Kids Camping Bunk Beds over your tent floor.  Cots are fabulous for this task but they are bulkier to pack and more expensive than the alternatives; the benefits outweigh the challenges for many campers and cots are the first choice.  The combination of a mat below an inflatable air mattress works wonders and packs up for easier transporting; it is also a cheaper option which is always a plus.
Kids Play Mat Set
Kids Inflatable Airbed
Kids Camping Bunk Beds
&
Tent Or RV Camping? Let The Kids Snuggle-Up In Their Own Sleeping Bag
A special sleeping bag with a kid's favorite characters like Disney Kids Sleeping Bags or colors like Coleman Kids Sleeping Bags which make sleeping during camping trips fun.  Even when camping in an RV, kids prefer sleeping in a sleeping bag rather than just sheets and blankets.  Here are a few ideas.
Disney Kids Sleeping Bag
Coleman Kids Sleeping Bag
&
Fun Camping Activities Just For Toddlers
You'll never want your toddlers to grow out of these totally cute and colorful Toddler Dog Backpacks and Disney Camp Chairs! And they won't want to either!
Toddler Dog Backpack
Disney Camp Chair
&
Use A Camping Checklist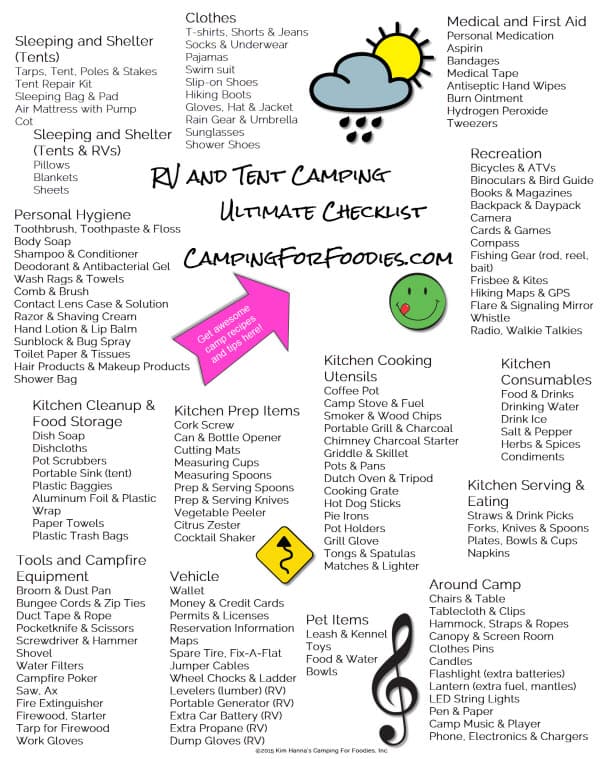 Forgetting to pack the sleeping bags (or anything else for that matter) can negatively impact your camping trip. Organize at home and you'll be sure to arrive at your campsite fully prepared for a fabulous weekend. My Ultimate RV and Tent Camping Checklist will keep you on track and you can download a free printable version here.
&
Get More Camping Gift Ideas From These Posts!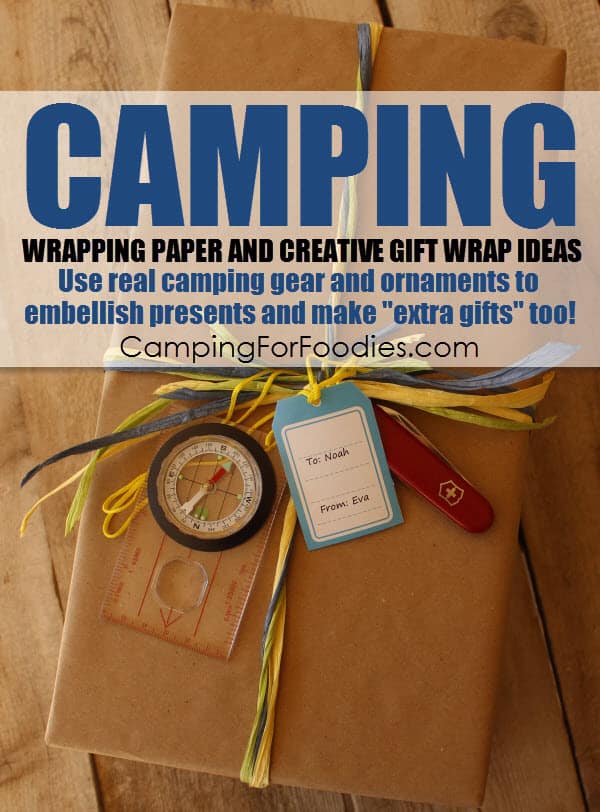 Get Fun Camping Wrapping Paper And Creative Gift Wrap Ideas here!
&
No time to look for recipes, create a menu and write a grocery list? No Problem! Get our 3-Day Dutch Oven Camp Menu Plan here!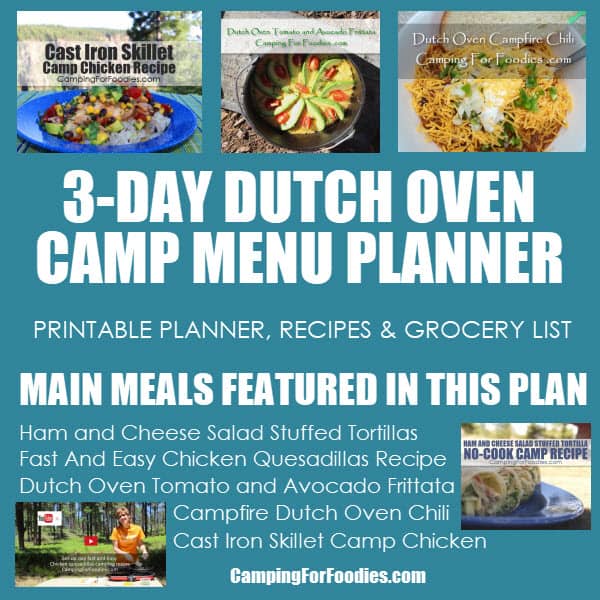 If you need camping recipes and menu ideas, you can find them here at the Camping For Foodies Camping Recipes list.
Don't miss a thing…sign up for Camping For Foodies email updates!
Your purchase of our products will help support World Vision ® Building a better world for children.