Best Diablo Sandwich Recipe: One-Pot, Easy & Homemade
Enjoy this spicy, Tex-Mex style Diablo Sandwich Recipe on your next trip. It's one of our camping dinner recipes that's delicious, easy and fun!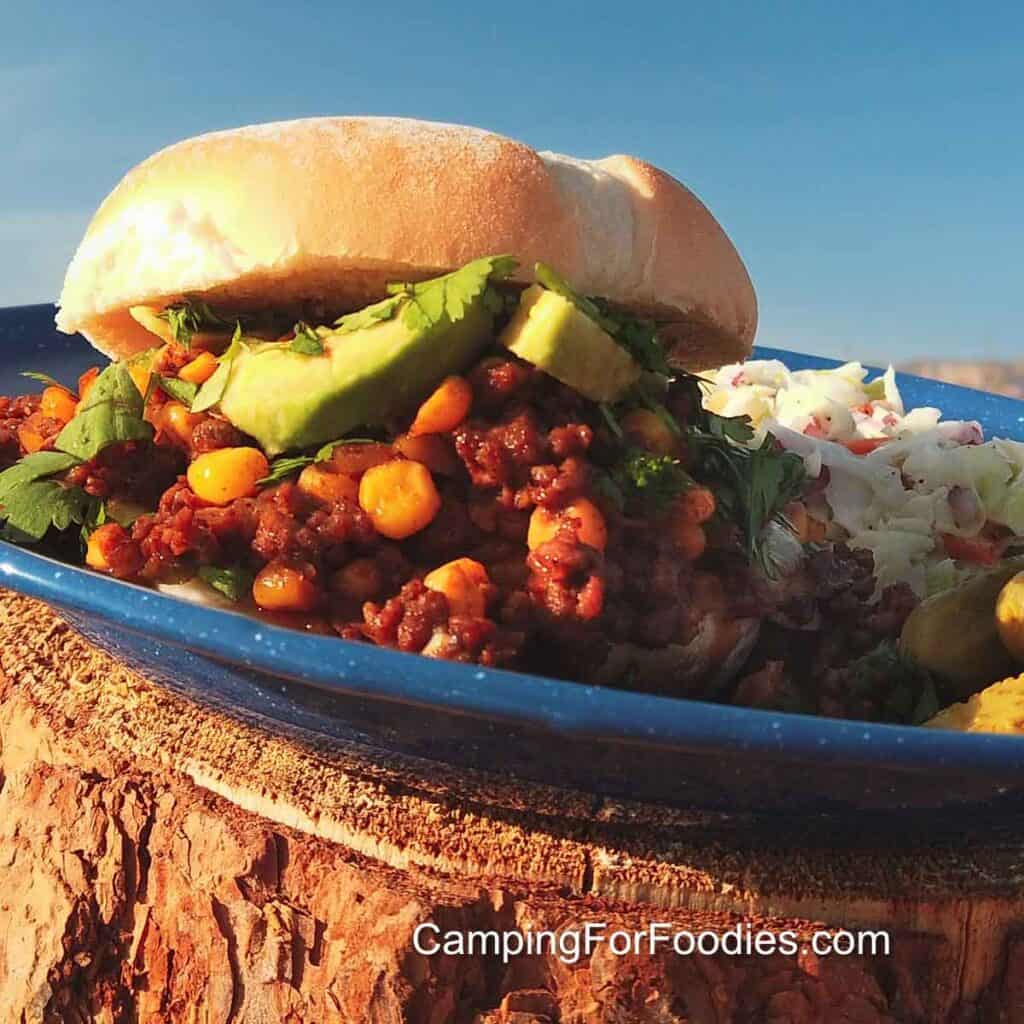 Psst we're compensated…see our disclosures.
What Are Diablo Sandwiches?
In the 1977 comedy/action classic movie Smokey and the Bandit, Jackie Gleason played the character of Sheriff Justice. In the middle of his pursuit of the Bandit, played by Burt Reynolds, the sheriff pulls off the road to stop at the Old Hickory House BBQ joint to order some food saying, "Give me a Diablo sandwich and a Dr. Pepper, and make it quick. I'm in a G.D. hurry!"
Fans of the movie have been trying to figure out if any such sandwich exists because the diablo sandwich recipe ingredients were never revealed. The sandwich has created a bit of a cult following as people have been watching that scene of the movie ever since, trying unlock the secret. After years of speculation, most people agree that Sheriff Buford T. Justice's meal was probably some version of a very spicy sloppy joe that is not for the faint of heart.
---
Where Other Versions Appeared
Diablo recipes started popping-up at fast food restaurants. When Arby's created their new sandwich it was available with smoked brisket or crispy chicken and included ghost pepper jack cheese, fiery hot seasoning, fire-roasted jalapenos, Diablo BBQ sauce and was served on a red chipotle bun. The new Diablo Dare Sandwich was served with a free vanilla shake.
Taco Bell created their version of Diablo Sauce that included tomato puree, onion powder, garlic and paprika as a condiment for tacos, burritos and fajitas.
Our version
The Bandit movie inspired us to make a less spicy option, allowing heat-levels to be adjusted on individual servings so campers who love spicy food can create the spiciest sandwich their taste buds can handle, while those who like milder flavors can omit the extra spices.
---
Recipe Prep
When you are making one pot camping meals, prep and gather all of your ingredients before you start cooking. You'll need to dice an onion, mince some garlic and measure a few items.
---
Prepare In Advance
To prepare as one of our make ahead camping meals, do this:
At home: Cook the meat mixture, let it cool and store refrigerated in a tightly-sealed food storage container.
At camp: Reheat the mixture. Assemble the sandwiches with the cheese on the bun and any additional toppings you desire. Serve hot.
---
Cooking Methods & Equipment
If you are making this as one of our easy campfire recipes, you'll need to get your fire going to create nice coals for cooking.
This can also be made as one of our camp stove recipes or on an RV stovetop. You'll want to cook on a level surface.
A non-stick skillet is fine when using a camp stove or RV stove. I prefer using a campfire as a heat source and make this as one of my Dutch oven camping recipes using cast iron cookware.
---
Recipe Steps
Step 1. Prepare your ingredients, heat source and equipment as directed.
Step 2. Heat pan and melt butter. Place a large pan or pot over medium heat, then add butter and let it melt.
Step 3. Add veggies. Place the onions, garlic and jalapeños in the pot and cook until they begin to soften.
Step 4. Brown hamburger. Now, add the ground beef and use a spoon to break it into crumbles as it cooks.
Step 5. Remove grease and add remaining ingredients. Once the meat is browned, if there's excess grease use a wadded-up paper towel to remove most of it from the pan. Then stir in the taco seasoning, corn, Worcestershire sauce, BBQ sauce, hot sauce, salt and pepper.
Step 6. Simmer. Reduce the heat and let the mixture simmer about 15 minutes until the liquid is reduced.
Step 7. Build the sandwiches. Layer the ingredients starting with the bottom buns, cheese slices, even amounts of meat mixture, your choice of toppings and top bun. Serve hot.
---
What To Serve With This Recipe
Tip your hat to the sheriff by serving dr pepper with this sandwich.
Here are a few camping side dishes that pair well with this meal.
When the first bite of a meal is spicy, it's nice to follow up with a fork of something cool and refreshing like this Refrigerator Cucumber Salad. It is an easy recipe that can be prepared days in advance so it's ready to serve anytime.
A hot sandwich always goes well with French fries. Instead of doing a traditional deep fried version, try these fast and easy Grilled Potato Wedges.
If you want a warm, Tex-Mex starter, try this easy Cowboy Soup Recipe.
Get your FREE printable camping trip & menu planner before you create your next meal plan!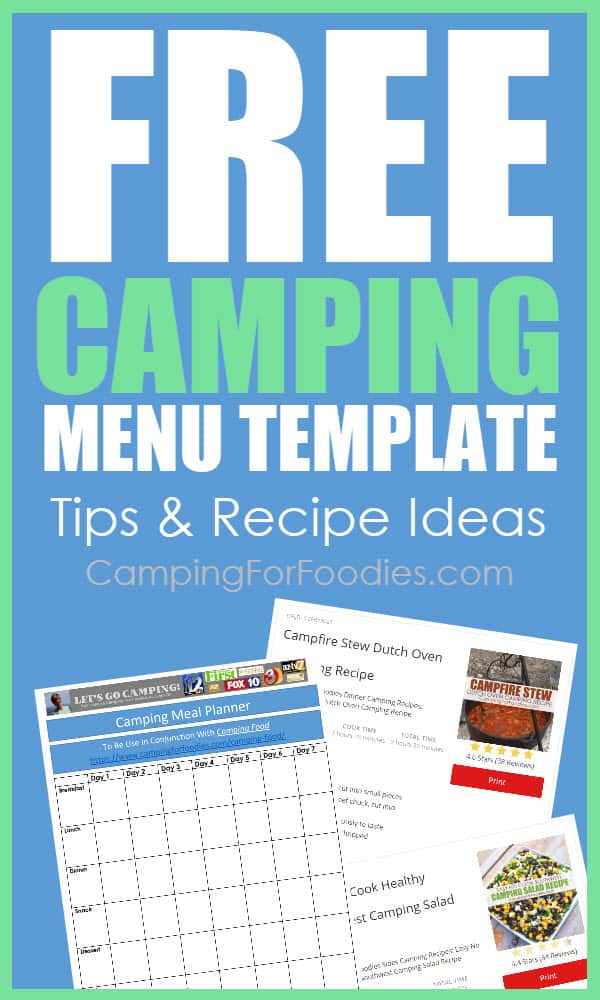 ---
Scaling Servings
This is a great one-pan recipe that is easily scaled to serve more people. It's one of my favorite easy camping meals for large groups, just make sure you don't make it too hot, campers can always add hot sauce to their own sandwich.
---
Leftovers
If you have remaining portions, you can just freeze the meat leftovers in food storage bags. Then, defrost and reheat later.
---
Print This Recipe
Diablo Sandwich Recipe
Camping For Foodies Dinner Camping Recipes: This Diablo Sandwich Recipe is and easy one pot dinner.
Ingredients
1

tablespoon

butter

1

small onion

diced

2

garlic cloves

minced

1

(4 oz)

can diced jalapeno peppers (undrained) or 1 fresh jalapeno pepper, diced

1

pound

ground beef

(see * Note)

2

tablespoons

taco seasoning

(or 1 oz packet)

1

(11 oz)

can fiesta style whole kernel corn with red and green bell peppers, undrained

1

tablespoon

Worcestershire sauce

1/4

cup

barbecue sauce

Hot sauce

a few dashes, to taste

Salt and black pepper

to taste

4

hamburger buns

red chipotle bun, red bun

4

pepper jack cheese slices
Optional Toppings:
Avocado slices

toss in lime juice to stay bright green if preparing in advance

Dollop of sour cream

Bunch cilantro

chopped

Red onion

thinly sliced

Hot sauce
Instructions
Heat large skillet over medium heat, add butter.

Add onions, garlic and jalapeños to melted butter, cook until the vegetables begin to soften.

Add ground beef to pan, use a spoon to break hamburger into crumbles as it cooks.

After the meat is browned, use a paper towel to remove excess grease, if necessary. Add taco seasoning, corn, Worcestershire sauce, BBQ sauce, hot sauce, salt and pepper to the pan.

Reduce to low heat, simmer uncovered for about 15 minutes. Continue stirring to combine the flavors and reduce the liquid to your desired consistency.

Lay out bottom buns and top each bun with a slice of pepper jack cheese.

Divide sloppy joe mixture in equal portions on hamburger buns.

Add avocado slices, a dollop of sour cream and cilantro to each sandwich.

Add top bun and serve hot.
Nutrition Information
Serving:
1
g
Calories:
487
kcal
Carbohydrates:
33
g
Protein:
24
g
Fat:
28
g
Saturated Fat:
11
g
Polyunsaturated Fat:
2
g
Monounsaturated Fat:
11
g
Trans Fat:
2
g
Cholesterol:
89
mg
Sodium:
663
mg
Potassium:
483
mg
Fiber:
2
g
Sugar:
11
g
Vitamin A:
261
IU
Vitamin C:
4
mg
Calcium:
110
mg
Iron:
4
mg
---
Similar Recipes
Want an easy, tasty & fun one-pot camping meal? Try these yummy Creamy Tacos.
Our Dutch oven Mexican recipes have south-of-the-border flavors for your breakfast, lunch and dinner meals. And, if you're looking for more yummy camping sandwich ideas, we've got those too!
Serve these sandwiches triple decker with lettuce, a couple slices of dill pickles and McDonald's Copycat Big Mac Sauce. You only need 30 minutes to prep and cook this dinner.
This is one of our easy camping meals that takes about 2 minutes to prep and 5 minutes to cook! It combines deli meats and cheese on a hamburger bun that is warmed and served.
Canned tomatoes are the base of the sauce. Then, smoked Andouille sausage, bite sized little pieces of chicken, shrimp and several sources of spices are combined to make this meal. Campers can add more hot sauce or red pepper flakes to increase the heat.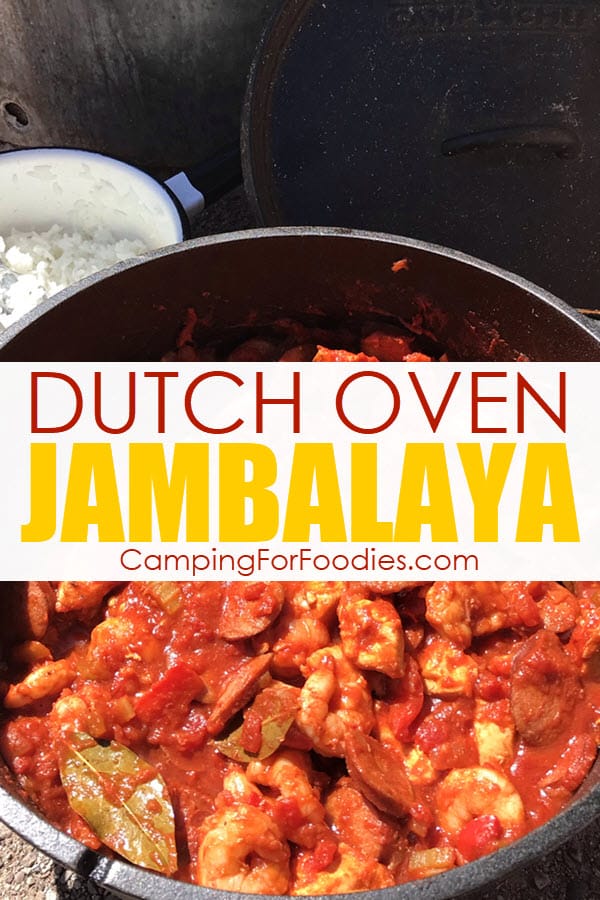 Some of my favorite winter camping recipes are chilis, soups and stews. This is the spiciest chili we make and should be reserved for the heat-lovers in your group.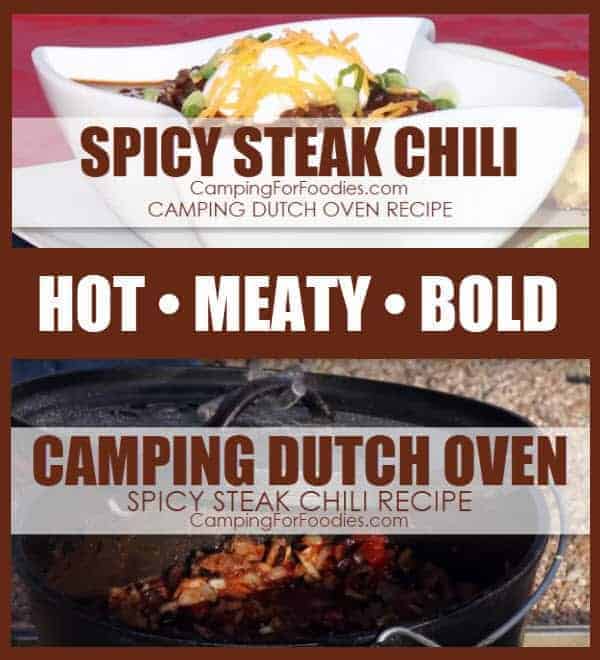 This 3 ingredient camping meal is a nice change from a regular pulled pork sandwich.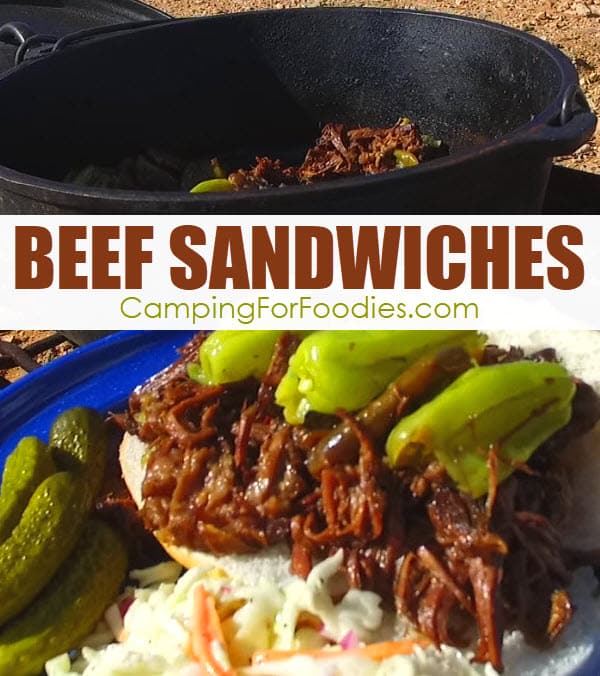 ---
More Yummy Meal Ideas
Every meal can be a delicious one with a little planning. Try something new on your next trip.