RV Tips 101 For Women Traveling Solo
Most of our RV tips and hacks include information anyone can use. But, sometimes the ladies are venturing out alone and they have special questions and concerns. So, we created these RV tips 101 for women traveling solo for the gals who are ready to face their fears and become the confident woman campers they want to be!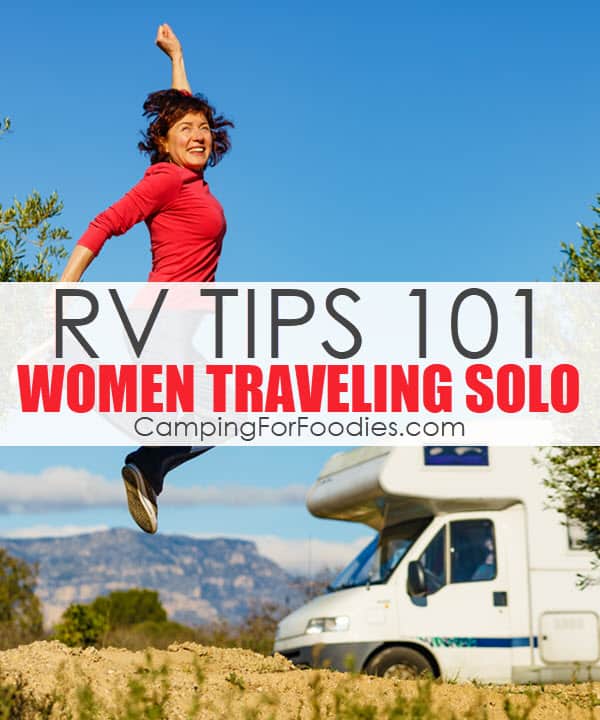 Psst we're compensated…see our disclosures.
Common Challenges For Newbie RV Ladies
The most common concerns solo women RVers have are associated with driving, especially backing up.
They also are hesitant about setting up, safety and security so let's discuss, then hit the road for an awesome RV road trip!
---
How To Back-Up An RV Into A Camp Spot
Backing up a rig is not always easy, but, don't worry, you CAN DO THIS!
Practice makes perfect!
The more you back-up your camper, the easier it gets!
Go to a big parking lot and set up cones to practice, real camp spots tend to "shrink" as you are trying to maneuver into them.
Don't forget to consider how wide the front-end of the truck swings when backing up.
Which way will it go?
One of the hardest things to master when backing up your RV is which way to turn the wheel to get the trailer to go the direction you want it to go.
If you are traveling in a Class-A motorhome or Class-C coach, you just need to back-up the same way you do a regular car.
But, if you are in a towable RV, you need to think "backwards".
Here is a quick tip: Grab the bottom of your steering wheel and "lift it/turn it" in the direction you want the back of your trailer to go as you backup.
Where you hand is on the wheel is the direction the back of your camper will go as you backup.
Study your campsite.
Look at your camp spot and strategize your maneuvering path, mentally.
Backup your trailer in your mind before you actually physically do it.
Use a spotter.
It is always a good idea to have a second set of eyes.
If you are not traveling with someone, find a person at the campsite to be your "spotter" to make sure you are clear of all obstacles as you back-up.
Bonus: it is a good way to meet a new friend!
Watch out for obstacles.
Look out for trees, poles, rocks, dumpsters etc., especially those that are out of view when you are seated in your vehicle.
Don't rush it.
Take your time as you back your camper into your campsite.
Execute multiple approaches to backing into your spot, if necessary.
Choose campsites wisely.
Opt for back-in spots that have lots of maneuvering room and gentle corners, the harder the angle, the more difficult it is to back into.
If you can get a pull-through spot, it is easier than backing into a campsite.
Get help.
If you are having trouble backing into your spot and a seasoned RVer comes by and is willing to help you, or even offer to backup your rig for you, don't be embarrassed.
It may be easier and less stressful to just say "yes" and accept the help, and, less expensive for repairs too, LOL.
But, learn from this experience so you continue to improve your RV parking skills.
How's your spacing?
Make sure your electric cord, fresh water hose and waste water hose will reach the hookups.
Ensure you have enough room to fully extend your slides, awnings and entrance stairs, be on the lookout for curbs on the ground and overhanging tree limbs etc.
---
How To Level Your Camper
Don't give yourself a headache because you are camping out of balance!
Visually assess your campsite.
Before you park in your campsite, visually look at the area to notice how level the ground is.
You may have options about where to set your rig on the site that will require little or no leveling.
Level your RV before you disconnect.
Once you are backed-in to your camp spot BUT before you disconnect your tow vehicle, check to see if your camper is level from front-to-back and side-to-side.
How to check to see if your trailer is level.
You can easily do this two ways:
Cross Check Bubble Level For RV Trailers
Use the bubble levels that are usually on the outside of your trailer:

Side-to-side.
Front-to-back.

If the bubble is centered, you are level.
If the bubble is not centered, you need to make adjustments to your trailer to get it level.
The bubble indicates the high side of the camper.

Use a can out of your pantry and place it on your floor to see if it rolls:

Side-to-side.
Front-to-back.

If the can doesn't roll, the trailer is level.
If the can does roll, it will roll "downhill" and you need to adjust your trailer to level it.
Is your spot almost level?
If the campsite is almost level, you can use your stabilizer jacks to make SLIGHT adjustments to level the trailer.
If it takes more than a slight adjustment, you need a leveling device so you don't tweak your trailer.
What to do when your campsite is not level.
If the campsite is not level, you'll need to use a leveling device that you drive onto in order to lift the low side of the trailer to level it from side-to-side.
Camper Curved Leveler Set For Campers Up To 35,000 Pounds
You'll use your trailer hitch crank to level from front-to-back.
Once the trailer is level, you can extend your stabilizers.
---
Hooking Up At The Campsite
Once you are parked at your campsite you need to know how to hook up RV water, electric and waste. The good news is that you don't need to be an electrician or plumber with our simple tips!
---
How To Set Up Your Campsite For Efficiency, Safety And Security
There is no real "right way" to set up camp but some options are better than others!
Choose your campsite wisely.
Prior to booking your campsite, be aware of dumpster, laundry and restroom facility locations.
If you are parked near them, anticipate the possible noise, odor, vehicle and foot traffic so you can strategically setup your site.
Be aware of hazards in your walking and driving paths.
Eliminate or plan around immovable tripping hazards that are on the ground (like rocks and curbs) and overhead obstacles (like tree limbs) when you are setting up your campsite.
These and other camping safety tips for families are especially important if you have kids visiting your campsite.
Illuminate your campsite.
Outdoor lighting is important for ambiance and safety. Here are our favorite camping lights for lighting our trailer and campsite area.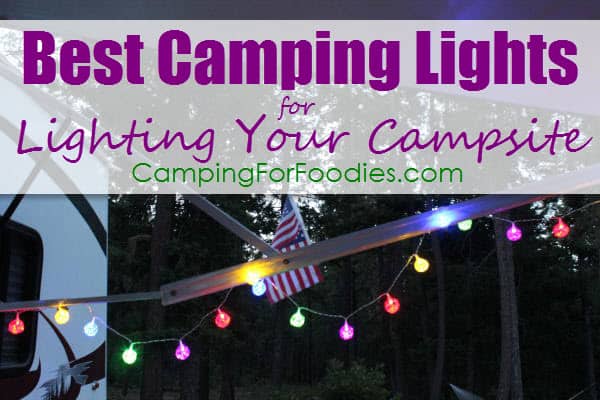 Maintain vigilance and stay safe.
For solo women campers, it is especially important to have easy access to your tow vehicle with nothing blocking your path to an exit road in case you need to get in and drive away for safety and security reasons.
Learn more about protecting your personal safety while camping and how to prepare for your well-being! You may also want to carry a weapon for self-defense like pepper spray, some women even carry a small firearm.
Employ best practices for camping security to protect you and your valuables.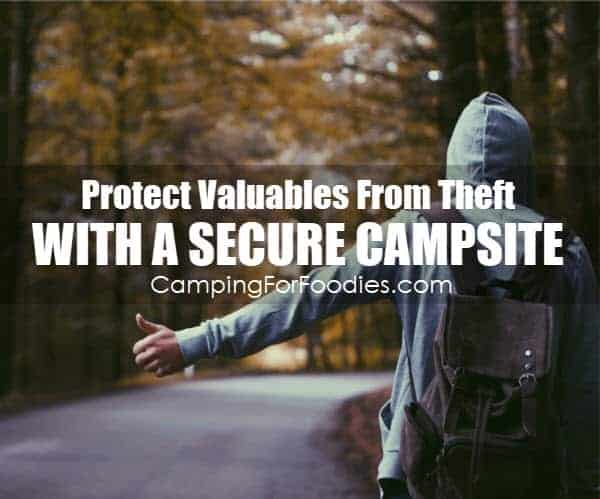 Use a rug.
An RV rug adds a cozy feel and keeps dust down at unpaved campsites.
It is nice to have a size that runs the length of your awning.
Using tables.
Even if your campsite has a picnic table, you may want to add a table or two near your outdoor cooking area and close to your camp chairs for convenience.
Maximize your views.
One of the most exciting and relaxing things about camping is being surrounded by beautiful scenery.
If you have a great view, try to maximize your setup to enjoy it like I did with my glamping accessories.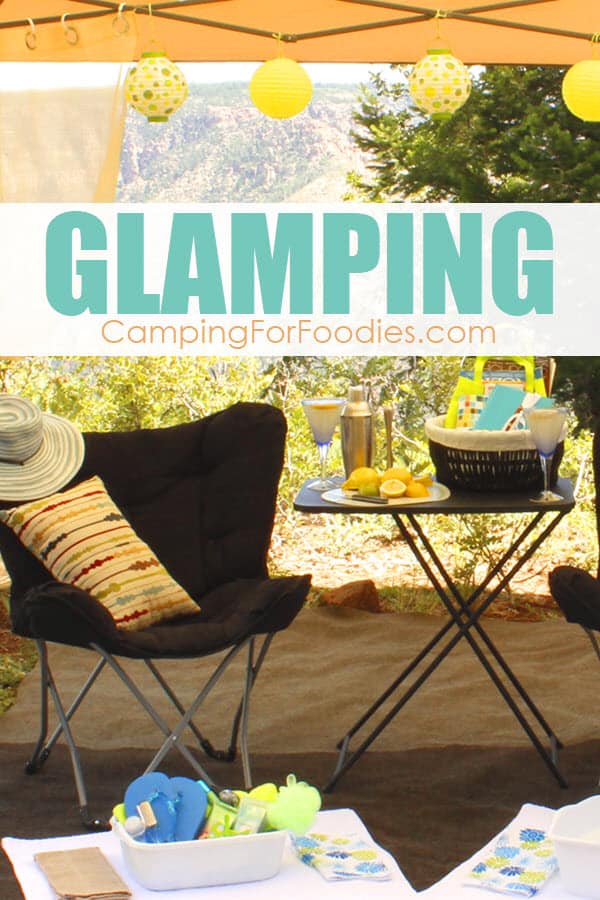 Protect your coolers.
If you are using coolers outside, set them up in a convenient and shady location. We've got other tips on how to keep drinks cold when camping too!
---
Make Sure You Have Everything Needed For Trips
Use a checklist to make sure you are fully stocked, that includes all of your gear and tools. We have two lists that will keep you organized:
One is a regular camping checklist for packing your personal items and consumables. These are things you'll need to wash are restock.
The other one is an RV tool kit checklist for the items you may need during RV traveling.
More RV Helpful Tips
When you are new to RVing, there are lots of fun and interesting things to learn about camping in your new trailer.
Stay safe always.
No matter what aspect of your camping experiences you can think about, there is always a set of best practices when it comes to camping safety.
About RV batteries.
It is important to know how to choose, use and maintain the best RV battery for your type of traveling.
Who wants to go dispersed camping?
We recommend new RVers stay in campgrounds or RV parks but after a while, you might want to try boondocking in areas without hookups or paved roads.
More RV 101 tips.
Check out these RV camping tips for beginners for help with packing, traveling, trip planning and more.
---
FREE Trip Planner
Our FREE printable camping trip planner template will make it easy to plan your RV trips!